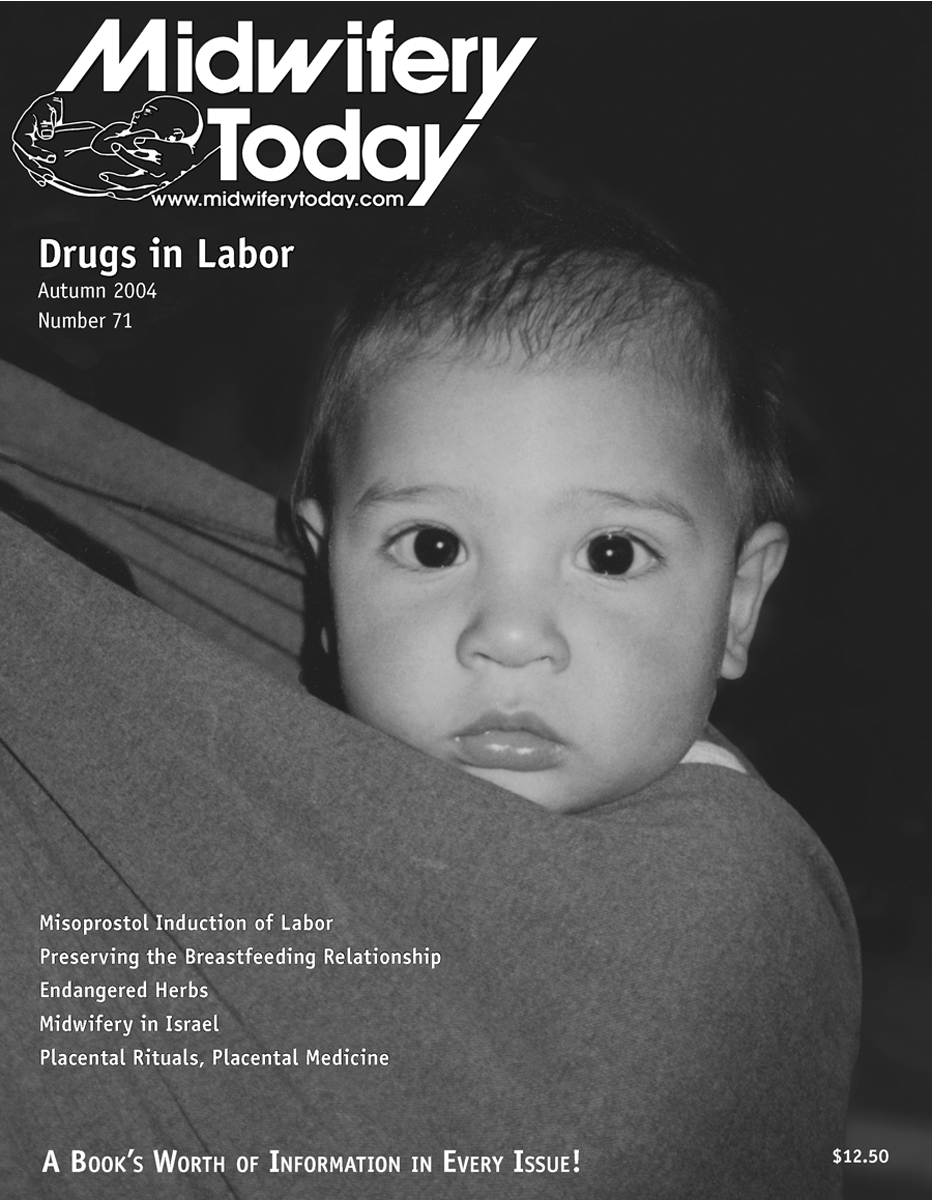 Autumn 2004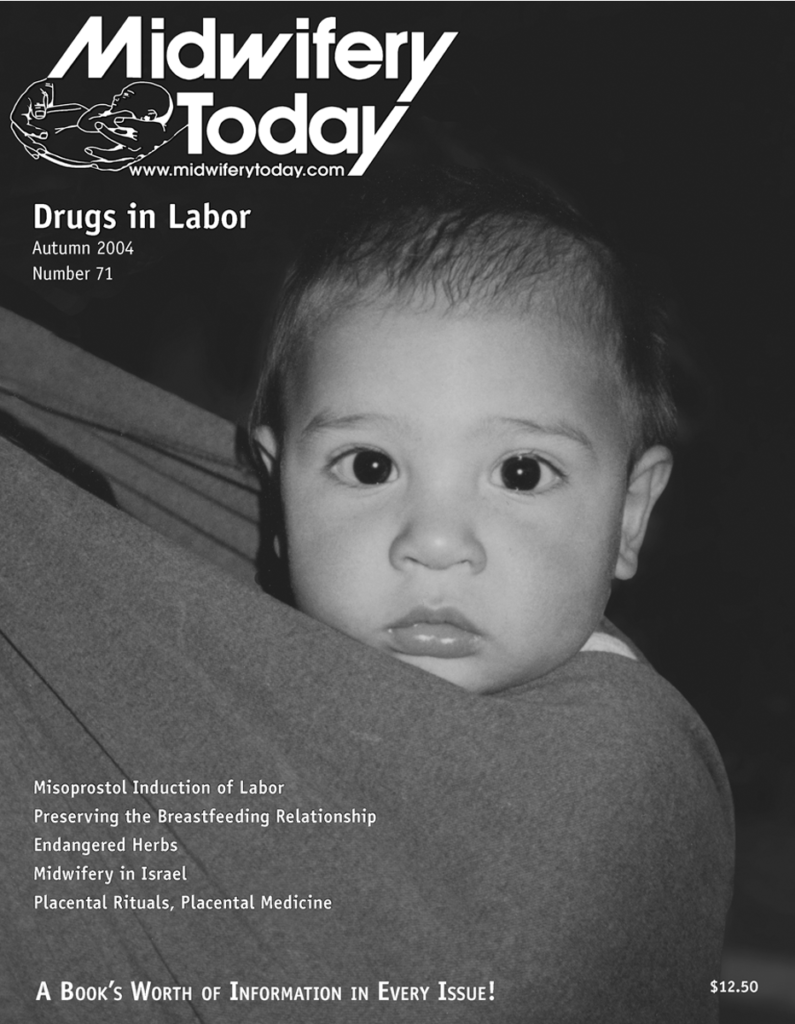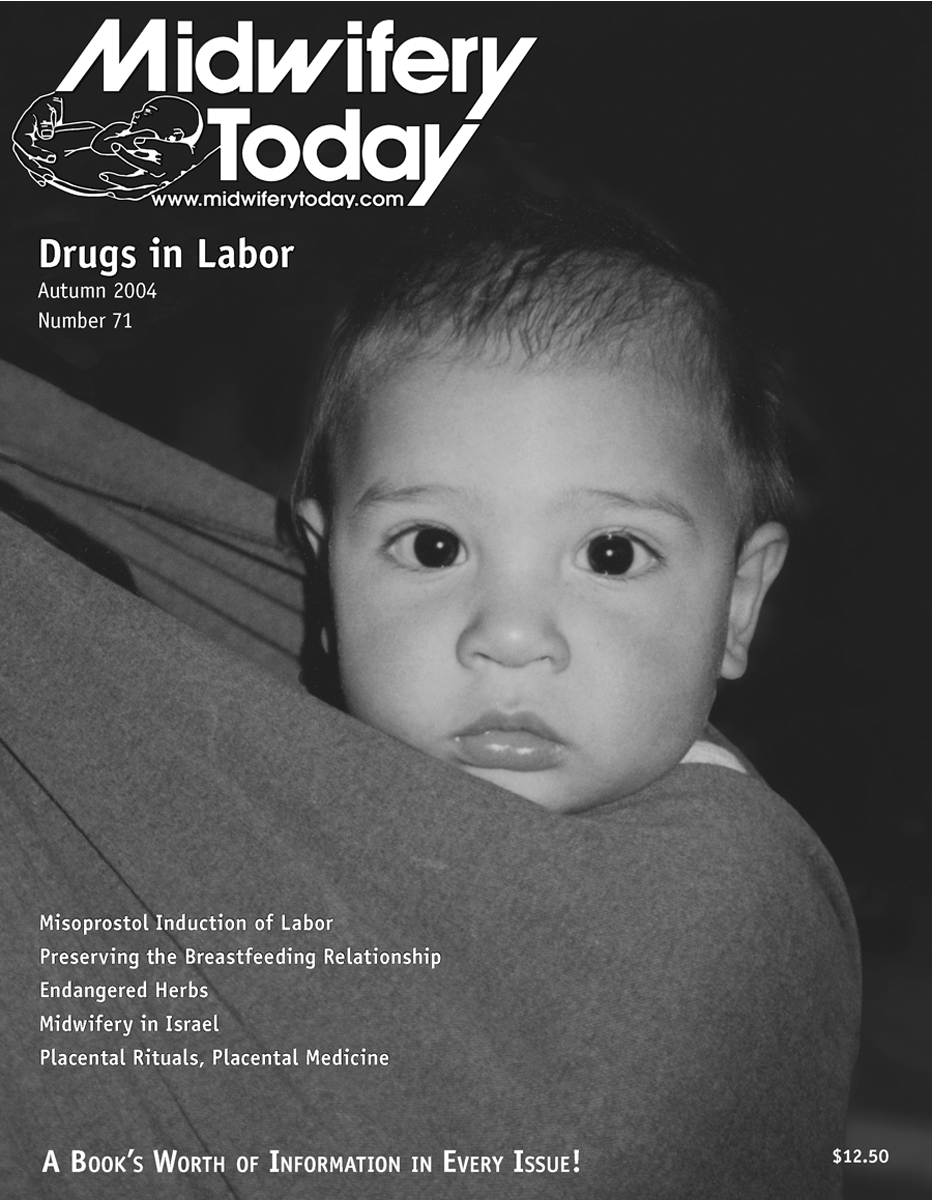 Theme: Drugs in Labor
While in Germany, Jan Tritten noted that far more babies are worn in slings than in the U.S. Jan took this photo of little Benjamin during a recent visit to Germany. She found him to be quite the charmer. Benjamin is the son of Elizabeth Battenberg
---
Departments
From the Editor
My soul is flooded with grief. I cry for countless mothers and babies—for the births that could be. Drugs in labor are the core of this destruction. This new world calls for new solutions, and this world is taught by the media. Let's use it to help solve the fear, intervention and drug problems around birth.
Poetry
Networking
Tricks of the Trade
Marion's Message: Another Good Reason to Prevent Cesarean Section
Disturbing reports about the risks of cesarean delivery have been issued for years. Recently yet another has been suggested: an increased risk of unexplained stillbirth late in pregnancies that follow a pregnancy ending in cesarean delivery.
Question of the Quarter
Media Reviews
News
Classified Advertising
Calendar
Photo Album
Contents
Adverse Events following Misoprostol Induction of Labor—Marsden Wagner MD, MS
"Off-label" use of misoprostol (Cytotec) for labor induction has been steadily increasing for 10 years. Some obstetricians, particularly in the US, continue to promote this practice, even though evidence suggests possible serious risks including uterine rupture, maternal mortality and perinatal mortality.
Drugs in Labor: An Overview—Sarah J Buckley
Protecting mothers and babies involves prioritising models of care that value drug-free labour and birth and that support laboring women in achieving this. The drugs discussed in this paper include opiates, inhaled analgesics, epidurals, sedatives and oxytocin.
Knitting Midwives for Drugless Childbirth?—Michel Odent, MD 
Stress hormones inhibit the release and action of the hormone necessary to induce and maintain effective uterine contractions during labor and delivery. A good understanding of physiological processes leads the midwife to ensure that nobody is under the effect of adrenaline in the environment of a laboring woman.
Evidence Supports the Obvious—Katherine Jensen, CNM 
"Evidence Supports Vaginal Birth." I read the headline over and over. Do we need "evidenced-based" research to prove that vaginal birth is how we were designed to reproduce? What is wrong with this picture? What can we do to reverse this nightmare?
HIV & Pregnancy: What More Can We Do for HIV-Positive Women?—Nancy Miller 
Maternal to Child Transmission (MTCT) is the primary mode of transmission of HIV to children. A pregnant woman needs to learn about MTCT and how to prevent it. If we care for HIV-positive pregnant women, we must commit to keep current in order to offer them and their babies the very best information and care.
A Determined Life—Nancy Miller
MT is an enormously spirited woman. We met during her initial prenatal visit and spent a long time discussing the risks of maternal to child transmission of HIV and how it can be prevented.…With care for her HIV infection, MT is still healthy and alive to raise her children and live her determined life.
Saving Our Endangered Midwifery Allies—Mary Lou Singleton, LM, CPM
Our sisters are in danger. The medical industry has co-opted them, commodified them and is now not-so-gradually eliminating them. Due to overharvesting and habitat destruction, many of our community's best-loved herbs are at risk of disappearing forever.
The Nesting Instinct—Joy Johnston 
The nesting instinct takes a labouring woman into a quiet, unstimulating space so she can progress without interruption; it makes her cross when she is being hindered from doing the work she must do; and it will also allow her to change her plan, to move her nest, if she believes that is needed.
Meet the Practitioner—Meredith Goff
I have been a midwife for 21 years. Midwifery and motherhood have defined my adult life. I was 24 and in nursing school, pursuing an interest in women's health and what was known then as "preventive medicine," when I witnessed my first midwife-attended birth. Lightning struck.
Preserving the Breastfeeding Relationship: Hypoglycemia in the Breastfed Infant—Fact or Fiction?—Meredith Goff
What to do when faced with the issue of whether to allow your asymptomatic, big, healthy baby to be tested for hypoglycemia? Confidently tell the nurse that testing of large-for-gestational-age babies is not supported by the evidence. Then put the baby to breast, knowing this is the best place for a baby to be.
The Past, Present and Future of Midwifery—Shannon Anton
Perhaps the greatest innovation in midwifery will be to fully embrace a woman's right to choose: her provider, her birthing environment, the advice and technology that she believes will most benefit herself and her baby. Each of us makes a difference. Aspiring midwives, I ask you: "What will your future be?"
Did Immunizations Kill My Babies?—Patty Titchner
We have the right and responsibility to ask questions, push for answers and become better informed. If I had failed to connect the dots or to question the judgment of the pediatrician, I could have lost all my children.
Compassionate C-section—Janelle Schmidt
I know that c-sections are over-prescribed and poorly handled throughout, and I do not want to invalidate the horrible experiences of women who have suffered from them. But I do want to share my own story to demonstrate that the experience, while far from ideal, does not have to be a nightmare.
The Business of Midwifery—Linda Lieberman, CNM, MSN
Visibility is the goal: visible, healthy midwifery businesses that can market themselves and be compensated through as many avenues as possible. Learning about managed care, billing insurers and getting paid for what you do is preferable to waiting for this cumbersome and inadequate system to change.
Maiden Midwives—Mary Kroeger, CNM, MPH
Both my children were born at home. I have yet to be hospitalized for anything, and I couldn't imagine going to a hospital to have a baby….I came to the conclusion that I did not want to be a midwife in a hospital. It runs counter to my notion that most babies should be born at home. We need more midwives to do that.
International Midwife
ICM and Hemorrhage—Jan Tritten
In a clandestine move, the International Confederation of Midwives and the Federation of Gynecologists and Obstetricians recently established a potentially dangerous protocol before introducing it to member countries: ALL midwives and doctors should "offer" all birthing women active management of third stage.
Cards & Letters
Midwifery in Israel—Judy Slome Cohain
Socialized medicine provides free and easily accessible prenatal and intrapartum care in Israel. The emphasis on the value of life in Israel is reflected in its birth practices, such as free, easily accessible prenatal care, low infant mortality rates and excellent infertility treatment.
"There is a foot!"—Sonia Richardson
Sue says the words I will never forget: "There is a foot!" Then, continuing: "It's twins!" I look down at the little foot kicking out of Maiko's body. I stare at Sue, Sue stares at me. Ten seconds of complete bewilderment, and then we act automatically. We clamp and cut the cord of the first baby and call an ambulance.
Placental Rituals, Placental Medicine—Alison Bastien
The placenta is a mediator between the life flow of mother and baby. It is rich in nutrients, hormones and immune builders (stem cells too!); indeed, it helped build a body. This article presents a few small ways we affirm that our lives and the lives of other women matter. That birth matters.
Antonina Sanchez Mendez—Sarah Proechel
Antonina Sánchez Méndez nació en 1952 en Concepción Chiquirichapa, Guatemala. Cada día cumple labores físicos, como la mayoría de las mujeres de su cultura. En un solo día puede preparar la masa de maíz para las tortillas diarias de su familia, cocinar frijoles, tamales o tortillas en la cocina de leña, lavar a mano la ropa de la familia, ayudar a su esposo Andrés a cuidar el cilantro y las papas en el campo, buscar comida para la vaca y las gallinas, hacer mandados y visitar a las personas a pie, además de atender las visitas prenatales y los partos.
Antonina Sanchez Mendez—Sarah Proechel
Antonina Sanchez Mendez was born in 1952 in Guatemala. As with most women of her culture, her days are filled with physical labor. She has seven children and 11 grandchildren and is deeply connected to her community. She was 33 years old when she began her career as a midwife.
Márti's Homebirth in Hungary—Ágnes Geréb
While driving, I imagine myself a hundred times providing the services I think they expect from me. They probably want me to give my expertise and remain an outsider. I arrive just after dawn. The children and their nanny are asleep. There is fruit on the table. I haven't eaten a thing for two days.
  = Membership Article