Learn about Prevention of Shoulder Dystocia
Midwifery Today E-News, September 27, 2017 • Volume 19, Issue 20
Subscribe to E-News
The thing you fear most has no power. Your fear of it is what has the power. Facing the truth really will set you free.

—Oprah Winfrey
Learn about Shoulder Dystocia and Malpresentations with Midwifery Today's 4-CD Audio Set.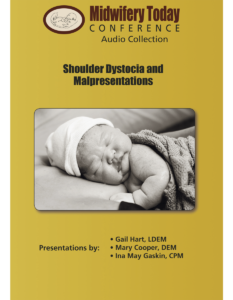 When you order this CD set you'll be able to listen to Gail Hart, Mary Cooper and Ina May Gaskin as they discuss a variety of important topics. Material covered includes how to identify true vs. false shoulder dystocia, how nutrition can be one of the best methods of prevention and how to assist shoulder dystocia when it does happen during birth. Also included is information about malpresentations such as twin, breech and asynclitic births and brow, face and parietal presentations. Learn more here.
---
Conference Chatter
As Midwifery Today's conference coordinator I do not often have the opportunity to participate in sessions at our conferences. The birth junkie in me silently cries as I see speakers and participants learning from each other the ancient knowledge and skills passed down from birth practitioners through the ages. I love my job as the conference coordinator, even though I wish I could do my job and participate in all of the sessions. I also really enjoy facilitating positive learning environments, making sure that our conferences go off without a hitch and doing my best to ensure that all registrants and speakers know how much we value their presence. The work is very rewarding.
Every once in a while the universe lines up just right and I am able to participate in a session or two. Sometimes I choose a session which, as a doula or childbirth educator, speaks to me professionally. However I sometimes enjoy challenging myself to learn new techniques or knowledge, even if they are skills I can't use professionally under my scope of practice as a doula. I am still a birth junkie. I am sure you can relate and even if I can't catch babies, I still love learning all about how to do so.
This past year I had the opportunity to sit in on a shoulder dystocia session and, quite honestly, it blew me away. I often think about the techniques I learned and the stories that were shared in the circle of practitioners I had gathered with. It was, for me, one of those moments where the itch to become a midwife taunted me to start "scratching." Someday my hands will be ready to catch—but not yet.
On November 10, 2017, in Troutdale, Oregon (just outside of Portland), at McMenamins Edgefield resort, Midwifery Today will hold one of its special mini-conferences. These one-day conferences are wonderfully affordable options for people to come together to learn from a variety of practitioners. Midwifery Today selects locations that often double as fun and relaxing destination spots.
Encompassing a 74-acre parcel of farmland at the mouth of the spectacular Columbia River Gorge scenic area, Edgefield is a 20-minute drive to or from the center of downtown Portland and about 15 minutes from Portland International Airport.
One session that is always popular at our conferences is the midwifery skill-based Shoulder Dystocia class taught by Gail Hart. Did you know that the clues to the impending development of shoulder dystocia can help us prevent its occurrence? Gail will discuss the mechanical and physical causes of shoulder dystocia, the associated risk factors, the symptoms and signs to predict it, how to prevent it and how to remedy it. She will analyze tools and methods used to overcome panic reactions and demonstrate effective treatment. ACNM: 1.5 contact hours/.15 CEU credits.
You can take this class along with course offerings from Fernando Molina, Maryl Smith, Eneyda Spradlin-Ramos and Jan Tritten.
The registration price for the day is $99 by October 10 and $119 after. Students pay $79 by October 10 and $99 after. The price includes lunch! You need to pre-register by November 5 to be assured of lunch, but walk-ins are always welcome.
Subscription special: Registrants will receive a $10 discount off a one-year Midwifery Today subscription. The offer is good through the date of the event.
Learn more here.
—Shea Hardy Baker, Conference Coordinator
---
"Inspiring speakers and exciting classes…"
…are in store for you when you attend our conference in Helsinki, Finland, this October. Learn from teachers such as Elizabeth Davis, Cornelia Enning, Sally Kelly and Gail Hart. Planned classes include Acupressure and Cupping for Birth Practitioners, Gua Sha for Pregnancy and Birth, Placenta Medicine, and Shoulder Dystocia. Only walk-in registrations are now being accepted. Learn more here.
---
"Plan now to attend our conference in Mount Laurel, New Jersey next April"
Choose from a variety of classes, including Midwifery Skills, Mexican Traditions and Techniques, Releasing the Pelvis and Microbiome: Good Bugs for Babies. You'll learn from teachers such as Elizabeth Davis, Elaine Stillerman, Nancy Wainer and Eneyda Spradlin-Ramos. Learn more here.
---
Shoulder Dystocia Q&A
From Midwifery Today, Issue 123, Autumn 2017
Editor's Note: Jan Tritten, Midwifery Today's mother and editor, often posts questions of interest for discussion by midwives on Facebook. We decided to share the thoughts on these topics in our magazine each quarter. Some of it may be controversial, but we hope that these conversations will inspire even further discussion and learning on the subjects we cover. To join the discussion: facebook.com/jan.tritten.
How do you prevent shoulder dystocia (SD)? Can you prevent it?
Keeping moms upright is a big step. Hands-and-knees and kneeling positions for delivery help. We have done simulations of shoulder dystocia; calmness in the moment helps a lot.
—Tora Spigner
Most important, listen to mom!
Watch for no progress for a long period (5 hours at 7 cm for me).
Watch for the head being pulled back in.
If you can't change baby's position, change mom's. If she's on her back, go to hands and knees. If she's on hands and knees, go to back.
Have a large box of tricks up your sleeve, such as putting baby on his belly to settle instead of his back.
Don't rely on ultrasound. It said my 8 lb 14 oz baby would be "about the same" as his 7 lb 9 oz older brother. Ultrasound told me that older brother would be around 5 lb. I also measured small and told each provider this did not mean a small baby.
—Anna Quigley
Listen to mum. So many times I've heard the mum say "something isn't right" or "baby isn't coming." We tell women to trust their bodies, to listen to their babies and trust their gut—then we don't listen to them.
—Elizabeth Bain
I do not think SD can be totally prevented. But I believe requiring a woman to push before she has the urge is a major cause. Dilating to 10 is a small fraction of birth readiness. Using dilation as the only determining factor does not consider baby's readiness. Babies can tuck their shoulders in tighter if mom doesn't force them into the bones. A possible prevention is to encourage mom to move around in the pushing phase.
—Gwendolyn Posey
Just like the head needs a little time to mould, the shoulders need time to find the right fit and mom's tissues need to slowly stretch to accommodate baby's size and positioning.
—Marcia McCulley
On a large baby there will sometimes be abdominal tenderness directly over where you can feel the bump outlining the baby's shoulder. If you are anticipating a large baby and mom is complaining about this type of pain, you can gently apply pressure on the mom's abdomen behind the baby's shoulder with contractions to assist with curling the shoulder inward and rotating it under the pubis. Once the head is born do not apply downward traction on the head, which could actually impinge the anterior shoulder on the pubis before it has moved into the oblique diameter and cause an iatrogenic dystocia. Wait for the next contraction to naturally rotate the shoulder under the pubis. You can add some supra-pubic pressure if it's obvious a dystocia is occurring. If baby doesn't come, flip the mother onto her hands and knees and begin routine maneuvers for dystocia.
—Maryl Smith
SD cannot be predicted in every case, but it can be predicted often, at least in my practice. Most come down through pelvis a little off. I can think of only one birth where SD occurred due to size alone. It was mother's 8th baby: an 11 lb 4 oz boy with shoulder measurement larger than head. The 5 ft 2 in mom had a history of three prior babies all 10.5 lb with no problems. Her 11 lb 4 oz boy needed two minutes of CPR and was fine. Next pregnancy she tried my plan (diet and glucose screening) and had an 8 lb 15 oz baby. "Butter" birth.
—San Hess
I get lots of big solid babies: good nutrition, no GDM. Those moms need to move a lot from transition on, use positions like the [lunge] during second stage and keep shifting positions to allow for optimal fetal positioning and movement. Labor down until the urge is uncontrollable, no forced pushing (that just begs to get baby stuck!) and move into a new position between each contraction if necessary. Being in a tub helps, as do herbs that relax the pelvic floor and/or ease pain so the mom fights the intense pressure less. If one gets really stuck, I get behind the posterior shoulder and gently rotate it forward, and they come out. Rarely any tears, never any damage to baby, and the biggest was just shy of 13 lb.
—Lorri Carr
Start labor with baby in LOA position and a balanced pelvis. I see more dystocias with posterior babies. Just my observation of births over the decades.
—Celesta Rannisi
Shoulder dystocia is not caused by a larger body than the head except in extreme situations like a microcephalic or anencephalic baby. It is caused by the shoulders rotating incorrectly as they enter the pelvic brim. They need to turn transversely to slip through the brim. (The same as the head.) When the head reaches the mid-pelvis it turns into the anterior posterior diameter. After the head is born the shoulders are now at the mid pelvis and will rotate to and line up with the anterior posterior pelvic diameter, the same as the head.
—Gail Hart
I supported a mom who had SD with her second birth. With each of her three pregnancies she had tested negative for gestational diabetes (GD) but now knows otherwise. Her first baby was a longish second stage and she had some major pelvic floor injury with a healthy 9+ lb baby. With her second birth she was at 10 cm for hours with baby at -2 (is that a "sign"?). All of sudden baby dropped down to 0 then was crowning. She was in the birth tub. She pushed the bag of waters out, which ruptured, and then pushed the head out. I am not sure what her OB noticed (turtling/no rotation maybe) but he grabbed her out of the tub and got her onto the bed.
—Sarah Pikett Carter
Allow time for the head to restitute. Do not stimulate or apply traction after head has been born; this can cause a shoulder dystocia. Avoid Valsalva pushing and encourage mobilisation in birth.
—Aly Sanders
What Aly Sanders said is extremely important. Do not attempt to deliver before rotation has occurred. Do not encourage the mother to keep pushing when the head has emerged, but do permit the normal pause in contractions and the normal rotation to occur.
—Gail Hart
A true shoulder dystocia will not rotate; the neck is turtled and the face is black. I have had two or three of these and they required lots of maneuvers and maternal position changes to resolve. I agree that you can turn sticky shoulders or even a normal birth into a SD by interfering with rotation and reacting too soon. The worst I ever had was a big baby with a fast labor.
—Vicky Miller
I would think there is a direct link between thinking there might be a SD and/or predicting a SD and it happening. I worked with a midwife who feared SD because of a previous birth with a severe SD. After that she caused many "SD" by being overly aggressive during birth—such as not giving time for restitution of the head, yelling at the mother to "push harder" as soon as the baby's head was born and pulling on the head after it was born, including forcefully turning the face into the direction she thought it should go. This was wrong much of the time. Hence, every other birth was a "SD." Because of her fear she was too aggressive and therefore she had a much greater rate of what she felt were shoulder dystocias than there should have been.
—Margie Dacko
I've only seen one SD in 18 years as an out-of-hospital midwife. My clients are mobile in labour and choose their own birth positions (usually kneeling or all-fours); many use a birth pool; none have epidurals and I am hands-off during the birth. I believe being confined to supine position in bed and epidural anaesthesia reduce the mother's ability to open her pelvis. Caregivers pulling on the head (including forceps and ventouse) and not waiting for restitution can certainly cause the shoulders to get stuck. So the prevention of shoulder dystocia would be all the wise words above about diet and exercise (as we know babies of poorly controlled diabetic mothers are more likely to have SD), plus have an active labour with a hands-off midwife.
—Joy Horner
Like Erb's Palsy, SD never occurred with many midwives I spoke with, who were hands-off and trusted the birthing process. SD is a medical complication.
—Eugenie van Ruitenbeek
Mobility during labour is paramount. I well remember the cold winter day walking the streets during labour as my body did a movement that was a goose step, a wild lurch and a pelvic thrust all rolled into one as my baby turned and settled nicely into a good position to birth herself.
—Rachana Shivam
Anticipating shoulder dystocia is key to preventing it both during pregnancy and labour, as well as in assisting mum and baby without harm to either.
—Marianne Littlejohn
I can only speak from the experience of physiological childbirth—childbirth without the interference of anesthesia and Pitocin. Epidurals and Pitocin both can affect rotation. Hospital policies of instructed pushing rather than normal second stage descent also can influence rotations and angles. Having an anesthetized mother who remains in the same position, or is supine, can affect descent and rotation. Shoulder dystocia is extremely rare in women without anesthesia and who are mobile throughout birth. But, that said, it doesn't explain the increased incidence in certain practice groups and in certain practice styles.
I think the "head and shoulders delivery method" taught to many practitioners is responsible for a great deal of the increase. (I notice it is being taught in some midwifery texts.) Why has shoulder dystocia changed from a rare event of a few per thousand to some reporting of 10% or more? Women have not changed. But our interventions and interference have definitely changed.
—Gail Hart
I can only think of a few, maybe four off the top of my head, SD in over 37 years and nearly 3000 births. So maybe one or two per 1000 births in my experience. I have assisted in dozens of babies in the 11.5 to 12.25 lb range with no SD. Hands off might not prevent a SD but it surely won't cause SD! It is better to err on the side of not being the cause of a baby getting stuck than lying awake at night wondering if you were the reason that baby suffered damage.
—Margie Dacko
Respect and adhere to the basic needs of a woman in labour: Make sure the mother feels safe and unobserved; keep your mouth shut, the lights low, the room warm and adrenaline levels low for a true fetus ejection reflex to occur. I've been the attending midwife for one serious SD, which was completely disregarded as the mother was beginning to push out her baby. Husband and friends were suddenly shouting questions at the mother and taking photos with a flash and it stalled the process of the birth completely. The head emerged but the rest of the body did not. The shoulders were truly impacted on the pubic bone and not even Gaskin maneuver got her out. Eventually we did McRoberts and applied suprapubic pressure and even then the shoulders were sticky to come out. She was fine, baby needed no resuscitation and still was birthed over an intact perineum. I believe that had the birth not been disturbed at that crucial moment that baby would have birthed fine. I agree that what is labeled as SD is not always SD and is just slightly "sticky shoulders."
—Ruth Ehrhardt
Every database shows it is as common in small babies as in large babies, including the study on abdominal measurement to predict shoulder dystocia. It was actually 50% more likely in the babies under 9 lb.
—Gail Hart
I am a doula and the worst SD I have ever seen was the woman's fifth birth, a 5 lb baby that was a bit early. The 10+ lb births I've attended have all been like butter on warm toast. Size is not the only thing to consider.
—Ana M. Hill
Position of baby is more a factor than size alone. A late-to-rotate posterior to anterior is a warning for me to pay attention. My thought is that while the head rotates into the pelvis, the body only rotates partially, thus setting the scene for SD.
—Hilary Schlinger
If you need help getting the baby engaged by lifting that belly with contractions due to a pendulous uterus—especially if you have to tie it up—leave the rebozo on until the shoulders are out. Leave alone at the moment of crowning until rotation and birth, as the shoulders are making their rotations in those precious moments. With previous dystocias, suggest body work before the next baby. Of course, look at the bigger picture mentioned above by many.
—Nicole Franklin Morales
Shoulder dystocia happens in spite of your best efforts to prevent it. The midwife does not control all factors that can lead to a stuck baby. The best solution is to be prepared and have practiced the techniques to resolve the problem. "Never quit working to resolve the problem." Broken arms heal. Dislocated shoulders heal. Babies the midwife gives up on never heal. You have many techniques to try so just keep trying.
—MaryAnn Griffin
Know how to resuscitate and the difference in the stress after shoulder dystocia. Generally a [baby with] shoulder dystocia does not experience asphyxia unless there has been a pinch in the cord or has been dealing with stress during descent and the shoulder dystocia has just added minutes onto the clock. There is no particular reason why a baby in shoulder dystocia should experience asphyxia. But many of them do experience a vagal response bradycardia due to constriction or to the maneuvers of the birth attendant. (One way we can prove the difference is that cord gas analysis does not correspond to the interval between the head and body.)
These babies are born floppy with a dark head, a white body and a strong heart rate of about 100. But their bradycardia is actually protective—not part of the asphyxia process. These are the babies we call the 1/10 Apgar babies—based on that impression the instant they are born. Most of them have improved quite a bit by one minute. (And, technically, we don't do an Apgar at 0 seconds anyway … but you know what I mean about the initial impression at the moment of birth.) Foremost, the 1-minute Apgar will be about 5 after that first scary minute.
These babies are stunned, bradycardic and possibly hypovolemic. But most of them would recover without any care at all as long as the cord is intact and the baby is below the level of the placenta. The heartbeat is strong and rises, tone and color improve quickly and they begin to breathe without a lot of assistance (although we are poised to provide it). If someone assumes they are in asphyxia and cuts the cord to take the child over to the resuscitation unit, they are now severely hypovolemic, and the additional shock is going to make recovery more difficult. They may actually require resuscitation methods. We have turned a condition of stress into a crisis.
Please be aware of this difference. Be ready to jump on these babies with resuscitation, if needed, but understand that only gentle support is what most need for a quick recovery. And never cut the cord if you can avoid it. Even if it is white and flat when you see the baby, keep it intact and put the baby below the level of the placenta to permit placental transfusion of oxygenated blood.
—Gail Hart
Be prepared and be alert. Often, babies who have had shoulder dystocia are just stunned. You will not be able to tell the difference, so be prepared to resuscitate. If you are overreacting, the baby will let you know and you can quit. But for those who really need help, you should act.
—MaryAnn Griffin
I think the only time we can predict and prevent shoulder dystocia is when we see the evidence during second stage before the head emerges. That's the time for corrective measures, such as a change of maternal position or manipulation of the baby's body or shoulders. But it has to be done before the chin emerges and the baby is caught at both the perineum and the pelvic brim. If it's only caught at one place it's a lot easier to release. A basic fact about shoulder dystocia is that it's already happened before we see the head and you can't always see the signs.
On occasion you'll see a nice normal descent and the baby's head snaps back like it's on a rubber band, but the vast majority of time these babies have a funny crowning, with a prolonged stall at the biparietal diameter. Jokingly called "eyebrow dystocia" because they seem to hang there rather than slip out as usual. That's an important warning sign.
—Gail Hart
They are stunned and need expert assessment. Be ready to provide whatever is needed. This is why you need expert assistants at every birth.
—MaryAnn Griffin
The sticky ones usually come out when we move moms. I think the ones who are not going to come out okay without direct intervention are mild dystocias, and the really severe ones need a lot of help.
—Lorri Carr
A true shoulder dystocia, with the shoulders locked in the pelvis, will likely require someone to reach in to free them. And the way we reach in can make a difference as to whether they suffer damage to the nerve plexus or not. And even if we do it perfectly they can still suffer damage just from the uterus shoving them down over that tight spot in the wrong position. I agree that we should move quickly on a true shoulder dystocia and not waste time.
—Gail Hart
I think waiting when at all possible—and that means most often—for fetal ejection.
—Kim R Lane
Moving mom onto hands and knees (if she is not already there) is a complete waste of time. If you want to go for the posterior shoulder, you can do it just as easily in McRoberts. I can't tell you how many times I have heard the phrase, "We used the Gaskin maneuver and it didn't work so we then tried McRoberts and baby came out." Pull that mama's knees up so high that her bottom lifts off the ground. In this position, you are using every millimeter available in the pelvis.
—Elizabeth Wyson Smith
Movement usually works to help $hellip; from hands and knees we move to lunge, because it takes the least amount of time to shift to that position. When assisting another midwife, I generally touch the birthing woman's foot—move this foot forward into a lunge. We have probably talked about moving in labor prenatally saying "Even at the last minute we might ask you to move," and it's important that she does move. From lunge to side lie, side lie to McRoberts and around again to kneeling to lunge. If in a tub the first move is standing, then lunge. None of this is prevention. I am not sure prevention is possible other than movement in labor, don't rupture membranes and what others have already said.
—Sharon Hodges-rust
I agree [it is] rare. I talked about one thing but others are that you are trying to turn from the inside as well as having mom move. You have your fingers on the baby's shoulders, hands on baby's chest or back and trying to deliver the shoulder. Mom's movement changes weight and angles and can help give a baby the slack to move. Awake babies are still feeling for the way to come and trying to turn this way and that.
—Sharon Hodges-rust
Good reminder to not rush but to be patient and give baby time to turn. I have used puff pushing when head is on the perineum until head is delivered. Then pause until I can see if restitution takes place or if turtling occurs. If either happens, move mom as needed. Usually, moving of the mother will let baby slide out.
—Eudine Stevens
I have never had a SD happen quickly; there is usually a lot of warning: slow to descend, slow to rotate, slow to crown (and all of these with lots of uterine and/or maternal effort).
—Lisa Patch Goldstein
I had a mild SD in a pool once—scary stuff. I actually walked into their home and the head had just been born. I calmed everyone down, threw on gloves and grabbed the birth supply box and told her to wait on the next contraction and to give a push. Nothing. Head was turning deep purple and I couldn't see neck at all. She was already on her hands and knees, and her bottom and the baby's head were out of the water. I pulled her toward me so I could reach her, and I was able to bring the posterior shoulder out with a fair amount of pulling and turning the baby slightly oblique, and mom pushing very hard. But the baby stopped descending. I swept out the posterior arm and the baby came easily at that point. A fair amount of resuscitating, but baby came around well. It was her second baby and second homebirth—first baby was born without incident. I was soaking wet after that birth. I think at one point I had most of my torso in the water.
After that I decided to tell women planning a waterbirth that if I say stand up and step out of the tub now, they are to do that without question and if they don't think they can handle that they should not have a waterbirth.
—Margie Dacko
---
Midwifery Today magazine is a great tool for all birth practitioners!
Start or renew your subscription today. Make sure you receive valuable information from authors such as Sister MorningStar, Michel Odent, Susun Weed and Ina May Gaskin.
---
Website Highlight
Editorial: Core Midwifery Skills
by Jan Tritten
Where do we learn the most about birth? I think we learn most from the mothers and babies on their journey. Can we separate core midwifery skills from the face-to-face meeting of the mothers and getting to know them and walking on their journey with them? Our core midwifery skills must attach directly to the kind of prenatal care we provide, our attention at births and our encouragement and care postpartum. There is no substitute for experience.
Preventing and dealing with complications are also the core of midwifery. We need to know what to do when a mom actually needs assistance. Hemorrhage and shoulder dystocia prevention and treatment are key skills. Since there are so many different ways of dealing with each of these, I think they need to be taught and studied over and over. New remedies come up. Old ones resurface. I believe the use of the placenta, membranes and cord to stem hemorrhage is one of the best lifesaving re-discoveries I have learned. The Gaskin maneuver for shoulder dystocia is another skill that has been re-added to the midwifery knowledge base in the last 20 years. Read More.
---
Gain a fresh insight into the amazing journey each woman takes in becoming a mother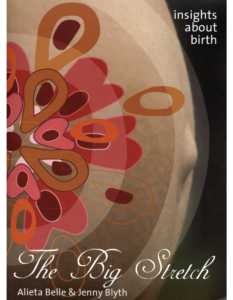 The Big Stretch DVD presents women in different stages of pregnancy as they prepare for a natural birth and reflect with their partners on how they are "stretched" in every way—emotionally, physically and spiritually. Topics explored include breath awareness, pain and the intensity of birth, body awareness, relationship and personal transformation, asking for help and women's challenges. Go here to order your copy.
Read about shoulder dystocia management, techniques and experiences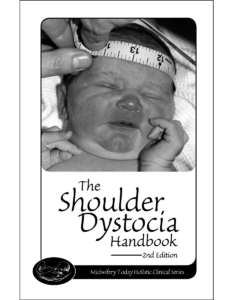 The Shoulder Dystocia Handbook will help prepare you for this complication. Authors include Marion Toepke McLean, Gloria Lemay, Gail Hart, Mayri Sagady, Sara Wickham and Jill Cohen. Order your copy here.
---
Manage Your E-News SubscriptionTo subscribeJust go here and fill out the form: http://eepurl.com/FKkBT
Change your e-mail address or leave the list
If you are a current subscriber and you want to change the e-mail address to which the newsletter is delivered, please click the "update subscription preferences" link at the bottom of any mailed issue and then make your changes.
If you are a current subscriber and want to stop receiving the newsletter, please click the "unsubscribe from this list" link at the bottom of any mailed issue and then make your changes.
If you have difficulty, please send a complete description of the problem, including any error messages, to [email protected].
Learn your subscription status
If you are not receiving your issues, but have subscribed, contact [email protected] with the address you used to subscribe and we will look into it for you.
How to order our products mentioned in this issue:
Order by postal mail
We accept Visa; MasterCard; and check or money order in U.S. funds.
Midwifery Today, Inc.
PO Box 2672
Eugene, OR 97402, USA
Order by phone or fax
We accept Visa and MasterCard.
Phone (U.S. and Canada; orders only): 800-743-0974
Phone (worldwide): +1-541-344-7438
Fax: +1-541-344-1422
Editorial: [email protected]
Conference: [email protected]
Advertising: [email protected]
All questions and comments submitted to Midwifery Today E-News become the property of Midwifery Today, Inc. They may be used either in full or as an excerpt, and will be archived on the Midwifery Today website.
Disclaimer
This publication is presented by Midwifery Today, Inc., for the sole purpose of disseminating general health information for public benefit. The information contained in or provided through this publication is intended for general consumer understanding and education only and is not intended to be, and is not provided as, a substitute for professional medical advice, diagnosis or treatment.
Midwifery Today, Inc., does not assume liability for the use of this information in any jurisdiction or for the contents of any external Internet sites referenced, nor does it endorse any commercial product or service mentioned or advertised in this publication. Always seek the advice of your midwife, physician, nurse or other qualified health care provider before you undergo any treatment or for answers to any questions you may have regarding any medical condition.
Copyright Notice
The content of E-News is copyrighted by Midwifery Today, Inc., and, occasionally, other rights holders. You may forward E-News by e-mail an unlimited number of times, provided you do not alter the content in any way and that you include all applicable notices and disclaimers. You may print a single copy of each issue of E-News for your own personal, noncommercial use only, provided you include all applicable notices and disclaimers. Any other use of the content is strictly prohibited without the prior written permission of Midwifery Today, Inc., and any other applicable rights holders.
Midwifery Today: Each One Teach One!
Copyright © 2017 Midwifery Today, Inc., All rights reserved.
You are receiving this email because you signed up for the Midwifery Today E-News on our website: https://www.midwiferytoday.com/newsletters/ or filled out this form http://eepurl.com/FKkBT and subsequently responded to a verification e-mail.
Our mailing address is:
Midwifery Today, Inc.PO Box 2672Eugene, OR 97402
Want to change how you receive these emails?
You can update your preferences or unsubscribe from this list