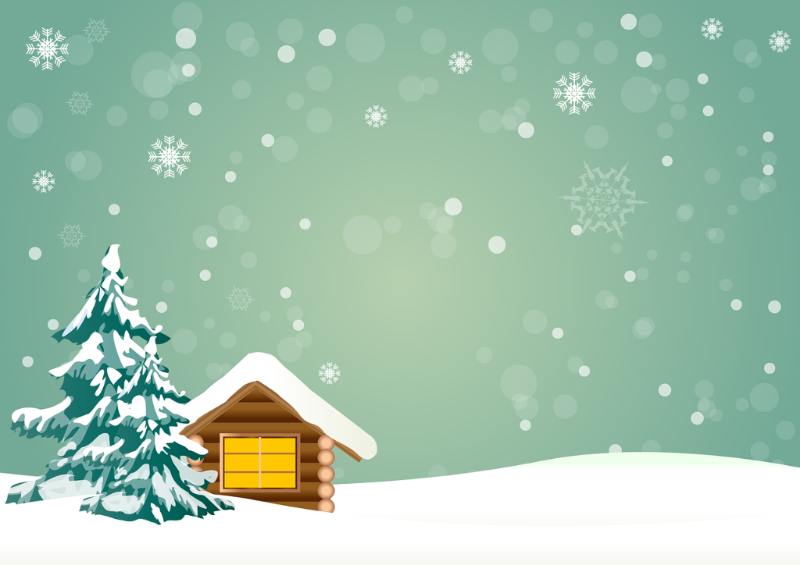 Midwifery Today E-News, November 22, 2017 • Volume 19, Issue 24
Subscribe to E-News
"I like to compare the holiday season with the way a child listens to a favorite story. The pleasure is in the familiar way the story begins, the anticipation of familiar turns it takes, the familiar moments of suspense, and the familiar climax and ending."
—Fred Rogers
Jan's Corner
Holiday Births
How special it is go to a birth on a holiday. That makes it a double holiday. We can celebrate Thanksgiving and Christmas, Hanukkah, the Solstice, or another special winter holiday, in addition to the birth. Every time a mom, family, and society welcome a new baby it is a holiday—or as I sometimes like to write it: Holy Day! We at Midwifery Today hope that every baby is born into a place where love abounds.
I have had a few births on holidays. One Independence Day (4th of July) I remember was interesting because the mom kept niggling away, seeming in no rush to have the baby. At one point, she suddenly decided that she wanted some pizza. Once she had eaten it, she went on to quickly have her baby.
Then there is the holiday where some of us celebrate the birth of a child. I have always enjoyed celebrating the birth of a baby on Christmas, although we do not know for certain when Jesus was born. We do know that He came to bring love to the world. I hope your practice will help you spread love to birthing families and to each other. Midwifery will take all the love you have to give and then a little more!
Toward Better Birth,
—Jan Tritten
---
Great teachers and inspiring classes are in store for you in 2018!
Plan now to attend our conference in Mount Laurel, New Jersey, next April. Choose from a variety of classes, including Midwifery Skills, Mexican Traditions and Techniques, Releasing the Pelvis, and Microbiome: Good Bugs for Babies. You'll learn from teachers such as Elizabeth Davis, Elaine Stillerman, Nancy Wainer, and Eneyda Spradlin-Ramos. Go here to learn more.
Plan now to attend our conference in Bad Wildbad, Germany, next fall!
"Birthing in Love Changes the World" will feature teachers such as Michel Odent, Gail Hart, Debra Pascali-Bonaro, Elaine Stillerman, Elizabeth Davis, and Tine Greve. Planned classes include Rebozo Techniques and Practice, Sustainable Midwifery, and Hemorrhage. Learn more here.
---
---
Holiday Birth Q&A
What was the best or most memorable holiday birth you have attended?
I was blessed to be present at a birth right across the street from me one Thanksgiving. I would go over, hang out, come back to my house, make a pie, go over, hang out, come across the street and set the rolls to rise. Then I went over, spent a couple of hours, caught the baby, came home, took the turkey out of the oven, ate, and went back across the street. I checked up on everyone, went home, did my dishes… It was great! At the same time, her mom made thanksgiving dinner appear at her house and we all lived happily ever after.
—Barbara Covington
I did a lovely Thanksgiving birth; the only negative was that the family brought almost no food with them to the birth center, so dad went out after baby was born to get something to eat. The problem was that the only place open on Thanksgiving was a Chinese restaurant! It was good food, but kind of weird when your taste buds had been gearing up for traditional Thanksgiving foods!
—Pam Irvin Llewellyn
Thanksgiving day—the only day my midwifery partner was off call, I got a phone call from a client telling me her water broke, she was having strong contractions and their car wasn't working. So I dropped all the Thanksgiving meal prep into the hands of my clueless family and drove to her house to pick them up and ferry them to the birth center. It was obvious this baby was coming soon. So I began calling midwives for someone to assist me, without luck, until I thought of Gail Hart. Her response, "Just let me take these rolls out of the oven and I'll be right there." Baby was born minutes after Gail arrived and had the shortest cord—nine inches! It was the sweetest birth. We both went home when the postpartum care arrived and sat down to dinner with our families just in time. Our meal turned out great despite my kids feeling frazzled. I never thought to ask Gail how her family fared.
—Maryl Smith
We had a mom go into the birth process the night before Thanksgiving. We stayed through the night, sure the baby was coming soon. After building to a point that certainly appeared to be active labor, the process slowed down and eventually stopped. Her family brought in Thanksgiving dinner and invited us to join them. The baby finally came—the day after Christmas!
—Christa Sherman McGrew
I attended a homebirth on Christmas with a mom whose name was Mary!
—Iris Bicksler
My most memorable Christmas birth happened during a snow and ice storm. I drove slowly to the home in the dark, stormy night and a lovely baby girl was born to a family that had four boys. Oh, the rejoicing and hallelujahs! Then I was off to the family Christmas meal through a landscape of snow sparkling under a bright sun.
—Maryl Smith
New Year's Eve I attended a homebirth and baby was born shortly after midnight. His mother chose to birth on a blanket she placed on the living room floor right next to the only lights in the room: the lights of the Christmas tree. That lovely baby lay in his mother's arms and glistened in red, blue, and green as he silently gazed at the lights. With the parents' consent, I called the newspaper to have him declared the first baby of the year. But they wouldn't accept a birth that was born out of hospital. A cesarean baby who was born shortly afterward won that distinction. I was sad that hospital birth won out over homebirth, but the parents were too in love with their baby to even notice.
—Maryl Smith
My son was born with Christmas tree lights on in my favorite chair right next to the Christmas tree but two days after Christmas!
—Jan Tritten
I have done a few births around Christmas time where baby came unplanned in the light of the Christmas tree. Moms were intending to birth in the bedroom or tub, but I think the soft lighting touched something in the unconscious and whoops—here comes baby. The lights make lovely pictures.
—Gail Hart
My 100th birth was on Christmas day 17 years ago. I think in my 25 years and 670 births I have had a birth on every holiday.
—Teresa Worthy Howard
My best holiday birth was my granddaughter's birth on New Year's Eve and I was my daughter's doula! What a gift.
—Diane Bjorkman Moreno
One of my favorite birth stories! New Year's Eve 2011. Mama was a G5/P4 with twins at 36+4. The last two babes were born at home and over 10 lb each. She arrived at the hospital (where I was a nurse at the time) around 6:45 pm with her midwife, contracting and growing more steady since 4 pm—when she was trying to get through her sister's wedding ceremony after her water had started releasing slowly earlier that day.
The babes were scanned, which confirmed baby A was frank breech and B was oblique (mostly transverse but with a slight head-down tilt). They had been planning a natural, vaginal breech birth since 30 weeks but midwife's private backup doc was out of town. So laborists had to take the "transfer" of care because the midwife didn't have special privileges to do twins at the hospital.
After much discussion among laborists, residents, head of OB, and the mama/family, it was decided that she could "try" breech vaginal birth. They were actually anticipating things going smoothly, at least for baby A. However, they were worried about baby B having a severe deceleration after A delivered or getting entrapped coming down too quickly after A. For this reason they wanted mama to deliver in the OR, which she agreed to—but on a birth bed that we wheeled in next to the OR table.
Mama was 3 cm around 7 pm at admission, 7 cm at 9 pm, and 9 cm around 10 pm and started feeling pushy shortly after. She pushed at her own will for a little bit but, not feeling much progress and not wanting to wear herself out (she was able to breathe through them) she rested for a little while. When the urge to push became stronger we assisted her into a sitting position on the birth bed with the foot lowered. Three awesome pushes later, baby A was born at 11:37 pm on December 31. Baby B was scanned and heart rate remained stable and strong! Baby was still high, with bag intact, but had flipped to a complete breech position. Mama was not feeling much—contraction or pressure wise—for a little bit, but then suddenly started to grunt with a few contractions. An exam revealed that her cervix had remained fully dilated and baby had descended a bit in the sac but was not engaged yet. A decision was made not to rupture the membranes for fear of prolapse (thank goodness someone wore their thinking cap!). Mama continued grunty pushing for a little longer then all of a sudden she gave a giant push and the membranes ballooned out into the doc's waiting hands, where they ruptured. Out jutted two little feet. Baby rotated itself and slid right on out without any trouble at 12:10 am on January 1, 2012. Sweet twin baby boys, 6 lb 14.5 oz and 6 lb 15.3 oz, were welcomed Earthside with not only their own birth days but birth years! They were deemed the official last baby of the "old" year and first baby of the new year for our entire region.
The family was all over the news the next days (even if they got a few of the details wrong). It was one of the most incredible things I was privileged to bear witness to in my six years as a labor and delivery nurse. I went on to help welcome the New Year babies the following two years but then my luck ran out: I've yet to welcome any special holiday babes in my almost three years as a midwife, but I'm sure my time is coming. However, this family and their story will forever hold a special place in my memories and my heart.
—Shannon Kane
---
---
Website Highlight
Journey with a Birth Theme
by Wanda J. Walker
Midwifery Today staff member Wanda Walker shares her recent experience visiting midwives in Belize and Mexico. Read more…
---
---
Featured Products
Share the love this Holiday season!
The Forever Love Pendant makes a fine gift for a new or expecting mom. Or, choose from one of the other jewelry items, including sterling silver pendants or earrings and mandala pendants. See the jewelry.
Prepare your body for birth
Daily Essentials: Activities for pregnancy comfort and easier birth features activities to balance your pregnant body. This DVD starts with Daily Activities, a gentle 35-minute stretch that will help you move more freely. Once you are comfortable with these movements, turn to the easy "Blooma Style" daily yoga routine, which pulls the stretches together into 28 minutes of flowing movement. Produced by Sarah Longacre, international prenatal yoga instructor and birth doula, and Gail Tully, the Spinning Babies Lady, Daily Essentials is perfect for expectant mothers and a must for any birth professional's library. Order your copy.
---
Manage Your E-News Subscription
To subscribe
Just go here and fill out the form: http://eepurl.com/FKkBT
To change your e-mail address or leave the list
If you are a current subscriber and you want to change the e-mail address to which the newsletter is delivered, please click the "update subscription preferences" link at the bottom of any mailed issue and then make your changes.
If you are a current subscriber and want to stop receiving the newsletter, please click the "unsubscribe from this list" link at the bottom of any mailed issue and then make your changes.
If you have difficulty, please send a complete description of the problem, including any error messages, to newsletters@midwiferytoday.com.
To learn your subscription status
If you are not receiving your issues, but have subscribed, contact newsletters@midwiferytoday.com with the address you used to subscribe and we will look into it for you.
How to order our products mentioned in this issue:
Secure online shopping
We accept Visa, MasterCard, and Discover at the Midwifery Today Store.
Order by postal mail
We accept Visa, MasterCard, Discover, and check or money order in U.S. funds.
Midwifery Today, Inc.
PO Box 2672
Eugene, OR 97402, USA
Order by phone or fax
We accept Visa, MasterCard, and Discover.
Phone (U.S. and Canada; orders only): 800-743-0974
Phone (worldwide): +1-541-344-7438
Editorial: editorial@midwiferytoday.com
Conference: conference@midwiferytoday.com
Advertising: ads@midwiferytoday.com
All questions and comments submitted to Midwifery Today E-News become the property of Midwifery Today, Inc. They may be used either in full or as an excerpt, and will be archived on the Midwifery Today website.
Disclaimer
This publication is presented by Midwifery Today, Inc., for the sole purpose of disseminating general health information for public benefit. The information contained in or provided through this publication is intended for general consumer understanding and education only and is not intended to be, and is not provided as, a substitute for professional medical advice, diagnosis or treatment.
Midwifery Today, Inc., does not assume liability for the use of this information in any jurisdiction or for the contents of any external Internet sites referenced, nor does it endorse any commercial product or service mentioned or advertised in this publication. Always seek the advice of your midwife, physician, nurse or other qualified health care provider before you undergo any treatment or for answers to any questions you may have regarding any medical condition.
Copyright Notice
The content of E-News is copyrighted by Midwifery Today, Inc., and, occasionally, other rights holders. You may forward E-News by e-mail an unlimited number of times, provided you do not alter the content in any way and that you include all applicable notices and disclaimers. You may print a single copy of each issue of E-News for your own personal, noncommercial use only, provided you include all applicable notices and disclaimers. Any other use of the content is strictly prohibited without the prior written permission of Midwifery Today, Inc., and any other applicable rights holders.
Midwifery Today: Each One Teach One!
Copyright © 2018 Midwifery Today, Inc., All rights reserved.
You are receiving this email because you signed up for the Midwifery Today E-News on our website: https://www.midwiferytoday.com/newsletters/ or filled out this form http://eepurl.com/FKkBT and subsequently responded to a verification e-mail.
Our mailing address is:
Midwifery Today, Inc.
PO Box 2672
Eugene, OR 97402
Want to change how you receive these emails?
You can update your preferences or unsubscribe from this list