Resolving Shoulder Dystocia with the Gaskin Maneuver or McRoberts Maneuver
Midwifery Today, Issue 137, Spring 2021.
Join Midwifery Today Join Midwifery Today Online Membership
Looking out of the door of my hut in Acholiland, northern Uganda, I could see a tree spreading its branches out underneath a cloudy sky. The red earth was wet, everything was green and growing, and cheeping chicks were trailing around after mother hens as roosters crowed. It was the rainy season.
The night before, rain had not only poured down on the tin roof of the Ot Nywal Me Kuc ("Hut of Birth and Peace") birth center, but also had brought in so many mothers in labor that I found myself saying, "It's raining babies!" I personally attended four of the births with our midwifery team that rainy night. One of them included a shoulder dystocia.
A shoulder dystocia is when a baby's head emerges from the birth canal, but the baby's body does not follow because the baby's anterior shoulder is wedged above the mother's pubis symphysis bone. A midwife instantly knows it when she sees it by the "turtle sign": the baby's head emerges, but then retracts, like a turtle going back into the shell. The baby's exposed face darkens as it suffuses with blood and becomes puffy. The baby is stuck. The midwife has less than six minutes to get the baby out before hypoxia leads to brain damage or death.
That night, the mother in labor was a 38-year-old Acholi woman, a mother of seven, trying to give birth to her eighth baby. As dawn neared, she entered the second stage of labor in a semi-seated position, and shortly after the baby's head emerged, it retracted: turtle sign! I was working with two locholo (traditional midwives), Lanyero Karamela and Oyela Mary; my friend, translator, and sister-midwife, Laker Christine; and most significantly for mother and baby that day, Kate Prendergast, a certified professional midwife from New York, who had come to Uganda (via India). When Kate saw the turtle sign, she quickly went into action.
To resolve the shoulder dystocia, Kate used the Gaskin Maneuver, named for midwife Ina May Gaskin. Gaskin learned it from indigenous midwives in Guatemala (Gaskin 2013). Gaskin brought it to public knowledge and more widespread use in the US, beginning in the 1970s.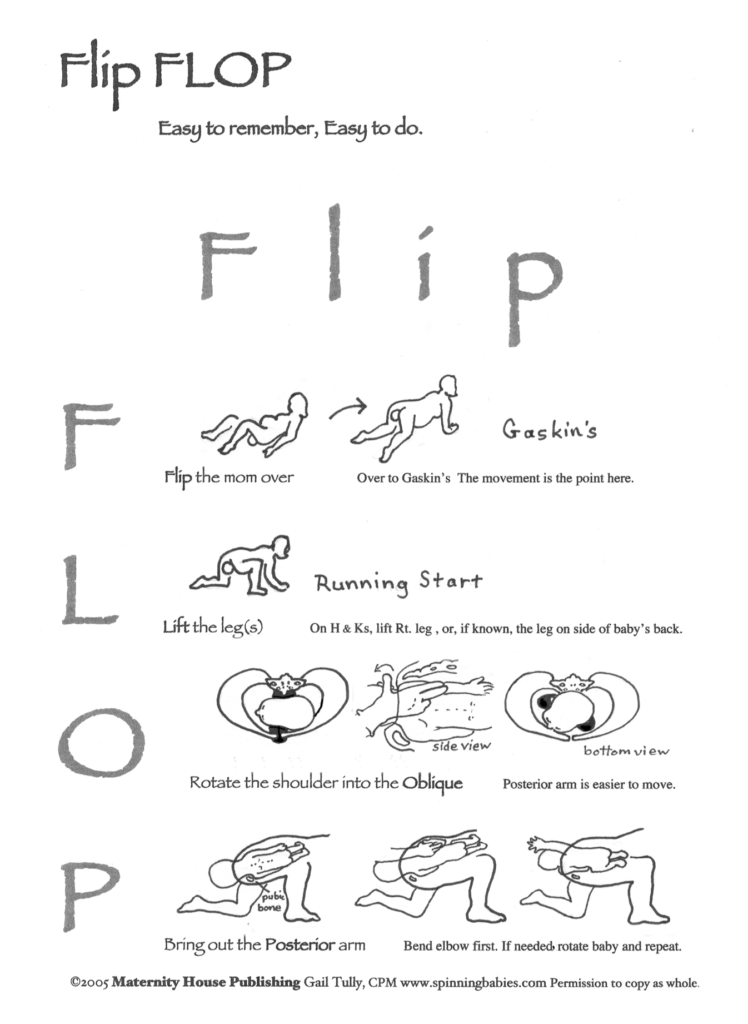 The steps in the Gaskin Maneuver are described by midwife Gail Tully's mnemonic, "Flip-FLOP." It is well-illustrated on Tully's educational website, "Spinning Babies." At any one of the four steps (pictured below in Tully's infographic), the shoulder may be dislodged and slip under the pubis symphysis bone so the baby can be born.
Often, shoulder dystocia can be resolved if the laboring mother simply "flips" onto her hands and knees to give birth. In one study, this resolved shoulder dystocia in 83% of cases (Bruner et al. 1998). If that doesn't work (and it didn't that morning in Uganda), the midwife can help put one of the mother's legs into a runner's lunge to widen the pelvis. If that doesn't work (and it didn't work that morning, either), the midwife must use her fingers to help to slip the baby's posterior shoulder out as she rotates the baby so that the anterior shoulder can get, to put it simply, un-stuck. This third move did work that day, and the baby was born beautifully. I watched the whole process unfold with admiration and awe. I watched a midwife save a life.
From turtle sign to delivery of the baby's whole body, the birth took all of two and a half minutes following Kate's necessary intervention. The baby was born on July 30 at 7:45 am. Interestingly, after rotation, that morning's baby was born from an OP (occiput posterior) position, face up or (as we sometimes say) "sunny-side" up.
The baby cried briefly and transitioned to breathing without any difficulty, so no neonatal resuscitation was needed. Because of Kate's gentle, effective maneuvers, and the mother's good health, there were no tears to repair. The baby was soon breastfeeding well. In due time, mother and baby were ready to return to Okidi parish to be with the rest of their family.
Only a few days later, I witnessed another birth at Ot Nywal Me Kuc that involved shoulder dystocia. The woman was already laboring on all fours when my lamera, my sister-midwife, Laker, who was set to do the primary delivery in that case, looked up with a startled expression on her face and said, "Turtle sign!" Stephanie Holcombe, a certified nurse midwife working on our team that day, took swift action when Laker spoke up. Her strength surprised me! Stephanie literally lifted the laboring mother off the floor from her all-fours position, laid her on the bed, and used the McRoberts maneuver, bringing the woman's legs up close and tight to her abdomen—and then applied supra-pubic pressure (sometimes called the Rubin maneuver)—to dislodge the stuck shoulder and deliver the baby.
Seeing these two shoulder dystocias resolved so close in time to one another impressed on my mind that a shoulder dystocia can happen in any laboring position. One approach that may help is to shift to the opposite position when the turtle sign appears. Thus, in the first case, a laboring mother in a semi-seated position was flipped to hands and knees to facilitate dislodging the stuck shoulder. In the second case, a laboring mother already in the all-fours position on the floor was flipped to a back-lying position on a bed. With the midwife using the McRoberts and Rubin maneuvers, she was able to give birth.
In both cases, the babies were a healthy size, but not necessarily macrosomic. While macrosomia is considered a significant causal factor in cases of shoulder dystocia, in fact even small babies can get a shoulder lodged above the pubis symphysis bone. This is especially true if the internal diameter of the maternal pelvis is small—that is, if the anteroposterior diameter is less than 10.5 cm and / or the diagonal conjugate, measured between the sacral promontory and lower edge of the pubic symphysis, measures less than 12.5 cm. A mother who has previously sustained an injury to her pelvis that changed its shape is also at risk for shoulder dystocia at delivery.
Shoulder dystocias cannot be predicted or prevented (Politi et al. 2010). However, midwives and other birth attendants can be prepared for when they occur. Two key maneuvers to know are the Gaskin and McRoberts maneuvers. These are literally life-saving.
Just a few days ago, I was talking with a friend of mine, an instructor in my county here in California who trains Resource Family Approved (RFA) foster parents. She mentioned a sweet couple that she knew who had planned to birth their first child at home with midwives. From what I could gather from the details the instructor recalled, the baby apparently became stuck in the birth canal due to a shoulder dystocia. The midwives in attendance apparently did not recognize turtle sign and took a "wait and do nothing" approach, thinking the dystocia would resolve on its own, naturally, without intervention. As a result, this baby died within minutes. The EMTs, when they finally arrived, could do nothing. Unfortunately, shoulder dystocias do not resolve naturally; they require intervention.
At the time of this conversation, I was able to comment to my friend that, thank God, the death of a baby at a planned homebirth is rare. In fact, many more babies die in hospitals than at home. Yet the risk of shoulder dystocia remains real for those having a homebirth, and their midwives should be ready for it.
A few days later, after I had heard this story, I remembered a birth I attended here in California with another midwifery team a few years ago at Christmastime. The mother was laboring on hands and knees in a birth tub in dim, blue light. The baby's head emerged, only to retract: turtle sign! One of my sister-midwives at the birth experienced the same surge of adrenaline that I had seen in Stephanie in Uganda: she literally lifted the naked, laboring mother right out of the birth tub! She laid her on the floor and used the McRoberts maneuver to deliver the baby safe and sound. The baby girl was born at 1:01 am.
She was nine pounds and five ounces when she was weighed and 21.5 inches long when she was measured after her birth. Despite the macrosomia and resulting shoulder dystocia, my sister-midwife's quick work was rewarded: the baby, born under the lights of the Christmas tree, had APGARS of 8 and 9. She needed no supplemental oxygen. Her mother had no tearing, and the baby was soon breastfeeding well—a happy ending after all.
Note: This article is not a comprehensive discussion of shoulder dystocia. For more detailed information, see the classic midwifery textbook authors, Frye, 1088 (waiting for rotation), 1091–92 (risk factors), 1100–19; Varney, 719, 883–90 (management), 948; and Sinclair, 185–86.
Consider watching training videos as well, such as "Shoulder Dystocia: Delivery, Manoeuvres, Management, Simulation" by Maternity Training International (e.g., available on YouTube at youtube.com/watch?v=YB3_fPhgmUM&has_verified=1.)
My special thanks to the midwives and their teams named here as well as the courageous mothers and their babies. Their victories are our teachers.
References: