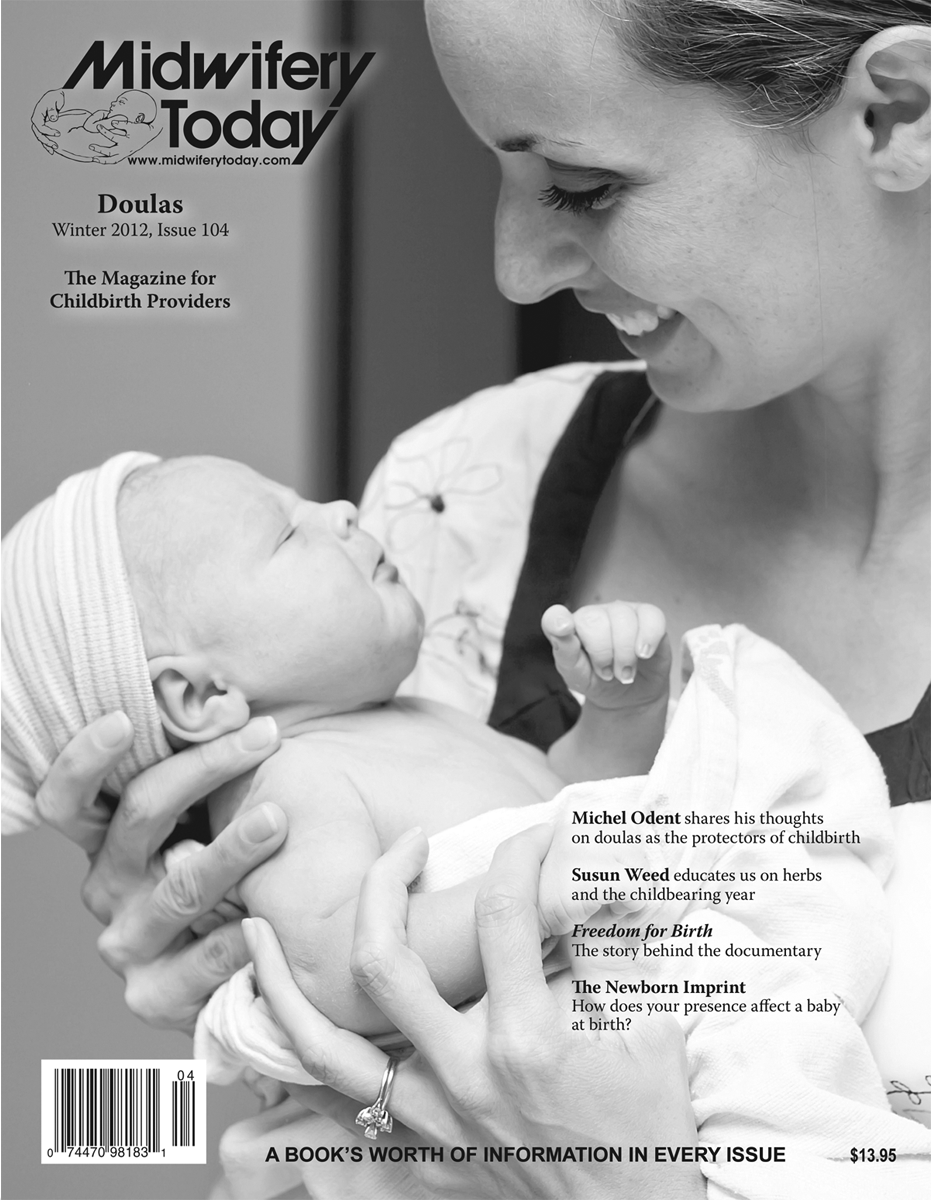 Winter 2012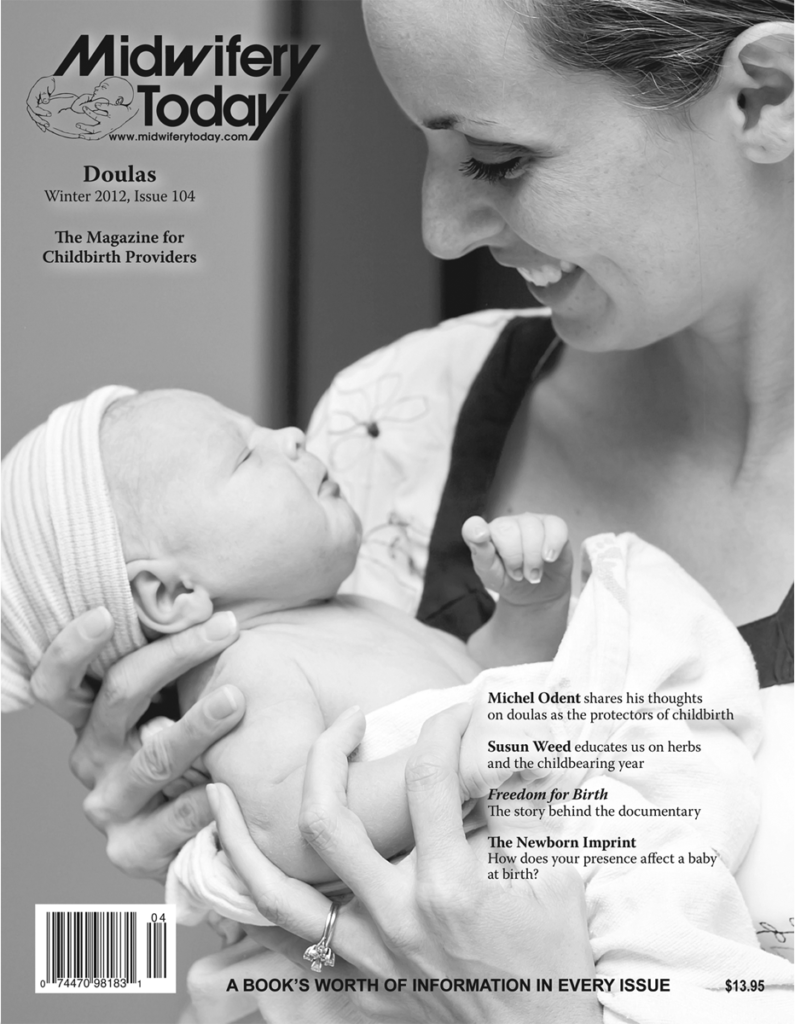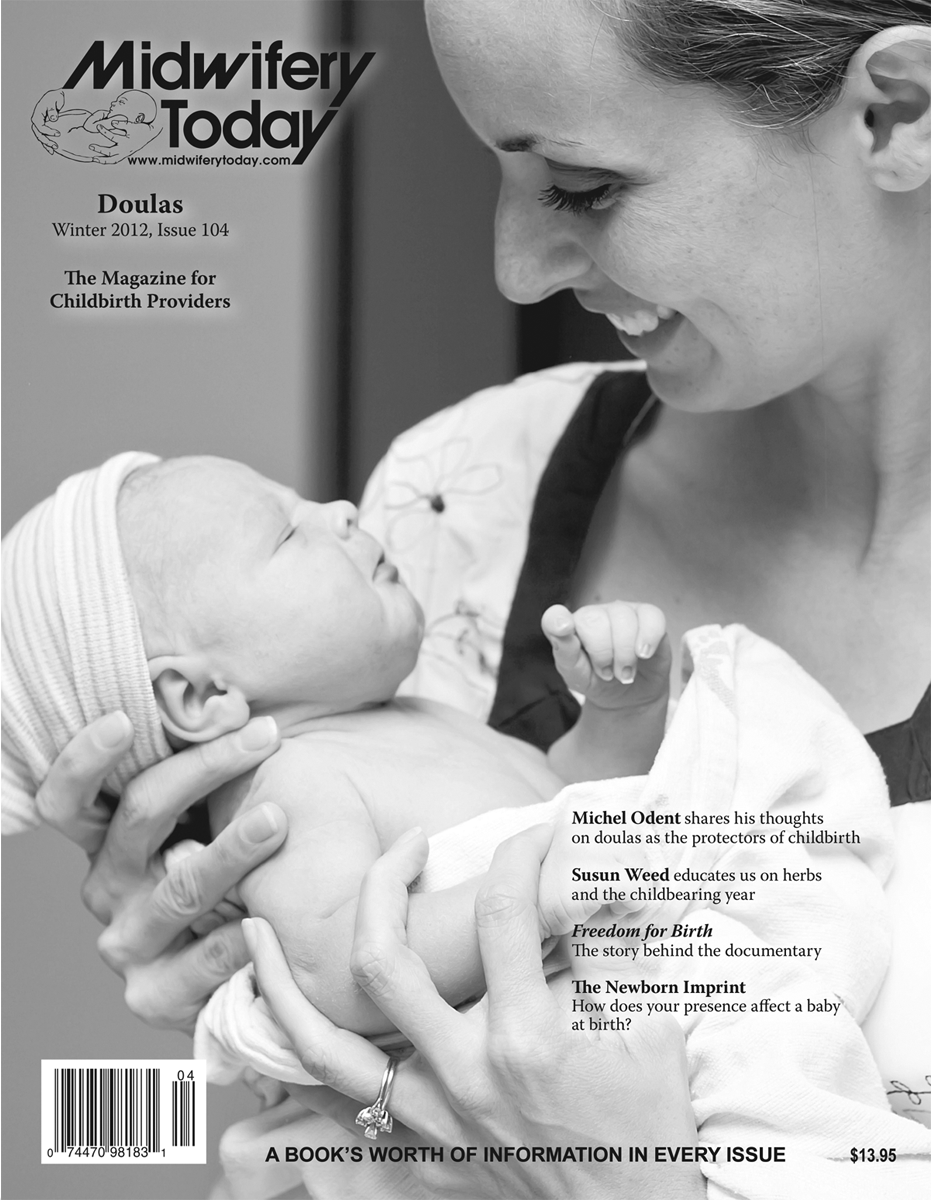 Theme: Doulas
Midwifery Today rarely receives as many theme-related articles as it did for this issue on Doulas. Obviously, many people feel strongly about the benefits of having this kind of support during labor and birth. With contributions from Michel Odent, Debra Pascali-Bonaro and author of New Mother Allie Chee, this issue is sure to delight and inspire. Also included within the pages is an educational article by world-renowned herbalist Susun Weed on the benefits of herbs during the childbearing years. And a Midwifery Today issue is always sweeter with the thoughtful reflections of midwife Sister MorningStar; this time she considers the impact those present at the time of birth have on the newborn baby. Enjoy!
---
Cover photo by Natasha Hance. Natasha Hance is a mother of five who has a deep passion for birth photography. She photographs births in the Dallas/ Ft. Worth area of Texas as NHance Photography and teaches birth photography workshops with Birth Stories [101], Photography website: http://nhancephotography.com Be sure to see Natasha's beautiful two-page spread photo, pages 36–37.
---
Departments
Poetry
From the Editor
Editor-in-Chief Jan Tritten shares her thoughts on making the rights of the baby a part of the "Birth Is a Human Right" initiative.
Networking
Tricks of the Trade
Marion's Message
Cards and Letters
Discussions
Media Reviews
News
Classified Advertising
Photo Album
Features
The Doula Phenomenon and Authentic Midwifery: Protection as a Keyword—Michel Odent
Internationally known French obstetrician Odent provides us with another insightful article about the needs of the laboring woman.
The Newborn Imprint—Sister MorningStar
Sister shares her reflections on the newborn at birth and the impact that those present have on the imprinting process.
A Doula's Bag-of-Tricks: What's in It for You?—Debra Pascali-Bonaro
Author and director of the documentary Orgasmic Birth: The Best Kept Secret, Debra tells a bit of her journey as a doula and what she has come to understand that role to be throughout her years of experience.
Herbs for the Childbearing Year—Susun Weed
As an expert of herbs, Susun Weed educates us in this article on the benefits herbs have on the pregnant and nursing mother—an easy-to-read and highly informative piece that will be a benefit to many.
A Birth Doula for Every Mother—Allie Chee
With information taken from her new book, New Mother, author Allie Chee clearly outlines the benefits of having a birth doula and provides helpful details regarding such things as cost and the selection process.
Freedom for Birth: How a Documentary Filmmaker Became a Birth Warrior—Toni Harman
Producer and director Toni Harman gives us a glimpse into what led up to her creation of the newly released documentary, Freedom for Birth.
Teaching about Birth—Nancy Halseide
Midwifery Today's managing editor, Nancy Halseide, writes about her philosophy on teaching childbirth classes: "It is my belief that women possess the instinctual knowledge on how to birth, but problems arise when women don't understand the type of environment they need in order for their intuitive nature to be free to act."
Confessions of a 57-Year-Old Rookie Doula—Helen Hill
A delightful story about a woman's experiences as a doula and her journey to midwifery.
Pelvic Trauma in Childbirth—Lynn Schulte-Leech
As a physical therapist, Leech has become an expert at working to heal pelvic trauma in postpartum women. She shares her experience and expertise in this educational article.
Supporting Empowered Births—Heathir Brown
An Oregon doula discusses helping clients whose ideas of empowered births veer from the natural approach.
Martha Ballard: A Midwife of Maine, 1778–1812—Jane Beal
A historical account of a truly remarkable woman who took care of the health needs of women in Maine and left behind valuable information in a diary she kept of her dealings with patients.
DONA's Youngest Certified Doula—Mary Ann Lieser
"Allie Sakowicz, an 18-year-old from Chicago, is noteworthy for being one of the youngest doulas DONA International has ever certified. The 2012 high school graduate has already been present at over 30 births."
Oregon's House Bill 3311: Including Doulas in the State Medical Insurance Program—Janna Blair Slack
An Oregon doula highlights the recently passed bill that includes doulas in Oregon's state medical insurance program and what this means for doulas and their clients.
Sing to Your Belly—Cathy Fink
A two-time Grammy Award-winning children's musician shares the benefits of singing to babies, both before and after birth.
My Birth Trauma Story—Tanja Kahl
In this very serious and important read, author Tanja Kahl shares her personal story of a birth that left lasting emotional, physical and mental trauma.
Help, I'm a Guy! Homebirth from a Man's Point of View—Ken Magri
A husband shares the story of how he eventually became convinced that his wife's wish to birth at home, which ended up including a horse trough and beer, was the best way to have a baby.
Collusion and Negligence in Hospitals—Judy Slome Cohain
"One predominant problem with planned hospital birth stems from the requirement of collusion among hospital workers. Hospitals are living organisms whose drive for self-preservation takes precedence over the goals and needs of the patient."
From Hospital to Homebirth—Kerry McDonald
A mom shares her story of how she decided homebirth was the best option for her and her baby after having given birth in the hospital with her older children.
Doulas and Midwives Laboring Together—Robin Gray-Reed
Author Robin Gray-Reed reflects on how meaningful her relationships with midwives were when she was a doula and how she now finds the contribution of doulas invaluable in her new role as a midwife.
Problems in American Maternal Health Care—Dan Currin
This article takes a look at the unimpressive maternal health care statistics in the US.
Hypospadias and Endocrine-disrupting Chemicals—Kimberly Palmer
International Midwife
The Midwife and the Doula: A Tale of Two Sisters—Vicki Penwell
Co-founder of Mercy In Action Vicki Penwell tells of how she and her sister work together as a dynamic birth duo.
A Week and a Question—Heide Thorsen
A Norwegian doula tells a feel-good story of the week she asked God a question and how He gave her the answer.
Homebirth in Bulgaria: A Hush-hush Affair—Sevda Licheva
Unfortunately, homebirth in Bulgaria isn't something that can be talked about freely. This article gives us insights into the current situation there and what women are doing in order to have choice in childbirth.
Doulas in Europe—Elena Piantino
As a doula working in Switzerland, Piantino describes the current doula situation in Europe.
Birth in the Netherlands: The Current Situation—Thea Van Tuyl
Danish birth worker Van Tuyl provides current information about birth in her country.
= Membership Article.
= Membership Article.