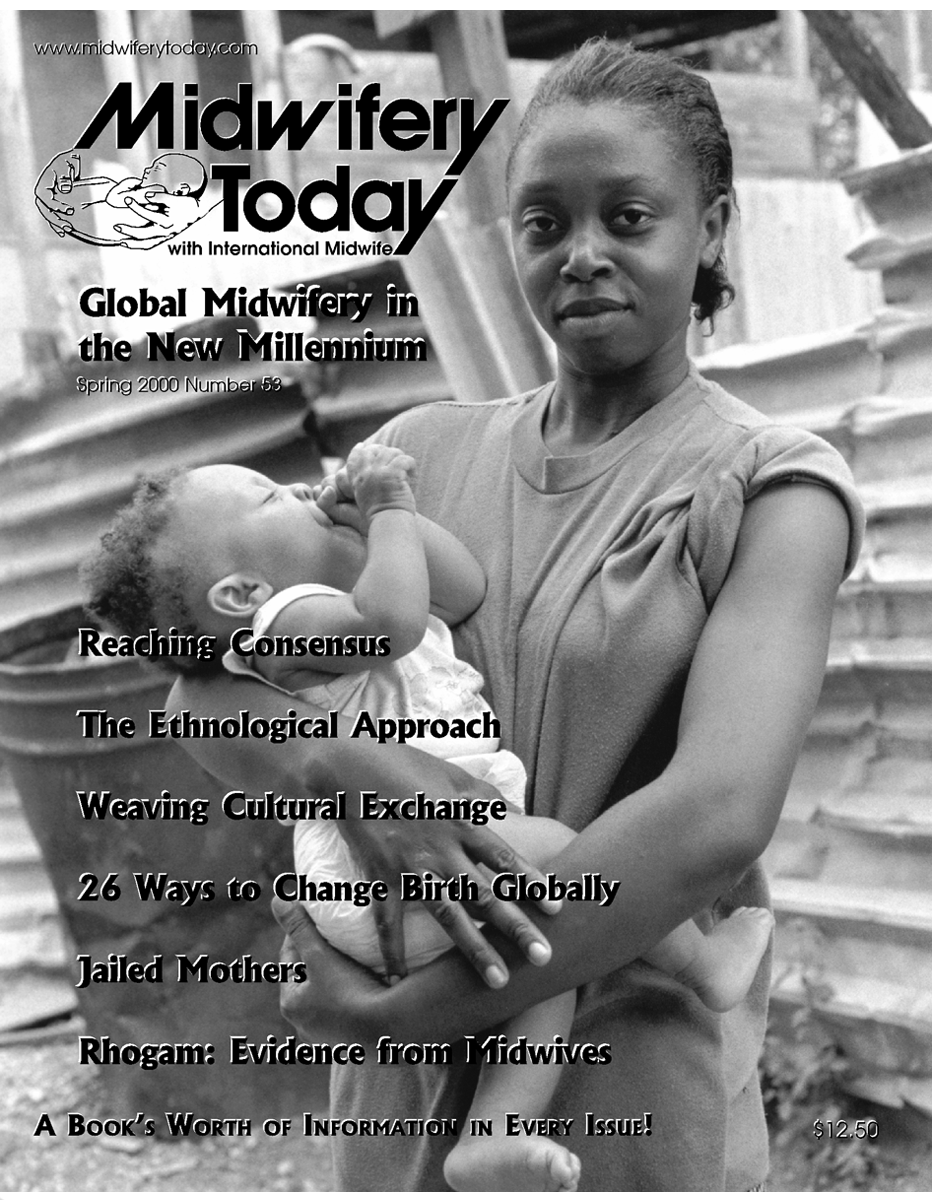 Spring 2000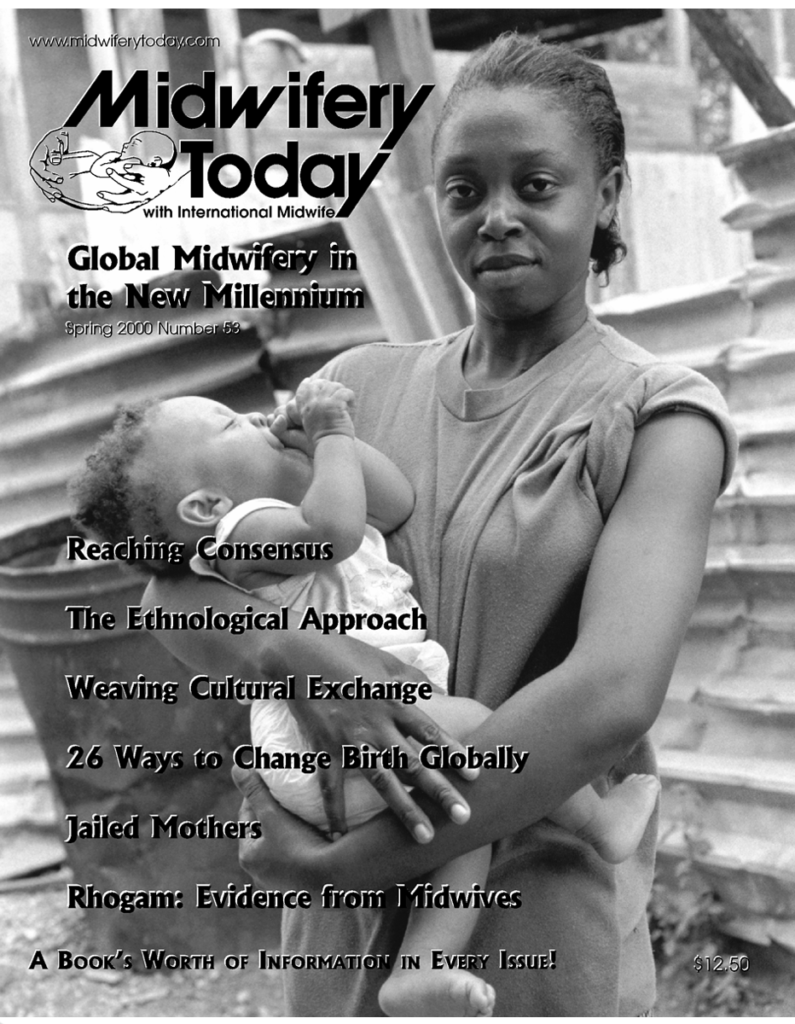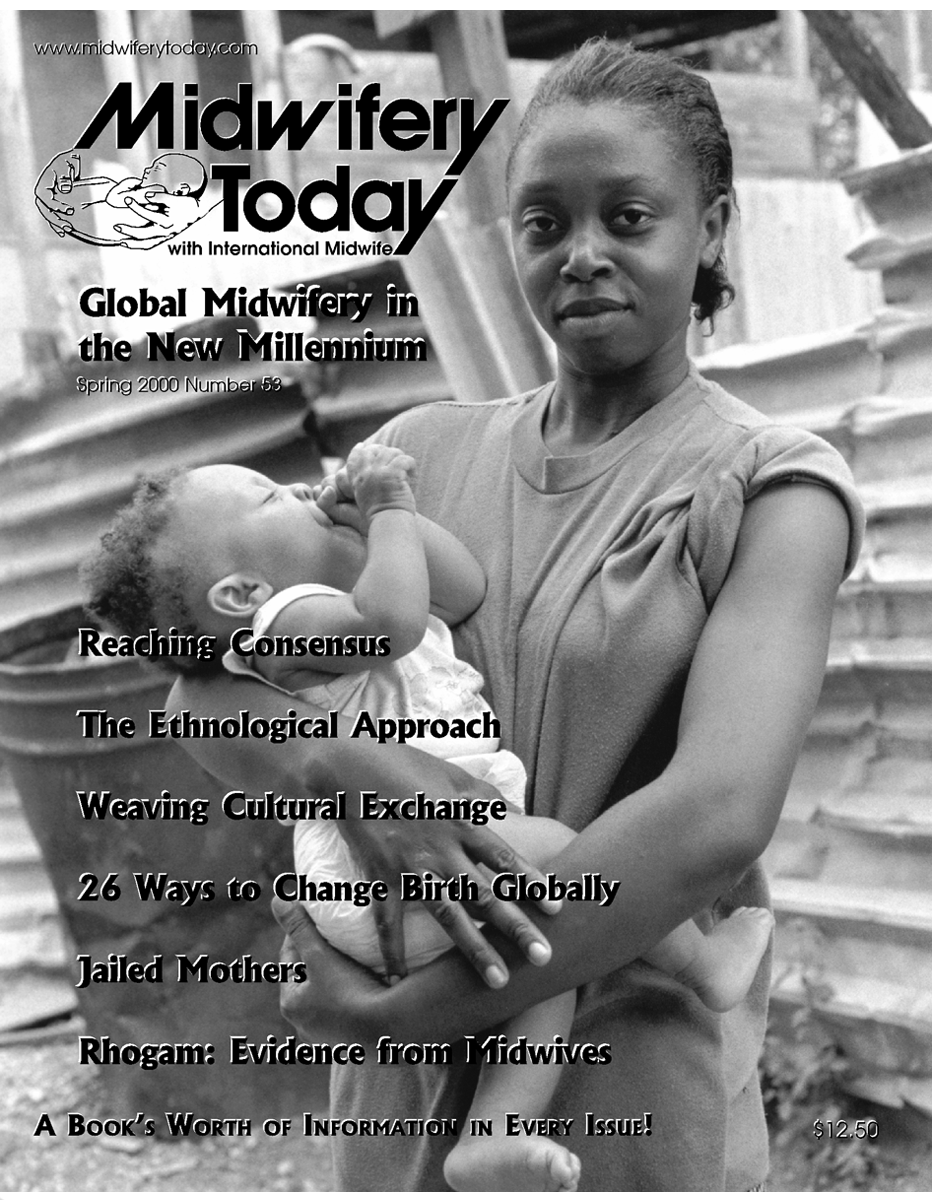 Theme: Global Midwifery in the New Millennium
"The greater the social need for aggression and an ability to destroy life, the more intrusive the rituals and beliefs have become in the period surrounding birth." The Ethnological Approach-Comparing Cultures by Michel Odent, M.D.*
How can we help to make midwife-attended birth the first choice of mothers around the world? What do we mean by "Global Midwifery?" Is such a term even meaningful?
Read Midwifery Today Issue 53, "Global Midwifery in the New Millennium" for insights into these issues. In "Mutual Accommodation or Biomedical Hegmony? Anthropological Perspectives on Global Issues in Midwifery" Robbie Davis-Floyd points out a distressing cross-cultural trend about midwifery and birth in the developing world: "Professional midwives often treat women very badly during birth, ignoring their needs and requests, talking to them disrespectfully, ordering them around, and sometimes even yelling at them and slapping them. At the same time, and in direct correlation, the professional midwives are themselves often treated badly by the healthcare systems in which they work." She mentions a recent cross-cultural study that shows that low status for women directly correlates with higher maternal mortality rates and adds that "This literature consistently indicates that community midwives usually give skilled and considerate care and remain, in many parts of the world, the only viable option for millions of women.
"In talking globally, of necessity we run the risk of premature homogenization of talking and working in such vast generalizations that one throws out the baby with the bath water, so to speak." Reaching Consensus, Discovering Allies, Finding Tools by Janet Chawla
Global Change
Learn what you can do to help change birth! In "26 Ways to Change Birth Globally," Sara Wickham reminds us that even little things like wearing a T-shirt supporting midwifery are important because "The more people are exposed to hearing about midwifery and gentle birth, the more it will become a "norm" for them."; Other ideas are talking to children or school audiences, lending out books and videos, and being able to cite the evidence in favor of midwifery care and homebirth. On the other hand, in "Be True to Midwifery: Promote, Preserve and Nurture" Lois Wilson warns that "when we try to make something palatable to the larger culture, we run the risk of losing the heart and authenticity of the very thing we are trying to promote. This is especially true if our cause…runs counter to the ideas and values of the culture at large." She recommends that we uphold four imperatives:
Remember that some cultures never lost the midwifery model in the first place.
Never lose the basic definition of what it means to be a midwife.
Uphold apprenticeship as the superior way to learn midwifery.
Learn to nurture each other.
A Closer Look at Diversity
Read about the diverse midwifery practices in one Guatemalan community in "Global Midwifery and Local Traditional Birth Attendants at the Millennium" by Matthew R. Dudgeon. This article takes a close look at three very different midwives who practice there: "All these women received the same training and live and practice in the same small community. They represent real diversity, however…and their stories provide insights into possibilities for conceiving global midwifery at the millennium."
"I couldn't believe I had just given birth to a twelve pound baby. I'd had no drugs for pain. No episiotomy….If I can give birth to a twelve pound baby vaginally, I can do almost anything." Big Birth by Lynne Hughes
Rhogam
Sara Wickham shares some of the results of her research in "Rhogam: Evidence from Midwives." For example "Most of the midwives believed that if third stage was allowed to occur naturally, with no attempt at intervention, then the leaking of fetal blood into the maternal circulation was unlikely." They also commented that unless there is a global shift away from technologically managed birth, we may not be able to do quantitative research in order to discover the natural rate of isoimmunisation. All midwives agreed that it is important to give women both sides of the issue and help them make their own decisions.
Other Articles
Read how the homebirth of his first daughter was an epiphany that lead one man to midwifery in "My Road to Midwifery" by Bob Green. "It's hard for men in nursing to break into labor and delivery, even if, like myself, they have had a 'calling.' My first few years out of nursing school I spent mainly in cardiac intensive care." In "Jailed Mothers" Kathy Rateliff shares her experiences with a program that is attempting to help motivated women find a way to return to society and stay out of jail: "The gate for this program is the pregnancy and childbirth experience because it has the potential to help women see themselves as stonger and more capable of controlling their lives." A check on the women who have been out of the program for at least nine months shows a recidivism rate of less than half the county's normal 70 to 80 percent return rate.