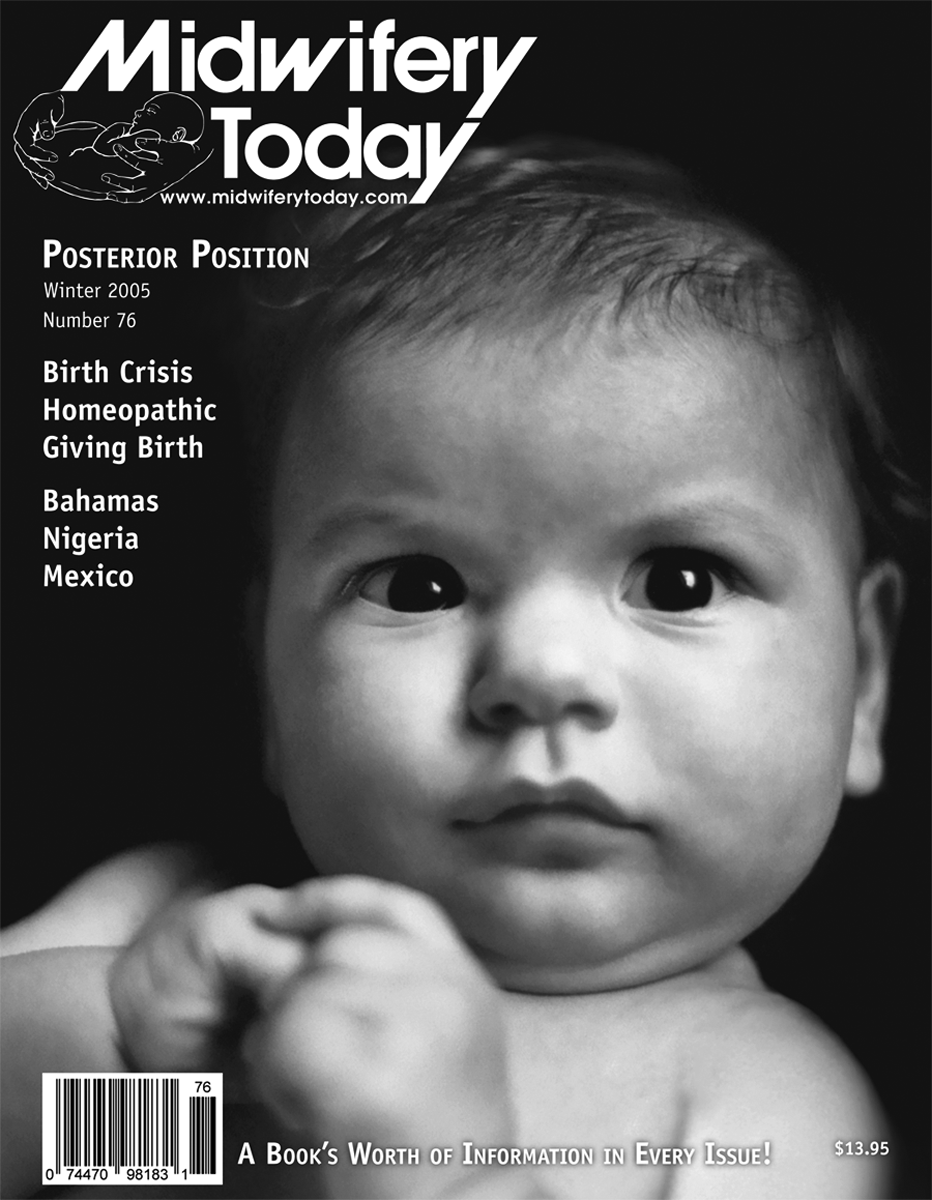 Winter 2006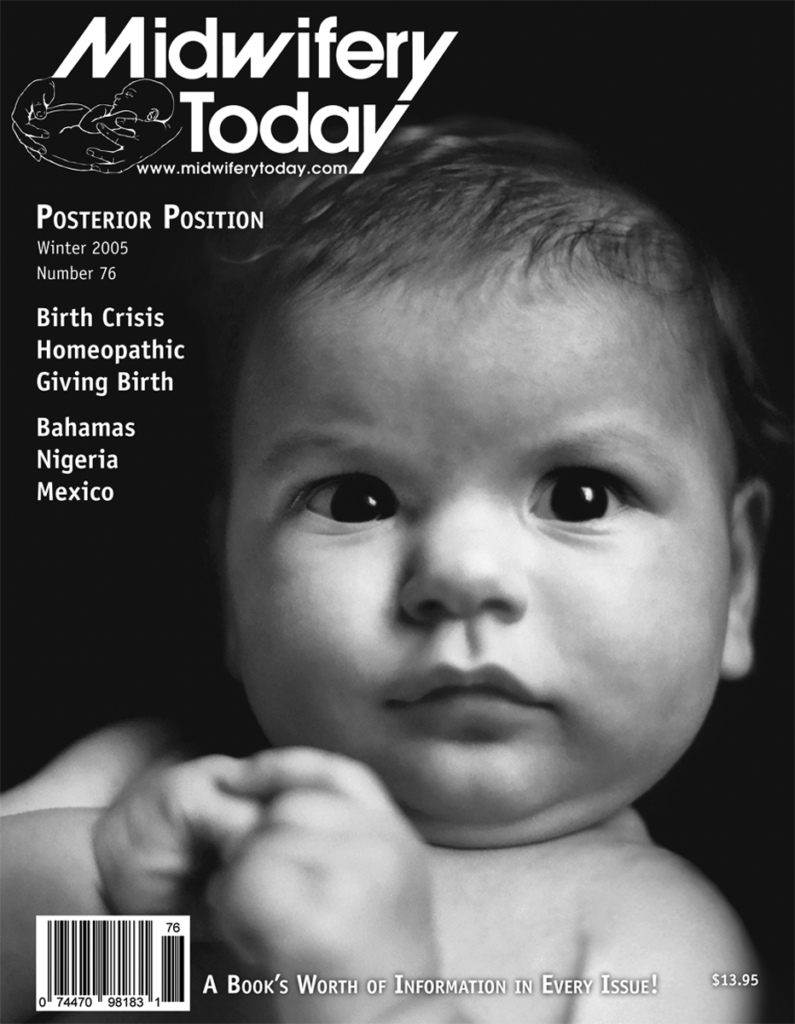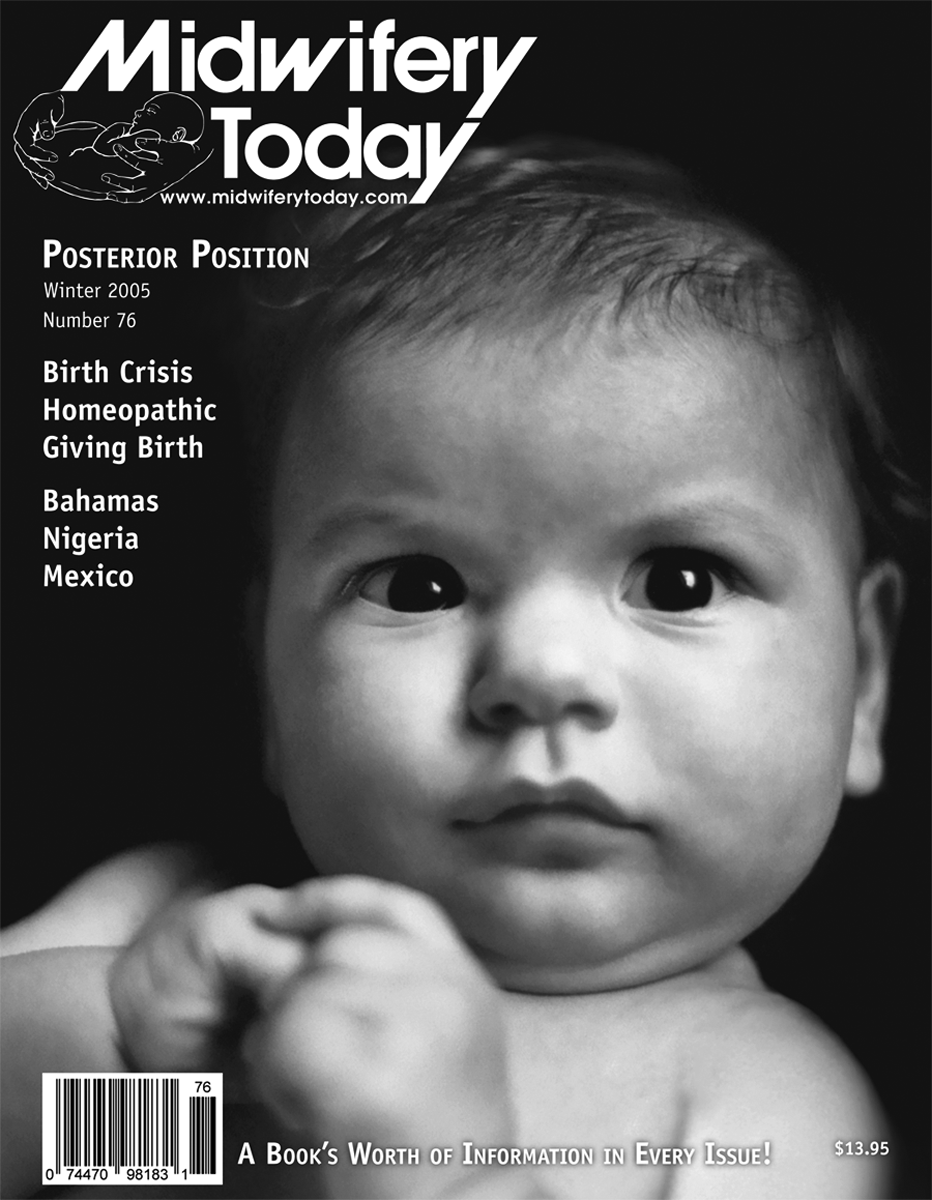 Theme: Posterior Position
Posterior Position refers to a baby being born facing up, rather than down. When you read this issue, you'll learn how to determine the position of the baby, assist a mother with turning the baby, either during the pregnancy or during birth, or help with the birth when the baby doesn't turn. Posterior babies often cause back labor, so identifying the condition early will help a midwife to assist mom in delivering the baby and avoid damaging medical interventions. This issue also contains interesting accounts of birth in Africa and Mexico, as well as interviews, photos and birth stories.
---
Miss Sophia Segarra was born at 1:10 am, July 2, 2005, to two ridiculously doting parents, Jessica Cagle, Midwifery Today advertising director, and proud dad, Frank Segarra. Jessica started at MT in 2002 as Managing Editor, and promised herself that her own baby would one day appear on the cover. Three years later, Sophia arrived. She weighed only 5 lb, 10 oz. at birth, but has since nursed her way up to 12 lb.
Minhoon Kim, MT's new designer, took the photo in our office, where Sophia has been working in her mom's arms since she was six weeks old. It was a quick photo shoot, just enough time to get a few good photos and for the subject to pee on the office couch!
Departments
Poetry
A poem celebrating the birth of his granddaughter.
Networking
Tricks of the Trade
Midwifery Model of Care—Phase II
Learn about this new concept and how to participate in realigning midwifery.
Marion's Message: Three Births in Posterior Position 
Marion describes three different births in which the baby began in posterior presentation. This article includes tricks for turning a posterior baby.
Media Reviews
News
Classified Advertising
Calendar
Photo Album
Features
Posterior Labor: A Pain in the Back—Valerie El Halta 
This is a reprint of an article on changing a posterior position, by Valerie El Halta, that was previously published in Midwifery Today #36.
A Decade of Nurse-Midwifery Practice, and Done—Sharon Glass Jonquil 
Sharon describes being "downsized" out of a hospital-based midwifery practice and how she responded.
Just Say No to Drugs—Esther Marilus
The author explains how conclusions from a study of early versus late epidurals are flawed and what the study really shows.
Birth Crisis—Lori Wrankle
Response to "Birth Crisis"—Elise Hansen
Two points of view on the passage a new law allowing midwives to carry some drugs in Utah.
They Do Come Out—Kari Benson 
This birth story shows that even with a large, posterior-positioned baby, birth works!
Occiput Posterior Position Should Be Exceptionally Rare at Birth—Michel Odent 
"Persistent posterior position at birth will become exceptionally rare on the day when the meaning of privacy is understood and authentic midwifery has been rediscovered." Read this article to learn why.
Homeopathic Tools for Occiput Posterior Position—Piper Martin 
Piper Martin discusses homeopathic methods for dealing with occipital posterior position.
An Interview with Mabel Dzata—Heather Long 
An interesting interview with a revered Pacific Northwest midwife.
Lecithin: It Isn't Just for Plugged Milk Ducts and Mastitis Anymore—Cheryl Renfree Scott 
Lecithin is an emulsifier, a dietary supplement and it helps support lactation. This article has some good information on dosage and uses.
Is Posterior Position Really a Problem?—Wintergreen
Posterior births have always occurred. Wintergreen describes one method for successfully birthing a baby in posterior position.
Giving Birth: A Midwife's Faith in Birth Is Reborn—Dena Moes 
After a test of faith, a midwife births her own baby without a hitch.
Birth and Death: The Mystery of Mortality, An Interview with Jeannine Parvati Baker, Part Two—Sarah Naomi Bly 
Jeannine Parvati-Baker contributed so much to bringing life into the world and now she is dying. This interview captures her thoughts on the juxtaposition of these two opposite events.
Reclaiming a Cuban Heritage, Nassau, Bahamas, September 2005—Marina Alzugaray 
Marina tells of her experience at the Bahamas conference and plan for a Cuban midwives group
Bahamas 2005 Scrapbook
Memories from the 2005 Midwifery Today Bahamas Conference.
An Extraordinary Ordinary Birth—Angelia Brea Mercer
The author tells the story of a homebirth that succeeded with the support of her midwife and husband.
Reducing the Risk of Postpartum Depression—Adarsa Antares
An apprentice midwife and doula discusses postpartum depression and how it can be avoided.
A Call to Action: Vaginal Birth After Cesarean (VBAC) in Crisis in Florida—Darjee Sahala
Like the rest of the nation, physicians are beginning to deny normal births to women who have had cesareans. Learn about what you can do.
HIV in Postpartum and Baby Care—Nancy Miller
Nancy continues her HIV series with a discussion of treatment for moms living with HIV and their babies.
The Business of Midwifery: Documentation for Success II—Linda Lieberman
Learn about the different types of notation that are useful when documenting for your midwifery practice.
Heavy Metal Toxicity and the Unborn Child—Janine Bowring
A naturopath discusses the threat of heavy metal toxicity and detoxifying prior to pregnancy.
International Midwife
Cards & Letters
What Hope Looks Like: A Visit to the Fistula Hospital—Deborah Craig
About 5% of women worldwide will experience obstructed labor, the major cause of fistulas. Learn about this amazing hospital in Addis Ababa in Ethiopia where women can go for help.
Homebirth in Nigeria: Obstacles and Prospects—Andrew I. Ewere
Read about Gentle Birth Education Centre in Nigeria and their work with homebirth.
Mexico Birth Center: Part II—Joni Nichols 
This is the second in a two part series of midwifery clinic the author founded in Mexico.
Traditional Mexican Midwife: Doña Enriqueta Contreras—Translated by Robbie Davis-Floyd 
Robbie Davis-Floyd interpreted from Spanish this fascinating interview with a traditional Mexican midwife.
  = Membership Article