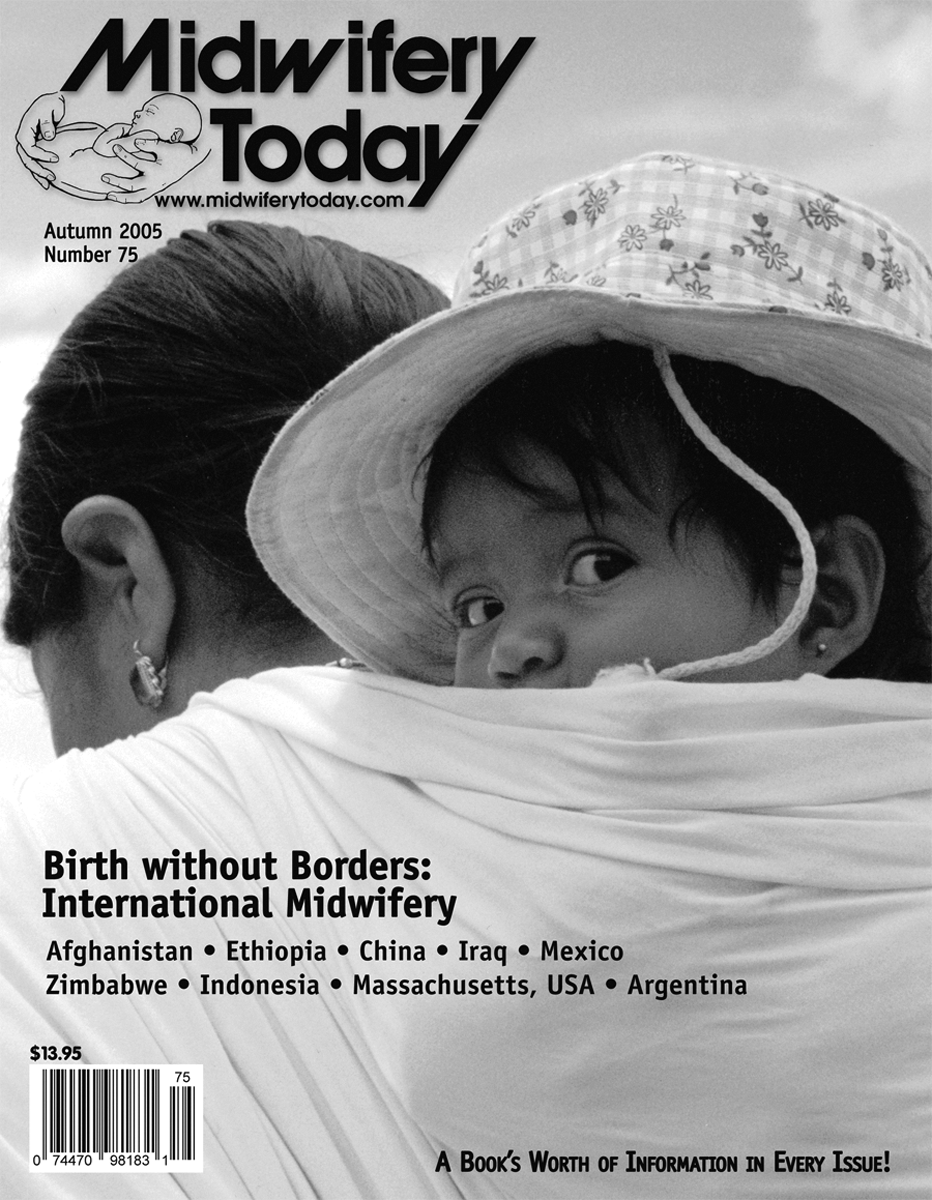 Autumn 2006
Theme: Birth without Borders
This photo was taken in a market outside Otavalo, Ecuador, by Caroline Brown. She was visiting on her way to fullfilling a lifetime dream of visiting the Galapagos Islands. She noticed that in Ecuador, children accompanied mothers as they worked, marketed and otherwise went about their daily lives. The mothers used fabric slings to carry their small children and infants on their backs. Through an interpreter this mother gave verbal consent for the photograph.
---
Departments
Poetry
Networking
Question of the Quarter
Tricks of the Trade
Media Reviews
News
Classified Advertising
Calendar
Photo Album
Midwifery and International Maternity Care—Marsden Wagner
Maternity care has evolved to a point of little or no autonomy for women in the US, with too many deaths and little humanity. In order for that to change, women need to be fully supported in society and midwives also need autonomy. This article suggests requirements for postmodern humanized maternity care.
Afghanistan—Linda Barnes
This article provides us with a look into birthing in Afghanistan during 2004.
Birth without Borders: The Clash of Modern & Traditional—Wintergreen
A gathering of traditional midwives in Zimbabwe in 1998 reflects the ongoing clash between modern medical systems and the reality of life in a developing country in relation to childbirth.
Tsunami Midwives: Learning to Burn the Umbilical Cord—Robin Lim, Harvest Rowena Alcock, and Kelly Dunn 
Along with heartbreak and death, the great tsunami of 2004 in Sumatra also brought new challenges to traditions of birthing. Volunteers from Yayasan Bumi Sehat, a nonprofit center, demonstrate how to protect babies from infection by burning the umbilical cord rather than cutting it.
The Cambridge Doula Program: Helping Women Access Their Deepest Courage—Julie Brill 
Cambridge, Massachusetts, has a unique doula program that matches doulas with pregnant women who speak a language other than English. This article describes the program and the good that has come from it.
What More Can We as Midwives Do about HIV?—Nancy Miller 
The author discusses the shocking statistics on HIV and AIDs cases in Africa, shares some real stories and wonders what the future holds.
Twins, Breeches and Roadside Birth in Iraq—Susan Raymond 
A direct-entry midwife shares her experiences in Iraq, recounting the influence of culture, the political situation and (lack of) technology.
A Hospital Visit in China—Teri Ewing 
Few Chinese have homebirths; according to the author, those in the hospital are rushed and immediate bonding with the mothers is not seen as important. This article provides a fascinating thumbnail sketch of a Chinese obstetric ward.
Women's Secrets: Childbirth in Rural Ethiopia—Deborah Craig 
"When a labor is long and difficult, women of the village put huge rocks on their shoulders and walk around the hut to take some of the burden of the mother's pain and encourage her to keep going." This and other village childbirth traditions are shared by Danyanish Mekkonen, traditional Ethiopian midwife.
A Miracle in Aceh—Robin Lim
Robin Lim, a midwife in Indonesia, captures a magical story amidst the devastation in Banda Aceh, Sumatra, Indonesia, which was struck by a tsunami in 2004.
Homebirth Advocacy—Judy Hagan 
Judy Hagan comments on the increasing medicalization of birth, including the role of some midwives in perpetuating it. She goes on to discuss how she, as a midwife, has handled her business, and the need to advocate for home births.
Eugene Conference 2005 Report
A Selection of International Nutritional & Herbal Remedies for Breastfeeding Concerns—Cheryl R. Scott and Hilary Jacobson 
Throughout history, women from around the world have discovered remedies made from herbs and foods for specific breastfeeding conditions. The authors share some of those.
Preserving Simple Birth—Sister MorningStar
Taken from a speech given at the Future of Birth Conference in Columbia, Missouri, Morningstar shares her powerful philosophy on simple birth.
Midwifery Revolution—Marina Lembo
Argentinian Marina Lembo, enthusiastically promotes midwifery and recounts the development of a community of midwives who have put together a birthing center where they can treat birth as a natural event. The Spanish version of this article may be found at https://www.midwiferytoday.com/mt-articles/arriba-la-revolucin/
Doña Irene Sotelo—Translated by Robbie Davis-Floyd
A Mexican midwife recounts the story of her calling to midwifery and shares her philosophy.
Luna Llena (Full Moon)—María Cristina Galante Di Pace and Araceli Gil Archundia, translated by Robbie Davis-Floyd 
Women in Oaxaco, Mexico, live with poverty, discrimination and inequality. Luna Llena is a training center for Oaxacan midwives, which seeks to improve the condition of women, believing that the manner of birth defines the manner of life.
Luna Llena: Centro de iniciación a la partería en Oaxaca—María Cristina Galante Di Pace and Araceli Gil Archundia
Preventing Episiotomies—Katherine Jensen 
We have now come full circle on the usefulness of episiotomies: they are harmful. Katherine Jensen describes in this article how she arrived at that conclusion through intuition and experience.
Mexico Birth Center: Part I—Joni Nichols 
This interesting article documents the development of a birth center in Guadalajara, Jalisco, Mexico, which parallels the development of the birth professionals in their approach to and successes in natural birth.
The Midwife Garden—Janice Marsh-Prelesnik
Creating a midwife garden, and sharing the plants with your clients, is a wonderful way to promote health naturally and to aid the body in nourishment and healing. Learn about some of the plants to be included.
The Meaning and Functions of Labour Pain—Verena Schmid
Pain in childbirth is a way for women to know whether things are going right or wrong; movement is the physiological answer. Modern childbirth has taken away both. Verena Schmid provides a thought-provoking essay on the functions of labor pain.
The Business of Midwifery: Documentation for Success—Linda Lieberman
Documentation is the single most important tool for health care providers in the 21st century. This article explains how midwives can effectively use this tool.
International Midwife
Cards & Letters
Country Contacts, IAM
  = Membership Article