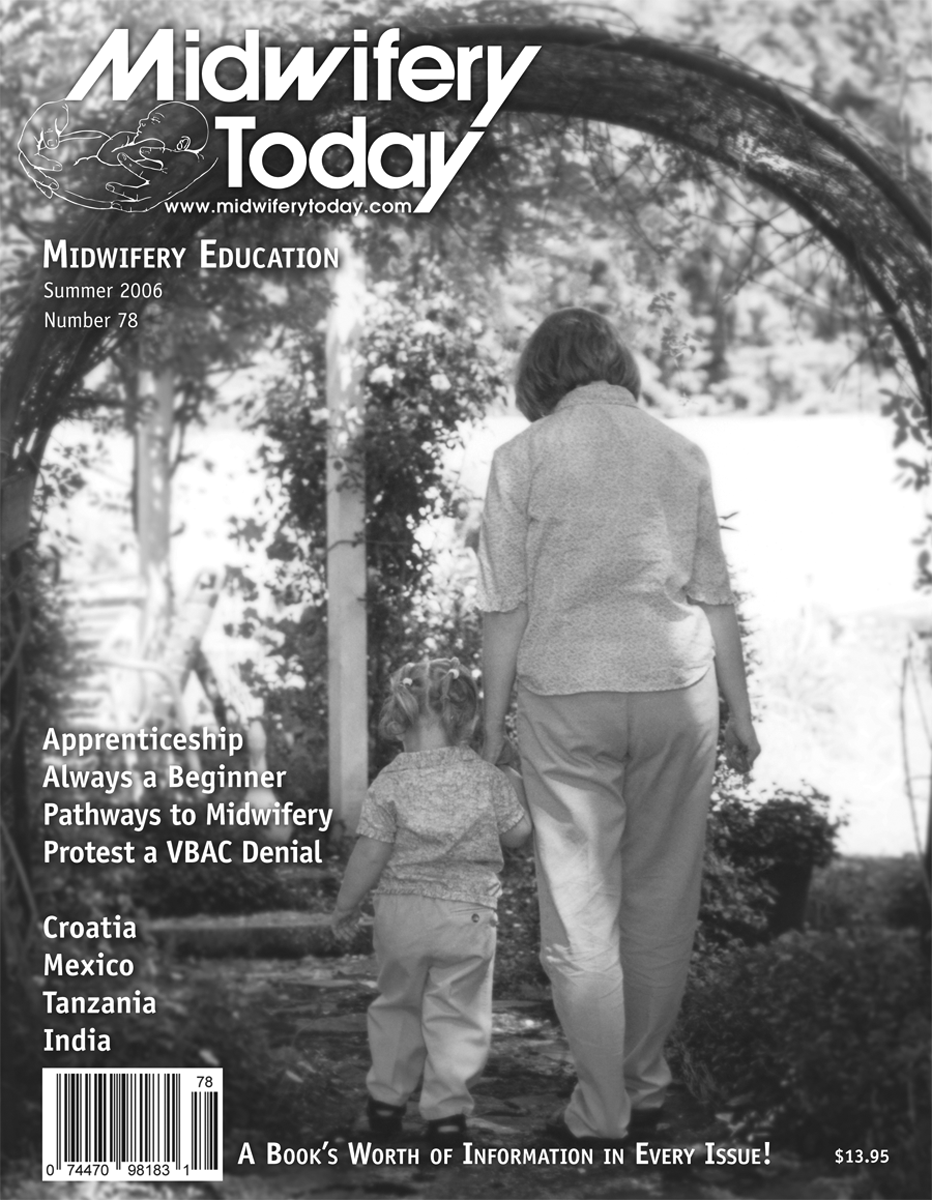 Summer 2006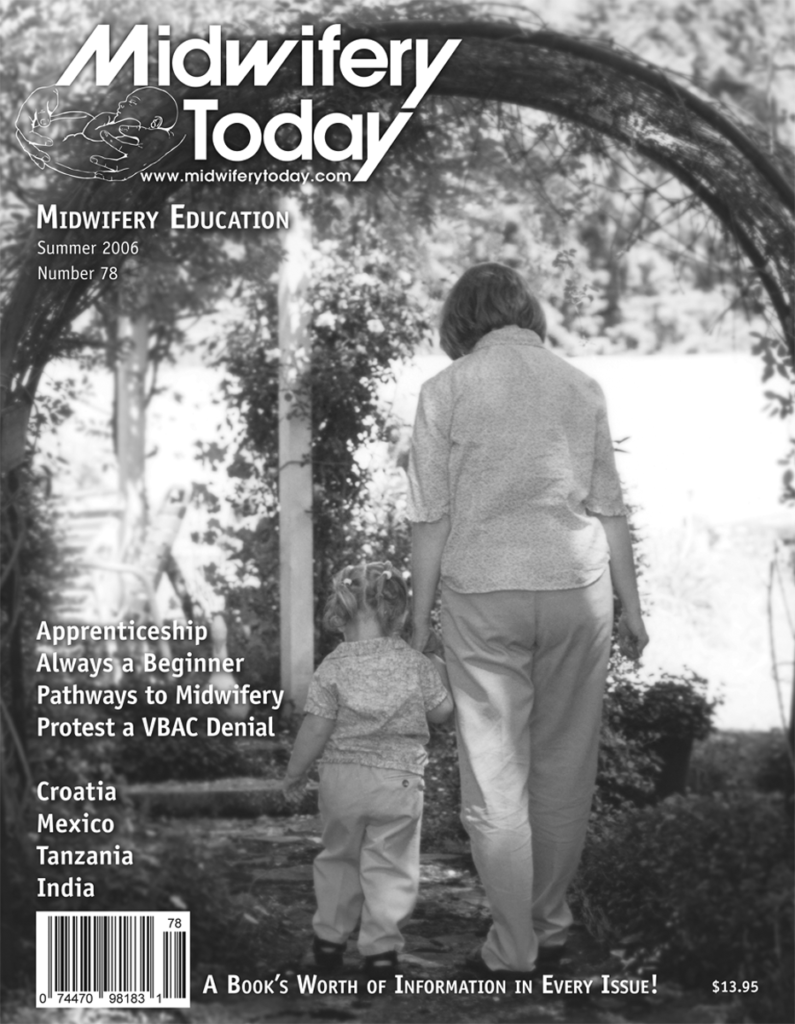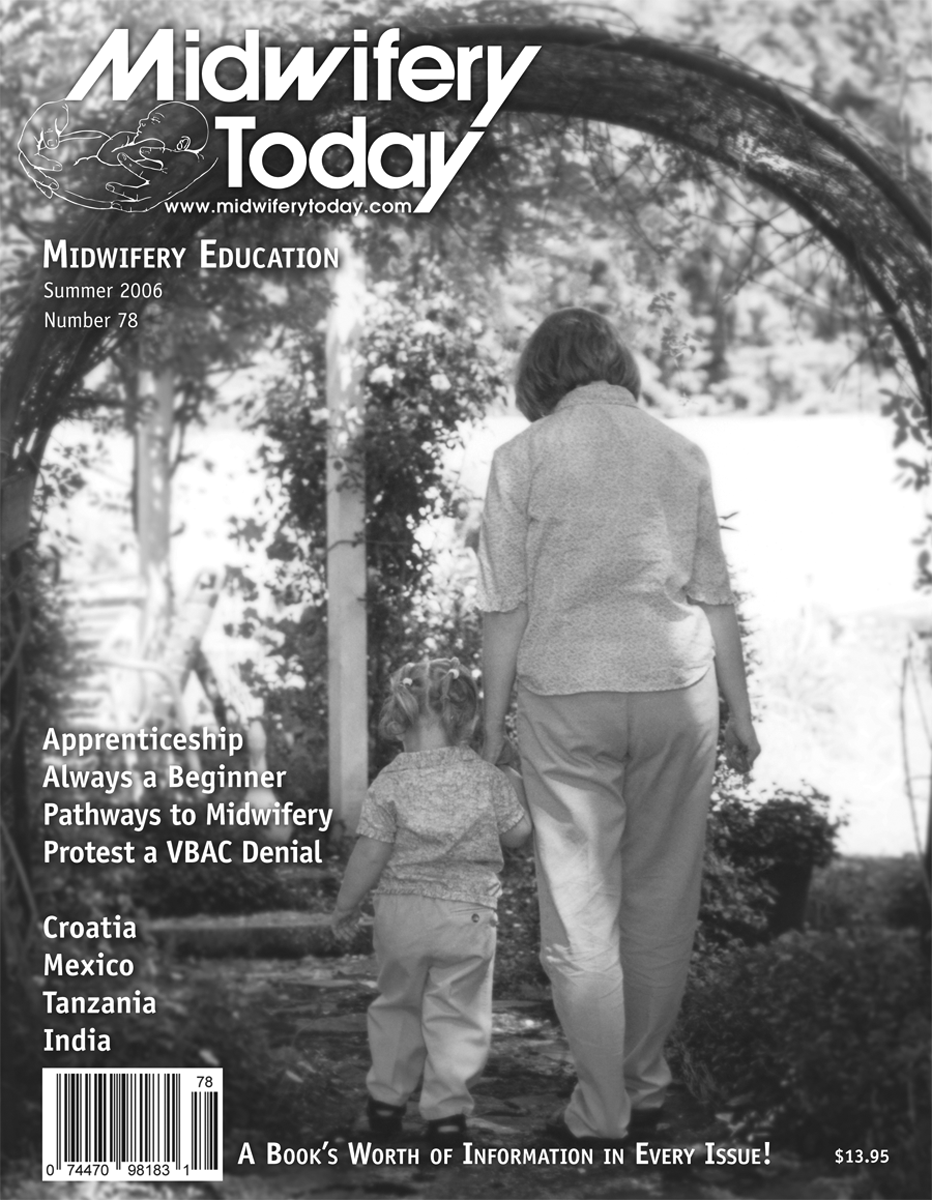 Theme: Midwifery Education
Are you considering becoming a midwife? This issue is a good start to finding out which available educational path suits you. You'll find articles on traditional midwifery, nurse-midwifery, apprenticeship, and direct entry midwifery, as well as a listing of current direct entry programs available around the US, and a whole lot more.
You'll also enjoy the usual fantastic International Midwife section, with articles on midwifery from Norway, Africa, Mexico, Croatia, Italy, and India.
---
Departments
Poetry
From the Editor
The publisher of Midwifery Today's gives us her take on midwifery education.
Networking
Tricks of the Trade
Midwifery Model of Care—Phase II: Midwife Education
A thought-provoking essay on how we characterize birth and midwifery.
Marion's Message
A contributing editor comments on the Jennifer Williams trial in Indiana, where a homebirth midwife was arrested and charged with practicing medicine and midwifery without a license.
Media Reviews
News
Classified Advertising
Calendar
Photo Album
Midwives as Educators: Teaching in the 21st Century—Daphne Singingtree
What makes a good midwifery educator? This article answers that question and relates some of the results from an informal survey of 156 midwives regarding clinical training.
Apprenticeship: Do You Really Want One?—Renata Hillman
This article discusses what she views as the essentials for a successful apprenticeship.
The Secret—Amanda Hamilton
Teacher Amanda Hamilton savors the moments she has with her night owl daughter in a touching vignette.
Traditional Midwifery, a Traditional Vocation—Casey Makela
Michigan School of Traditional Midwifery (MSTM), an alternative on the route to midwifery, is the topic of this article.
Always a Beginner—Beth Leianne Curtis
This essay answers the question "How important are credentials?"
Pathways to Midwifery: ACNM—Jerri Hobdy
A poem that captures the spirit of women learning to be midwives.
School of Authentic Midwifery: A Student's Journey in Finding a School—Jennifer Summerfeldt
Jennifer discusses a unique holistic midwifery program from the House of La Matrona.
The Old Midwife—Mary Doezema
A charming tale about an old midwife.
Why Accreditation? MEAC and Midwifery Education—Mary Ann Baul
One path to midwifery is through an education program accredited by MEAC. This article will provide the basics on this accrediting agency and why to choose an accredited school.
The Flowering of Midwifery Education—Elizabeth Davis
Elizabeth Davis talks about the differences between medical and midwifery models and provides an overview of her educational program.
US Direct Entry Midwifery Programs
A list of direct entry midwifery programs available in the US.
North American Registry of Midwives
This CPM-certifying organization is briefly described here.
50 Ways to Protest a VBAC Denial—Barbara Stratton
After advocating VBACs for years, ACOG in 1999 flip-flopped and issued guidelines restricting them. Barbara lists a number of ways to fight a such a denial and win.
Mother Blessing Ceremony: Renaming a Good Idea—Chantel Haynes
The author shares her opinion and reasoning as to why the term "Blessing Way" should be modified in respect of native Americans.
Why Apprentices?—Cynthia Luxford
An apprentice-trained and apprentice-training midwife praises this model of midwifery education, describing briefly what it entails.
Midwifery and Conceptual Models of Nursing: A Comparison—Pam Embler
This article discusses and compares the similarities between the midwifery model of care and two selected conceptual models of nursing.
Neonatal Skin: Back to Nature?—Laura A. Stokowski
This excellent Medscape reprint explains the purposes of the neonatal skin and its unique role in protecting the baby against infection. It should be required reading for all those who deal with newborns.
The Still Point before Surgery—Serena Jenne
A suspenseful birth story: will she have to have a cesarean or not?
The Business of Midwifery: Billing and the Superbill—Linda Lieberman
In order to get paid for your midwifery work, you need to bill the client or insurer. This 10th part in our Business series provides guidance on a straightforward billing system.
International Midwife
Cards & Letters
Africa: Journey to the Motherland—Shauna Dillard
A fascinating and educational account of a trip to Senegal by a midwife-in-training.
The Very Oldest Profession—Robin Lopez Lysne
This historical account of midwifery in Norway 200 years ago provides a new window on this venerable and ancient profession.
Having a Child in Croatia—Iva Podhorsky Štorek and Barbara Finderle
Like many parts of the world, birth has become medicalized in Croatia. Two midwives write of their efforts to provide women with safe and meaningful births.
Judith Orozco Cassillas, a Living National Treasure of Mexico—Sarah Proechel
Voices of Maya Midwives author writes of another revered Mexican midwife and how she practices her art.
Promoting an Obstetrics Department in the Suburbs to Safeguard Its Future—Albin Thöni
In order to preserve its obstetrics department, an Italian hospital focuses on what women want and provides it. This is a success story of humanizing how birth is carried out.
One Birth, Two Worlds: A Personal Encounter with "Traditional" and "Modern" Maternal Health Care in Northern Tanzania—Gemma Burford
The author, who is married to a Tanzanian man, discusses childbirth traditions in that country from a personal perspective and reminds us that, as mothers, we need to stand up for our choices.
Birthing with Dignity: A Tool for Working with Traditional Indian Dais—Lesley Branagan
This is an interview with Diane Smith, who wrote Birthing with Dignity: a training manual for village midwives and healthworkers. Diane worked in India for JAGORI, educating village midwives in rural India and developed the book based on these experiences.
= Membership Article