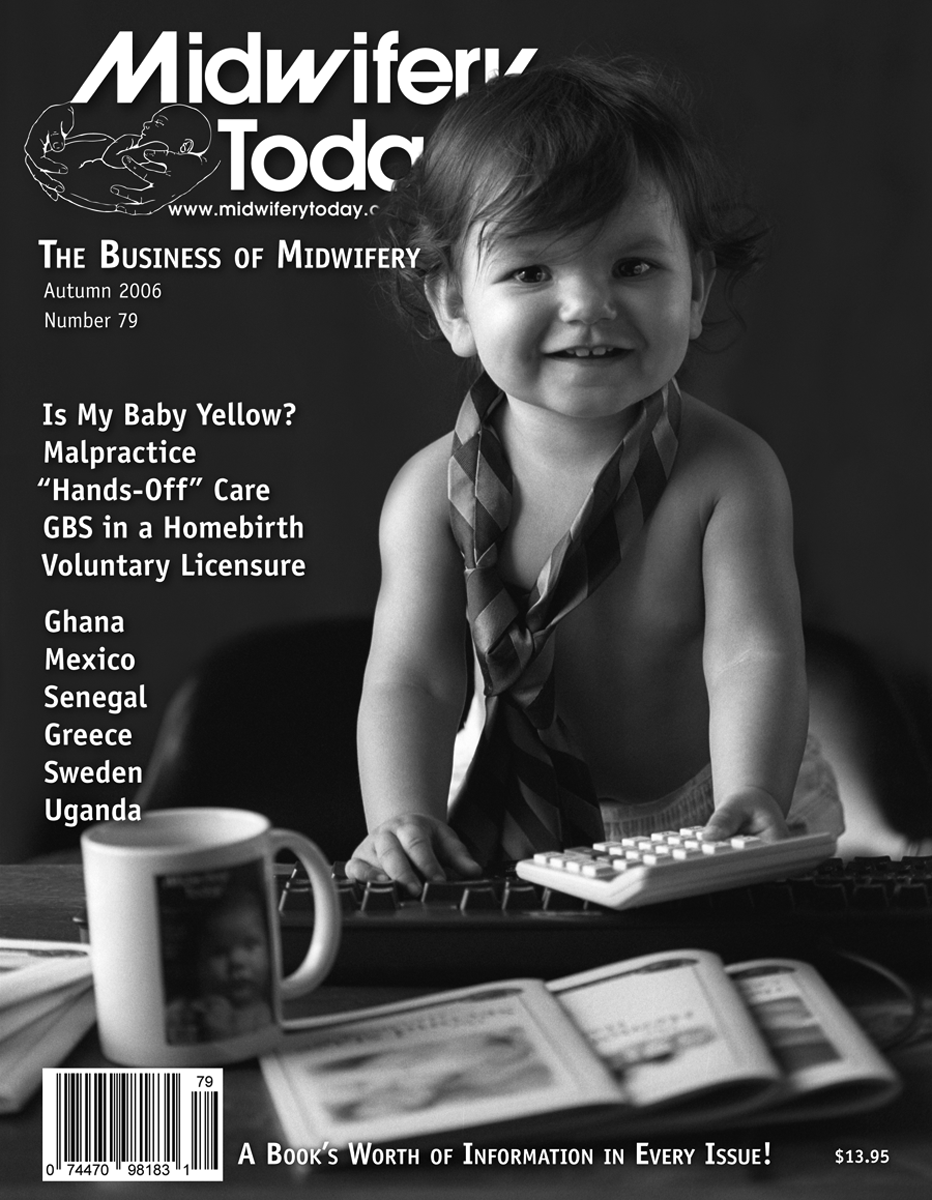 Autumn 2006
Theme: The Business of Midwifery
Midwifery, although it comes from the heart, is also a business. This issue of Midwifery Today addresses many ways to professionalize your practice, from writing articles to using the media, improving billing to branching out to related areas. Also included are articles on international programs to bring improved midwifery services to developing countries, medical issues, inspiring homebirths and alternative treatment methods.
---
Departments
Poetry
From the Editor
The mother of Midwifery Today shares her thoughts on the barriers self-employment by midwives.
Networking
Tricks of the Trade
Midwifery Model of Care—Phase II: Newborn Care
Continuing the ongoing discussion about how midwifery should look in the 21st century, Alyssa Martin shares her thoughts on knowing when to intervene in newborn care immediately after birth.
Marion's Message 
Marion recounts her visit to Afghanistan, arranged by her friend Siri, to volunteer as a teacher and insert IUDs
Media Reviews
News
Classified Advertising
Calendar
Photo Album
The Business of Birthing: The Write Way to More Clients—Sheri Menelli and Adriane Smith
One way to get the word about midwifery out and to advertise your services is by writing articles. The authors share some tips on how to do so.
Shari Daniels: Maverick Midwife Blazes Trails and Births Babies on TV—Daphne Singingtree—Daphne Singingtree
Finally, a television show that shows that birth can be normal! Read all about Shari Daniels, the force behind this new show.
C-sections, Breastfeeding and Bugs for Your Baby: What the Doctor Probably Won't Tell You—Jeff D. Leach
Profits and Rewards—Why Don't Midwives Earn High Salaries?—Michele Klein 
This article discusses how midwives' caring natures has conflicted with making money.
A Vermont Homebirth—Jennifer Carusone 
Using pictures and poetry to highlight her experience, the author tells about her homebirth.
Is My Baby Yellow?—Judy Slome Cohain
An article defining and discussing hyperbilirubinemia, or jaundice, in newborns and recent guidelines by the American Academy of Pediatrics.
Jaundice Dictionary—Judy Slome Cohain
Midwifery and Malpractice—Barbara Bridgman Perkins
A discussion of past and present malpractice crises in the US and how midwives are affected.
Experiential Learning for Childbirth—Mindy Goorchenko 
The author explains how believing that something is possible can cause it to happen, and how this concept relates to natural birth.
"Hands-off" Care and Birth as an Out-of-body Experience—Alison Bastien
Are women losing touch with their bodies as a result of ultrasounds and other technology? Regular contributor Alison Bastien shares her experiences and solution.
Wild Geese and a Heron—Tiffany Lundeen 
A beautifully written account of the author's homebirth.
Developing a Freelance Midwifery Consultancy Business—Dianne Garland 
The author shares her experience with the transition from midwife to midwifery consultant in the UK.
Probiotics: A Better Way to Treat Infections during Pregnancy—Genevieve Lewis
Using a real-life example and sharing a recipe for kefir, this midwife shares the facts on probiotics.
GBS in a Homebirth Setting—Renee Meuse Bishara 
Group B streptococcus is a common bacterium that can adversely affect vaginally-delivered babies, if not detected and treated. This article covers the various protocols that midwives may use to deal with it.
Voluntary Licensure—Carol Gray 
One woman's opinion on mandatory licensing of midwives.
Tax Tips for Independent Midwives—Christine P. Silva
Using three scenarios in which a midwife might practice, accountant and tax preparer Christine Silva provides us with tips for making tax issues less painful.
Caleb—Jennifer Babisak 
A heartwarming recounting of homebirth and a mother's love for her baby.
The Business of Midwifery: Customizing the Superbill—Linda Lieberman
The last in a series on the business of midwifery provides an example of a superbill and describes how to create your own.
International Midwife
  = Membership Article