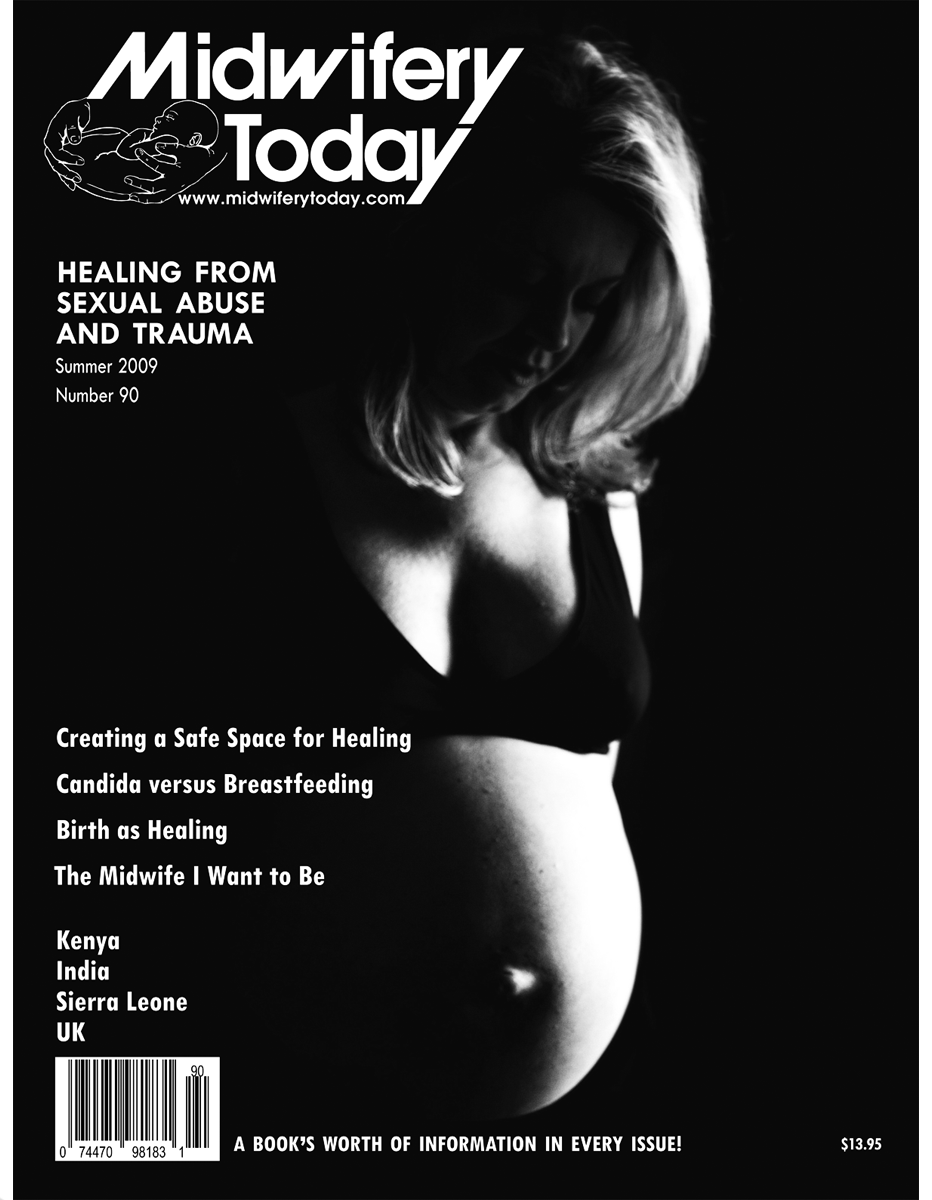 Summer 2009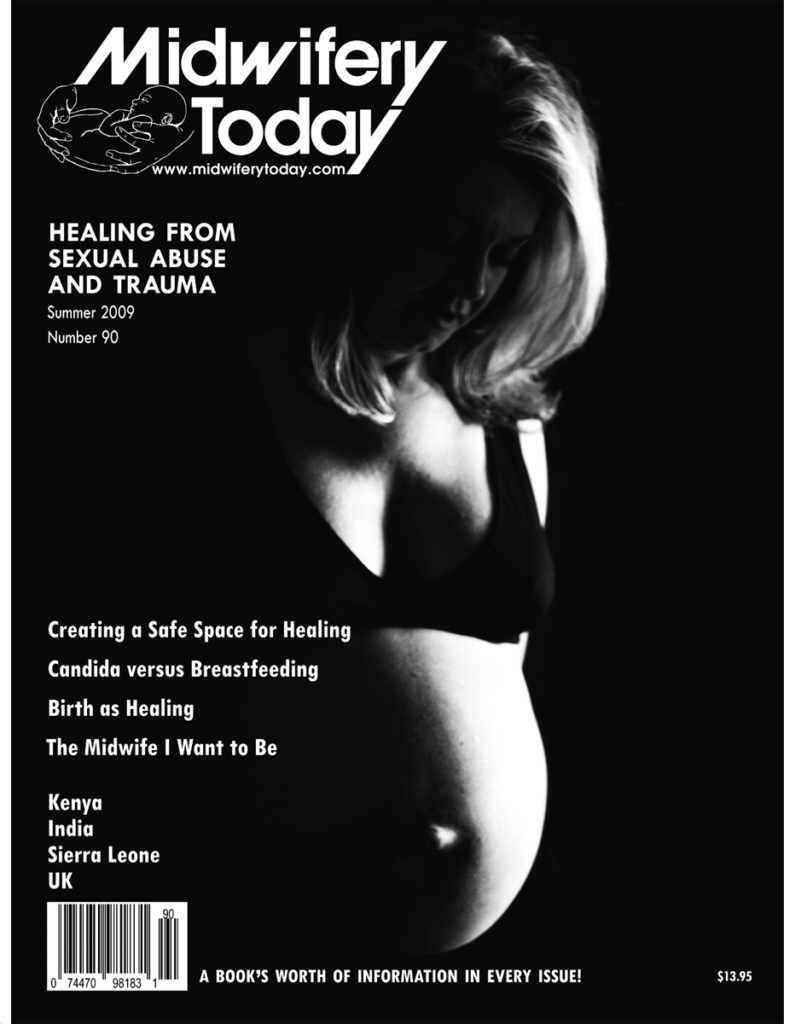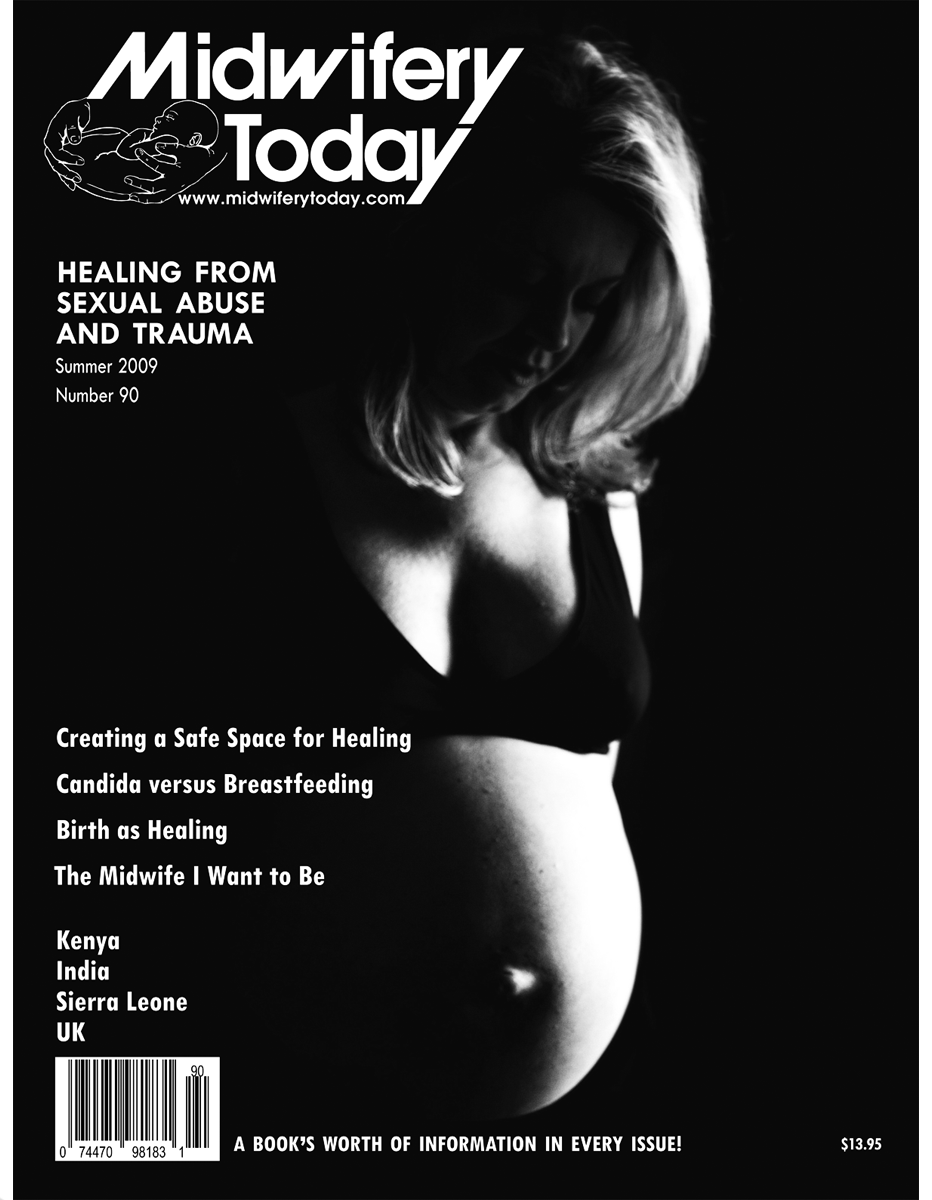 Theme: Healing From Sexual Abuse and Trauma
Trauma and abuse can occur at any time in life, both before and during pregnancy. This issue addresses a number of issues including fathers who were abused, how midwives can help women heal from trauma and abuse, how childbirth can have a traumatizing effect on women and how, conversely, it can bring healing to previous abuse and trauma. The magazine also contains the usual outstanding international and clinical articles, as well as inspiring stories of birth.
---
Blooming—Heather Sevcik
Editorial: Fathers Who Were Abused—Jan Tritten
Jan discusses how midwives can help with a problem that is rarely discussed: the impact of becoming a father on men who were abused.
Marion's Message: Working in the Safe Motherhood Clinic—Marion Toepke McLean
Marion shares her experiences as a volunteer in Uganda.
Creating the Space for Healing: Antepartum Care in Women with Trauma History—Maryl Smith
Women who have been abused and traumatized may experience a variety of issues related to pregnancy and birth. Maryl Smith discusses developing awareness of signs and triggers, as well as how to work with such women and help them feel safe.
Modifying Medical Procedure for the Trauma Survivor—Maryl Smith
A companion article to "Creating a Safe Space for Healing," this article gives tips on how to make essential medical procedures as non-threatening as possible for women trauma survivors.
Midwifery is not a Luxury—Lydia Bertrand
Sharing her own experience, the author makes the case that every mom should have the right to have a midwife for her birth.
Child Is Father to the Man: A Survivor of Childhood Sexual Abuse Speaks Out—Derek Lainsbury
Originally published in Midwifery Today, Issue 51, this article is still a timely and much-needed contribution to the issue of abused fathers becoming parents.
Birth of Anisa: Transforming sorrow into light through love and informed decisions—Ana Paula Markel
A bittersweet story of birth and death.
Early Trauma, Its Potential Impact on the Childbearing Woman, and the Role of the Midwife—Penny Simkin
One of the authors of the pathbreaking book, When Survivors Give Birth: Understanding and Healing the Effects of Early Sexual Abuse on Childbearing Women, describes many of the ways early abuse or trauma may negatively affect the survivors' later experiences with childbearing and offers some tips for midwives for providing sensitive and effective care and support.
"Hello, Baby!" Doesn't Mean "Goodbye, Kitty"—How Cat Guardians Can Have a Safe and Healthy Pregnancy—Samuel L. Jacobs
A physician shares pertinent information on toxoplasmosis.
A Tribute to Jana Borina
The midwifery community suffered a great loss with the passing of Jana Borino this year. This tribute reminds us of the gifts she gave to mothers and midwifery.
Shivers, Section and Standard Procedure—Leonora Ballantyne Harrison
The author shares the disappointment of a traumatic hospital birth.
Candida versus Breastfeeding — Which is Winning?—P.J. Jacobsen
This timely piece describes the problem of yeast infections and offers some solutions to resolving them so they don't disrupt the breastfeeding relationship.
Birth as Healing—Joanna Wilder
The author tells us why she is involved in good birth, and how it can be healing for women with a history of abuse.
Arnica and Aconite—Piper Martin
Contributor and homeopath Piper Martin discusses the two most common homeopathic remedies for traumatic birth.
In My Opinion: Birth as a Vehicle for Healing—Kate Prendergast
The author argues that midwives don't have to be expert therapists to help women who have been sexually traumatized; she can guide the woman through using birth as the healer.
Survivor Moms: Multiple Trauma Exposures and the Development of Posttraumatic Stress Disorder—Mickey Sperlich
One of the authors of the new Motherbaby Press Book, Survivor Moms: Women's Narratives of Birthing, Mothering and Healing after Sexual Abuse, provides a snapshot of types of trauma exposures reported by first-time mothers in the Midwest and how they relate to risk of PTSD.
The Care and Keeping of Placentas—Jodi Selander
Learn about the amazing placenta and its many uses.
Solace for Mothers—Sharon Storton
Solace for Mothers is a new organization that was formed to help mothers who have been traumatized. Author Sharon Storton shares some of the services provided and why this is an effective program.
The Conscious Choice to Culturally Reframe Birth—Colleen Bak
This essay discusses the dilemma midwives face in their beliefs about birth and how we can effect the change needed to bring the current culture more in line with our perspectives.
Memorandum and Advice from an Abuse Survivor—Jasmine Rae Ojala
A first-person account of the effects of abuse prior to and during pregnancy.
Learning to Be a Midwife—Judy Slome Cohain
Contributing Editor Judy Slome Cohain writes about her experiences training to be a midwife.
The Cut—Linda May Kallestein
Female genital mutilation continues to be a reality and a rite of passage for girls in Kenya, despite the laws now prohibiting it. The author tells about her personal observations of this damaging and traumatic practice.
A Special Homebirth in India—Lina Duncan
Despite a series of misadventures, the woman featured in this story has a nice birth.
The Littlest Midwife—Sudy Storm
Sudy Storm shares another engaging true story of volunteering in Sierra Leone, this time accompanied by her wise-beyond-her-years granddaughter, Kassy.
Answering the Call: Winning essays—Lorna Dooley and Emma Brown
This is the first of a series of three sets of essays on "The Midwife I Want to Be" from our UK competition, held in cooperation with BirthChoices UK. Lorna Dooley, our first-place winner won a roundtrip paid trip to the Midwifery Today conference in Copenhagen, Denmark.
= Membership Article.