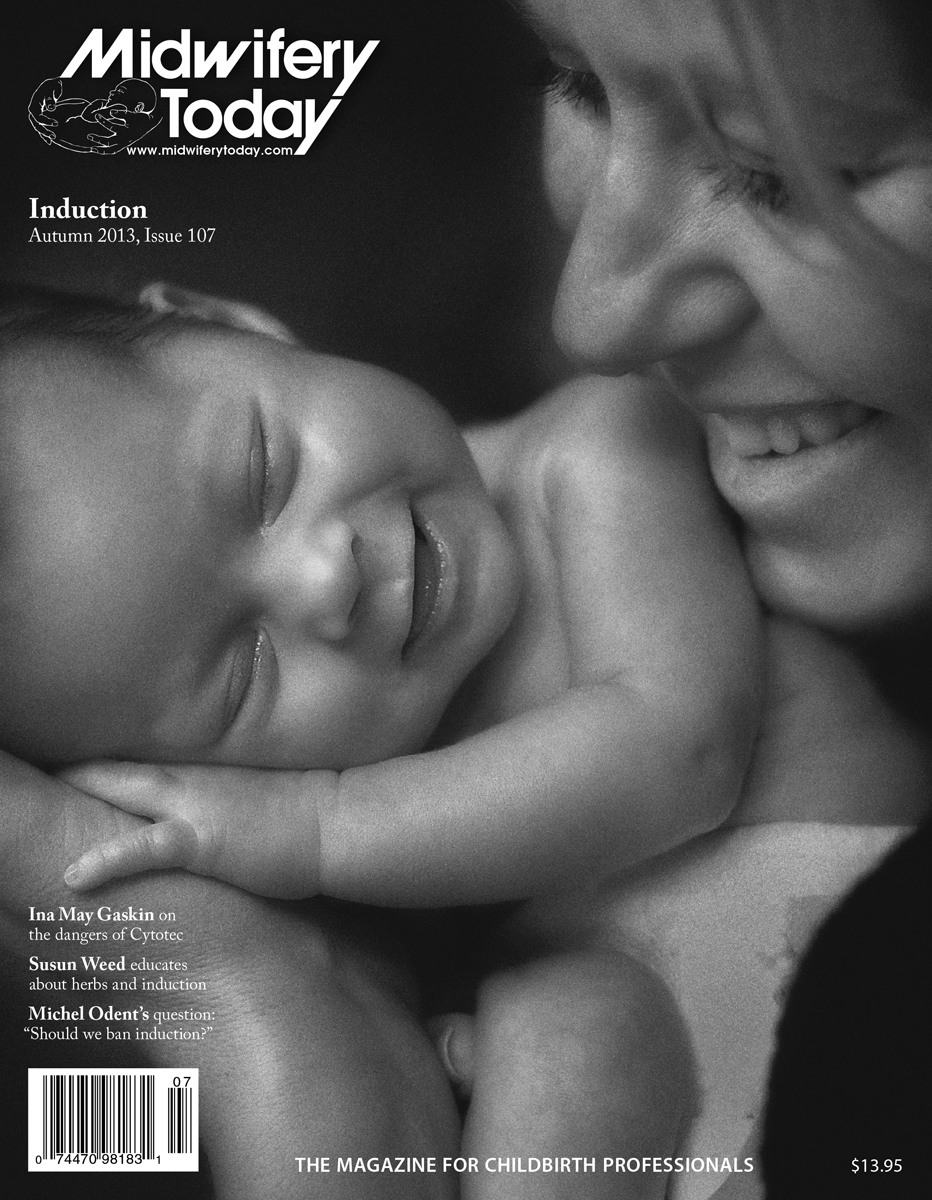 Autumn 2013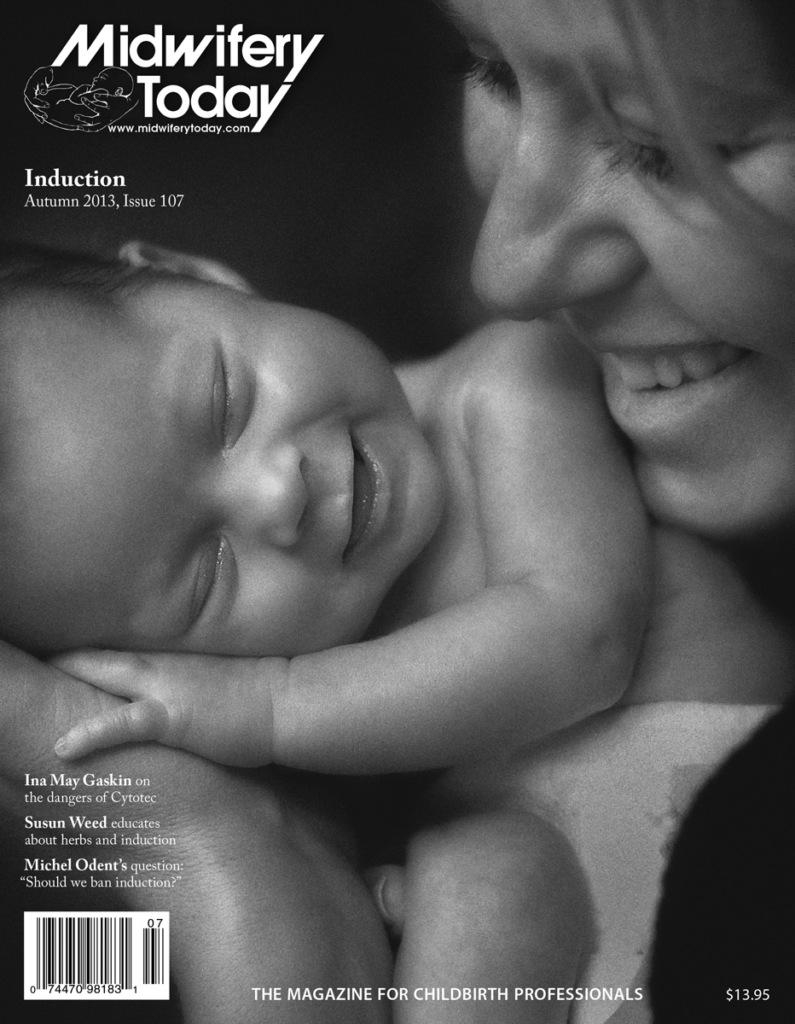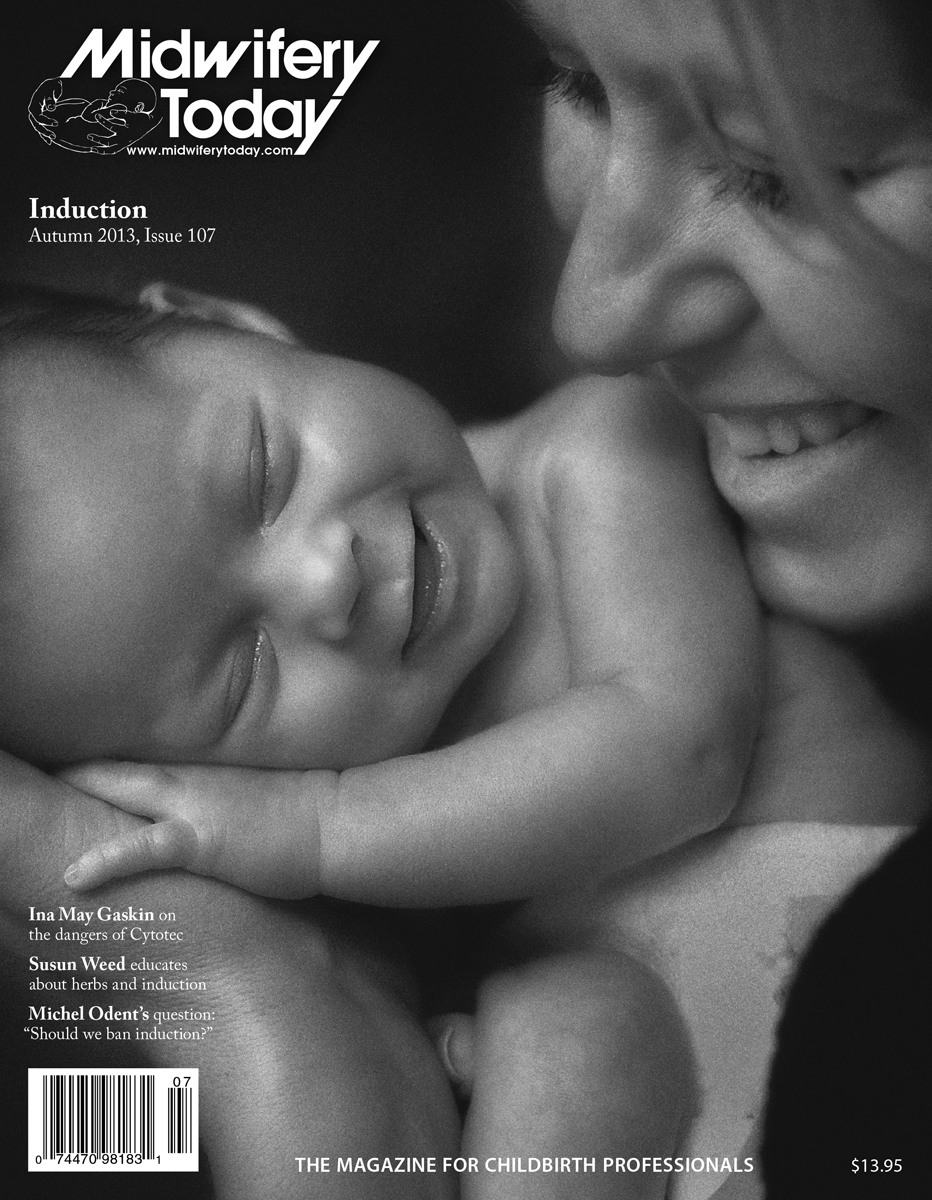 Theme: Induction
With the ever-increasing rates of interventions and managed birth, Midwifery Today's upcoming issue on Induction is an important one. As always, the issue features articles from the brightest minds in the natural childbirth world, as well as passionate mothers, midwifery students and doulas trying to make the world a safer place for birth. Ina May Gaskin has written a powerful and emotional article on Cytotec, detailing the dangers and the problems with the use of this drug around the time of birth. Michel Odent includes his thoughts about the huge ramifications induction puts on the future of our species. You will also delight to read the success story of a mother who gave birth at home after not just one, but five cesareans. Enjoy!
---
Cover photo by Greg Beyer. Greg is a photographer based out of Melbourne, Australia. He specializes in children, families and weddings, but he has also worked in other areas of the industry. These days he mainly functions as a full-time, stay-at-home dad for two (soon to be three) boys. You can check out some more of his images on his blog at imajup.com. Pictured is Daisy Halliday with her mom, Tammy. Daisy was born six weeks premature, and this photo was taken when she was four weeks old. She is the fourth born in a family of now five children.
---
Departments
Poetry
From the Editor
Editor-in-chief Jan Tritten reminds us to not simple follow culture, but to use right practices when we are dealing with motherbaby.
Tricks of the Trade
Marion's Message
Marion gives a metaphor involving diving into a swimming hole to help us understand that approaching birth with watchfulness and care is the prudent way to insure that motherbaby are safe.
Discussions
Cards and Letters
Media Reviews
Classified Advertising
Photo Album
Features
Cytotec and the FDA—Ina May Gaskin
This is a powerful and emotional article against Cytotec and its use in pregnant women written by one of the most inspiring women in natural childbirth, Ina May Gaskin.
The Times and Tools of Induction—Sister MorningStar
Midwife MorningStar speak of nature's right timing. "Preparing a woman or preparing ourselves for right timing begins with not setting time limits. If a woman's people take longer to grow a baby, she may, too."
Herbs for Induction of Labor—Susun S. Weed
Internationally known herbalist Susun S. Weed educates on different herbs commonly used to induce labor.
Should We Ban Labor Induction?—Michel Odent
Natural childbirth advocate and obstetrician Michel Odent speaks about the side effects of synthetic oxytocin and how these and other reasons seem to suggest that induction of labor should be banned.
Timing Is Everything—Laurie Ross-Berke
Midwife Ross-Berke shares the story of a birth that happened right outside the doors of a hospital. A professional photographer captured the beautiful and unique birth and the images went viral.
An Emotional Preparation for Birth—Cathy Daub
"Because birth is an emotional experience, it makes sense that preparation for childbirth may require emotional preparation. Some basic information needs to be presented, but it is the emotional preparation that a pregnant woman will find most useful in her labor."
The Circumcision Conversation—Diana Paul
An enjoyable read about a mother's experiences that led to her decision of not circumcising her sons.
Jane Sharp: A Midwife of Renaissance England—Jane Beal
Jane Beal gives a historical account of an important English midwife.
The Mythical Expiration Date—Heathir Brown
A doula shares her frustration with having to navigate natural childbirth in a sea of time limits and interventions.
The Episiotomy Redemption—Patricia Grube
Midwife Patricia Grube shares the story of her client who went on to have a beautiful birth sans an episiotomy—a very different experience from the one she had with her first child.
Cesarean Inter-Section—Terah R. Lara
"A new cesarean method has been designed by an anesthesiologist and a midwife in the UK and has been acclaimed by participants. Anesthesiologist Felicia Plaat and Jenny Smith, CNM, co-created a 'natural' cesarean in which women can have greater participation in the birth of their child regardless of their surgical route of delivery."
Maharishi Ayurveda for Postpartum Care—Ragnhild Rannie Boes
The Mother Baby Program of Maharishi Ayurveda is detailed in this article.
The Downside of Doula-ing—Jodi M. Green
Doula Jodi M. Green speaks of the frustrations that are common in the life of a doula.
Resolving Shoulder Dystocia: Is Episiotomy Best Practice?—Emily Likens
A look at how episiotomies should not be considered a valid way to resolve a shoulder dystocia.
Rotary Helps Pave the Way for the Mongolian Maternal Health Training Project—Allyson Seaborn
A chance encounter results in an important maternal health project in Mongolia.
Searching for Ancient Secrets in Childbirth—Tsippy Monat
My Successful Homebirth after Five Cesareans—Julie Ewbank
A mother recounts the story of her wonderful homebirth after five previous cesareans. Inspiring!
H.R. 2286: A Vision to Increase Maternal Health Professionals and Services—Julie A. Choudhury
"For California, physician shortage is a major public health concern. Expanding the current definition of maternal health professionals to include certified nurse-midwives (CNM) is a viable solution."
My Discovery of the Historical Dr. Joseph DeLee—Carol Van Der Woude
The author raises an important question in this article about the enigmatic man Dr. Joseph DeLee: "What if DeLee had accepted midwives and engaged them in mutually learning discussions as he pursued his ideals?"
An Estimated Due Season—Deborah Simone
Rather than a due date, author and midwife Deborah Simone suggests having an estimated due season.
Labor Encouragement with Essential Oils—Ashley Musil
An educational article on the effectiveness of essential oils in labor.
Rebirth—Emma Jo Knapp
An inspiring and empowering birth story of a woman who experienced a previous unnecessary cesarean.
15 Days Late: Oh, the Pressure!—Nancy Halseide
Managing editor of Midwifery Today, Nancy Halseide shares the story of how she felt so much pressure to give birth when she still found herself pregnant two weeks past the baby's due date.
= Membership Article.