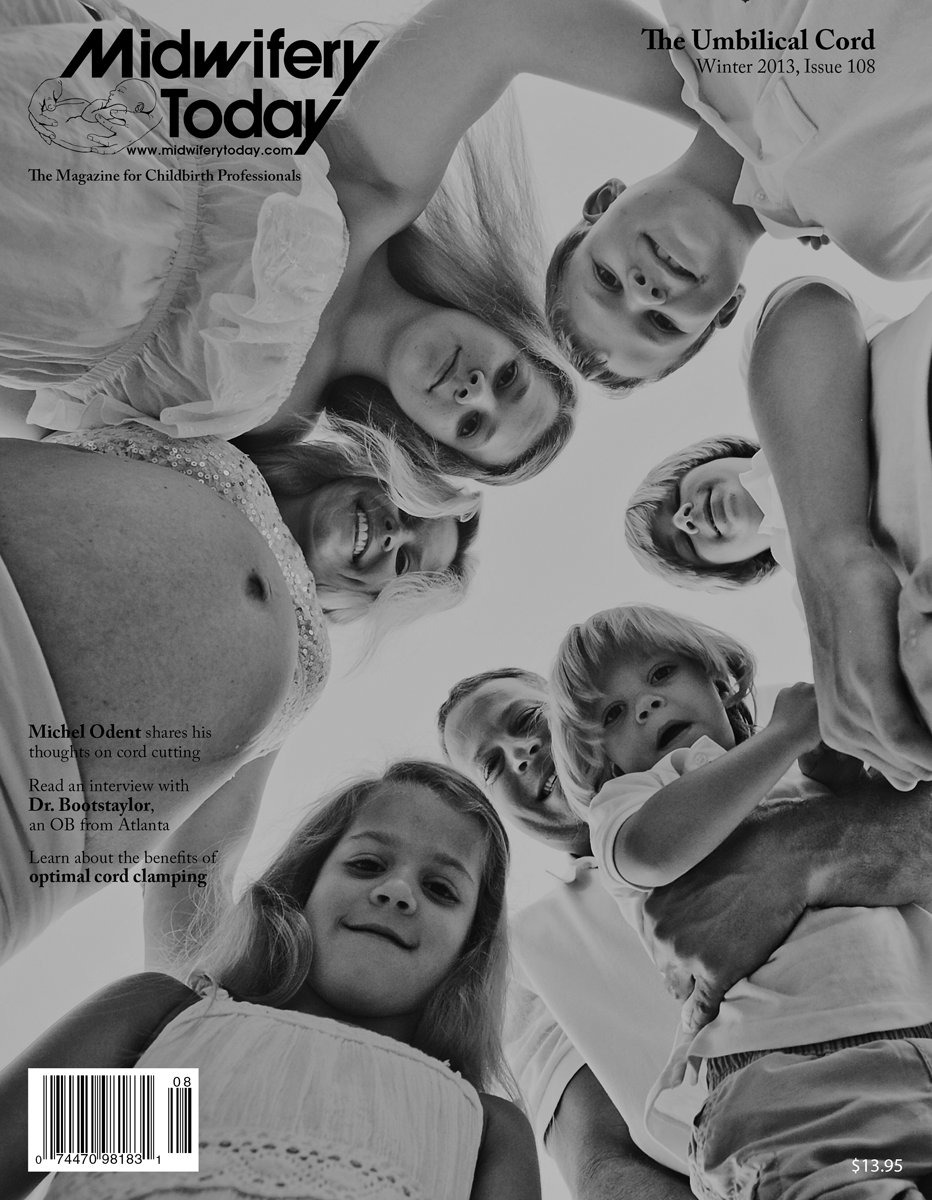 Winter 2013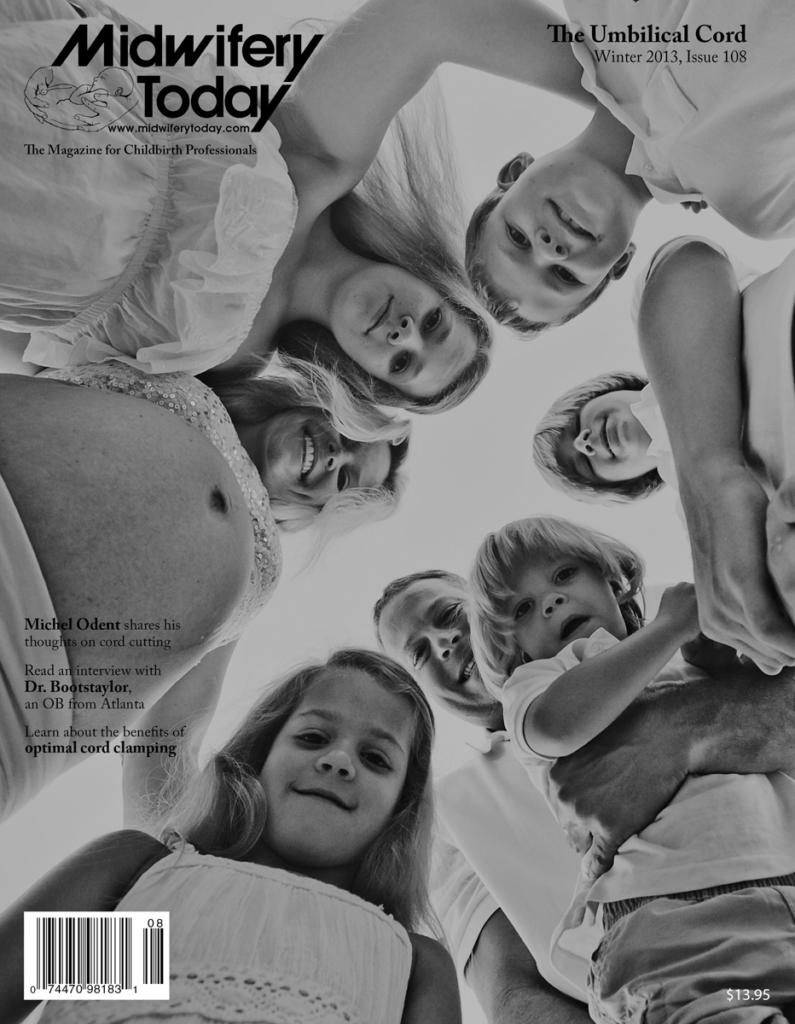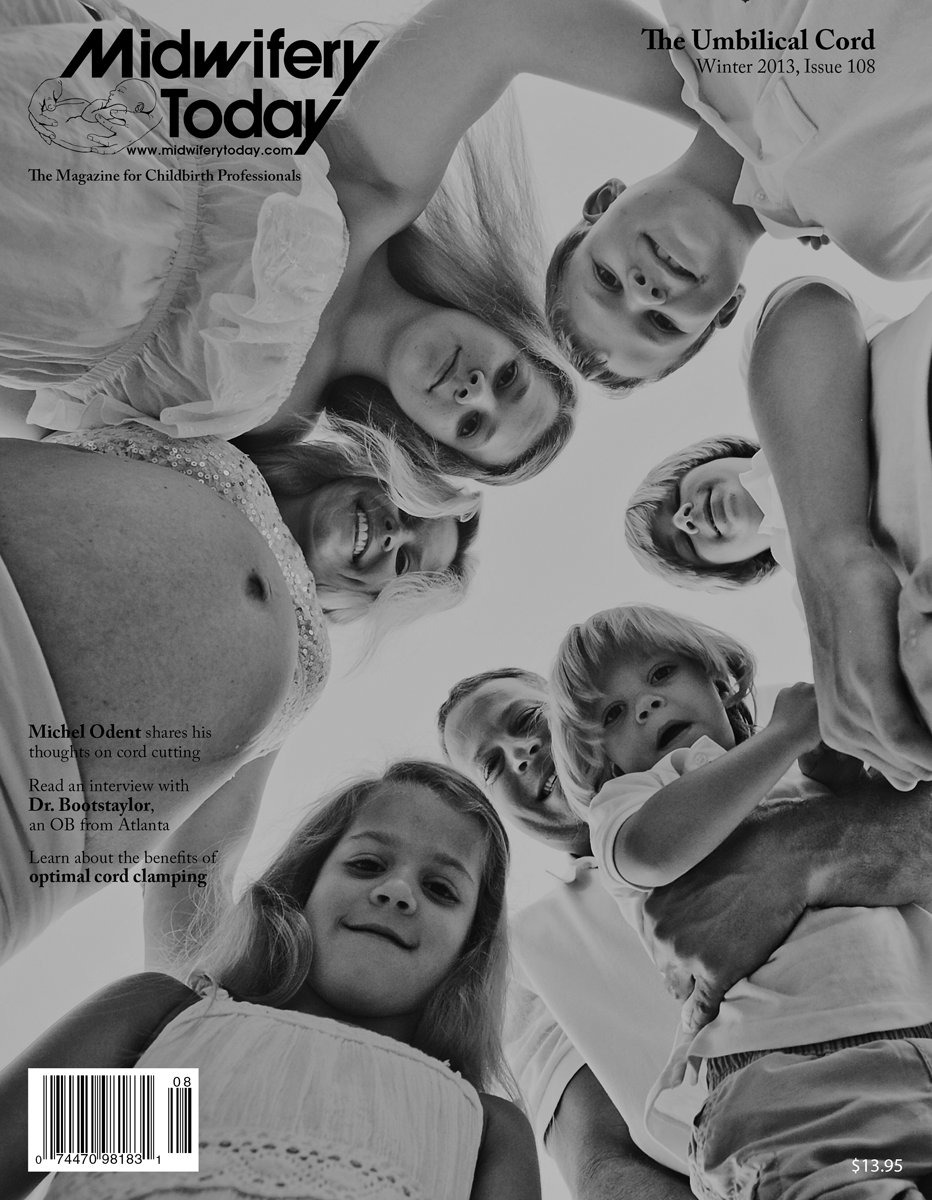 Theme: The Umbilical Cord
After a birth, many midwives, doulas, mothers, fathers and even children become scientists as they explore the placenta and umbilical cord, marveling at the twists, colors and texture of what was the baby's lifeline for nine months (or more!). How wonderful it is to take the time to explore these things and give thanks for the marvelous way in which new life grows and develops. This issue specifically honors the umbilical cord with articles from Michel Odent, Patricia Edmonds, Susun Weed, Sister MorningStar and others. Enjoy!
---
Cover photo by Emily Robinson (www.emilyrobinsonphoto.com). Emily is a lifestyle family photographer in South Florida who specializes in maternity, birth, newborn and family portraiture. Her work focuses on storytelling and capturing authentic emotional connections between people. When she's not shooting, editing or obsessing over photography, she enjoys hanging out with her husband, their two young girls and zany dog, Sonny.
Pictured: Stephanie Hyatt, her baby bump, husband and five children. Stephanie later gave birth to Brooklynn Skye on September 22, rounding out her brood to an even three girls and three boys. "I've always wanted to have six kids," she says, "even when I was a child." Now she can count that life's goal as completed!
---
Departments
Poetry
From the Editor
Editor-in-chief Jan Tritten invited her cousin to give a tutorial on creating an umbilical cord memento.
Tricks of the Trade
Marion's Message
Midwife Marion shares some interesting birth stories involving the umbilical cord.
Cards and Letters
Discussions
Media Reviews
Classified Advertising
Photo Album
Features
Optimal Cord Clamping—Mary Esther Malloy
A wonderful article highlighting the importance of caring for the umbilical cord at the proper time.
Cord Cutting in the Framework of Neonatal Beliefs and Rituals—Michel Odent
Natural childbirth advocate and French obstetrician Michel Odent sheds light on the history of cord cutting while interpreting the contradiction of routine interference and current scientific research.
The First Mother—Sister MorningStar
A beautifully written article about the placenta and umbilical cord, also known as the baby's "first mother."
What If Anything Were Possible? Traumatic Birth as Fertile Ground for Growth—Keren Fridman Gadassi
Author and therapist Keren Fridman Gadassi shares how she helps women work through traumatic birth experiences.
I Am the Umbilical Cord—Susun S. Weed
A wonderful short poetic piece written from the perspective of the umbilical cord.
The Navel String—Patricia Edmonds
Midwife Patricia Edmonds successfully details the umbilical cord's many characteristics and possibilities.
Birth and Rebirth: A Jordanian-American Experience—Suzanne Dwaik
A birth story that captures the intensity and inner struggle a mother went through to bring her child into the world in the best way possible under not-so-ideal circumstances.
Amniotomy and Cord Prolapse—Judy Slome Cohain
"Research shows that artificially rupturing the amniotic sac (amniotomy) can cause umbilical cord prolapse."
Umbilical Cord Traditions in Puerto Rico—Gina Dacosta Rivera
Midwife Gina Dacosta Rivera shares her country's traditions and beliefs surrounding the umbilical cord.
In Pursuit of the Benefits of Physiological Birth—Dr. Amali Lokugamage
"This article discusses the physical, emotional and societal benefits of physiological birth."
When a Midwife Becomes a Doula—Ireena Keeslar
An emotional story sharing the birth of twins who were not compatible with life and how a midwife transferred to the role of a doula as specialists took over with the medical care.
The Turquoise Revolution—Diana Paul
Diana Paul shares about the birth revolution movement that was begun at a recent Midwifery Today conference.
"It's a Breech!"—Mo Tabib
A midwife shares the breech birth story of one of her clients who chose to try for a vaginal breech delivery.
Herbal Management of Postpartum Hemorrhage—Erika Obert
Midwife Erika Obert provides information on using herbs in the third stage of labor.
Preserving Normalcy: An Interview with Dr. Bootstaylor—Cindy Morrow
Dr. Bootstaylor, an Ob/Gyn from Atlanta and a homebirth advocate, shares his experiences and insights in an interview with author Cindy Morrow.
"Don't Go to Her—She's a Medwife"—Louana George
"How should we respond when we see/read/hear something that is designed to wrong us individually or to wrong someone else in the community of women's health care providers?"
My Future: Midwifery—Caitlin Soileau
A homeschool graduate from a small town in Louisiana shares her big midwifery dreams for the future.
Gestational Diabetes: Real Risks beyond the Controversy—Crystal Ogle
All opinions aside, author Crystal Ogle tries to get to facts about gestational diabetes and what midwives can do to educate their clients.
Premature Ligation of the Umbilical Cord—Patricia Edmonds
A wonderful article about the umbilical cord and reasons why it should not be cut prematurely.
Growing American Midwifery: The Certified Midwife Credential—Cindy L. Farley, Tanya Tringali, and Sara O'Connor
"If the American health care enterprise woke up tomorrow and embraced midwifery for normal childbearing and women's primary health care, there would be insufficient numbers of qualified midwife providers to meet the needs of women and their families."
= Membership Article.