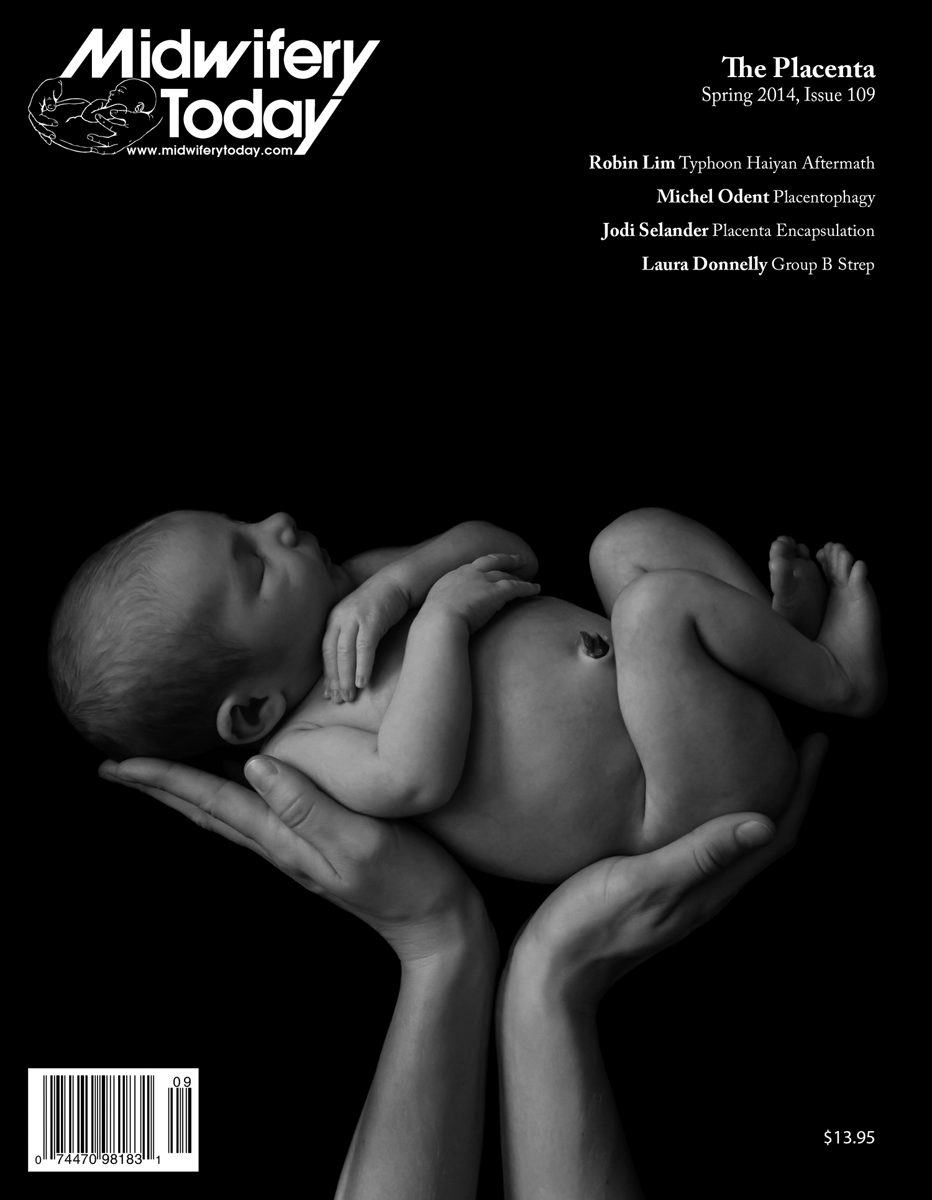 Spring 2014
Theme: The Placenta
The placenta … what an organ! Though still mysterious to many, some in our culture seem to be slowly learning of its postpartum benefits. This issue is filled—and I mean filled (over 25 articles!)—with placenta stories and wisdom, as well as information on group B strep, homebirth transfers, how to support Muslim families as a midwife and so much more. In this packed issue, you will read from Robin Lim, Michel Odent, midwife Sister MorningStar, Jodi Selander (the placenta expert!), herbalist Susun Weed and others. Please remember that a subscription to Midwifery Today is a wonderful gift to the childbirth educator, midwife, obstetrician, doula, nurse and pregnant mother in your life. Thank you for your support. Enjoy!
Departments
Poetry
From the Editor
Midwifery Today mother Jan Tritten shares her thoughts on the third stage and how it isn't such a good idea for this part of birth to be routinely managed.
Tricks of the Trade<br />
Marion's Message
Experienced midwife Marion Toepke McLean reminds us how important it is for midwives to continue sharpening their skills.
Cards and Letters
Media Reviews
Discussions
Classified Advertising
Photo Album
Features
Motherbaby Placenta: State of Emergency—Robin Lim
A very emotional and powerful story about the recent Typhoon that ravaged the Philippines and how Robin Lim and her team helped mothers and families in the aftermath.
The Placenta Encapsulation Movement—Jodi Selander
Placenta expert Jodi Selander shares how the placenta encapsulation movement got its start in the US.
Placentophagy—Michel Odent
Natural childbirth advocate and obstetrician Michel Odent speaks of placentophagy as a ubiquitous behavior amongst mammals and primates even though it has never been an instinctively human behavior.
Group B Strep: A Holistic Approach—Laura Donnelly
Author Laura Donnelly makes a case for changing the focus of GBS from treatment with antibiotics to prevention through optimal health.
Placentas I Have Known—Marlene Waechter
A wonderful story about the emotionally bonding powers of the placenta!
Mercy In Action Midwives Form Disaster Response to Deadly Super Typhoon—Vicki Penwell
Midwife Vicki Penwell describes her experience of providing aide with Mercy In Action in the aftermath of Typhoon Haiyan.
Honoring Placenta Wisdom—Sister MorningStar
Midwife Sister MorningStar shares her love and admiration of placentas in this beautifully written article.
Lanyero Karamela: A Midwife of Uganda—Jane Beal
During author Jane Beal's travels, she met an inspiring Ugandan midwife. This is her story.
Thoughts on Homebirth Transfer—Mary Esther Malloy
A great resource that midwives can pass out to their clients about homebirth transfers.
Research on Placenta Encapsulation—Jodi Selander
Author Jodi Selander is currently working with UNLV on placenta research. This article discusses their work.
Microphones on Pregnant Bellies—Giselle E. Whitwell
A board-certified music therapist shares her thoughts on prenatal music.
Placenta Stories
Consuming Placenta—Rebecca Mack
The story of a mom who found help with postpartum depression through consuming her placenta.
It's Ours: We Claim the Benefits—Contessa Briscoe
Ingesting her placenta helped this mom cope with the demands of her growing family.
My Retained Placenta—Diana Paul
A great birth story with a twist involving a retained placenta!
Our Placenta Journey—Melissa Williams with Cathy Knight
A husband gives his wife some placenta for a bleed during an unassisted homebirth—the result is a placenta encapsulation business!
Surprise…It's a Placenta!—Aubre Tompkins
A midwife shares a birth story involving a partial placenta previa.
Placenta—Susun S. Weed
A beautiful poem about the placenta.
Herbs and the Placenta—Susun S. Weed
Learning from Susun Weed is always a delight and in this short article, she shares which herbs are well-suited to assist in the expulsion of the placenta.
Placenta Handling—Shell Walker Luttrell
An informative piece regarding placenta handling.
A Watched Pot: The Importance of a Sacred, Private Labor and Birth—Margaret Wallis
An article that highlights the importance of a private birth experience.
Supporting Muslim Families as Midwives—Krystina Friedlander and Shannon Staloch
A helpful read on how best to support Muslim families during childbirth.
The Gift of the Womb—Celesta Rannisi
Midwife Celesta Rannisi shares her thoughts on the placenta.
Amniotic Membrane Use for Perineal Healing: A Re-discovery—Shell Walker Luttrell
A great trick—using membranes to heal perineums!
A Midwife between Worlds—Aubre Tompkins
Midwife Aubre Tompkins shares her experience of being a CNM who works at a free-standing birth center.
The Placental Pause—Mhairi Colgate
A midwife passionate about birth shares what she considers the most special part of birth—the placental pause.
Guardians of Birth—Serena Russell
An article that gives a great reminder of what midwives are great at doing: protecting normal birth.
The Breech Birth of Edith—Emily Willett
A mother shares her experience of giving birth to her breech born daughter.
Birth Workers of Color Scholarship: Matching Scholars to Scholarships to Reduce Disparities in Birth Outcomes—Claudia Booker and Jennie Joseph
This is a call for all institutions to help increase the number of training opportunities for practitioners of color.
= Membership Article