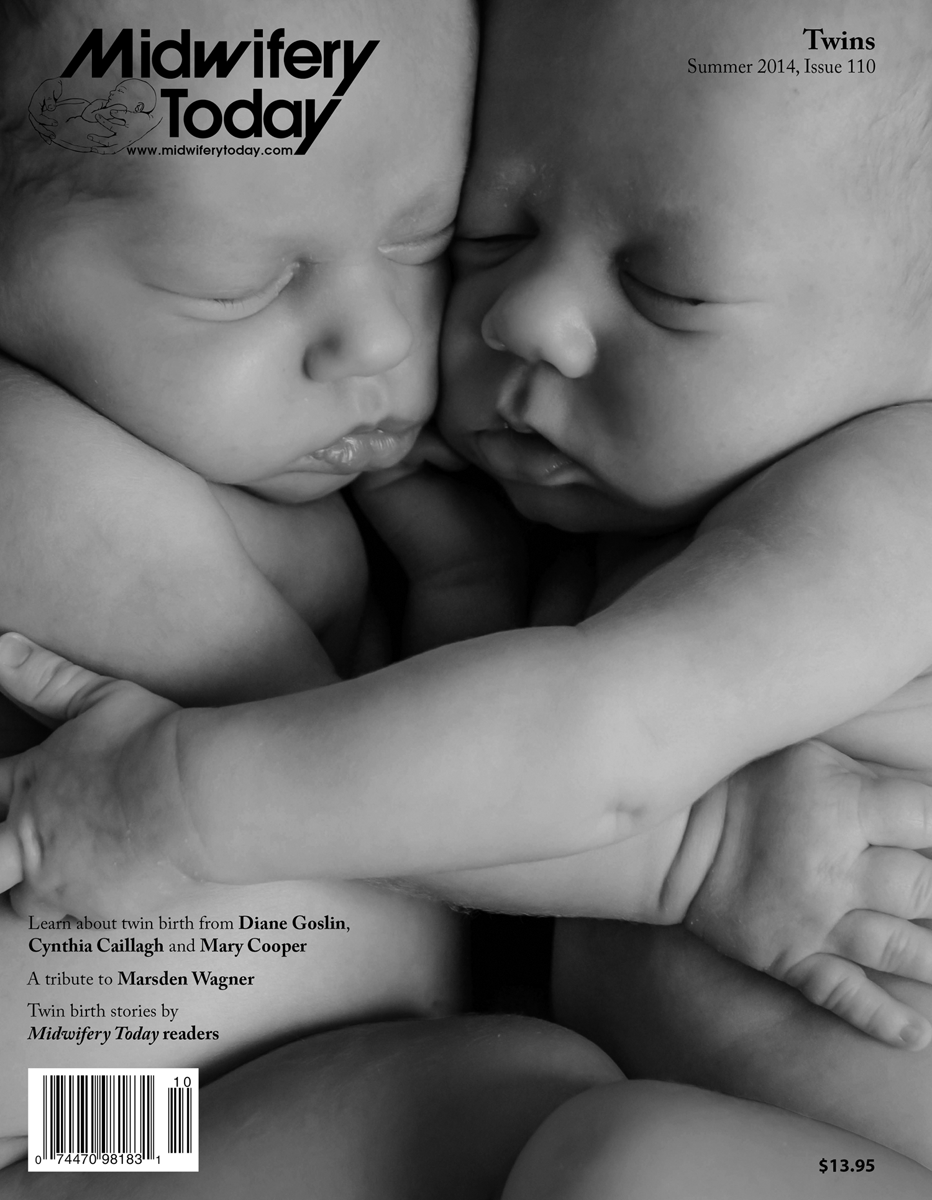 Summer 2014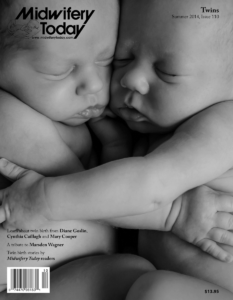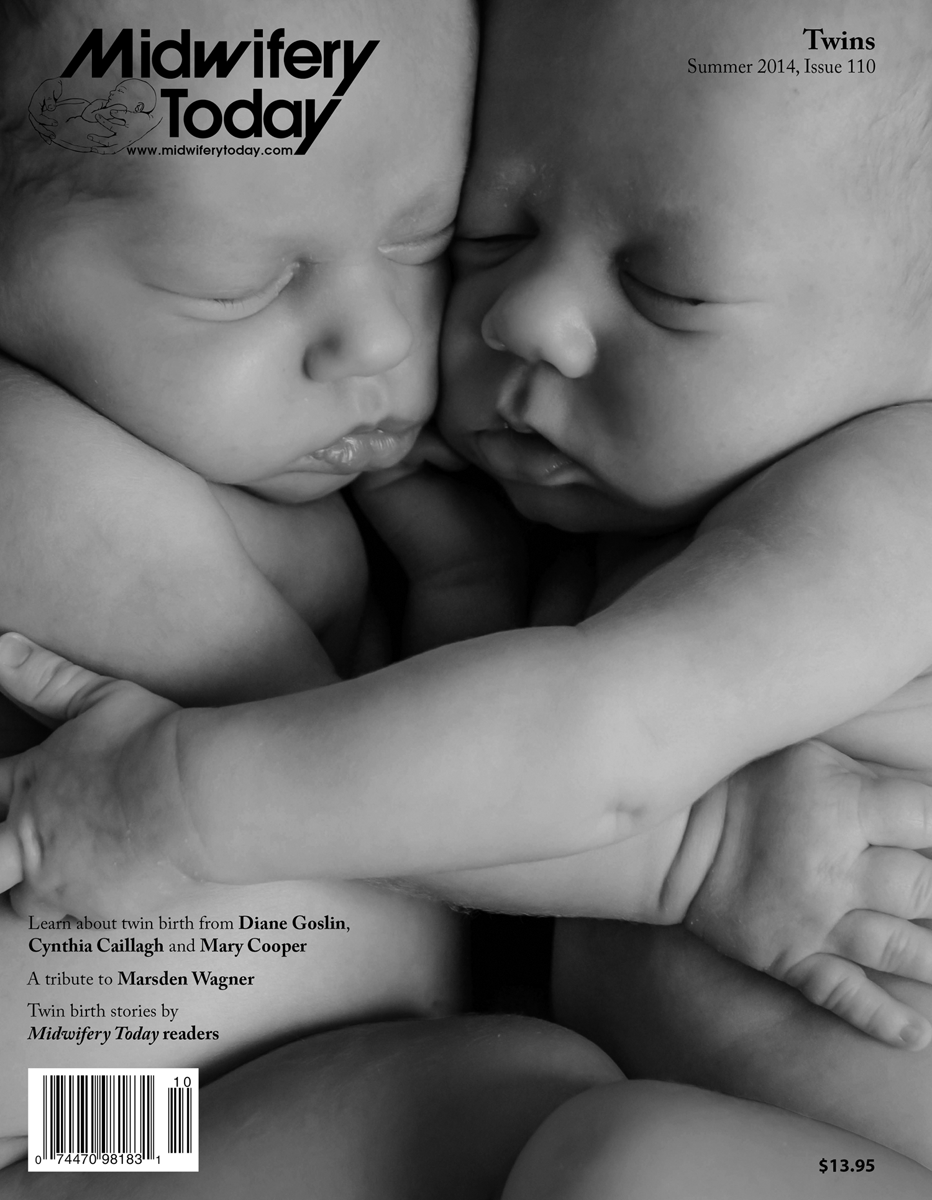 Theme: Twins
The ecstatic and overwhelming world of twin birth is the subject of this issue of Midwifery Today magazine. Midwives who are among the most experienced in twin birth have contributed to this issue to make it a truly educational tool. Midwifery Today readers have also sent in their personal accounts of twin birth, and their stories are found within. This edition also contains a section dedicated especially to Marsden Wagner (1930–2014), who was a true friend of midwives and advocated passionately for natural childbirth.
Departments
Poetry
From the Editor
Microorganisms and their effect on birth is a hot topic these days in the research world. Jan Tritten, mother of Midwifery Today magazine, shares with us her thoughts on this very important subject.
Tricks of the Trade
Marion's Message
Midwife Marion Toepke McLean discusses an interesting topic: How does our way of birth affect future generations?
Cards and Letters
Media Reviews
Discussions
Photo Album
Classified Advertising
Features
Coming to Twins—Cynthia Caillagh
As a midwife who has helped with over 400 sets of twins, I would say midwife Cynthia Caillagh is pretty much an expert on this topic. Thankfully, we got her to write an article in order for all of you to learn from her wisdom!
Why All the Fuss about Twins?—Michel Odent
I want to suggest that, in the case of twins, trying to give birth vaginally in an inappropriate environment (e.g., in the presence of a scared doctor or a scared midwife) is a recipe for disaster. We must adapt to our cultural lack of understanding of birth physiology.
The Wonderful World of Twin Birth—Diane Goslin
From her many years of experience, midwife Diane Goslin shares her wisdom of twin birth in all its varying possibilities from Rh-negative to surprise twins to twins born four days apart.
The Voice of Reason—Sister MorningStar
The medical world has developed its own reason based on managing birth, but midwife Sister MorningStar suggests that midwives need to be the voice of another reason—the kind of reason that honors the birthing mother.
Twin Birth in Rural Nevada—Margie Dacko
What a story! This is one of those unconventional and wonderful birth stories that will keep you smiling.
Helping a Mother with Twins: Choose Your Words Wisely—Mary Cooper
We all grew up learning about the power of words, but sometimes in adulthood we forget this wisdom. Midwife Mary Cooper reminds us that it is even more important to stay away from negative words when working with a woman pregnant with twins.
Maternal Placentophagy as an Alternative Medicinal Practice in the Postpartum Period—Sharon Schwartz
Placentophagy in humans has only recently been systematically investigated. Though this organ has been largely ignored scientifically, there seem to be numerous nutritional benefits for the mother as a result of its consumption. This article will review the reported effects of maternal placentophagy on iron deficiency, hormonal balancing and pain moderation.
In Memory of Marsden Wagner: A Friend to Midwives
The world lost a treasure earlier this year, but his passion and kindness will forever remain in our hearts. This tribute contains memories, stories and thoughts about Marsden from some of his midwife friends.
Twin Stories
These delightful stories show us once more how twin birth isn't a complication, but merely a variation of normal.
Zachary and Jack—Cynthia Flynn
Jade and Cole—Steph Landis Bernholz
Rose and Philippa—Joanne Whistler
Temperance and Genevieve—Lauren Mingus
Catharina Schrader: A Midwife of 18th-Century Friesland—Jane Beal
We love how Jane Beal continually supplies us with historical stories of inspiring midwives. Here is another for you to read!
GBS Updates from a Homebirth Perspective—Cassaundra Jah
Author Cassaundra Jah discusses how the vast majority of birth research focuses on out-of-home births, which sets up a unique challenge for homebirth midwives when dealing with GBS.
Easing Afterpains: Wisdom from the Midwives College of Utah—Mary Burgess
Author Mary Burgess had a chance to interview some of the midwives from a midwifery school in Utah. Their suggestions about easing afterbirth pains are insightful.
Utilizing Chiropractic for Optimal Pregnancy and Birth Outcomes—Joella Pettigrew
Chiropractic care has been a saving grace for many pregnant women. In this article, Joella Pettigrew shares some more reasons why it might be helpful to utilize chiropractic care during pregnancy.
Moving from Independent Midwifery to a Consultation Service—Michelle Irving
As the future of independent midwifery in the UK became more and more uncertain I started looking for ways in which I could still effectively support women and perhaps find a way to reach even more women than I could as an independent midwife. I ended up developing my idea of offering a service to women and their partners that could provide real, individualised support and advice for pregnancy, birth and the postnatal period and created my telephone consultancy business: pregnancyandbirth.org.uk.
Belly Buddies—Marlene Waechter
Midwife Marlene Waechter shares her experiences with twin birth, beginning with the birth of her twin cousins back when Marlene was only five years old.
= Membership Article