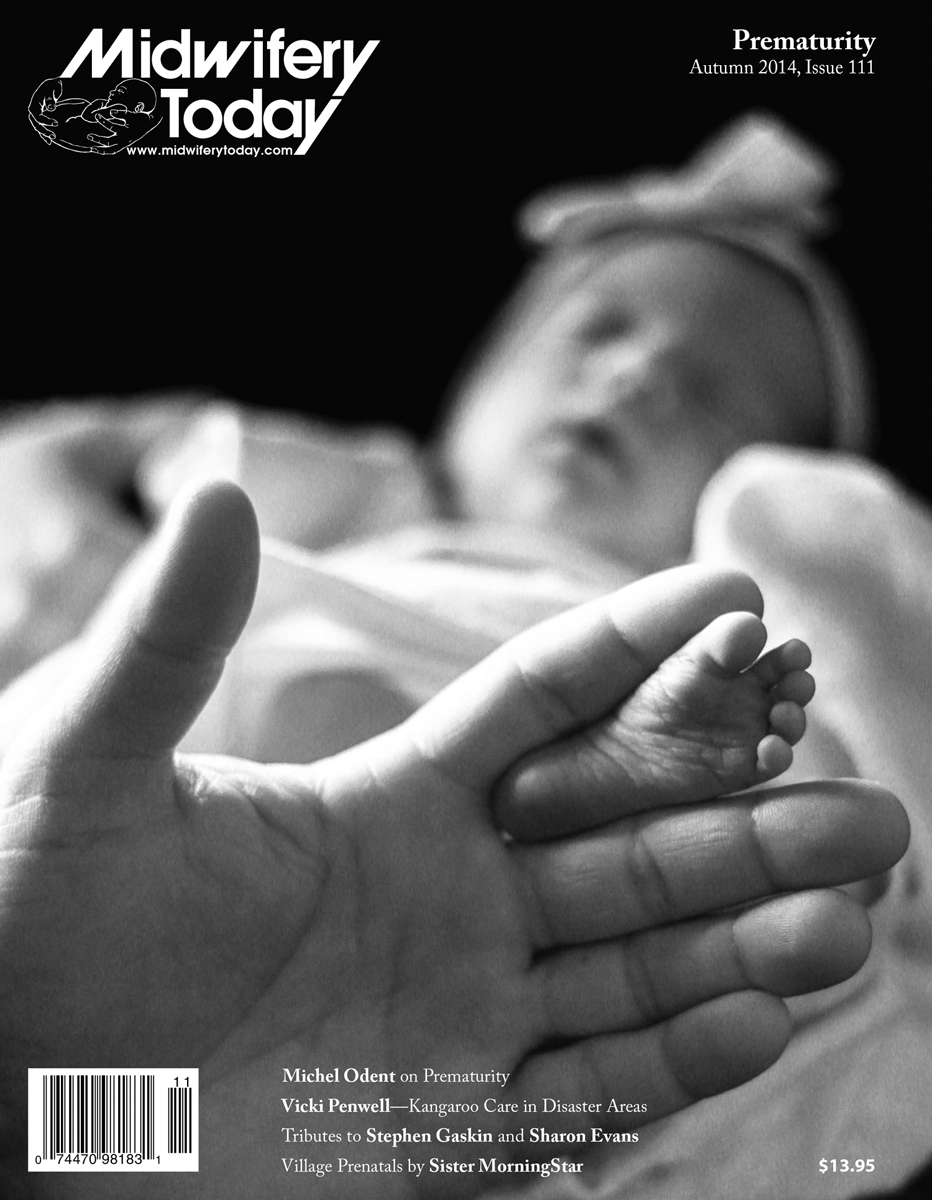 Autumn 2014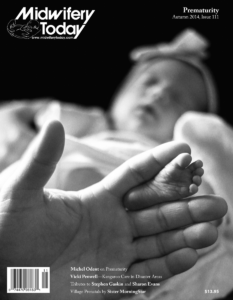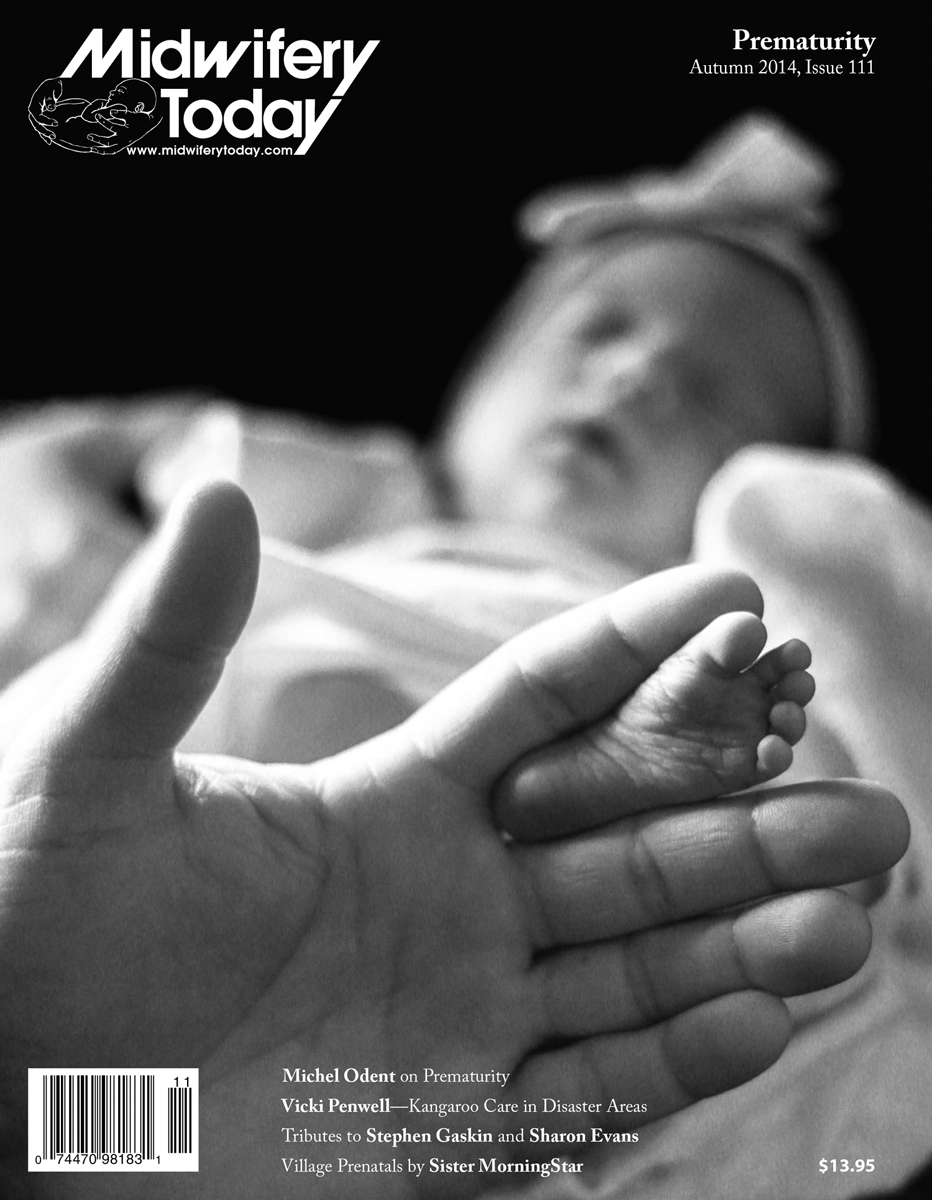 Theme:  Prematurity
Learn about prematurity—its causes, ways to prevent it and how best to handle it—in this issue of Midwifery Today magazine. The best of the best have shared their birth wisdom with us in this issue. Michel Odent, obstetrician and midwife supporter, has included an article on prematurity he previously wrote in French and has now translated into English. Herbalist Susun S. Weed shares some of her knowledge on herbs, and midwives Diane Goslin, Sister MorningStar and Marlene Waechter draw from their decades of experience to help educate us on this important topic. Also, we are sad to say that we recently lost two heroes in the natural birth world: Stephen Gaskin and Sharon Evans. You will read tributes to each of these people, who were much loved and are incredibly missed.
---
Departments
Poetry
From the Editor
Nutrition is a huge factor in the prevention of prematurity, but that does not seem to be known by the medical model practitioners. A healthy diet is the most important factor in having a healthy baby!
Networking
Tricks of the Trade
Marion's Message
…taking a slow, diaphragmatic breath in which the abdominal muscles relax fully, allowing full blood flow and exchange of oxygen through the veins and arteries, is a method to lower your brain wave frequency out of the beta and into the alpha state.
Cards and Letters
Discussions
Classified Advertising
Photo Album
Features
Prematurity and Perinatal Neglect—Sister MorningStar
My approach to preventing prematurity involves addressing the primary root problem: lack of village attention. Women need a village of women to eat and talk with and to mutually support, laugh, share stories and fears with and to address the inner and outer needs as they arise.
Prematurity and Creativity—Michel Odent
The concept of prematurity is a key to understanding the human phenomenon since, compared with other mammals, human beings are born in a state of neuromotor immaturity. This implies that human beings complete their maturation in a social environment.
What I Have Learned about Premature Birth—Diane Goslin
Midwife Diane Goslin has helped thousands of babies into the world and so she shares her knowledge with MT readers concerning premature birth.
Elizabeth Cellier: A Midwife of Seventeenth-century London—Jane Beal
Author Jane Beal has provided us with a number of inspiring midwife biographies over the last two years. Here is another historical account—this time of a very brave English midwife.
Prematurity—Susun S. Weed
Herbalist Susun S. Weed shares some of her wisdom with us as well as a lovely poem about prematurity.
Evidence, Eminence and Opinion: A Brief Reflection on Knowledge—Sara Wickham
The labyrinthine and complex nature of the debates concerning knowledge, evidence and childbirth mean that lots of us will take slightly different positions from each other when it comes to the question of exactly how we value different types of knowledge and ways of knowing. I see this as the inevitable (and, frankly, wonderful) result of our being human and having experiences which lead to opinions and biases.
Village Prenatals—Sister MorningStar
Midwife Sister MorningStar shares the kind of community she is a part of and what prenatal care within their village philosophy looks like.
Tribute to a Maverick—Ina May Gaskin
The dynamic influence of the Gaskin duo reaches far and wide, and in this touching piece, Ina May gives tribute to her beloved husband, Stephen, who recently passed away.
An Introduction to Meconium—Patricia Edmonds
Learn from midwife Patricia Edmonds about the facts and risk factors surrounding the presence of pre-birth meconium.
Sharon Evans, Loved and Remembered—Vicki Penwell
The world lost a wonderful midwife earlier this year. In this piece, midwife Vicki Penwell pays tribute to Sharon Evans.
Malnutrition, Unhealthy Lifestyles and Scheduled Deliveries: The Causes of Prematurity—Marlene Waechter
From her many years of experience, midwife Marlene Waechter shares her wisdom of premature birth and what she feels are its main causes.
Prematurity and Kangaroo Care during a Disaster—Vicki Penwell
Even amidst disaster, life still happens and babies are still born. Veteran midwife Vicki Penwell teaches on how to handle premature births in disaster zones.
Two of My Birth Stories—Tara Garner
A difficult shoulder dystocia birth story comes first, followed by a healing homebirth.
Journey with a Birth Theme—Wanda J. Walker
This issue features a dismal report of birth in Belize, but fortunately this one tells a different story. Midwifery Today staff member Wanda Walker shares her recent experience visiting midwives in Belize and Mexico.
Why Aren't More Breech Babies Born at Home? A Student Midwife's Perspective—Karin Peacock
Student midwife Karin Peacock has witnessed the normalcy of breech birth, so she asked the obvious question: Why aren't more breech babies born at home?
Diet du Jour! Pregnancy and Popular Diets—Amy V. Haas
When assessing the dietary needs of any pregnant woman, a care provider must analyze each woman individually, taking into account her activity level.
The Birth of Mariposa: A Fictional Story—H. Ní Aódagaín
Midwifery Today hasn't published many fictional stories, but after reading this one, we figured our readers might enjoy it. Feel free to tell us what you think.
Update on Belize, Central America—Reita Reid
An honest but dismal look into Belize's birth situation.
Permission to Practice Self-compassion—Stacy S. Hirsch
I came to recognize that we all suffer and these times can be beautiful and complex moments in life.
CBAC and Acceptance: The Birth Story of Rumi—Sheetal Daswani
Sometimes birth doesn't go according to our plans, and a hoped for VBAC may result in another cesarean (CBAC). Author and mother Sheetal Daswani takes us through her CBAC experience.
= Membership Content