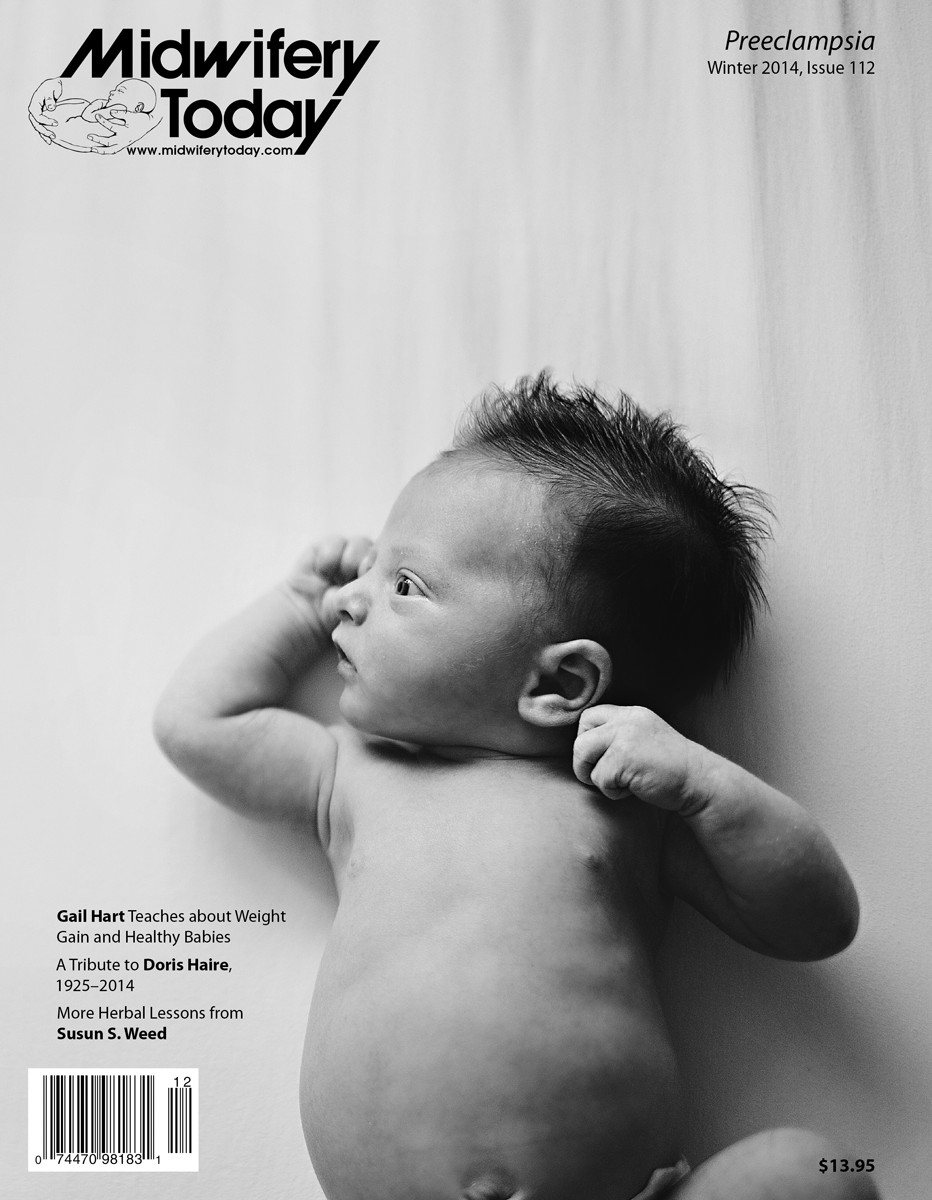 Winter 2014
Theme:  Preeclampsia
For birth workers, preeclampsia is certainly a topic worth learning about. Within this issue, you will learn from the best. The lineup of authors includes obstetrician Michel Odent, herbalist Susun S. Weed and midwives Sister MorningStar, Gail Hart and Mary Cooper. Along with preeclampsia, there are articles on the placenta, breech babies and pelvic organ prolapse, as well as a photo essay on a public breastfeeding campaign. This is definitely an issue containing loads of information, so get ready to learn. We hope you enjoy it!
Departments
Poetry
From the Editor
Jan's recent experience at the Baker Creek Heirloom Festival in Santa Rosa, California, gave her a whole new appreciation of what some are doing to help change the world of food for the better. Her experience caused her to ponder things in the birth world movement; her musings are found in this article.
Tricks of the Trade
Marion's Message
Oligohydramnios in early pregnancy is serious. Since the lungs depend on subtle breathing movements of the intrauterine baby, oligohydramnios from 16 weeks up to the beginning of the third trimester stops lung development entirely.
Cards and Letters
Media Reviews
Discussions
Classified Advertising
Photo Album
Features
Preeclampsia and Nutritional Priorities—Michel Odent
The nature and the expression of pregnancy diseases vary among different species of mammals. It is notable that these differences are related to the nutritional priorities during the prenatal phase of development.
Sick Pregnancies—Sister MorningStar
Midwife Sister MorningStar shares how prenatals that focus on a woman's diet, fears, hopes and concerns can cause a potentially unhealthy pregnancy to become healthy.
How to Turn a Breech Baby to Head-down—Naolí Vinaver
Learn some tricks on how to flip a breech baby from Mexican midwife Naolí Vinaver.
Stories to Learn From: Toxemia in Pregnancy—Mary L. Cooper
Mary L. Cooper. Midwife Mary Cooper writes of two different birth stories involving preeclampsia.
Preeclampsia—Susun S. Weed
Herbalist Susun S. Weed teaches on remedies the plant world can offer us with regard to preeclampsia.
Assuring Healthy Babies: Weight Gain in Pregnancy—Gail Hart
Midwife Gail Hart shows how scientific evidence tells us weight gain is essential for growing both a healthy placenta and a healthy baby during pregnancy.
Doris Haire, 1925–2014: A Tribute—Various Authors
Beloved birth advocate Doris Haire recently passed away and so Midwifery Today wanted to honor her memory with this tribute.
Merciér Therapy: The History Behind It—Jennifer Merciér
Merciér Therapy is a dynamic approach to fertility issues, as well as problems involving the pelvis. This is an interesting account of how this type of therapy got its start.
Public Breastfeeding Awareness Project—Leilani Rogers
Birth Photographer Leilani Rogers created the Breastfeeding Awareness Project, which involves breastfeeding photography in the hopes of making breastfeeding a normal part of life in our culture. She shares a bit about her project and some beautiful images with us in this article.
The Deadly Itch: How My Midwives Saved My Babies' Lives—Kim Gallina Viscio
Not many are familiar with intrahepatic cholestasis of pregnancy (ICP), a condition that causes intense itching. What is surprising about ICP, that even fewer people realize, is that it can be a deadly disease. A mom shares her experience with ICP in this eye-opening first-hand account.
Pelvic Organ Prolapse: A Proactive Approach to Prevention—Kim Vopni
Pregnancy and childbirth are amongst the known risk factors for pelvic organ prolapse, but they don't have to go hand-in-hand. With the right knowledge and awareness, women can take steps to prevent or reduce the likelihood of developing a prolapse by learning about safe core exercises for pregnancy, how to optimize their birth to protect their pelvic floor and how to best recover and support their healing body.
Emma Océane—Jonathan Angelilli
A father shares how birth changed his view of his wife and of life in general.
The Paleo Lifestyle in Pregnancy—Tiffani Hoffman
Many have experienced profound benefits from adhering to a Paleo lifestyle. In this article, Tiffani Hoffman shows us how the benefits of a Paleo diet are even for those who are pregnant.
Newborns: Their Biological and Theological Uniqueness—Mary DeLashmutt
Midwife Mary Delashmutt shares her thoughts on the uniqueness of newborns.
Calcium and Vitamin C Supplements: Effects on Preterm Birth and Preeclampsia—Gail Hart
This article will look specifically at the effectiveness of calcium and vitamin C supplements on preterm birth and preeclampsia.
The Childless Midwife: Justine Siegemund of Eighteenth-century Germany—Jane Beal
Another exciting historical account of a midwife written by professor and midwife Jan Beal.
Sowing Seeds of Change—Lina Duncan
Lina Duncan shares some of her experiences as a British midwife in India.
Birth in India: An Update—Lina Duncan and Vijaya Krishnan
Midwives Lina and Vijaya give us an update on the culture of birth in India.
The Power of Placenta for Hemorrhage Control—Hollie S. Moyer
It's always important to be reminded of the basics, such as using the placenta to stop a hemorrhage. Hollie S. Moyer does a fine job of doing just that in this article.
= Membership Article