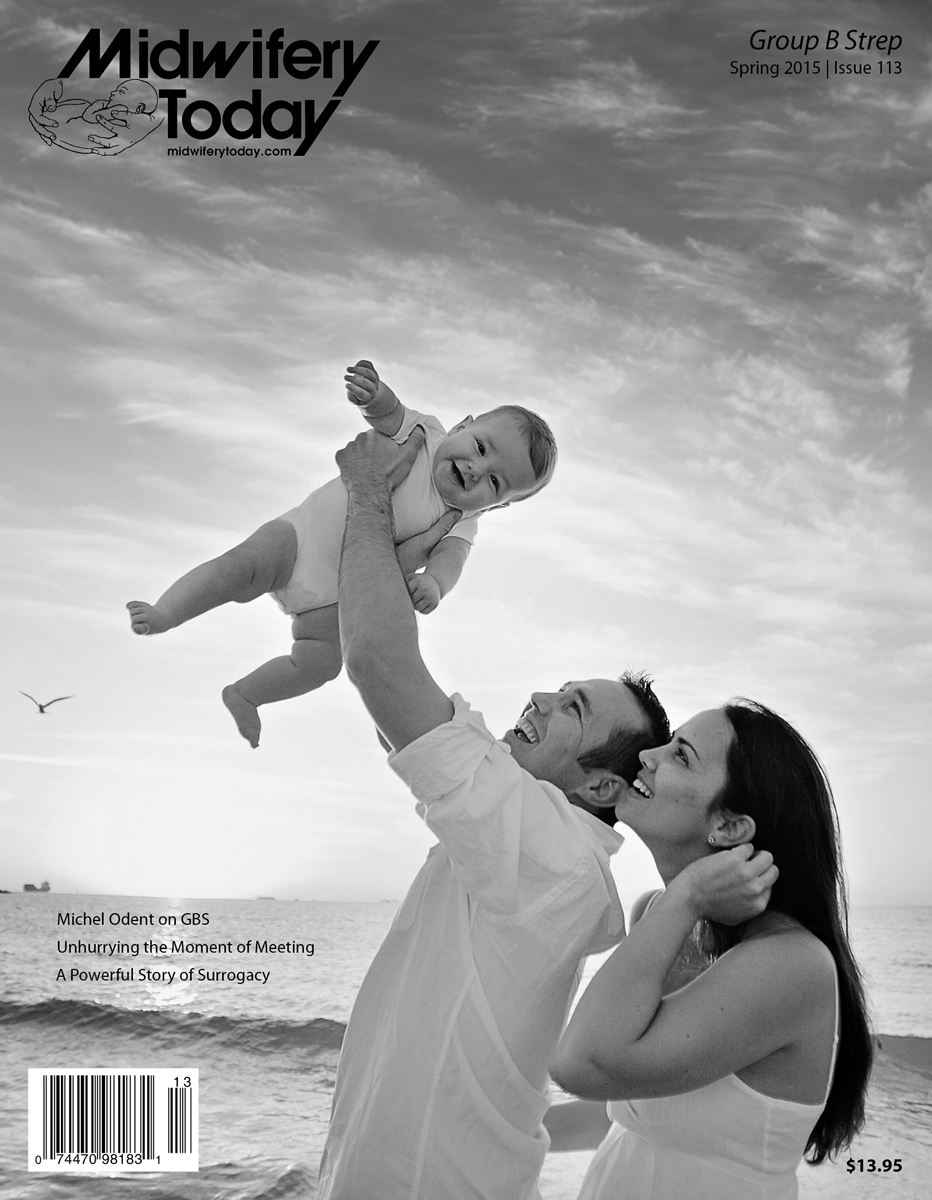 Spring 2015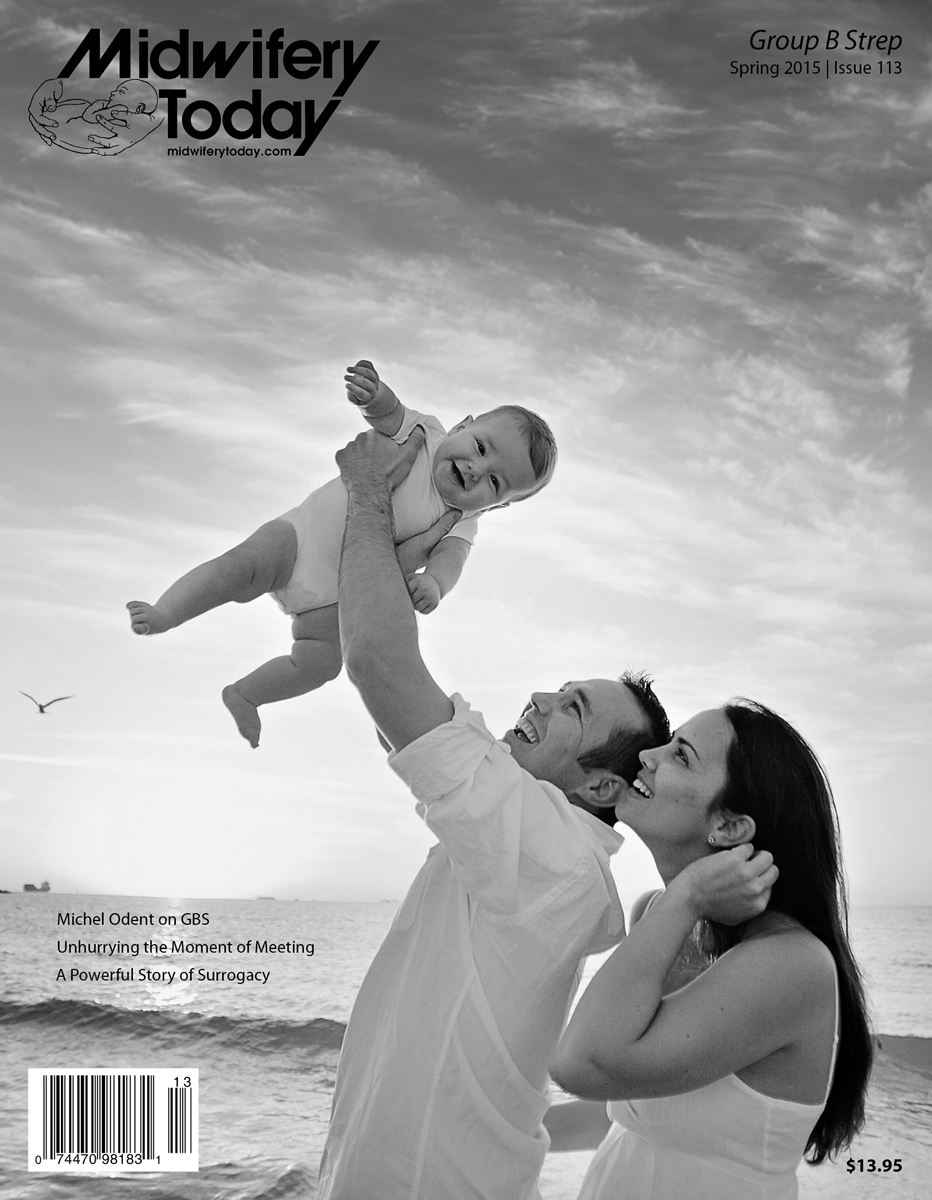 Theme: Group B Strep
Our Spring 2015 issue is dedicated to the topic Group B Strep (GBS). At 72 pages, it is filled with clinical articles, vital information, midwifery tricks of the trade, gorgeous birth photos and delightful homebirth stories from around the world.
The topic of group B strep, GBS testing, antibiotics and sick babies is not something that makes for pleasant conversation. However, it certainly is a topic that birth workers must be knowledgeable about. That is why we asked certain people to write on this topic: Michel Odent, Sister MorningStar and Marion Toepke McLean. Robin Lim has an article somewhat related to the theme, titled, "When Pregnancy Goes South: Keeping Birth Gentle." Also included in the pages of this issue are two very powerful birth stories: one where Sister MorningStar midwifes a Nicaraguan couple via the telephone through the birth of their first child 1000 miles away; the other is a wonderful story of surrogacy. I hope you enjoy curling up with this issue of Midwifery Today. Get ready to learn a lot and to be inspired!
---
Departments
Poetry
From the Editor
Founder of Midwifery Today, Jan Tritten, shares of her recent trip to Fiji and of her interaction with the midwives and the birth culture there.
Tricks of the Trade
Marion's Message
Midwife Marion discusses the microbiome and its impact on the long-term health of a baby.
Birth Funnies
Media Reviews
Discussions
Cards and Letters
Classified Advertising
Photo Album
Features
Micro Wellness—Sister MorningStar
Group B Streptococcal Infection: Beyond the Mysteries—Michel Odent
Long-time natural birth advocate and obstetrician Michel Odent discusses, among other things, the current widespread irrational preventive strategies of GBS.
When Pregnancy Goes South: Keeping Birth Gentle—Robin Lim
Ibu Robin, as she is affectionately called around the world, teaches about the importance of creating a gentle and healthy birth experience for mothers. As always, she uses real-life experiences to illustrate her points.
Nipple Thrush: How to Identify and How to Treat—Lisa Goldstein
Midwife Lisa Goldstein has become somewhat of an expert on identifying and treating nipple thrush. She shares her wisdom with us in this article.
Unhurrying the Moment of Meeting—Mary Esther Malloy
Mary Esther's birth of her youngest child has forever changed the way she looks at the period immediately following birth: the time when a mother meets her child.
Update on the Commonwealth of the Bahamas, a Caribbean Nation—Mary Delashmutt
Birth needs help in almost every area of the world. The Bahamas may be one of those places where the need is greater. Midwife and doula Mary Delashmutt gives us an update on the birth situation in the Bahamas.
The Beta Strep Dilemma—Marion Toepke McLean
Excellent information on GBS from a seasoned midwife.
Breastfeeding Support at Yayasan Bumi Sehat: A Student Midwife's Reflections—Lindsey Jean Stirling
Author Stirling shares about her experience in Bumi Sehat where she worked with Robin Lim and the other midwives there. In particular, she speaks about her time helping a woman with breastfeeding.
Allowing the Labouring Mother to Be Primal—Gauri Lowe
Birth is indeed primal, and Gauri brings up an interesting point: sometimes the primal behavior can be awkward or disturbing to those observing. Why is this the case?
After the Disaster: What Comes Next in the Philippines—Vicki Penwell
Midwife Vicki Penwell shares the experience she and other helpers from Mercy In Action had in their successful attempts to provide midwifery care to those affected by Hurricane Yolanda.
Sarah Stone: An Early-Modern English Midwife—Jane Beal
A historical account of midwife Sarah Stone's life as a midwife in eighteenth-century England.
Understanding the Infant Feeding Decision—Teresa Rust Smith
Baby nutrition is always a worthy topic and author Teresa Rust Smith gives us helpful information on the infant-feeding decision.
Collaboration Is Key—Aubre Tompkins
The profession of midwifery has felt like a battlefield to some, but what amazing feats we can accomplish when we work together! Midwife Aubre Tompkins reminds us of this truth in her article.
A Surrogate Birth Story—Kim Trower
Surrogacy is something not many people are familiar with, and Kim Trower sheds some light on the topic as she shares her beautiful surrogate birth story.
Positive Birth Changes in Cameroon—Patang Florence Ngu
An update on the birth situation in Cameroon.
Mindfulness: An Intervention for Improving the Health of Mothers and Babies—Tracy Donegan
Author Donegan discusses the importance of including mindfulness in prenatal care.
The Revolution So Far—Diana Paul
Diana Paul gets readers up to date on the Birth Revolution.
= Membership Article