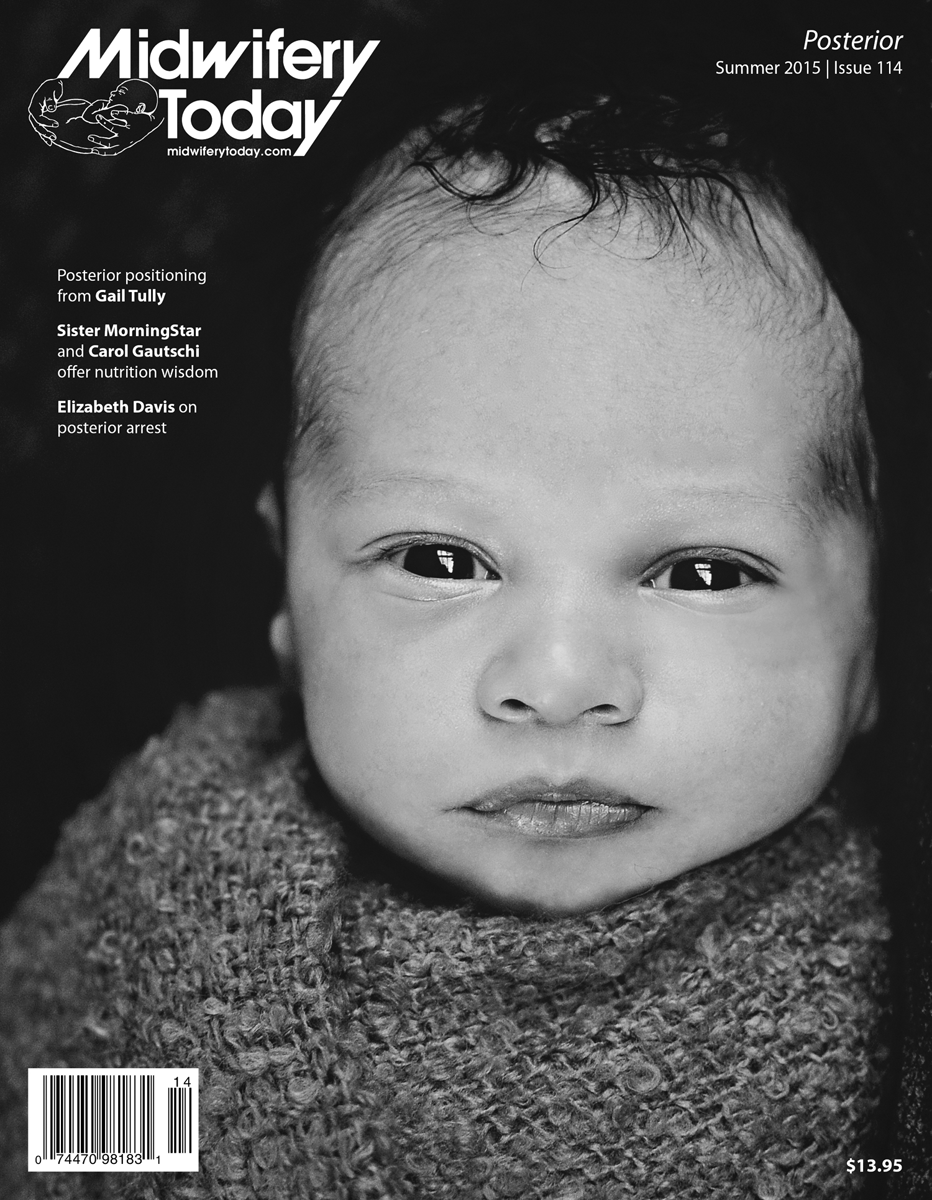 Summer 2015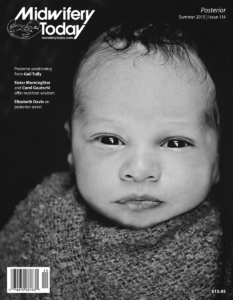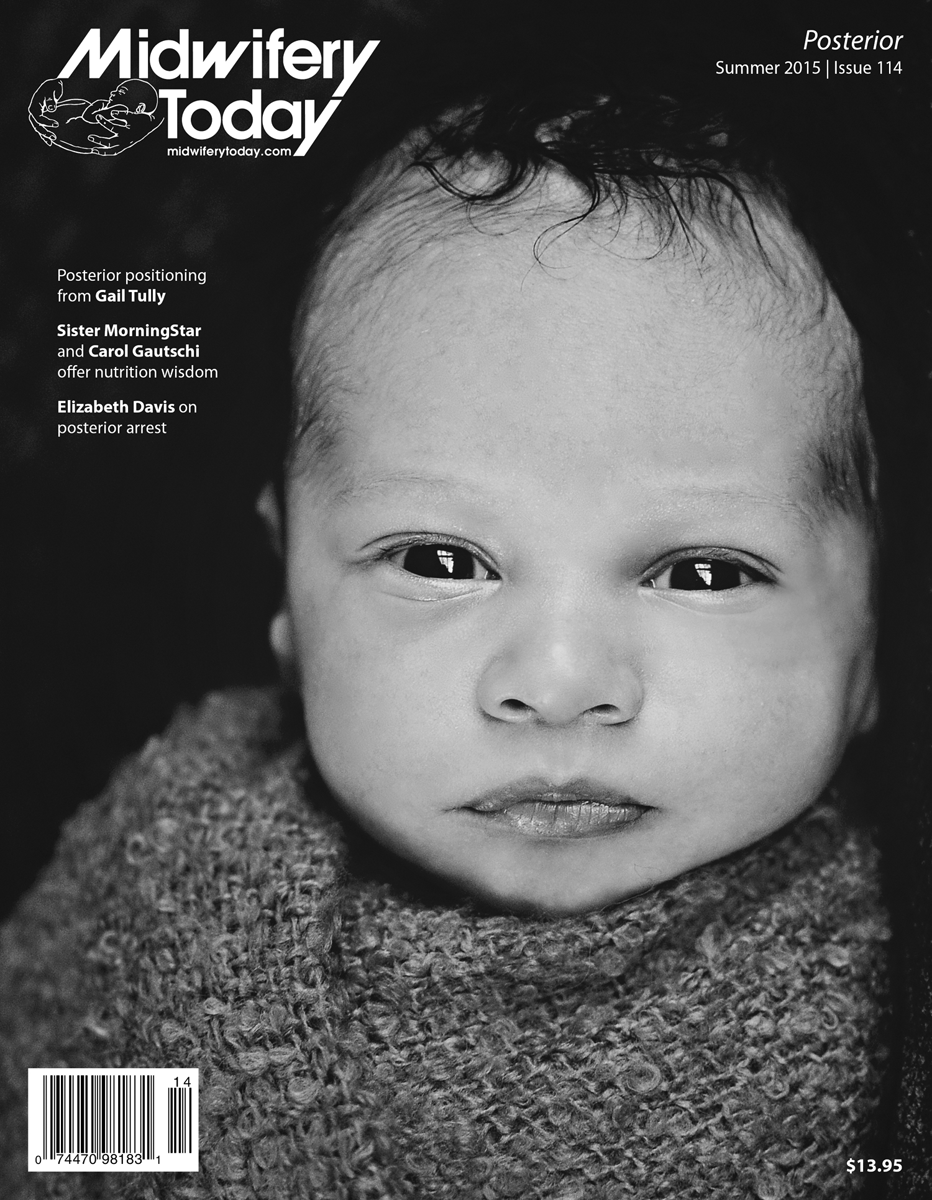 Theme: Posterior
Our readers often say that Midwifery Today is one of their favorite magazines because they learn essential midwifery skills—such as how to handle a posterior presentation—from each issue. This issue is filled with wisdom from Michel Odent, Sister MorningStar, Elizabeth Davis, Gail Tully and other midwives and doulas regarding posterior babies and how to handle them. Other subjects, such as global midwifery models and wise nutrition during pregnancy, are covered as well. Get ready to grab a hot mug of tea and your newest issue of Midwifery Today, and settle in for a nice afternoon of reading and learning.
---
Departments
Poetry
From the Editor
Midwifery Today mother Jan Tritten shares how Dorothy had it right all along: When it comes to having a baby, there really is no place like home.
Tricks of the Trade
Marion's Message
Midwife Marion Toepke McLean teaches on a lesser-known complication: disseminated intravascular coagulation.
Media Reviews
Birth Funnies
Discussions
Cards and Letters
Classified Advertising
Photo Album
Features
Posterior Perspective—Gail Tully
The Spinning Babies lady, Gail Tully, teaches on how to rotate a posterior baby.
Posterior Arrest—Elizabeth Davis
An updated excerpt from Elizabeth Davis's book Heart and Hands: a Midwife's Guide to Pregnancy and Birth, this article is a must-read for any birth worker.
My Experience with OP Babies—Lisa Goldstein
Veteran midwife Lisa Goldstein shares her experiences midwifing births involving posterior presentations.
The Emotional Impact of the Posterior Position—Melissa Ellis
The emotional side of any birth is always important to consider, and Melissa Ellis makes this article especially relevant for this issue's theme.
The Making of a Midwife: Elimination as a Foundation of Health—Carol Gautschi and Sister MorningStar
Experienced midwives Carol and Sister discuss the elimination system of the body and it is foundational for proper health.
Wise Nutrition for Pregnancy—Sister MorningStar
Midwife Sister MorningStar shares a handout-like article full of wise nutrition tips.
Posterior Births and Babies—Mary Cooper
Long-time midwife Mary Cooper shares her wisdom on posterior presentations.
Posterior Questions and Answers—Diane Goslin
With over 7000 births under her belt, I think we can safely say that midwife Diane Goslin is an expert when it comes to birth. In this article, she shares her wisdom with regard to posterior presentations.
Homebirth Cesarean: Changing the Prenatal Conversation—Courtney Key Jarecki
When a planned homebirth turns into a cesarean, it can be difficult for a mother to process. This article dives into those emotions and offers some helpful insight.
Primal Health Research vs. the NIH—Michel Odent
Natural birth advocate and French obstetrician Michel Odent once again shares his wisdom with us in this article.
Daisy C.H.A.I.N.: Offering Free Postpartum Services to Families in Lane County, Oregon—Gabrielle Macias Darzi
Local to Eugene, Daisy C.H.A.I.N. offers free postpartum services. In this article they explain their business model, which will hopefully be copied around the country in many other cities.
Global Birth Models—Kay Sandberg and Shane Carnahan

Overview of Effective Global Birth Models
Yayasan Bumi Sehat: Healthy Mother Earth Foundation
One Heart World-Wide's Mission and Network of Safety Model

Sandberg and Carnahan have put together a helpful document giving readers an overview of different birth models around the globe.

The Art of Breastmilk Project—Ilissa Kolly
Photographer and doula Ilissa Kolly shares her most recent project: to normalize breastfeeding through photography.
Giving Birth: Learning to Let Go—Lucy Gent Foma
A birth story about letting go and surrendering to birth.
Elizabeth Nihell: A Feisty English Midwife (1723–1776)—Jane Beal
In almost every issue of Midwifery Today, teacher and historian Jane Beal brings to life the stories of midwives who have gone before us. In this issue, we get to learn about Elizabeth Nihell of eighteenth-century England.
History of Midwifery in Japan—Brett Iimura
It is always interesting to learn of other cultures, and in this article, readers go on a journey to Japan, learning about its history of midwifery practices.
= Membership Articles