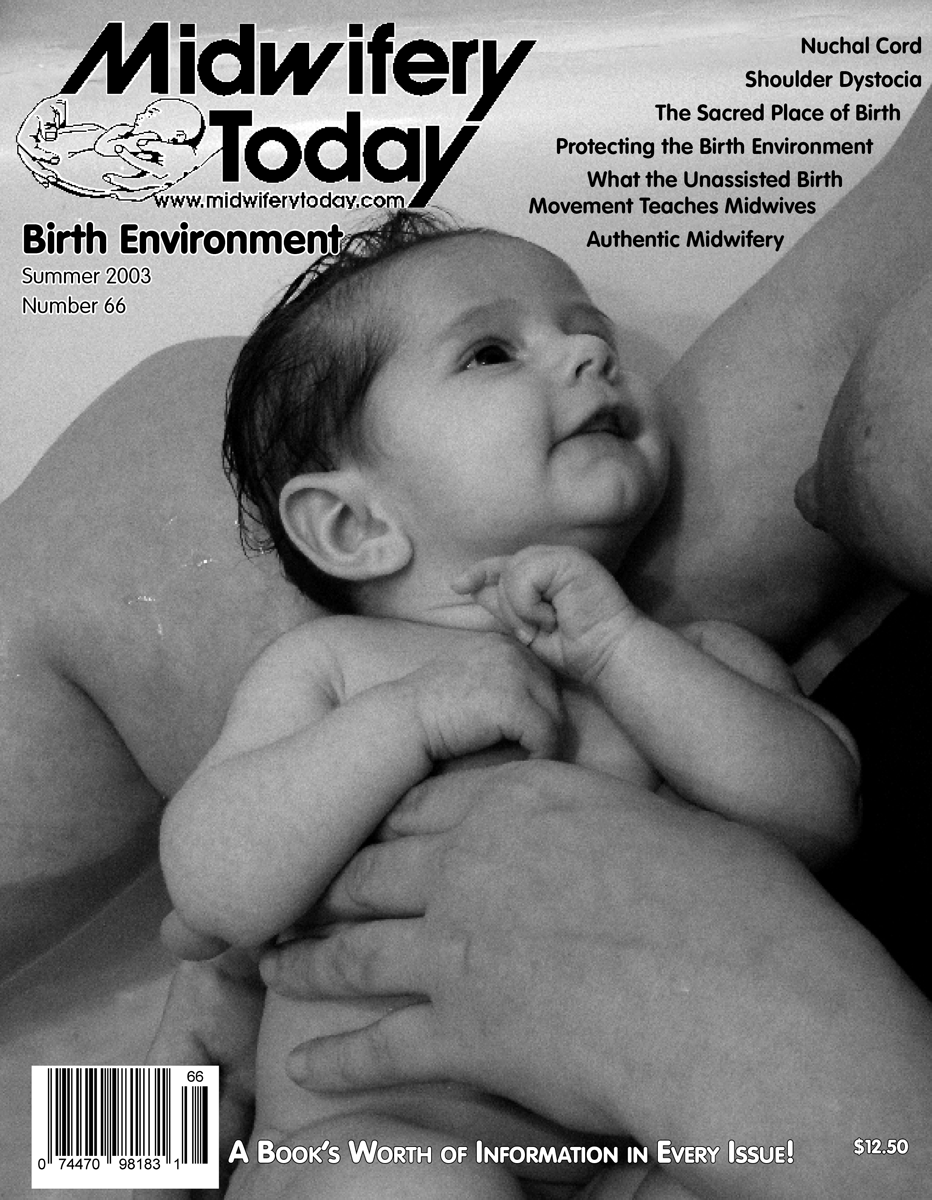 Summer 2003
Theme:  Birth Environment
Articles in this issue of Midwifery Today include:
The Sacred Place of Birth
The Atmosphere of Homebirth
Promoting a Positive Hospital Experience
Mother-Friendly Nurse Intervention
Creating a Sound Environment: Drumming for the Childbearing Year
Protecting the Birth Environment
Nuchal Cord Short Stories
Shoulder Dystocia: The Basics
An Ethnographic Account of Lotus Birth
---
Two-month-old Tamala Rose Phoenix points at her mama's breast during a photo shoot. Combining a warm bath and breastfeeding made for one happy model! Photo by Midwifery Today Design Editor Jennifer Rosenberg.
Departments
Poetry
Networking
Tricks of the Trade
Question of the Quarter
Journal Abstracts
Media Reviews—including Botanical Medicine in Midwifery: A Handbook for Women's Health Professionals
News
Classified Advertising
Calendar
Photo Album
Features
The Sacred Place Of Birth—Jenny Hall
The Atmosphere Of Homebirth—Kelli R. Johnson
Protecting The Birth Environment—Andrea Mietkiewicz
From Birth Hut To The Garden Of Eden—Michele Klein
A Doula's Perspective—Michelle L'Esperance
Nuchal Cord Short Stories—Mary Kroeger and Deborah Flowers
Shoulder Dystocia: The Basics—Gail Tully
Chatty Cathie—Gloria Lemay
An Ethnographic Account Of Lotus Birth—Rachel Westfall
Some Thoughts On Unassisted Childbirth—Ina May Gaskin
What The Unassisted Birth Movement Teaches Midwives—Gail Hart
The Case For Authentic Midwifery—John Stevenson
Windflower: Homeopathic Pulsatilla—Peggy Sawyer
Interviews With Maiden Midwives—Mary Kroeger
International Midwife
Cards and Letters
Homebirth In Australia—Sarah Buckley
The Jie Sheng Po Of China—Travis Anna Harvey
Midwifery In Ghana—Mandisa S. Nkrumah
Safe Motherhood In Slovenia—Anita Prelec
En Español—Sara Wickham
Water Babies Growing Up—Colin Drown
  = Membership Article