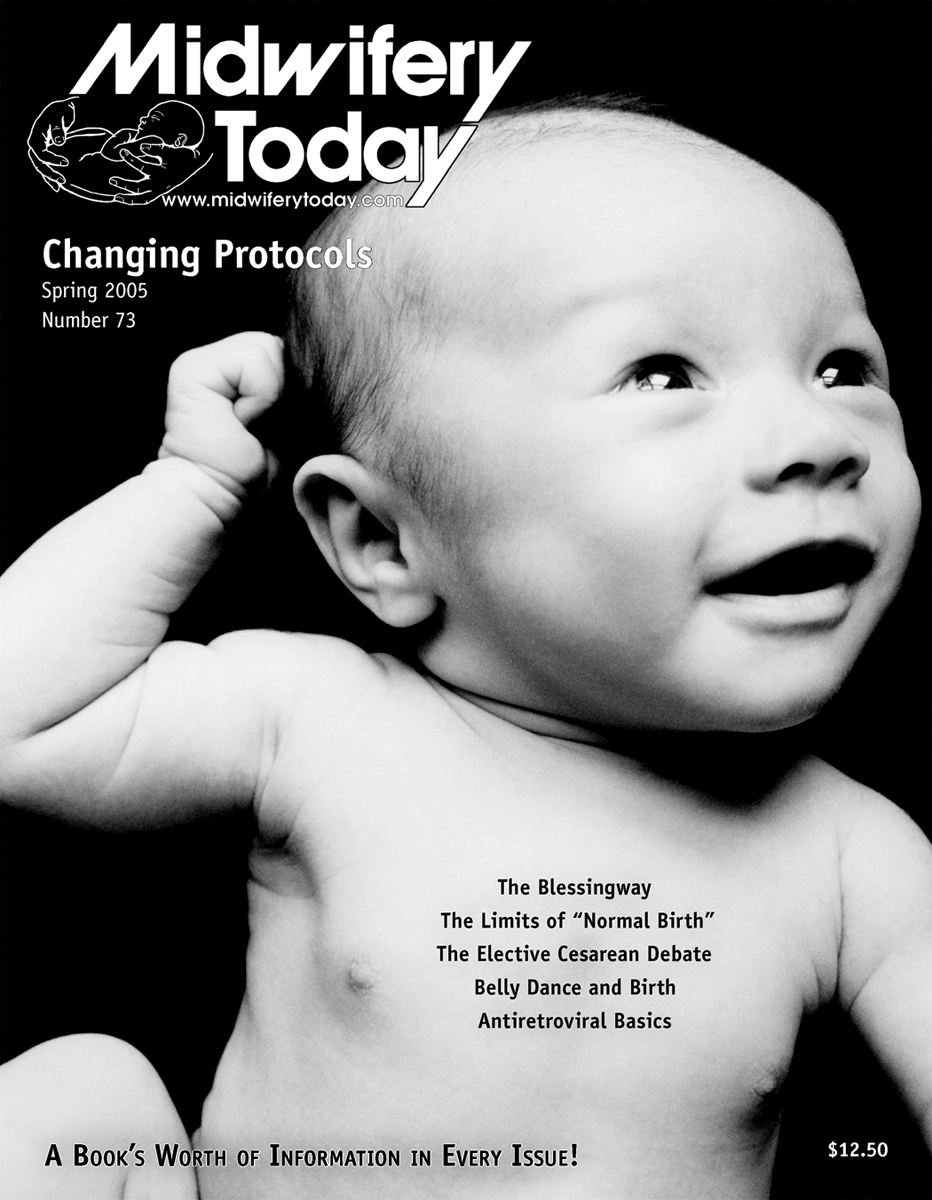 Spring 2005
Theme: Changing Protocols
Kaiden, son of Shoko and Rod Gray of Vancouver, BC, was born March 22, 2004, and photographed by Ella Pedersen of Bellies, Births and Babies Photo Documentary. Photographer Ella Pedersen aims to capture the intimate moments of life's most natural events. Ella is a doctor of Chinese medicine who, after completing a practicum in China, pursued a training in doula and birthwork. Recent motherhood to new son Arlo has inspired Ella to further her talents in photography as she continues to work professionally in all of her chosen fields.
Departments
Poetry
From the Editor
Midwifery Today turns 19 years old in February of 2005. That is nearly 20 years of working to change birth. Each of you is working in your sphere of influence. Whatever dream project you have in mind, begin today taking the necessary steps to manifest that dream. Don't let obstacles get in your way.
Networking
Tricks of the Trade
Question of the Quarter
Marion's Message 
The basics of birth are unchanging; there is an elemental simplicity. Safe midwifery care during placental delivery and the hours that follow is based on physiological processes and needs that are unchanged over the years. These basic protocols can prevent serious problems for childbearing women.
Media Reviews
News
Classified Advertising
Calendar
Photo Album
Protocols: Finding the Balance—Jill Cohen 
Birth is not fixed, nor should protocols be. The path can be paved for a viable working relationship between institution and midwife. When we transport we must adjust our protocols to include the interventions needed. Establishing a balance that allows protocols to adjust and change is practicing the art of midwifery.
Protocols vs. Guidelines—Suzanne Hope Suarez
Midwives need to understand the terms standards, clinical guidelines, and protocols and utilize them in the same way others in the medical and legal fields do. This is a mechanism by which to protect the midwife, her practice and the midwifery profession. The terms Guidelines and Standards should NOT be interchanged.
Can the Art of Midwifery Survive Protocols?—Michel Odent 
We must keep in mind that "protocol" derives from the Greek word "kolla," which means "glue." To follow a protocol is to give up freedom. Freedom is the prerequisite for any artistic way of behaving. This implies that if it is an art, midwifery is incompatible with the concept of protocol.
Protocols—Jennifer Hall
We are a profession separate from OBs, paediatricians and physiotherapists; we should not allow others to be responsible for writing our protocols. Yes, where there is overlap, we could work as a team to create guidelines for the working area. But ultimately, we should be creating a framework that works for us.
The Challenge of Doing Nothing—Katherine Jensen
Training involves learning to DO things. A much greater challenge is learning to DO NOTHING. The pendulum will one day swing back towards normal birth, and those of us who KNOW birth is normal, that a woman CAN labor and give birth, will be waiting in the wilds to be found. We must not give up the art of doing nothing.
Jasmine's Story: What Are the Limits of "Normal Birth"?—Carol Gray and Beth Yohalem-Ilsley
What is a "normal" birth? While this birth was hands-off by medical standards, we used more interventions than usual. Did any of them make a difference? Maybe. Could we have done less? Probably. I realized that this amazing birth was normal. Beth had everything she needed to get her baby born in her own best way.
The Air We Breathe—Oxygen: Tradition and Heresy?—Gail Hart
Oxygen for resuscitation of newborns was adopted with little research, and maternal oxygen "for treatment of fetal distress" had even less. The use of a high proportion of oxygen was rapidly adopted in the 1970s—not without opposition! Debate continues, even though large studies were designed to settle the questions.
Problematizing Choice in the Elective Cesarean Debate—Lisa Weeks
The following article will explore the debate surrounding elective c-sections, with the intention of revealing the complex factors that contribute to a notion of "choosing" a cesarean. It suggests that how our culture frames the debate might in fact serve only to further perpetuate the hegemony of the biomedical model.
The New Kid on the Block: 30 Years and Growing—Wintergreen
The Pink Kit is a multi-media kit that focuses on the essential preparations for our birthing bodies. When couples attend The Pink Kit classes, they often ask, "Why should we be preparing for birth? We've made our birth plan and chosen our care provider. Isn't this all we need to do?"
Jeannine Parvati Baker—Gloria Lemay and Verena Schmid
My friend, Jeannine Parvati Baker, is very ill. She's in hospital in Utah as I write this, and I wish I could bring together all those who love her for a huge and beautiful Blessingway ceremony for her healing. I would begin with everyone saying how we met Jeannine and who she is in our lives. This is what I would say.
Screening Tests: Not Worth Triple the Trouble—Denise Punger 
My 37-year old e-mail friend was 19 weeks pregnant with her second. She shared by e-mail the bad news that her triple screen showed increased risk for Down's Syndrome. She repeated the test and was awaiting results. She couldn't decide whether to pursue amniocentesis. I replied…
Belly Dance and Birth—Cathy Moore
Giving birth is a rite of passage, and belly dance is one powerful tool a woman can use to reclaim pregnancy and birth. It is an ancient dance form rooted in childbirth that offers many benefits for contemporary women.
Antiretroviral Basics—Nancy Miller 
As midwives, we often struggle against medical interventions that have dubious value for mothers and babies. But a few medical interventions, when used appropriately, are lifesavers. I believe antiretrovirals to be one of these lifesavers.
Metamorphosis—Nancy Miller
Victoria was an emaciated, quiet 25-year-old woman when I first met her. Even though Uganda is a tropical country, she always wore long sleeves and layers of clothes to keep warm. Her face and hands were covered with an unidentifiable rash. Her serious dark brown face revealed her struggle with daily activities.
The Blessing of a Blessingway—Alison Bastien
The Blessingway is an alternative to the baby shower, focused on honoring the transition to motherhood. It evolved out of a Navajo ceremony. There are usually plenty of laughter and tears at a Blessingway, and each woman leaves feeling blessed and honored to be a part of this great circle of womanhood.
Having Ahna at Home—Heather Rader 
Some people say I am "a brave pioneer woman," while others look askance at the middle-class, educated woman birthing at home. This birth was not better than the other two, I remind myself. With Jamin I learned about resilience, and with Maya I learned about patience. This birth taught me I could trust my body.
The Bristol Third-Stage Trial—John Stevenson
This trial, conceived and executed by "experts" with no patient input, is bad news for proponents of gentle, optimal birth. It rationalizes the alleged safety and efficiency of the horrendous "active management" of third stage. It is misleading, and numerous criteria are mistaken, misunderstood or misinterpreted.
The Business of Midwifery: Contracting—Linda Leiberman
Doing business as a licensed midwife provides the option, in some states, of contracting with insurance entities. Contracting may open doors to better reimbursement. It is also a type of promotion for the health care provider, as insured clients generally seek practitioners from a specified panel of providers.
International Midwife
Cards & Letters
Antonina Sánchez Méndez—Sarah Proechel
Mary's Quilt—Robin Lim
Mary was a beautiful mother, a grandmother, a happy wife, a midwife, a brilliant woman, a best friend, a fierce advocate for women's reproductive rights, a teacher, a writer, a quilt maker. Mary blazed a trail of courage and excellence that midwives generations from now will walk upon.
Birth and Death in Yayasan Bumi Sehat, Bali—Robin Lim 
Update: October and November, 2004. When we face loss of life, finances fade into the distance, and we know our responsibility is to something deeper and more from the heart. Each of you who help has contributed to Budi's survival and to a proper goodbye for two small babies who did not make it on Earth.
A Progressive Midwife in Nazareth—Michele Klein 
There is a special midwife in Nazareth named Izdihar Abu Eid. Her name means "progress" in Arabic, her mother tongue. She lives up to the name given her by her Bedouin parents and does all she can to advance the cause of her profession, to empower midwives and birthing women.
Hari's Birth—Apeetha Arunagiri
In the first scorching hot days of summer our Tamil friends sprang a ceremony on us. My daughter and I were told it was to call out her baby, convincing him of the happy friends awaiting his arrival. We thought he was nowhere near due to stir, not for another nine weeks; but the women planned the event spot on time.
  = Membership Article