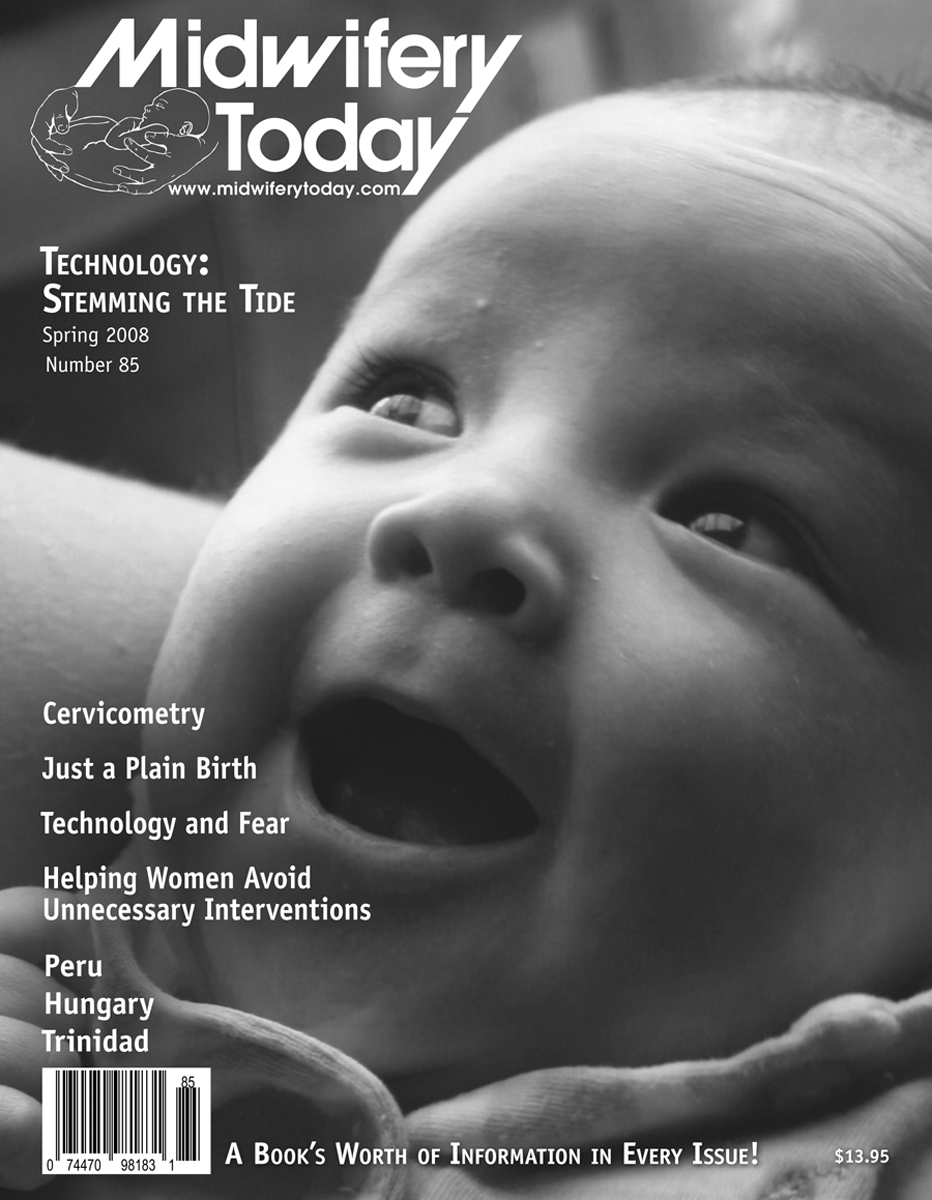 Spring 2008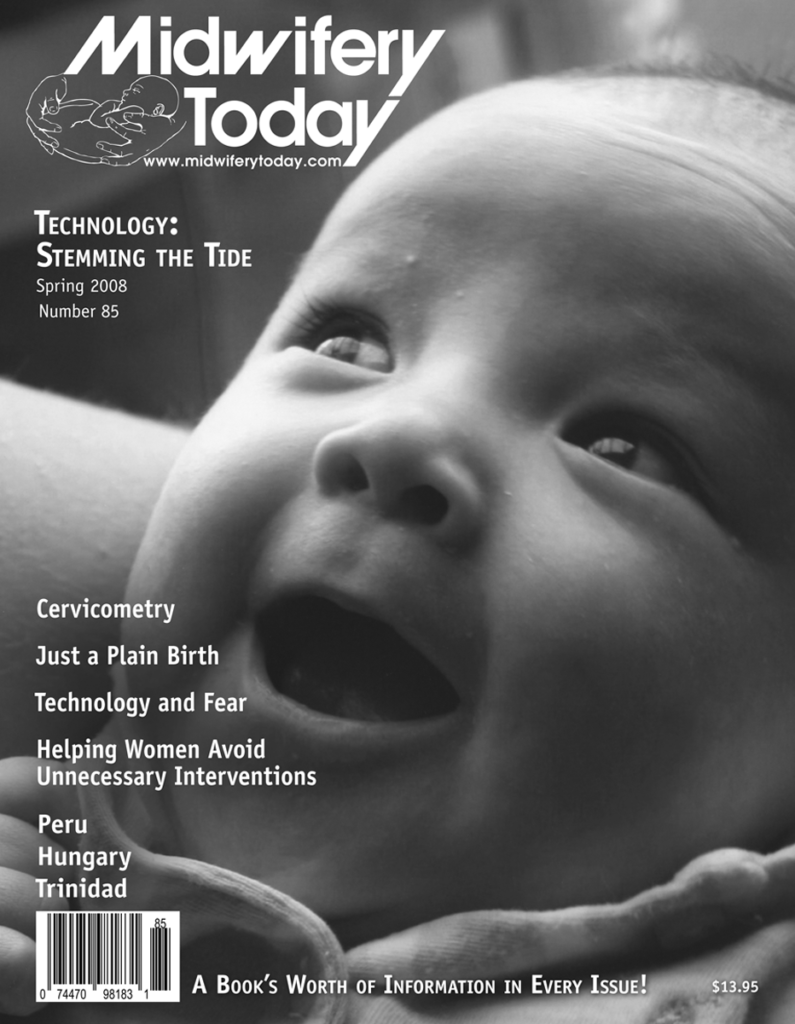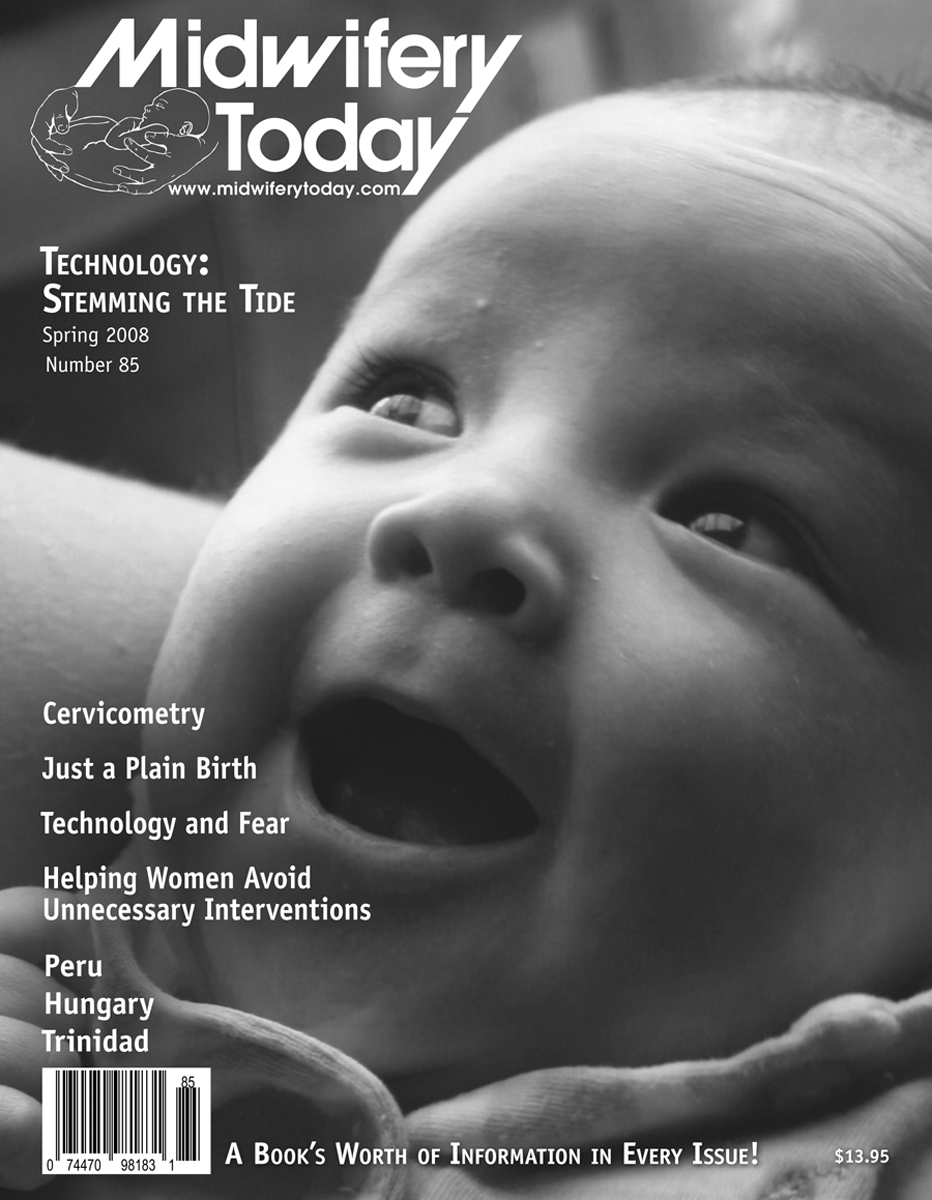 Technology: Stemming the Tide
What interventions are on the horizon in obstetrical care? What does the research tell us about those interventions that are being used more frequently? What can midwives do to help women have normal births?
---
Columns
Poem: Red Raspberries—Janice Marsh-Prelesnik
Editorial: Technology: Stemming the Tide—Jan Tritten
Technology can make take away the beauty of birth, when used unnecessarily. Editor Jan Tritten argues that midwives are in a position to change the tide of unnecessary technology, using the evidence that is accruing.
Marion's Message: The Death of Queen Jane—Marion Toepke McLean
Technology, in the guise of cesarean delivery, has been around for some time now. Marion shares this folk song about the death of a queen after a c-section.
Helping Women Avoid Unnecessary Interventions—Dale Bernucca
This article shows how having the research data and conclusion handy can help women avoid unnecessary interventions in the hospital.
Choose and Lose: Promoting Cesareans and Other Invasive Interventions—Marsden Wagner
Excerpted from his 2007 book, Born in the USA, this article tells us why doctors would want to encourage c-sections.
Just a Plain Birth—Marlene Waechter
In contrast to the many stories of medicalized birth in this issue of the magazine, this story of a simple Amish birth is a refreshing read.
Technology and Fear—Ann Davenport
The bells and whistles of technology are often driven by fear, and in many cases can only predict, not improve. This author suggests that controlling fear may help to limit technology to what is necessary.
Childbirth in the Ancient Roman World: The Origins of Midwifery—Don Todman
An interesting look at the origins of midwifery in ancient Rome.
The Future of Obstetric Technology—Michel Odent
"Can humanity survive the safe cesarean?" Dr. Odent discusses what we have to lose if this trend continues.
Midwives Honor the Sensuality of Pregnancy and Birth—Shafia M. Monroe
Midwife Shafia Monroe talks about the beauty and sensuality of pregnant woman and how we need to honor them during that special time.
Episiotomy, Hospital Birth and Cesarean Section: Technology Gone Haywire—What is the Sutured Tear Rate at First Births Supposed to Be?—Judy Slome Cohain
Doctors began performing episiotomies on birthing women under the belief that it helped prevent tears. This conclusion has been turned on its head, yet episiotomies are still standard procedure in some quarters. Midwife Judy Slome Cohain shares data showing that homebirthing women generally neither tear nor need episiotomies.
Face to Face: A Midwife's Birth Story—Kenna Lee-Ribas
Being a midwife does not guarantee that one will be a good client when it comes time to birth. This honestly-told birth story provides a different perspective.
Cervicometry: What All Women Need to Know—Kathleen Furin
This article, reprinted from Mothering, shows the lengths to which modern obstetrics and drug device companies will go to make birth a high-technology event.
Blogging to Boost Your Birthing Business—Sheri Menelli and Anne McManus
Marketing guru Sheri Menelli, along with a co-author, shares a simple way to increase your business.
Listening to Survivor Moms—Mickey Sperlich
Learn the background behind the upcoming Motherbaby Press book, Survivor Moms: Women's Stories of Birthing, Mothering and Healing after Sexual Abuse.
A Tribute to Tricia Anderson
Midwives share their memories of midwife Tricia Anderson, who gave so much to the profession.
Institutionalizing Midwifery: US and UK Style—Barbara Bridgman Perkins
What is happening to the profession of midwifery in the US and UK? This fascinating article gives us a look behind the scenes at the institutionalization of the profession.
Birth Rape: Another Midwife's Story—Shea Richland
A flashback sends a midwife back in time almost 40 years to the traumatizing birth of her daughter.
What can You Do to Make Changes with Care Today?—Ireena Keeslar
Machines are gradually replacing people, in the interest of simplifying work and saving time. Midwife Ireena Keeslar suggests that we learn hands-on basic skills and make change in our own areas of control.
Ecology of Birth—Nancy Gift
Birth can be ecological, too. The author discusses how this is so and even makes suggestions for an ecological homebirth kit.
International Midwife
Midwifery & Birthing: Women in Peru—Cynthia Ingar
Rural Peruvian women are struggling for proper health care, yet the official government policies are in conflict with tradition practices. The author makes suggestions for meeting in the middle.
Report from the Field: Midwifery in Hungary—An Evolution—Andrea Nandu Noll
Learn about the current status of midwifery and homebirth in this fascinating article.
Amicus Maternity Center: Part I—Jan Tritten
Jan Tritten writes about one midwifery model that works, Trinidad's Amicus Maternity Center, in part two of this two-part series.
= Membership Article