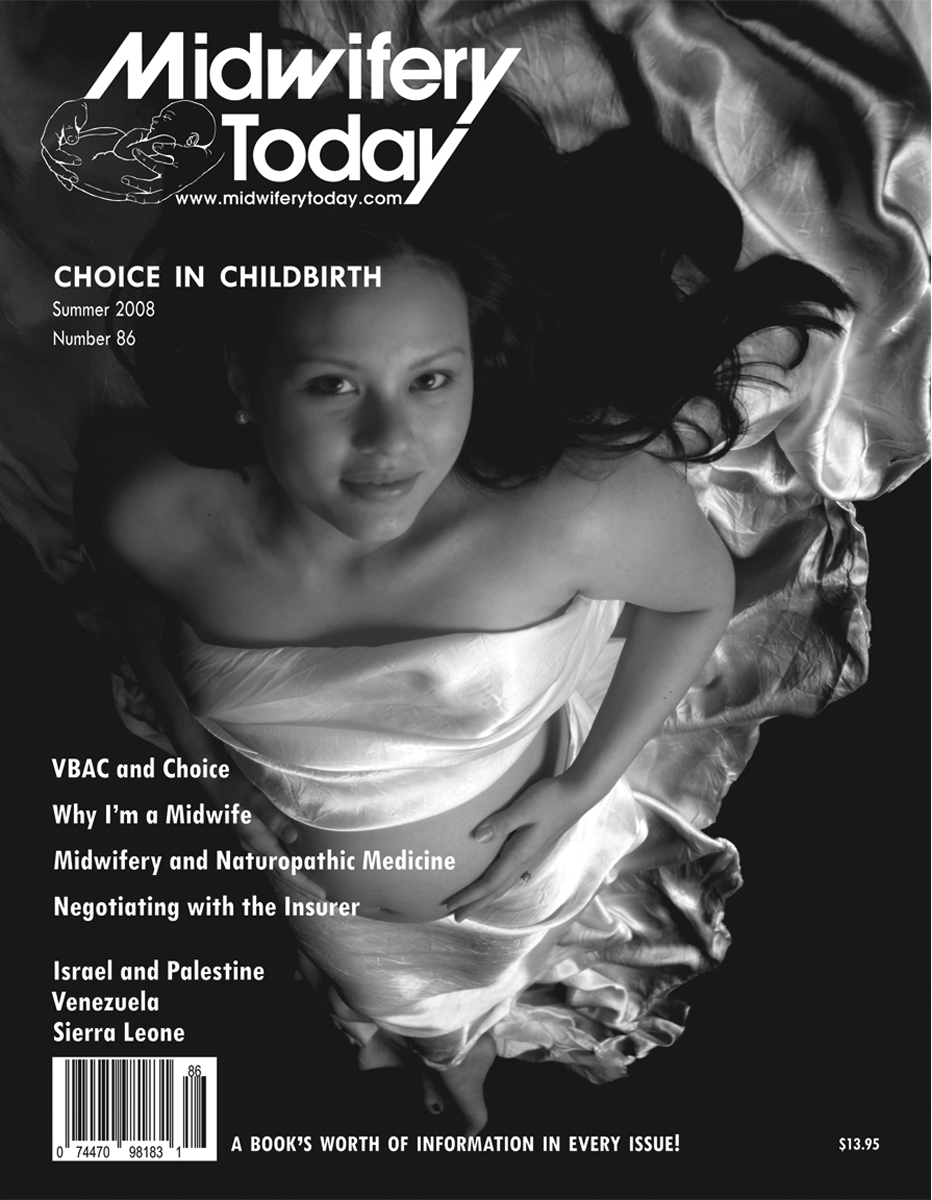 Summer 2008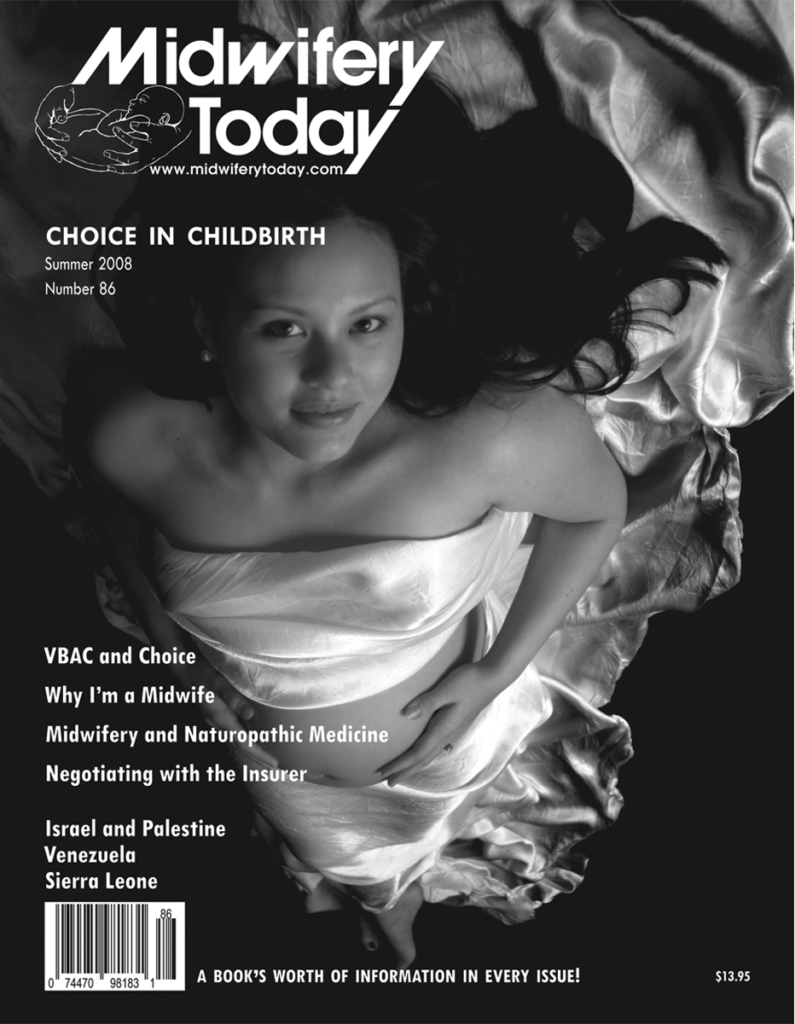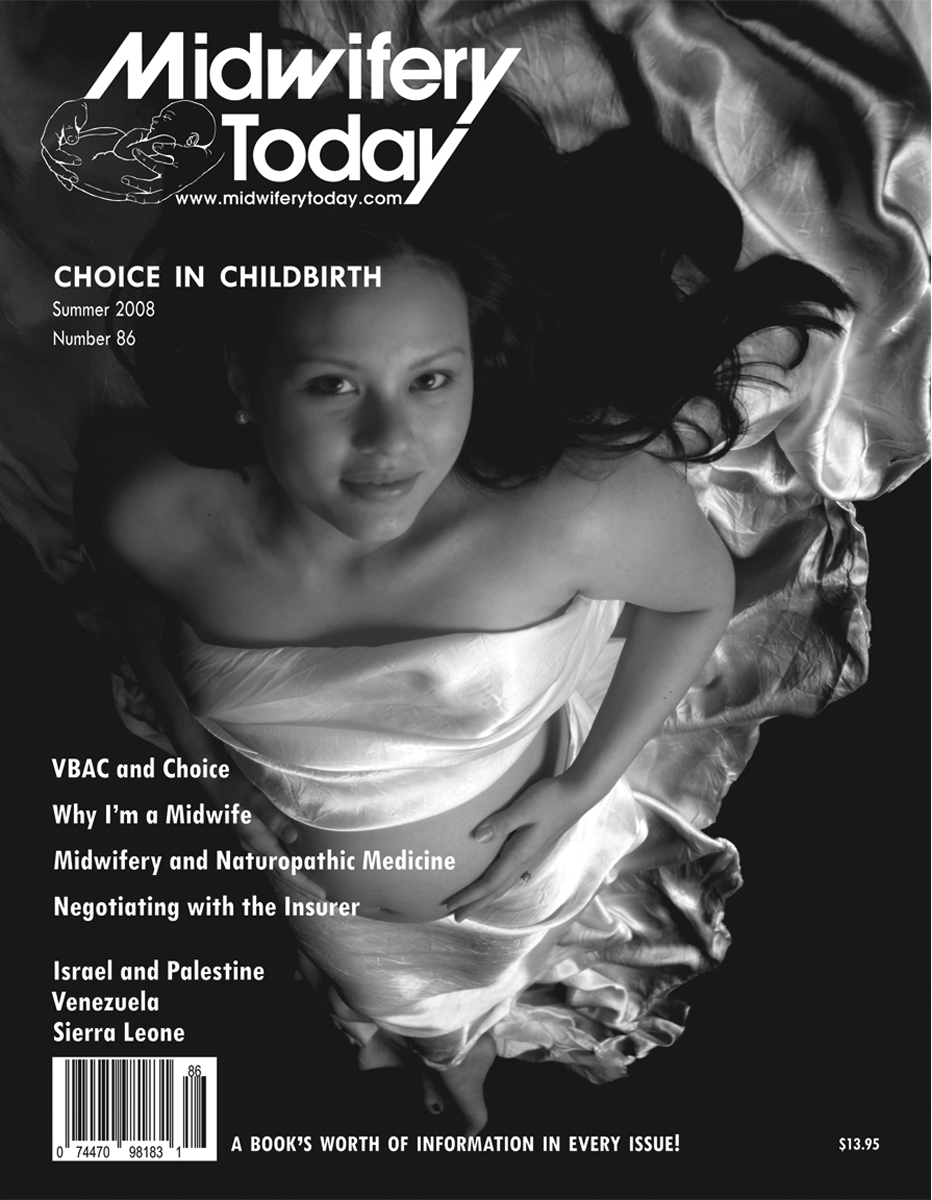 Theme: Choice in Childbirth
Do we have choice in childbirth? When is a choice not really a choice? How do obstetricians and midwives control women's choices by the way they explain things? How can we help to preserve choice and make sure women are properly informed?
As a photographer, Melody Yazdani strives to capture the beauty and strength of pregnant women. She feels blessed to photograph such a moving subject, as pregnancy is an amazing and suspenseful time, and birth a culmination of months (or years) of anticipation. It is one of the most momentous occasions we will have the privilege to experience. Melody was able to capture the embodiment of the "pregnant glow" in this shot of Katherine. To see more of her work, visit www.MelodyYazdani.com
Departments
VBAC and Choice: Many Questions and a Few Answers—Nancy Wainer
When is a "choice" truly a choice and when is it not? Read about the affect on women of cesareans and VBACs and how they perceive the choices they may have made.
A Father's Birth Story of Breech Twins: Tiernan Shae and Caulla Anora Mae—Jeffrey Jelmeland
A father shares his exciting story of homebirthed twins.
Choices—Elaine Wakeland
Learn about what is being done and what you can do to preserve choices in birth.
The Spot—Molly Remer
A fond recollection of a homebirth.
The "Rule of Ten" Versus Women's Primal Wisdom—Lydi Owen
Author Lydi Owen questions a rule of labor that forbids pushing until a woman is at 10 cm dilation, sharing her experiences that contradict this rule.
Moving into Feeling: The Evolution of Spiritual Midwifery—Sarah Nuxoll
Good midwives know that assisting a birth is not just about using the mind, but also requires intuition and feelings. Sarah Nuxoll shares her experience on this awakening.
Leonard's Cord—Diana Janopaul
All births have a profound effect on the participants. Diana Janopaul shares a risky birth that bound her to that baby for life.
Choice in Cesarean—Lorna Davies
A reprint from MIDIRS Midwifery Digest discusses how choice in birth is evolving and questions whether it is in the right direction.
Midwifery in New York—Kristen Benoit
Learn about the evolution of midwifery law in New York.
Two Homebirths, 14 Minutes Apart—Gloria Lemay
Midwifery sometimes requires the balancing of choices. In this story, the midwife must decide which of her clients needs her more, while ensuring that the other ones' needs are met.
What Would an Evidence-based Statement on Homebirths from ACOG Say?—Judy Slome Cohain
ACOG recently put out a press release against homebirth. Frequent contributor Judy Slome Cohain responds with what they should have said, and follows up with responses from 15 midwives to the original statement.
Working with Your Naturopathic Doctor in Perinatal Care—Our Philosophy: A Meeting of the Minds between Midwifery and Naturopathic Medicine—Lisa Doran and Nora Pope
Two doctors of naturopathy enlighten the reader on the basis of naturopathy and why it works so well with midwifery.
Why I'm a Midwife—2007 Midwives College of Utah Student Essay Contest Winner—Christina Shaffer
Student Christina Shaffer shares her winning essay on why she wants to be a midwife.
Mother and Baby Baboons—Jan Tritten
Jan took a recent trip to South Africa to scout out a potential Midwifery Today conference. She shares in photos and essay some of her experiences with a marauding mother and baby baboon she encountered there.
An Unexpected Natural Birth—Peg Browning
Birth is such a powerful force that it can overcome even serious physical conditions in some cases. This is the story of a woman with quadriplegia and her three wonderful births.
The Light in the Grey Area: A Wild Woman's View of Caesarean Surgery—Lara Stockbridge
Cesarean surgery is at times a saving grace. This turns out to be the case—and a learning experience—for a midwife in the UK.
Mana from Heaven: A Midwife's Experiences of Spirituality in Childbirth—Carmen H. Linhares
Many of us make the mistake of assuming that the physical plane is all that is real. In this true-life story, the author describes a dream that led to a birth that could have gone very wrong.
Homebirth after Cesarean: The Myth and the Reality—Amy V. Haas
No studies are available on homebirth after cesarean (HBAC). Is it as safe as inhospital VBAC? What elements make it risky? Amy Haas takes on the difficult task of wading applying the available studies on VBAC to the domain of homebirth to give a general idea on its safety.
Doula by Default—Salem
Doulas are another piece in the puzzle for rehumanizing birth. This short article provides an interesting discussion of how to make that change.
An Unconditional Love—Paula Hostler
Boy or girl? Why does it matter? Aspiring midwife Paula Hostler talks about our culture's pressure to get an ultrasound and find out. Her unconditional love for the baby itself sustains her.
Negotiating with the Insurer for Fair Payment—Linda Lieberman
Savvy homebirth midwives will be happy to see this article, full of tips on negotiating fair payment and getting the recognition they deserve as birth providers.
International Midwife
Cards & Letters
Circle of Health International: Bringing Together Israeli and Palestinian Midwives—Sera Bonds and Matt Bieber
An overview of the work COHI is doing in Israel and Palestine.
Birth Choices in Venezuela—Fernando Molina
One of the "good guys," Fernando Molina enlightens us on the situation regarding birth choices in Venezuela, in both Spanish and English.
Dancing to the Back of the Line—Sudy Storm
This article shines a light on traditional midwifery in Sierra Leone, with both beautiful prose and pictures.
= Membership Article