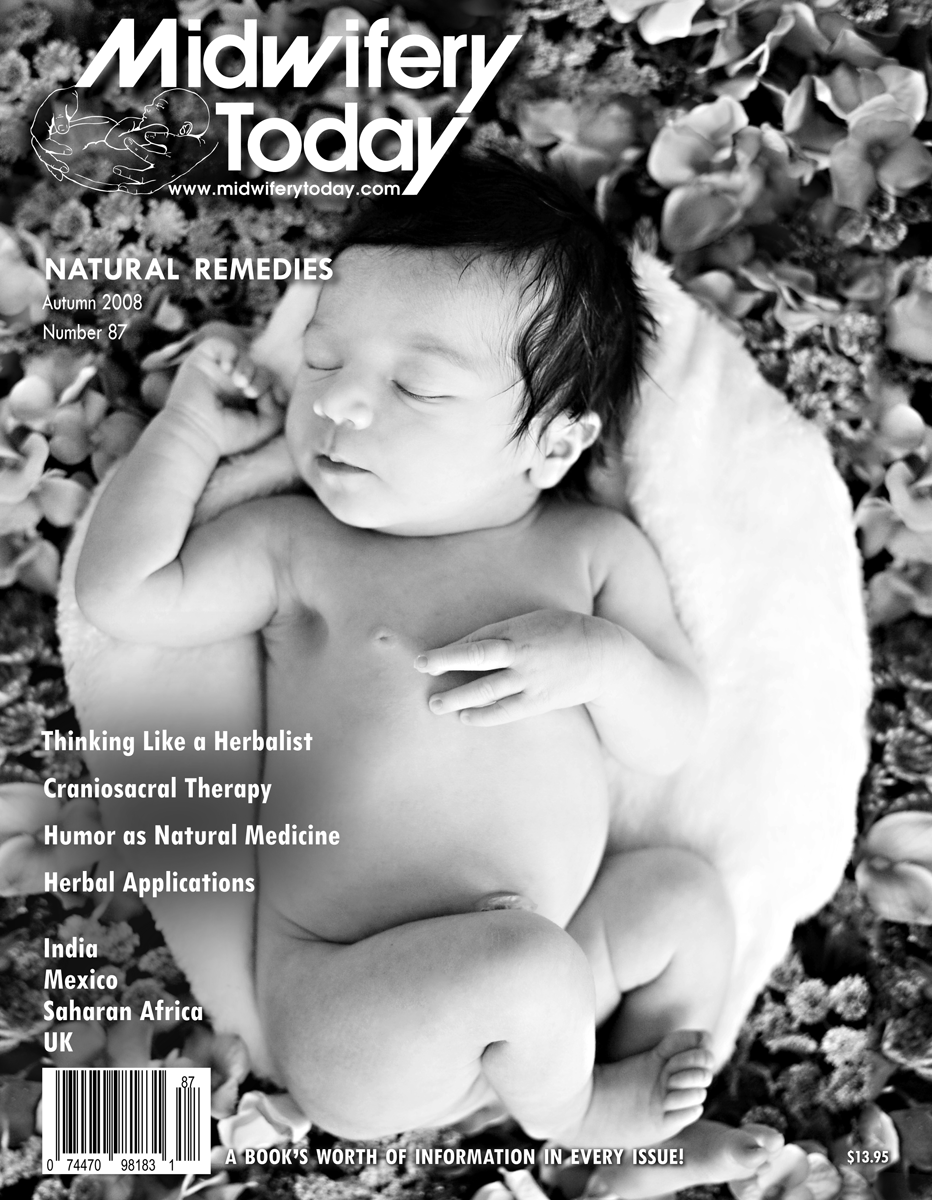 Autumn 2008
Theme: Natural Remedies
With technology and pharmaceutical remedies having taken over birth, natural remedies are often forgotten. In this issue we share a variety of natural remedies that can help make birth better. Included are herbs, chiropractic, humor, naturopathy, homeopathy and massage. As an added bonus, this issue also contains a thought-provoking article by Michel Odent on the origins of the language of birth and the negative impact such words can have on women.
---
Michele Anderson, of Pinkle Toes Photography, creates images that are spontaneous, fresh and full of life. She loves watching how moms, dads, newborns and children interact in their families, and uses beautiful light, bold colors and deep contrasts to highlight those incredible moments. Her portfolio and recent works can be found at www.pinkletoes.com.
Columns
Poetry: Where Do Babies Come From—Amanda Bird
From the Editor: The Power Belongs to Motherbaby—Jan Tritten
While herbs and other remedies have their use in pregnancy, we need to remember that it's the women and their babies who actually do the birthing.
Networking
Tricks of the Trade
Marion's Message: Natural Healing—Marion Toepke McLean
Marion discusses three common herbs that are useful in childbirth.
Media Reviews
News
Classified Advertising
Calendar
Photo Album
Features
International Midwife
Cards & Letters
The Good Guys: A Happy Little Secret—Joni Nichols
The "good guys" are doctors around the world who are practicing in ways that are congruent with midwifery, or are eager to learn. Joni Nichols focuses on two such doctors.
UK Connection
BirthChoices forms an alliance with Midwifery Today; A writing competition for student midwives in the UK.
Transition to Midwife—Jude Davis
Jude Davis shares this essay on her transition to becoming a midwife, and her thoughts in the experience of birth.
Indigenous Knowledge of Patalkot and Dangi Healers for Pregnancy Care—Garima Sancheti Acharya, Sanjay Pawar, Surendra Bhade, Devang Patel, Anshu Shrivastava, Manish Singh, and Deepak Acharya
The authors share traditional herbal knowledge from two regions of India, according to the problem needing treatment.
Traditional Midwives and the Fight against Malaria in Sub-Saharan Africa—Sudy Storm
Malaria is the most significant and widespread of tropical diseases in Sub-Saharan Africa. Sudy Storm shares the impact of this deadly disease and what midwives can do to fight it.
Traumatic Birth Leads to Creation of Birth Networks in India—Ruth Malik
The author shares how her birth experiences in India led her to create Birth India, a birth network that aims to promote the benefits of natural childbirth and best practices to achieve normal birth.
ICM Conference—Jan Tritten
An essay and photos highlighting the 2008 International Confederation of Midwives conference.
= Membership Article.