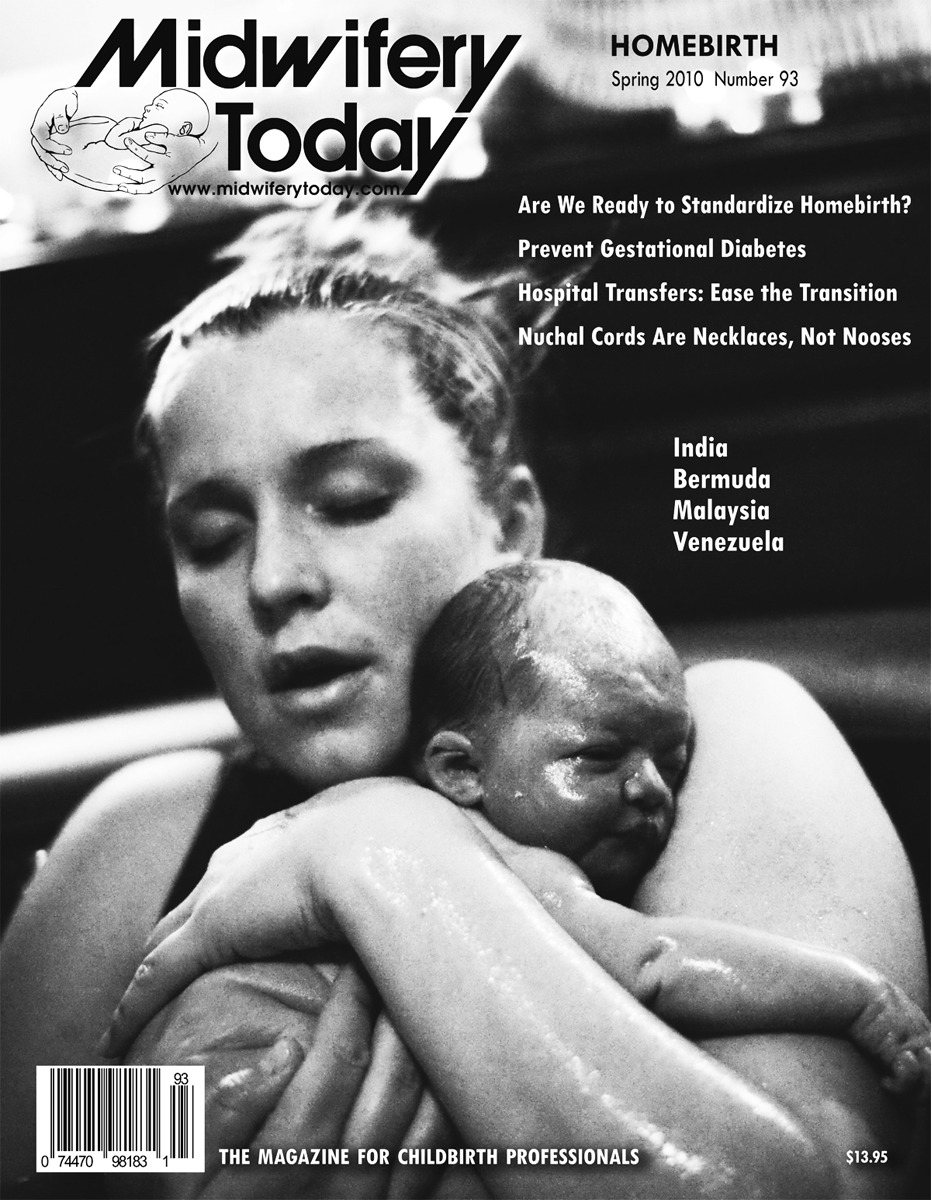 Spring 2010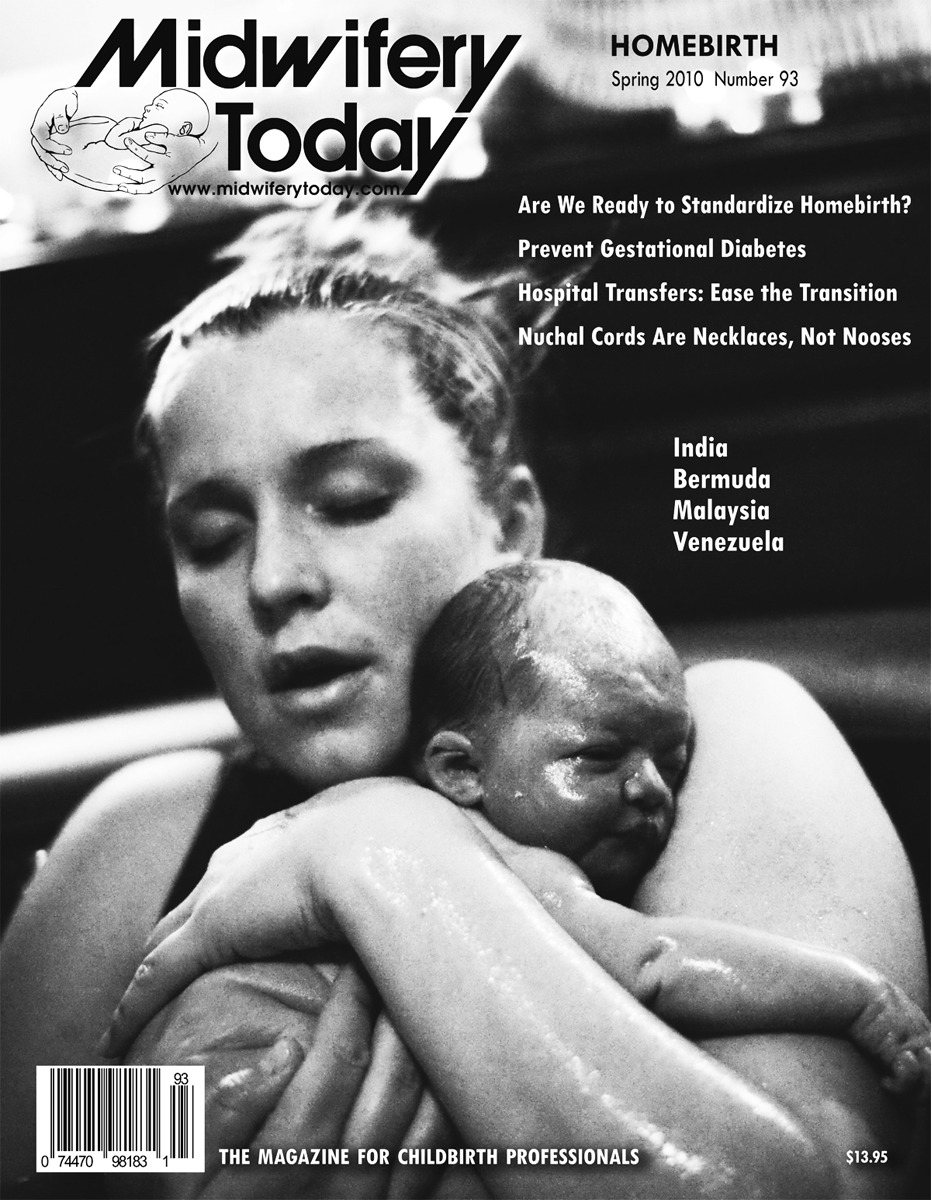 Theme: Homebirth
Pictured here is Laura Alter and her new baby, Emmeline Aurelie Alter. Michele Anderson, of Pinkle Toes Photography, creates images that are spontaneous, fresh and full of life. She loves watching how moms, dads, newborns and children interact with their families, and uses beautiful light, bold colors and deep contrasts to highlight those incredible moments. Her portfolio and recent work can be found at www.pinkletoes.com.
---
Departments
Poetry
Networking
Tricks of the Trade
Media Reviews
News
Classified Advertising
Calendar
Photo Album
The Question of Homebirth—Sister MorningStar
In this potent essay about the power of natural birth. Sister MorningStar asks the question, "What happens if a woman follows her instincts and births where she wants to and with whom she wishes?"
Let Your Monkey Do It—A Doula's Take on Homebirth—Debra Flashenberg 
A doula assists at her first homebirth and learns the true meaning of Ina May Gaskin's saying, "Let your monkey do it."
The Well-Organized Birthkit—"How Do I Ever Fit It All In?"—Regina Willette 
Having a well-thought-out birthkit is crucial to any midwife's practice. In this detailed article, Certified Midwife (and expert packer) Regina Willette helps you plan, pack and organize your birthkit, so you'll arrive at your clients' homes prepared and ready to go.
The Birthing of a Birth Worker—Jenna Humphreys 
A doula and midwife-in-training learns valuable lessons assisting at homebirths, and recognizes that being a birth worker is more of a calling than a profession.
Hospital Transfers: Ease the Transition and Optimize the Experience—Anonymous 
When a homebirth is planned, transferring to the hospital can be a nightmare for the parents and the midwife. How can you help create a better experience for your client? In this article, a midwife-turned-L&D-nurse offers practical tips to ensure a smooth transition, and guides midwives through the ins and outs of hospital transfers.
What I Wish I Had Seen—Kayce Pearson
A newly pregnant woman comes full-circle on her views about homebirth and urges others to share stories of loving, peaceful homebirths with their friends and families.
"Home Away from Home" Birth: Thinking Creatively for the Birth You Desire—Krista Cornish Scott
What do you do when you don't have a home for your homebirth? Faced with that exact dilemma, one new mother explores what it means to give birth in another person's house.
Answering the Question of Homebirth—Vanessa Manz 
A doula in Pennsylvania becomes frustrated by her area's persecution of homebirth midwives.
Don't Risk Yourself Out of a Homebirth—Prevent Gestational Diabetes—Amy V. Haas 
A childbirth educator cautions that nutrition is the key to preventing gestational diabetes and having a healthy homebirth.
Capturing My Sense of Pregnancy—Lottie Maker 
A mother-to-be remembers the "fiery, grey-haired, political activist" midwife who caught her two younger brothers and says these memories helped shape her lifelong belief that birth is a natural, normal experience that is best done at home, in the presence of loved ones and a trusted midwife.
Nuchal Cords Are Necklaces, Not Nooses—Judy Slome Cohain 
Using research based on more than 180,000 births, Judy Slome Cohain investigates the medical myth surrounding nuchal cords and argues that practitioners should stop testing prenatally for cords wrapped around babies' necks and, instead, treat nuchal cords as common, normal and safe occurrences.
Are We Ready to Standardize Homebirth?—Linda Lieberman 
A paradigm shift in national health care is imminent. If traditional midwives want to be a part of it, argues Linda Lieberman in this provocative essay, they may have to be willing to temper their renegade spirits and make a few compromises.
Stories of Homebirth
The Power of Story—Sister MorningStar 
"There are still midwives and mothers who know powerful stories. Who still live powerful birth stories. We must take courage and tell the stories. … We must take courage and believe the stories," writes Sister MorningStar in this lovely introduction to our special section of homebirth stories.
Bruno's Birth Story—Ada da Silva 
Five weeks before her due date, a Washington State mother learns from her out-of-hospital midwives that they will be unable to care for her because her baby is breech. A decision to drive to Oregon, where midwives can assist breech births at home is made, but baby has other plans. In the end, the couple's Oregon midwife assists via phone and Bruno is born butt-first at home, into his mother's hands.
Late in the Game: How I Found a Midwife and Took Charge of My Birth Story—Kelly Martin
A registered nurse discusses why she switched—at 37 weeks—from planning a hospital birth with an obstetrician to giving birth naturally, in a free-standing birth center with a certified professional midwife and a doula.
The Perfect Mantra—Kristin Love Nemzer 
A mother uses a mantra she learned while hiking the Inca Trail in Peru to have a peaceful birth.
Lucy in the Sky with Diamonds—Michelle Vlad 
After three hospital births, a mother discovers homebirth and gets the respectful, no-stress birth she's been craving.
The System That Worked—Jenna Hull 
Pleased that her midwives were there to support her during two normal, physiological births at home, a mother discovers that, when things turned abnormal, the medical world was also there to care for her.
From Fear to Peace: Jeremy's Birth Story—Sarah David 
After having two sons and three miscarriages, a mother worries about birthing her third child, but finds peace and strength in her planned home waterbirth.
A Beautiful Birth—Carol Leonard 
An intensely poignant story about a very surprising homebirth, excerpted from midwife Carol Leonard's book, Lady's Hands, Lion's Heart: A Midwife's Saga.
Pascual's Beautiful Home Waterbirth in Malaysia—Vanessa Beyer
A mother shares her waterbirth story and urges others to have faith in the process of birth, their bodies and their babies.
International Midwife
  = Membership Article