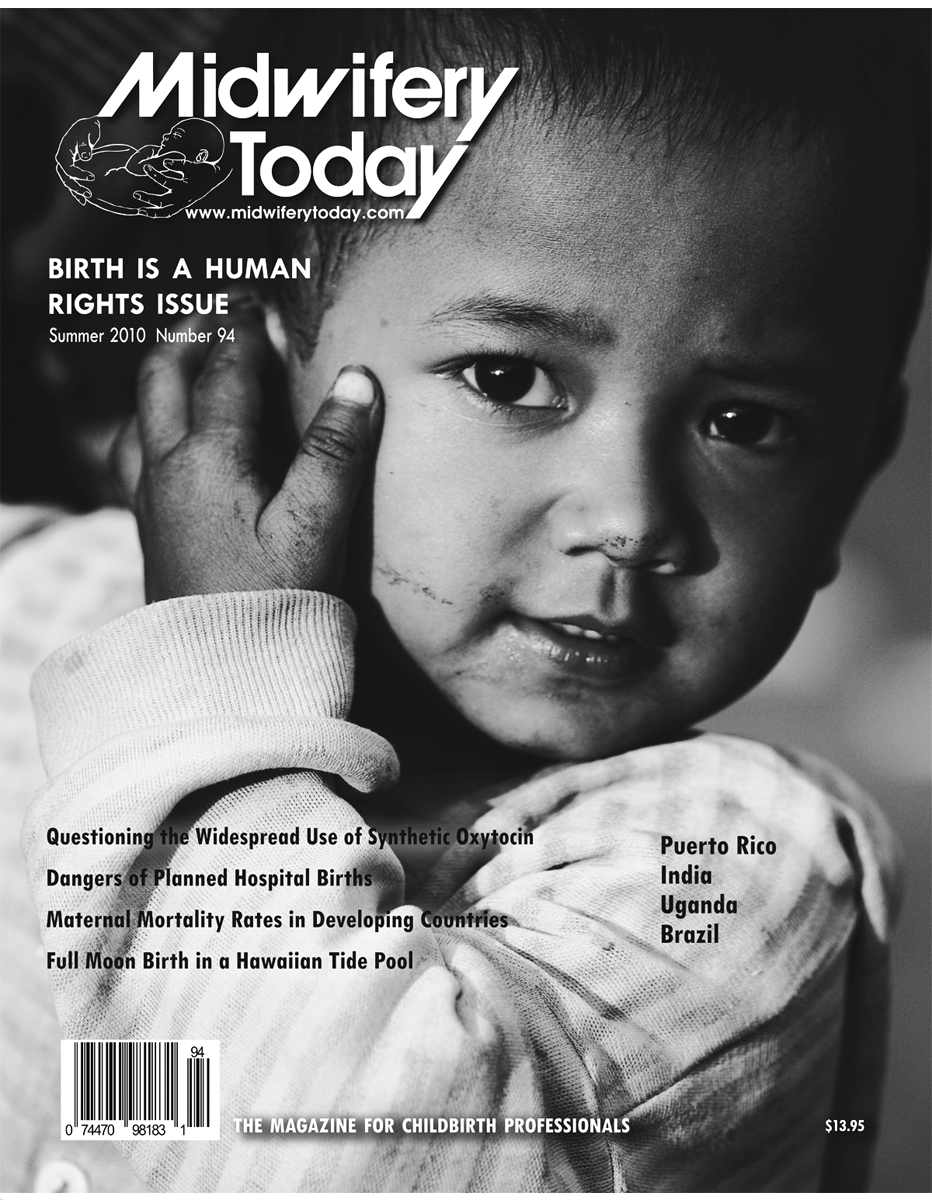 Autumn 2010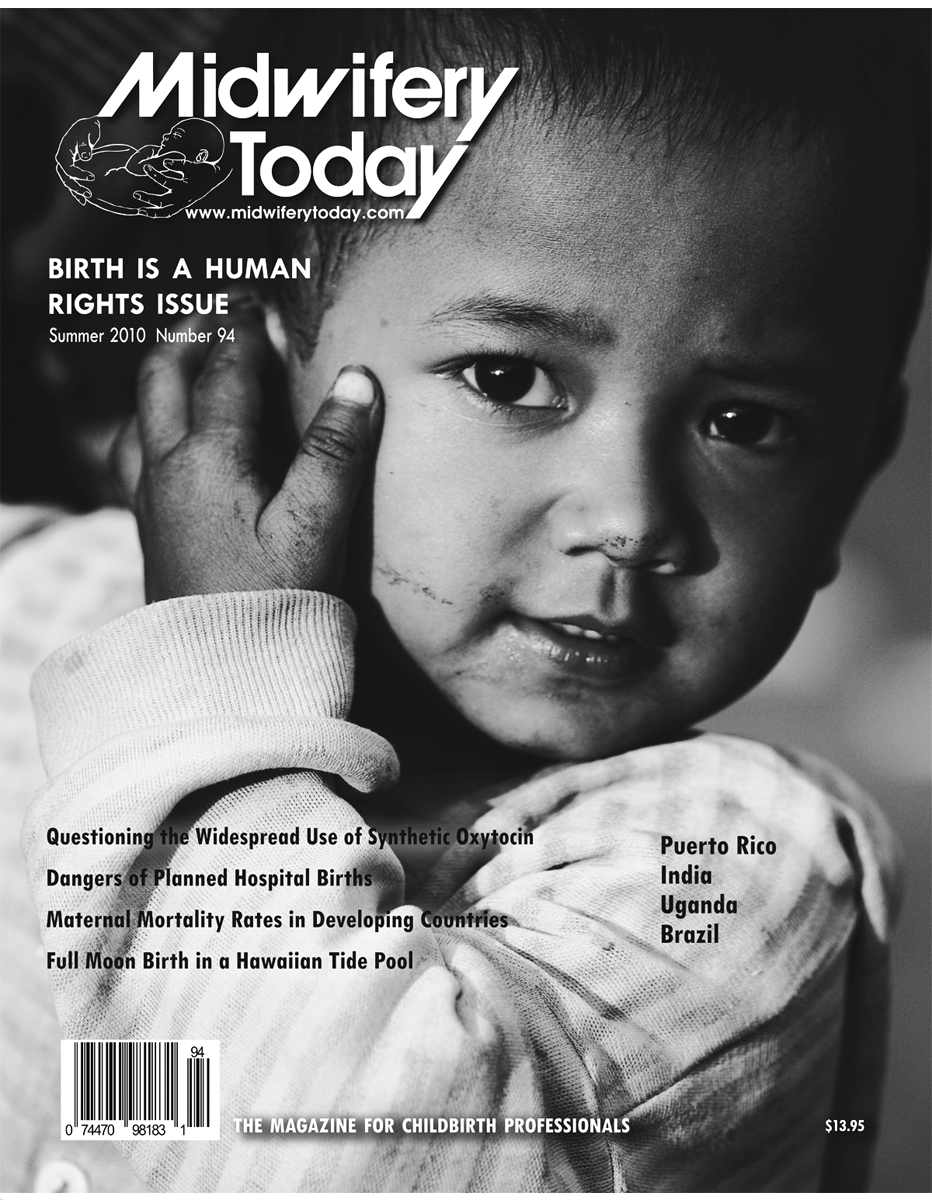 Theme: Birth is a Human Rights Issue
Cover photo by Philip McCormick is a street portrait of a boy at a marketplace in Bali, Indonesia. McCormick specializes in street photography, portraiture and landscapes. He has lived, worked and traveled extensively throughout India and Southeast Asia and has a large body of work from that part of the world. He now lives in the UK. To view his portfolio or contact McCormick, visit his Web site: pmccormickphoto.com.
---
Departments
Poetry
Networking
Tricks of the Trade
Media Reviews
News
Classified Advertising
Calendar
Photo Album
A Hidden Tragedy: Birth as a Human Rights Issue in Developing Countries—Vicki Penwell
Author Vicki Penwell delves into one of the world's greatest injustices: While a mother dies during childbirth every minute of every day, only 1% of these deaths occur in the developed world.
The Issue of Birth Rights—Sister MorningStar
Humans are instinctual creatures, writes Sister MorningStar in this potent essay on the issue of birth rights. "Disturbed, the bodily functions of an instinctual animal will stop," MorningStar writes. "Humans deserve the right to birth in their natural environment where they feel safe and with their own 'kind.'"
The International MotherBaby Childbirth Initiative: A Human Rights Approach to Optimal Maternity Care—Robbie Davis-Floyd, Debra Pascali-Bonaro, Rae Davies, and Rodolfo Gomez Ponce de Leon
This article outlines the 10 steps developed by the International MotherBaby Childbirth Initiative to help ensure that women everywhere are guaranteed the basic human right of humane and evidence-based maternity care.
Newborn Group B Strep Infection: Top Ten Reasons Not to Culture at 36 Weeks—Judy Slome Cohain 
In a smart twist of logic, author Judy Slome Cohain tells us why there's no need to culture for newborn GBS at 36 weeks. Reason No. 2? Studies have shown that GBS cultures are not reliable for even 24 hours.
A Matter of Maternal Malnutrition? Explaining Stillbirth/Neonatal Death Rates in Developing Nations—Lisa Fehr 
This article investigates potential reasons for the staggering stillbirth/neonatal death rates in developing countries and suggests maternal malnutrition may be to blame.
From Hospital to Home—Lisa Landen Thompson 
Having learned from her "traditional American hospital birth," a mother plans an at-home waterbirth and finds a midwife who makes her feel "important, respected and cared for."
Shedding Light on Maternal Mortality—Courtney Stange-Tregear 
The notion that, until we see through the oppressive forces that obscure the issue of safe birth for all women and babies, we won't be able to think of birth as a human rights issue is at the heart of this essay.
Full Moon Birthing—April Bailey Weaver 
A midwife tells the tale of a couple who gave birth under a full moon, in a tide pool ringed by black lava and white coral stones on Hawaii's Kona Coast.
If I Were the Baby: Questioning the Widespread Use of Synthetic Oxytocin—Michel Odent 
Birth expert Michel Odent explores the scientific data collected on the most common intervention in childbirth—the use of synthetic oxytocin to start labor—and concludes that doctors "would be wise to make labor induction an exceptionally rare practice."
The "Miracle" of Induction—Alicia Kaye 
After watching her mother grapple through a Pitocin/Cytotec induced birth, the author starts her quest to find a better, more natural, way of birthing.
Pushing Through: A Tale of Homebirth after Cesarean—Johanna Trobough 
Devastated by an unnecessary c-section, the author finds peace with her second birth: an unhurried home waterbirth attended by a midwife and doula.
Medical Progress in 2110? A Parody—Kirsten Cordes 
Moved by the thought that we should birth our children as we conceive them, a mother wonders what might happen if, 100 years from now, we conceive our children as we birth them—in a starkly lit hospital, monitors strapped on and specialists at the ready.
Dear Rose—Gloria Lemay 
In this simple yet touching tale, midwife Gloria Lemay remembers a birth she attended by penning a letter to the baby, Rose, who is now a full-grown young woman.
The Dangers of Planned Hospital Births—Judy Slome Cohain 
Midwife and researcher Judy Slome Cohain dissects currently available published research and finds that hospital birth is never safer than a planned, attended homebirth for low-risk women.
Benjamin's Waterbirth—Rhonda Shaw 
After two hospital births, a mother finds herself drawn to a home waterbirth.
An Afternoon with Marsden—Sheryl Rivett 
An intimate portrait of a legend in the birth field, Dr. Marsden Wagner.
Learning to Listen—Sandra Stine Tallbear 
Women are being undermined in subtle, yet important ways inside the typical American labor and delivery ward, concludes certified nurse-midwife Sandra Stine Tallbear in this succinct essay about learning to truly listen to a mother's needs.
Reclaiming Every Woman's Birth Right—Sarah Buckley
Reprinted from Dr. Sarah Buckley's new book Gentle Birth, Gentle Mothering, this article calls for a rethinking of birth—from seeing birth as a medical procedure to viewing it as a powerful, central facet of family life.
Facing Fears, Embracing Birth—Teresa Field 
A labor and delivery nurse who has delivered four children at the hospital, finds herself with a whole new perspective on birth after facing her fears and birthing her fifth child at home.
Breaking the Law: Midwives and Civil Disobedience—Sarah Jean Carter 
A brief history of midwives who have resisted unjust laws and continued to practice their craft, despite the threat of persecution.
Brewer Babies—Marlene Waechter 
Confounded by a client who has already birthed several handicapped children, midwife Marlene Waechter utilizes the wisdom of Dr. Tom Brewer and finds that diet really does make a drastic difference to pregnant mamas and their babies.
International Midwife
  = Membership Article