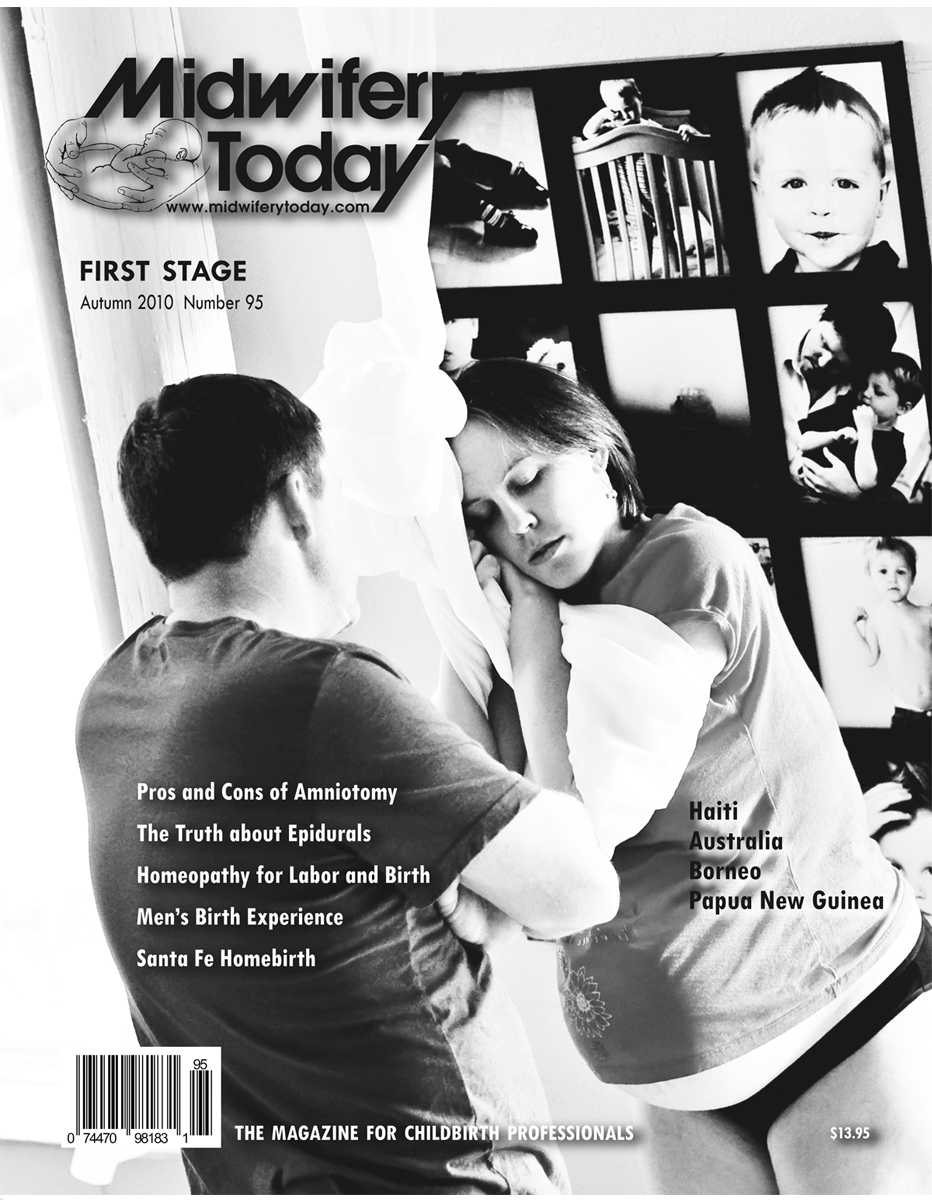 Autumn 2010
Theme: First Stage
Packed with informative, clinical articles related to the first stage of labor, this issue will help midwives understand the dangers of epidurals; the pros and cons of rupturing membranes; and the wonders of using homeopathic remedies for labor and birth. Also included in this issue: Author Leah Hazard discusses the unique cycle of fear, tension and panic that fathers experience during their partners' labor and birth; midwife Carol Gautschi discusses her views on first stage; and a midwife working in Haiti gives an eloquent update on one Haitian birth clinic's role in helping earthquake survivors.
---
Poetry
From the Editor: From Russia with Love
In her editorial for our Autumn 2010 issue, Midwifery Today's editor in chief, Jan Tritten, recalls the 2010 Birthing in Love Conference, held in Russia this spring; "adopts" a new daughter; is amazed by Russia's sites and people; and ponders the best way to train midwives worldwide.
Networking
Tricks of the Trade
Media Reviews
News
Classified Advertising
Calendar
Photo Album
Departments
The Amniotomy Question: Examining the Pros and Cons of Rupturing Membranes—Verna Oberg
In this thoroughly researched article, author Verna Oberg explores amniotomy's role as a ritual for birth attendants and discusses its possible psychological effects on the baby.
Ordinary Miracle: The Homebirth of Ava Christine—Janelle C. Rice
Looking forward to her planned homebirth, a mother finds that her fourth birth experience brings all the joy, love and happiness she expected, as well as something she didn't anticipate—her longest first stage of labor yet!
Like Cures Like: Homeopathy for Labor and Birth—Diane Gregg
In the first part of this two-part series on homeopathy, midwife Diane Gregg advises other birth practitioners on using homeopathic remedies during labor and birth, citing case studies from her own practice. Included in this article are handy, homeopathic remedy charts perfect for clipping out, laminating and sticking in your birth kit.
Deceleration Phase—Tiffany Lundeen
A midwife draws on her art history knowledge, visualizing and contemplating "the truest blue ever painted on canvas," as she births her second child, Azure, at home.
Birthing to Redeem—Spring Aarons
Scarred by a negative birth experiences, a mother finds redemption in a natural, midwife-assisted birth.
The Gift of Intuition—Carmen Heidi Linhares
A group of Hawaiian certified nurse-midwives share their thoughts on midwives' intuition and spirituality in childbirth.
The Epidural Trip: Why Are So Many Women Taking Dangerous Drugs during Labor?—Judy Slome Cohain
Using up-to-date statistics and research, this article gives a nitty-gritty look at one of the most common obstetric interventions in use today—epidural analgesia—and exposes the serious risks epidurals pose to mothers and babies.
Who Counts Where I Come From?—Sister MorningStar
As a Cherokee daughter facing another nationwide census, author Sister MorningStar discusses how people are counted in this world, and ponders the statistics on cesarean births, which only count the mother, not the baby—or babies—born to her.
Santa Fe Homebirth—Adam Perry
A father details the birth of his daughter, who entered the world surrounded by loved ones, in her mother's childhood home near Santa Fe, New Mexico.
Beyond Fear, Tension and Panic: Helping Men Enjoy the Birth Experience—Leah Hazard
Paying attention to the "emotional roller coaster fathers experience throughout pregnancy and birth," author Leah Hazard explores the cycle of "fear, tension and panic" many fathers experience during their partner's labor and offers tips for midwives and doulas to help fathers better enjoy the birthing process.
A Story of Homebirth after Cesarean—Jen Hamdorf-Torrens
After undergoing a c-section with her firstborn, a mother finds hope and comfort planning her vaginal birth after cesarean, then birthing her daughter at home.
Gestational Diabetes: An Update for Midwives—Rachel Teadora
This article examines the evidence behind the new diagnostic criteria for gestational diabetes, which will double the number of pregnant women diagnosed with gestational diabetes, and discusses how the new criteria may affect midwifery care.
Before the First Wave: Midwife Carol Gautschi Shares Her Views on First Stage—Kelly Moyer
Veteran midwife Carol Gautschi shares her insights on the first stage of labor and offers practical advise to midwives.
First Stage: Preparing the Fetus Ejection Reflex—Michel Odent
Author Michel Odent reminds midwives that "when there is an authentic fetus ejection reflex, the midwife can forget her usual worries about, for example, shoulder dystocia, difficulties for the delivery of the head in the case of a breech presentation, difficult process of rotation, dangerous perineal laceration, etc." and gives succinct pointers for helping women experience a natural fetus ejection reflex.
A Family-centered Cesarean Birth—Stacy S. Hirsch
Faced with a necessary cesarean, a mother must give up her hopes of having a homebirth, but still manages to craft an inspiring birth plan that gives her daughter "the gentlest birth possible given the circumstances."
International Midwife
Cards & Letters
We'll Grow Back When the Rain Comes: An Update from Haiti—Nechama Wildanah
A midwife working with laboring mothers in a still-devastated Haiti, is empowered and amazed by the tireless midwives she meets who are "single-handedly making such a big difference in women's lives and the region at large."
Born in Borneo—Linda B. Jenkins
Take a trip through Borneo with author Linda Jenkins and discover the birthing rituals and customs of this delightful island nation.
Fight for Your Right: Successful VBAC in an Australian Hospital—Nina McLean
In this "it would be funny if it weren't so true" story, an Australian midwife recounts the behind-the-scenes things doctors and nurses do and say when a laboring mother transfers from home to hospital with her private midwife, doula and husband.
One Midwife's Journey: Stories from Papua New Guinea and Beyond—Lindy Joy Cummings
Gigliola, a veteran midwife now in her 80s shares stories with author Lindy Joy Cummings about her long midwifery career in Papua New Guinea and other remote parts of the world.
= Membership Article