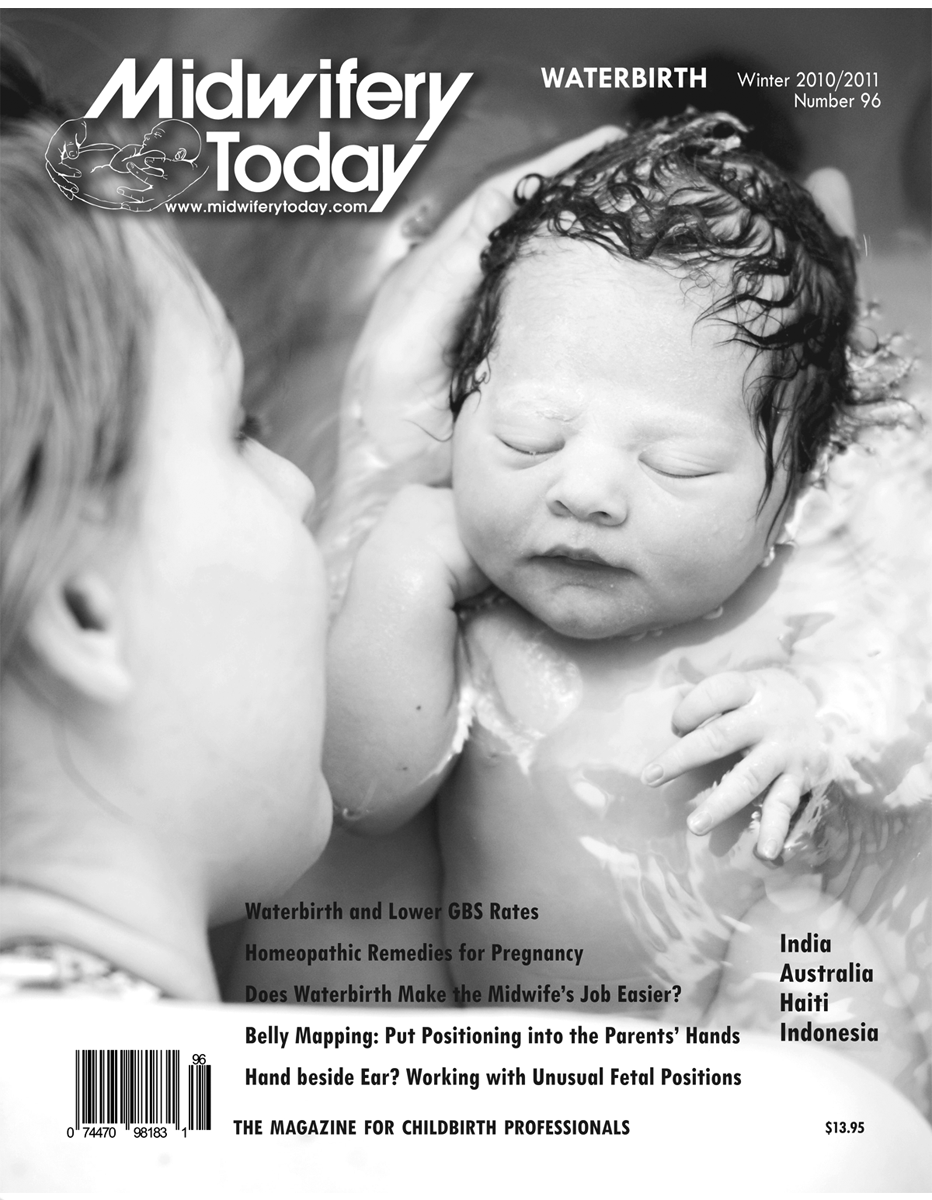 Spring 2011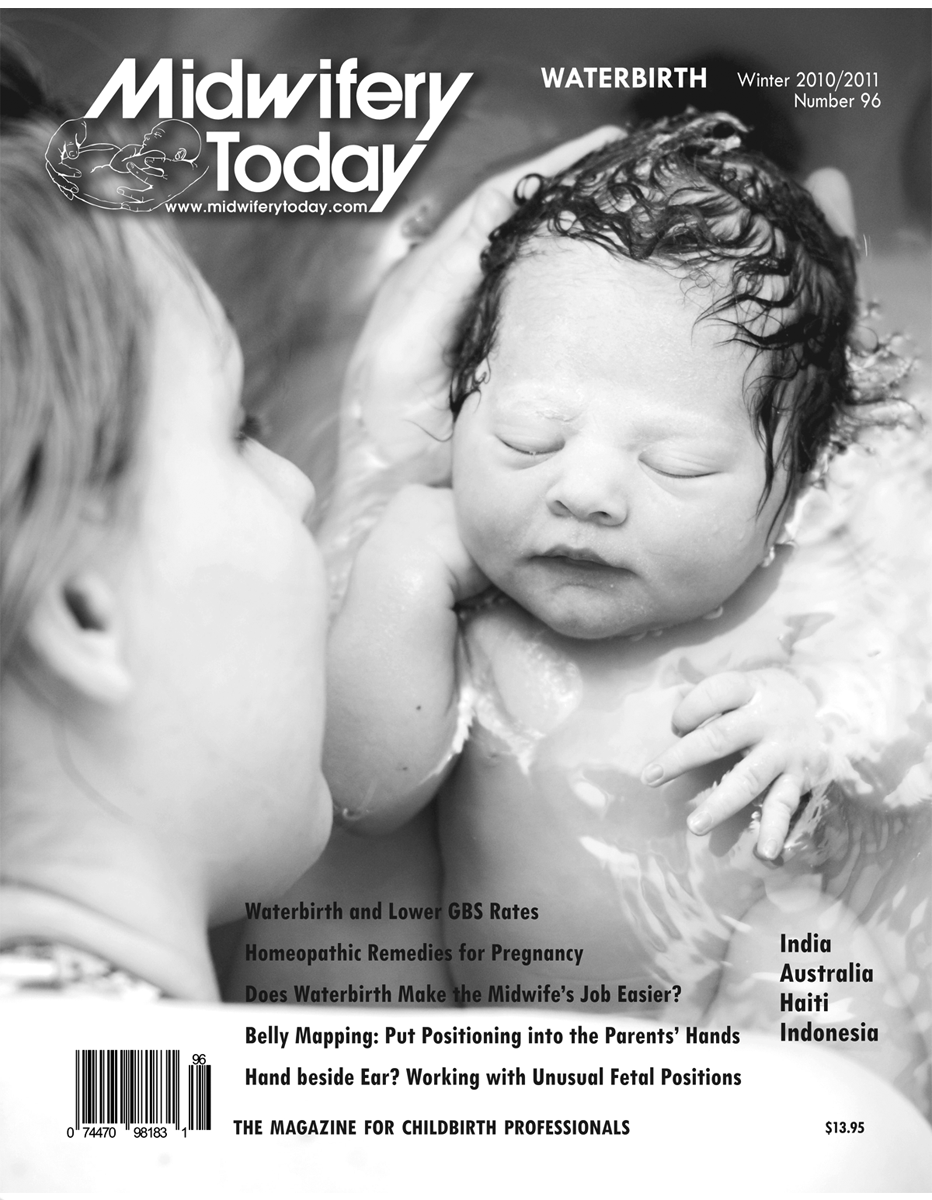 Theme: Waterbirth
The ever-increasing popularity of waterbirth warrants a fresh look at an old practice. This issue examines new research on the benefits of waterbirth for babies and takes a look at how waterbirth can make the work of mamas and midwives easier. Craniosynostosis, belly mapping and the role of spirituality in midwifery are also explored, along with birth stories from around the globe.
---
Contents
Poetry
From the Editor: Birth Is a Human Rights Issue: A Movement
Editor in chief Jan Tritten comments on the recent witch-hunt in Europe and on the state of motherbaby rights around the world, calling all natural birth practitioners and supporters to protect birth as an inalienable human right.
Networking
Tricks of the Trade
Marion's Message: Human Rights for Breech Mamas 
Marion reviews research on vaginal breech birth, defending access to safe, vaginal birth for breech babies.
Media Reviews
News
Classified Advertising
Calendar
Photo Album
Departments
Waterbirth and GBS—Judy Slome Cohain 
The literature suggests that low-risk women who give birth in water may have a far lower rate of newborn GBS than women who have a dry birth. Author, midwife and researcher Judy Slome Cohain culls through the research and delivers an in-depth look at waterbirth and GBS in this eye-opening article.
Journey to the Water—Kristi Zittle 
A retired midwife recounts her experiences with waterbirth and shows how she came full-circle with this particular birthing method.
Waterbirth Makes the Midwife's Job Easier—Samantha McCormick 
Why should midwives consider waterbirth as a really, really good thing? Author Samantha McCormick explains why waterbirth rules.
Henry's Waterbirth—Christine Gibson 
A mother shares her experience of "coming to the homebirth movement through a strange back door" in this tale of home waterbirth.
Waterbirth with a Blind Mother—Cornelia Enning 
That first moment of eye contact between mother and baby is critical during a waterbirth. So what happens when the mother you're assisting as a midwife is birthing in water and is blind? Author Cornelia Enning recounts one beautiful experience.
Like Cures Like: Homeopathy for Pregnancy and Babies—Diane Gregg 
An experienced midwife shares her homeopathic knowledge for solving pregnancy and postpartum woes inexpensively and effectively with homeopathic remedies. Includes a handy chart for midwives on the go.
Birth as a Shape-shifter—Melissa-Marie Marks 
A quick, stirring retelling of a birthing woman who "sings her song of life and death, courage and fear, the end and the beginning."
The Birth of Jocelyn Mary—Erin Moyen 
The author is reminded of the incredible importance of a natural, uninterrupted birth process while birthing her daughter, Jocelyn Mary.
Unusual Foetal Positions: Hand beside Ear—Jean Sutton 
Jean Sutton, an expert in baby positions, offers sound advice for midwives facing the unusual "hand beside ear" position.
A Tale of Two Births: The Healing Power of VBAC—Kimberly Kovach Trout 
A CNM professor discovers the usefulness of the Foley Bulb when her own daughter wishes to birth vaginally after a cesarean.
A Motherless Mother—Rea Bochner 
A mother shares a bittersweet tale of birthing her second child naturally and beautifully in the comfort of her own home — the same home in which her mother had recently died.
My Waterbirth—Simone Snyder 
Water plays a key role in this sweet story of a home waterbirth.
The Second Was a Gift—Lydia M. Josephson 
The author overcomes her fears during her second birth and doesn't let the string of "what ifs" overcome her determination to birth naturally, at home and in the water.
The Mindfulness of Midwifery: Creating a Practice with Intent—Jodilyn Owen 
How can we help ourselves and other midwives not burn out from the time-consuming, all-encompassing work that is midwifery? In this article, author Jodilyn Owen offers some sound advice based on her own past struggles with time management and burnout.
Belly Mapping: Put Positioning into Parents' Hands—Gail Tully 
Help new parents feel more comfortable with their growing baby and teach them about the importance of positioning at the same time with this helpful, instructional article about belly mapping.
Midwifery Education: Trauma or Transformation?—Elizabeth Davis
An excerpt from Midwifery Today's new edition of the book Paths to Becoming an Midwife: Getting an Education, this article guides aspiring midwives toward an educational program that will "midwife" them in a way that prepares them fully and totally to midwife others.
With Women—Mary Bernabe 
A midwife from rural Washington State reflects on her many years of practice, sharing her experiences of being with women as they birth.
A Primer on Craniosynostosis—Melanie Roder 
When her daughter is born with unusual features, the author is thrown into a world she never heard of: the world of craniosynostosis. Here, she shares her knowledge with readers and offers a primer on this unusual ailment.
My Life as a Spiritual Midwife—Stephanie Dawn
The author guides readers through her role as a spiritual birth healer, a practice that rolls years of experience as a counselor, healer and workshop leader into one to help pregnant women and their families get the spiritual support they require during the prenatal and postpartum periods.
Preventing and Healing Infant Birth Trauma—Autumn Gentry 
The adverse affects of birth trauma on infants are explored, along with preventative practices and suggestions to help both midwives and parents heal birth trauma.
International Midwife
  = Membership Article