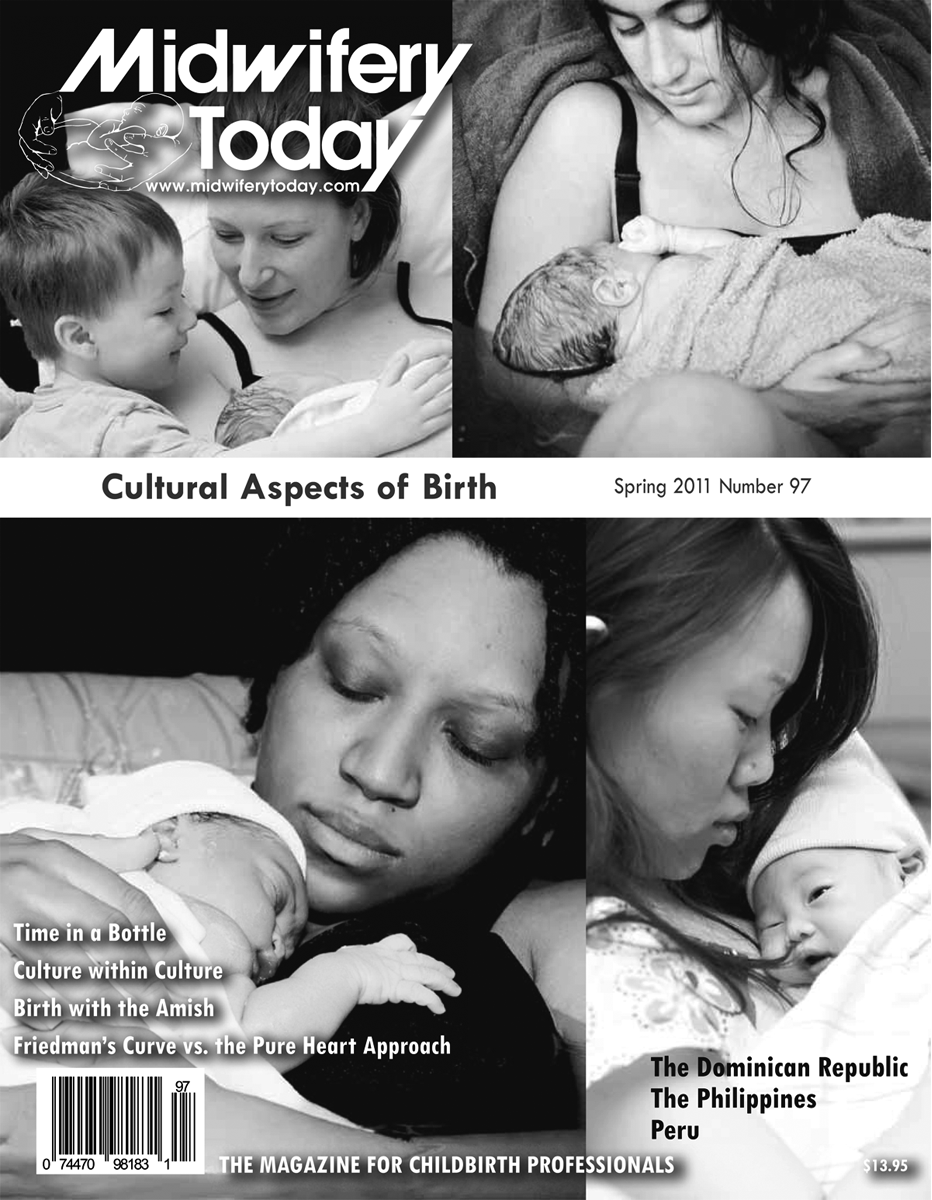 Spring 2011

Cultural Aspects of Birth
There is no escaping it: Culture plays an important role in shaping birth practices and influences—sometimes dictates—the choices available to birthing women. From the pressures of time in modern Western societies, to the application of cord-burning techniques in developing nations, to the diverse frameworks for understanding postnatal blood, this issue considers various cultural aspects of birth and birth practices worldwide.
(Clockwise from upper left)
Photo 1—Natasha Hance is a mother of five who has a deep passion for birth photography. She photographs births in the Dallas/Fort Worth area of Texas.
Photos 2 and 4—Lora Denton is a stay at home mom of two young children, with a passion for photography and birth. She is grateful to each family who has allowed her to attend their birth and aspires to capture emotion in each picture she takes. See more of Lora's work at www.loradentonphotography.com
Photo 3—Elizabeth Boyce specializes in unique maternity, birth and newborn portraiture in Dallas, Texas. She also offers birth photography workshops for semi-pro and professional photographers.Please visit www.earthmamaphotography.com or www.earthyworkshops.com for more information.
---
Contents
Poetry
From the Editor
he movement to protect motherbaby rights is reaching critical mass and it's time for a paradigm shift. The mother of Midwifery Today, Jan Tritten, asks what else each of us can do to support normal birth around the world.
Networking
Tricks of the Trade
Marion's Message 
Contributor Marion Toepke McLean offers a thoughtful overview of recent studies on the treatment of Placenta Accreta.
Media Reviews
News
Classified Advertising
Calendar
Photo Album
Departments
Culture within Culture—Sister MorningStar
"It is easier to see how a woman's culture affects her than to face how our culture affects us in relating to her. What if our cultures have moral differences? What if we identify with a birth culture that saves mothers and babies?" Regular contributor Sister MorningStar explores the multi-layered affects of culture on birth.
Cord Burning—Kelly Dunn 
The many benefits of this simple, inexpensive procedure are explored. Find out why cord burning is making a comeback!
Breastfeeding in Public—Megan Myers
An apprentice midwife takes a critical look at our sexualized culture and defends the right to breastfeed in public.
The Cultural Aspect of Birth: My Midwest Experience—Diana Barnes 
The author, a former president of MANA and the first legal nurse-midwife in the state of Missouri, reflects on changes in a practice that spanned 30 years. What began with homebirths to independent-minded women in the 1970s evolved into something very different.
Hey, Miz Pinkie—Diana Janopaul 
The author sits down at a diner in Cairo, Georgia with local legend and beloved midwife Pinkie Norwood, who delivered 600 babies over the course of 30 years.
Opening the Pelvic Brim with Walcher's Position—Gail Tully 
The detailed illustrations and first-hand experiences author Gail Tully provides will help to expand your understanding and application of this time-tested technique used to engage babies stuck at the pelvic brim.
Ethics and Lessons Learned in Transport—Sandra Tallbear 
"There is more to the transport of a woman with her heart set on a natural out-of-hospital birth experience than communicating facts." What is the midwife's role in transport? How can she best support her client and help to facilitate communication with a hospital culture that is not always receptive to her efforts? Find out in this illuminating article from a CNM who has walked both sides.
Treating Infertility: Differences between Western Reproductive Medicine and Traditional Chinese Medicine—Mike Berkley
A New York City acupuncturist and herbalist examines Traditional Chinese Medicine's 3000-year history of successfully treating infertility as he considers how Eastern and Western medicine can work together to address a common problem.
Lavender and Letting Go: A Miscarriage-birth Story—Molly Remer 
A midwife and mother channels courage and strength to "let go" of the son she miscarries at home.
Release, Rejuvenation and Rejoicing: The Blossoming of a Woman—Elise Brion 
After eating disorders and depression left her for dead, Elise Brion embarked on a transformative healing journey that lead to her to parenthood, a community of inspiring women and work as a doula.
Friedman's Curve vs. the Pure Heart Approach to Labor—Sandra Tallbear 
Friedman's Curve can be helpful in assessing the progress of labor, but few women perfectly follow any curve. Sometimes the "pure heart formula" is the midwife's best tool in supporting a woman during labor.
Birth Stories from a Mountain Midwife—Candace Palmo 
A rural midwife tenderly recounts the stories of two women she served.
Birthing with Orthodox Jewish Women—Linda McHale 
Learn about the unique cultural customs of birthing Orthodox Jewish women from a midwife who regularly attends this tight-knit community.
The Soul's Knowing: Connecting with Our Babies in the Womb—Robyn Sheldon
Author Robyn Sheldon shares a technique that utilizes a unique blend of writing, visualization and intuition to help parents connect with their babies in the womb.
Cultural Diversity in Childbirth Education—Amy V. Haas 
The author considers how diverse family dynamics and cultural practices inform her work as a childbirth educator.
An Open Letter—Suzanne Arms
Birth activist Suzanne Arms responds to recent legislation threatening to outlaw homebirth in France.
Time in a Bottle—Beth Bailey Barbeau
"Considering the fast-paced nature of modern American culture, perhaps it's not unexpected that the issue of time is having a never-before-seen and increasingly disastrous effect on pregnancy, birth and postpartum recovery." Author Beth Bailey Barbeau takes a look at the insidious impact of time and what midwives can do to support their clients in a "timeless journey."
Celebrity Births: The Good, the Bad, the Influence—Debra Flashenberg 
Homebirths and scheduled c-sections are all the rage in Hollywood, but how do celebrity birth practices affect pregnant women?
Birth with the Amish: A Unique Experience—Irena Keeslar 
A Michigan midwife shares her experiences attending an Old Order Amish community who have no cars and no electricity but an abundance of faith and family support.
International Midwife
Cards & Letters
Homebirth in Peru's Sacred Valley—Adrienne Leeds
Take a journey to the Andes mountains in Peru to meet German birth keeper and healer Leonie Lange.
Midwifery and Women's Health in Peru: Visions and Dreams—Cynthia Ingar
Midwife and anthropologist Cynthia Ingar assesses the state of birth care in Peru, calling for an integrative approach that reconnects Peruvian women to their cultural roots.
Blood: A Private Issue?—Michele Klein 
Cultural traditions can dictate special protocols for the postnatal woman and determine how much blood is "normal." Author Michele Klein examines cultural ideas about postnatal blood in Asia, the Middle East and on the Internet.
Birth the Filipino Way—Denie Heppner
The author, who served as a missionary midwife among the urban poor of metro Manila for 20 years, recounts the highs and lows of working in a matriarchal society rife with superstitions and radically different standards of care for the rich and the poor.
Cross-cultural Birth: It's a Human Rights Issue—Jenna Humphreys 
What happens when the dominate medical culture collides with local and immigrant cultures? Find out as Jenna Humphreys explores cross-cultural birth in the Dominican Republic and in California.
  = Membership Article