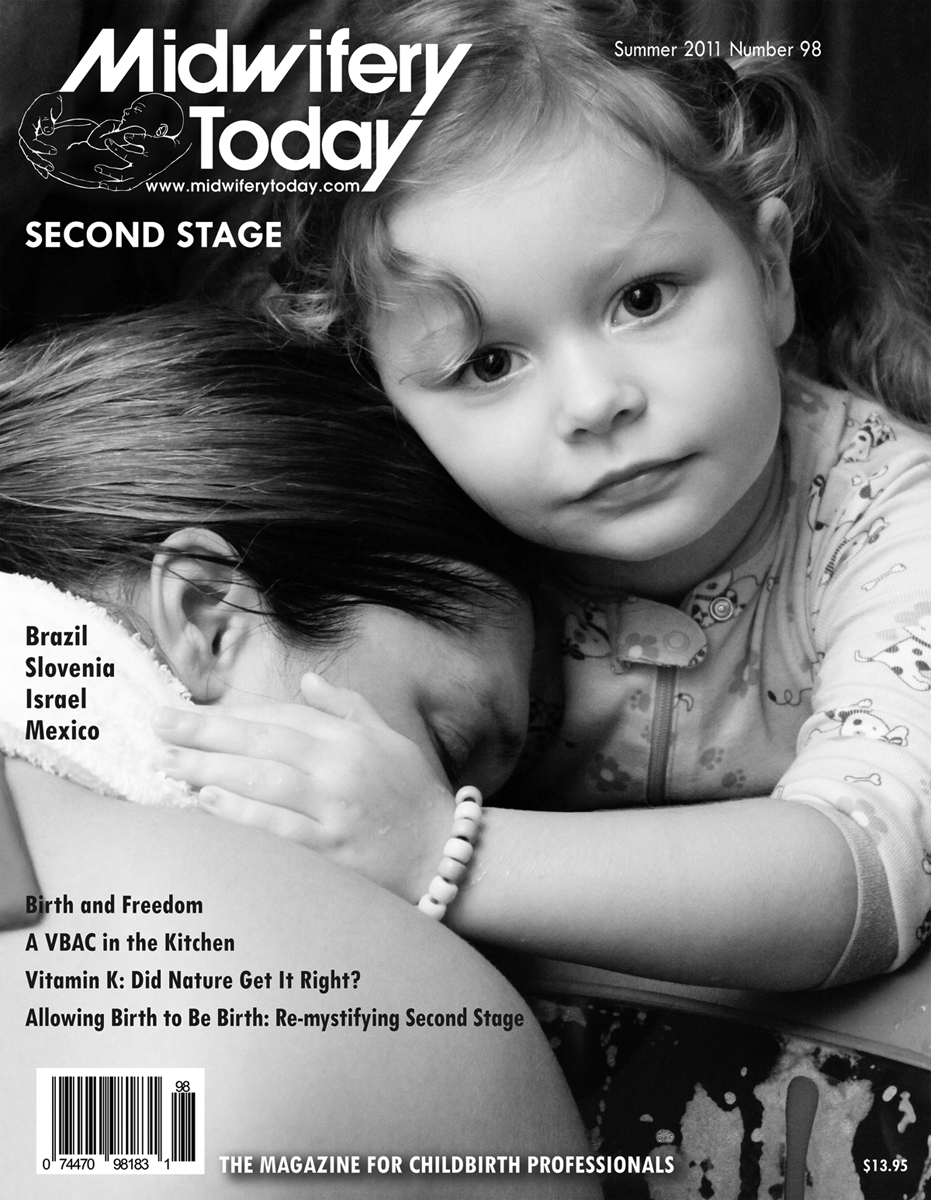 Summer 2011
Theme :Second Stage
Jackie Willome loves to capture life's most precious moments for her clients. It was through her experience with her son's home-then-hospital birth that she fell in love with birth photography. She lives in New Braunfels, Texas, with her husband, Andy, and 15-month-old son, Hudson. Her portfolio and recent work can be found at www.jackiewillomephotography.com.
Photo: Transitional Phase of a New Childbirth Paradigm:
Slovenia on the Crossroad.
---
Departments
Poetry
From the Editor
Jan Tritten reflects on second stage complications and the midwife's role. Sometimes patient waiting, tempered with wisdom of when, and how, to act is the safest, healthiest way to bring new life into the world.
Networking
Tricks of the Trade
Marion's Message
Cultural imperialism can have a pervasive, sometimes subtle influence on the work of a midwife. Marion Topeke McLean discusses how to detect imperialistic attitudes and practices, and ways to nurture cultural sensitivity.
Media Reviews
News
Classified Advertising
Calendar
Photo Album
Allowing Birth to Be Birth: Re-mystifying Second Stage—Kristi Zittle 
As she recounts the difficult birth experience that helped lead her to birth work, Zittle reconsiders the delineation of labor into stages and calls for a return to a more holistic assessment of the labor process.
Midwifing Second Stage—Sister MorningStar 
Regular contributor Sister MorningStar shares her thoughts and experiences on the importance of communication, community and constancy in this article about the midwife's role during second stage.
Prenatal Vitamins: Helpful or Harmful?—DJ Nelson 
Are prenatal vitamins necessary, or are there other, healthier ways for women to get the vitamins and minerals they need during pregnancy? DJ Nelson considers the question.
Birth from Baby's View—Jean Sutton 
Author Jean Sutton takes you back to basics, reviewing the few simple conditions needed for the safest birth, and challenges the notion that deliberate pushing is necessary for a smooth second stage.
An Exploration of Unusually Long Second Stage: Redefining Normal—Elizabeth Perry 
The author reviews recent research and shares her own experiences with second stage as she explores "the acceptable parameters of a normal, healthy second stage."
Understanding Stages of Labour after the Paradigm Shift—Michel Odent 
Michel Odent covers the importance of the fetal ejection reflex as it relates to the second stage of labor.
A VBAC in the Kitchen—Jennifer Woodmansee 
A midwife recounts one clients empowering decision to birth at home after a previous cesarean birth.
Second Stage Evolution—Elizabeth Allemann 
Physician Elizabeth Allemann's training in the medical-model of care taught her to fear second stage. What happened when the research lead her to the midwifery model? Find out in an illuminating story that is sure to remind you how doctors and midwives can work together for the best health of mother and baby.
Getting Pushy—Alison Bastien
A childbirth educator considers "the place of change" in labor that transcends stages and what she sees as the overemphasis on pushing.
Vitamin K: Did Nature Get It Right?—Maria Cranford 
Though many infants are given vitamin K after birth, the author questions the efficacy of this practice through a review of current literature on the subject.
Labor Pattern and Management during a Prolonged Second Stage—Kate Prendergast 
In this thoughtful article, author Kate Prendergast discusses the use of management techniques for a prolonged second stage.
Getting to Second Stage—Carol Gautschi 
The positive presence of the midwife, and her belief in the abilities of the laboring woman, can affect birth outcomes. Carol Gautschi considers the influence of the midwife's believes and attitudes on labor.
Why Wait until Second Stage?—Carol Gray 
Learn how therapeutic bodywork techniques can help baby achieve the optimal position prior to birth, as well as address Torticollis and Plagiocephaly after birth.
Gathering at the Well: Eugene 2011 Conference
An Overview of Upright Positions during Second Stage Labor—Jeri Layer /li>
Not only do upright positions work with gravity, offering numerous benefits to mother and baby, but they also have an interesting history. Layer uncovers the story behind their wane in popularity during the 18th century and relatively recent resurgence.
How to Support the Autonomy of Motherbaby in Second Stage of Waterbirth—Cornelia Enning
Waterbirth expert Cornelia Enning explores how the newborn's prenatal abilities are especially suited to birthing in water, and how a waterbirth can help to facilitate optimal communication between mother and baby.
Father's Day Surprise—Diane Gregg 
One midwife. Three babies. Thirteen hours. Happy Father's Day!
Birth and Freedom—Terri LaPoint 
A student midwife takes on state governments' encroachment of women's rights to birth where and how they choose.
International Midwife
Cards & Letters
Transitional Phase of a New Childbirth Paradigm: Slovenia on the Crossroad—Zalka Drglin
Researcher and birth activist Zalka Drglin takes you inside Slovenia for a first-hand look at a country very much at the crossroad.
In Search of Hope—Gomer Ben Moshe and Mindy Levy 
"In recent years, 20,000 asylum seekers have arrived in Israel from Africa, by way of the Egyptian desert." Authors Ben Moshe and Levy recount the stories of four refugee women who found their way to the Carmel Shelter for women and children.
Three Stories, Two Continents, One Birth Journey—Indira Lopez-Bassols 
Starting in her native Mexico and ending up in London, England, doula and mama Indira Lopez-Bassols birthed three children—and herself—through a transformative birth journey.
Planned Homebirth in Brazil with Nurse-Midwife Assistance: Perceptions of Women and Companions—Mayra de Freitas Calvette, Evanguelia Kotzias Atherino dos Santos, Vania Sorgatto Collaço, Bruna Granemann, and Leonara De Bona Dario
The birth culture in Brazil is complex and the country's private hospitals have some of the highest c-section rates in the world. This article by a group of nurse-midwives shares the results of a recent study investigating Brazilian women's perceptions of planned homebirth assisted by a nurse-midwife.
Due for Change?—Rachel Bee
Due dates can be helpful, but often unreliable. Rachel Bee reviews common dating methods and considers their impact on the psychology of birth.
The Story of Bridget Shevlane: A Labor of Love—Rose Mary Danforth 
Take a trip to 19th century Ireland, where the village midwife was truly a "Jill of all trades."
  = Membership Article