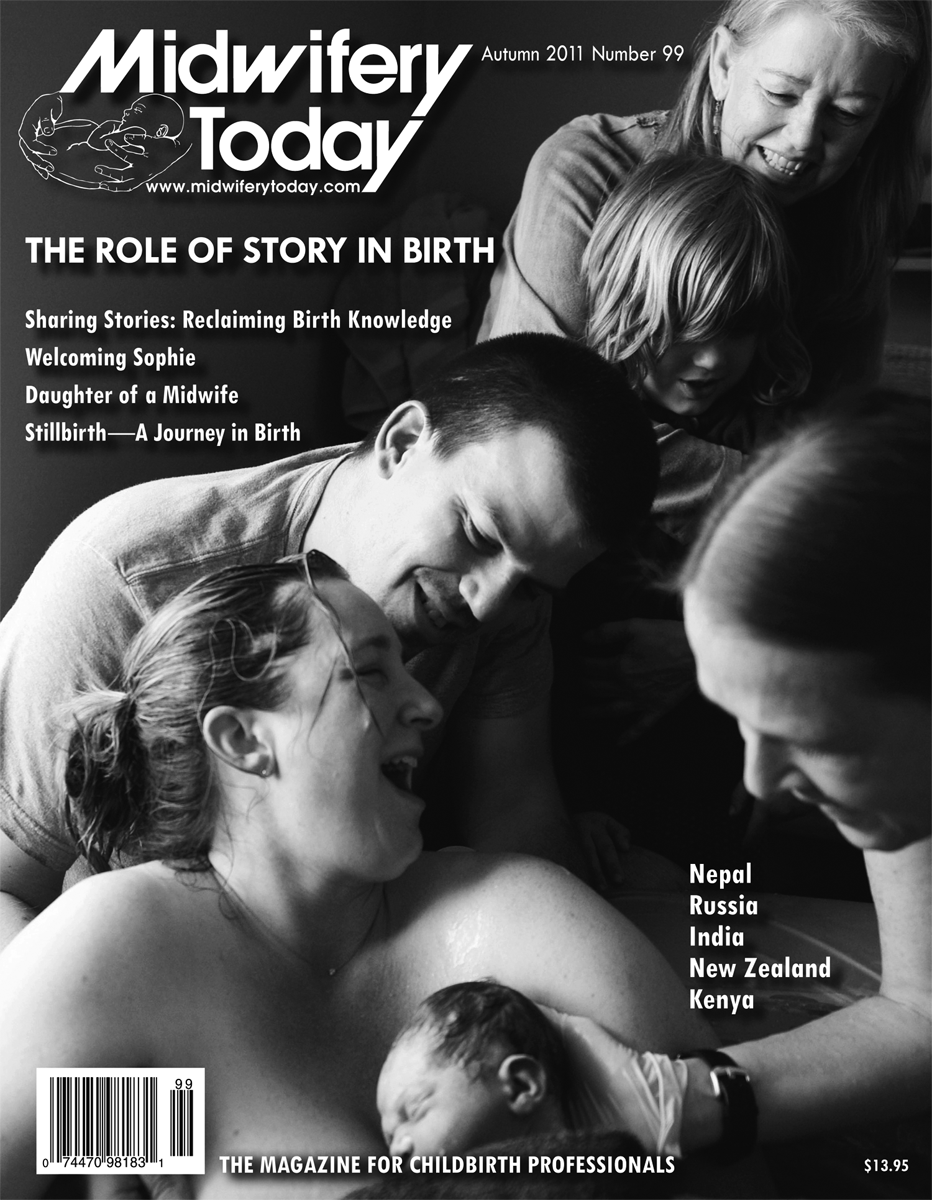 Autumn 2011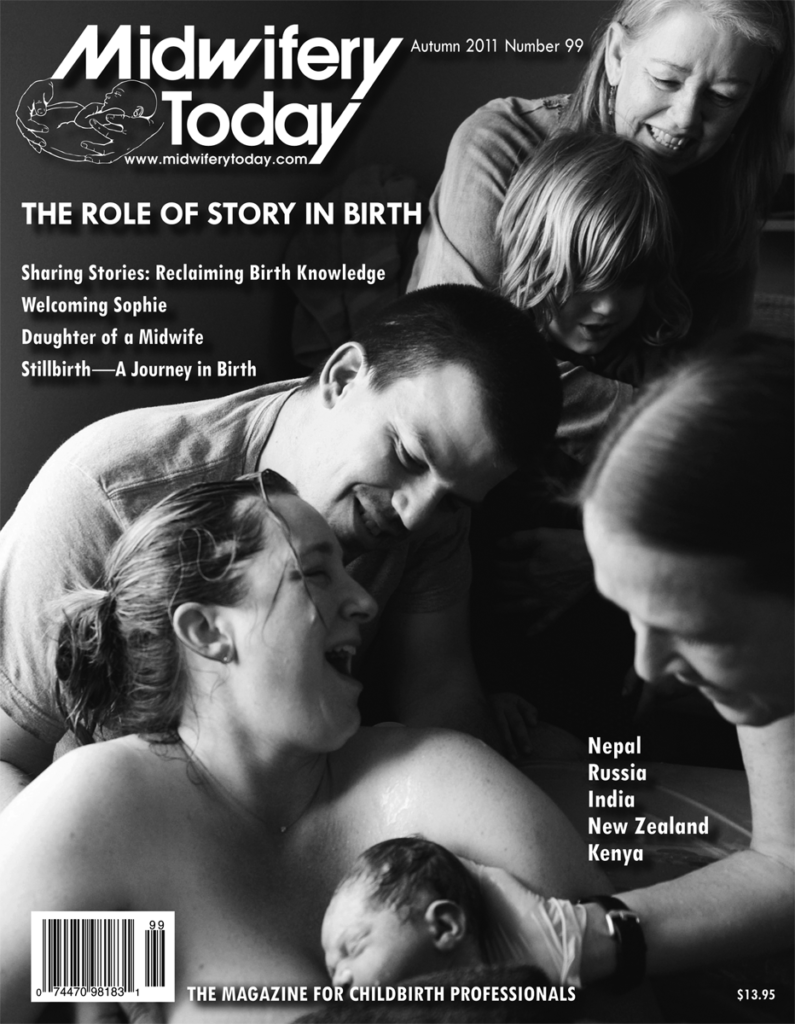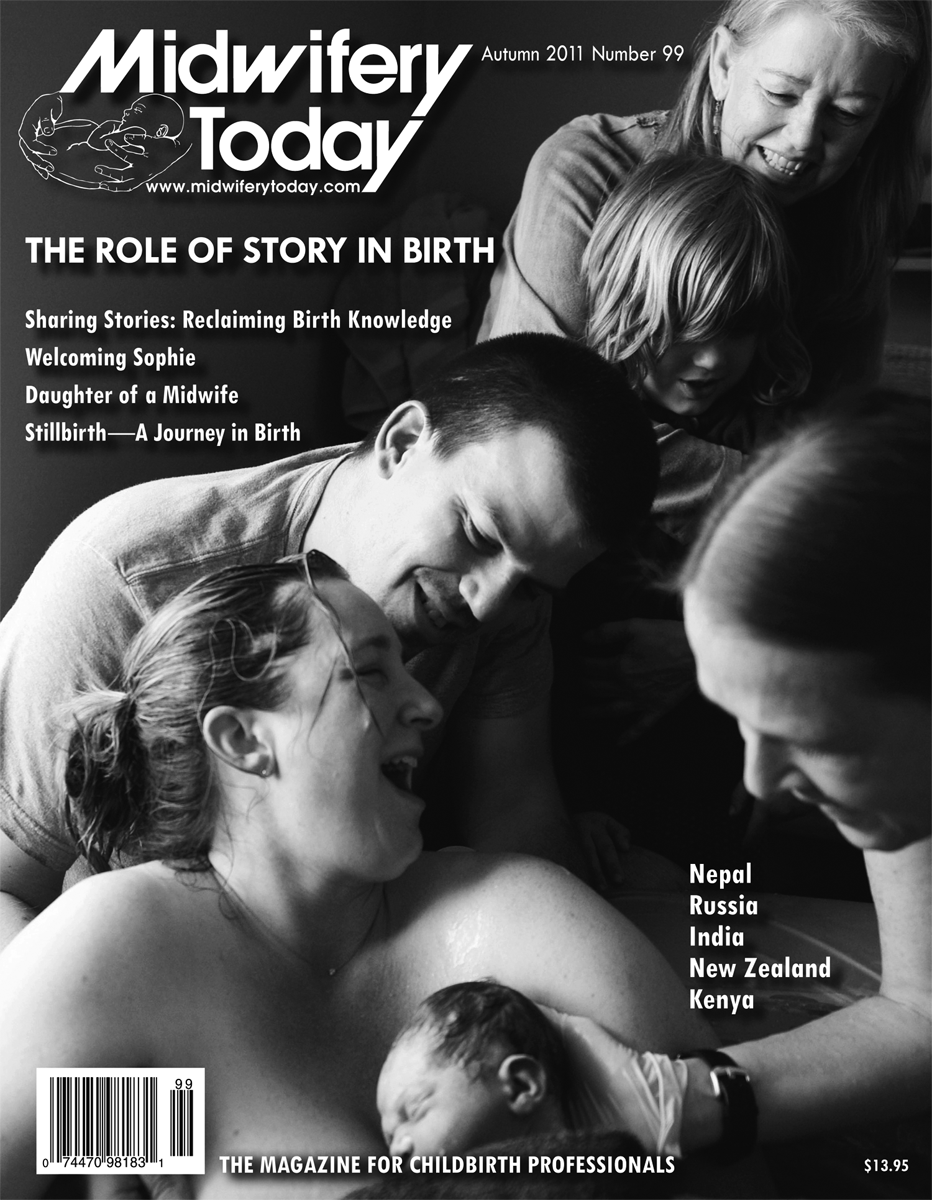 Theme: The Role of Story in Birth
A good birth story has the power to inspire, educate and entertain. Yet, the role story plays in birth goes well beyond the telling of our personal tales. Stories and storytelling "are fundamental to the development and maintenance of a woman-centered body of knowledge." This issue takes you inside the experiences of birthing mothers and dancing midwives, considers the impact of the negative birth story and offers tips for starting your own birth story circle. Clinical articles on intrauterine infections and shoulder dystocia, and a special series on midwifing stillbirths are also included.
Michele Anderson, of Pinkle Toes Photography, creates images that are spontaneous, fresh and full of life. She loves watching how moms, dads, newborns and children interact in their families, and uses beautiful light, bold colors and deep contrasts to highlight those incredible moments. Her portfolio and recent works can be found at pinkletoesblogstalker.com.
Print issue out of stock.
Columns
Poetry
Networking
Tricks of the Trade
Media Reviews
News
Classified Advertising
Calendar
Photo Album
Cards & Letters
Features
Welcoming Sophie—Sister MorningStar
Contributing editor Sister MorningStar recounts the magical, sacred home waterbirth of her newest grandchild, Sophie.
Sharing Stories: Reclaiming Birth Knowledge—Rachel Reed
An Australian educator and midwife argues for a body of midwifery knowledge that is "distinct, different and equally (if not more) valuable" than the technocratic approach that dominates modern obstetric care.
Thank You, Elvis—Wendy Freeze
How many women can say they gave birth during a 24-hour Elvis marathon? Author Wendy Freeze recounts the humorous and life-changing story of her first birth.
Daughter of a Midwife—Treska Lydia Stein
The 15-year-old author recounts her firsthand experiences "being with women," as the daughter of a midwife.
It Matters How We're Born—Gail Hart
The memories of birth will last a lifetime, for both mother and baby. As this article reminds us, women's choices regarding how and where they birth do matter.
Why the Negative Birth Story?—Rina Crane
Alongside inspiring and empowering stories of birth come negative stories of pain, scary interventions and unexpected outcomes. While it's important to honor all stories, doula Rina Crane considers how we can all work "to help make the positive birth story the only one there is to tell."
When the Womb Is No Longer Safe: Chorioamnionitis—Valerie Hall
Intrauterine infections contribute to a host of complications during pregnancy and labor. "This article investigates current ideas about prevention, diagnosis and treatment from a midwifery point of view."
Postmaturity: Accelerate Birth or Wait?—Samara Ferrara
An excerpt from Midwifery Today's upcoming clinical booklet on postdates and postmaturity, this article evaluates why "most 'postdate pregnancies' are treated as postmature," and considers what midwives can do to help their clients prevent harmful interventions.
Precipitous Twin Homebirth—Veronica Lacquement
A surrogate mom to twins tells the tale of their quick, healthy homebirth.
United We Stand, Divided We Fall—The Impact of Gossip on the Midwifery Community—Erica Obert
A midwife from the Midwest shares her thoughts on how divisive behaviors in the midwifery community can impact care, and why midwives need to work together to overcome gossip and competition.
Accepting Love without Perfection: The Roles of Grandmothers and Postpartum Doulas—Vicky York
The roles of grandma and the postpartum doula are often ill-defined, and can be challenging to balance with the immediate needs of a new mom and baby. Author Vicky York discovers that with a little effort and patience, doulas and grandmas can work together. After all, there's nothing quite like grandma's love.
The Value of Sharing Story—Molly Remer
Personal sharing through story is often discouraged in the medical professions, but a good story, well-told, can enrich the relationship between birth professionals and their clients.
Birthtellers: Healing Birth through Conscious Storytelling—Kara Maria Ananda
Who are the Birthtellers and why are they so important to preserving normal, safe birth? Are you one? Learn more about the importance of stories and how to tell a good one in this informative and engaging article.
Dancing Stories—Robin Gray-Reed
In this poetic article, the author uncovers the grace and gratitude present in a moment shared amongst midwives, dancing their stories.
Shoulder Dystocia—The Perils and Possibilities—Sister MorningStar
"As a midwife, you must find, or help the mother and baby to create, an open path where one does not exist. How will you do that?" This article offers new insights and suggestions to help you manage shoulder dystocia with confident and tender care.
Beautiful Beginnings—Short Birth Stories from Midwifery Today Readers
Stillbirth Series—Tara Shah, Tammi McKinley, Bonnie Gruenberg, and Liz Collins
The Tragic Ending of a Healthy Pregnancy—Tarah Shah
Despite the conscious efforts of parents and care providers, some healthy pregnancies don't turn out the way we expect they will. Part of our series on stillbirth, a mom takes you on her emotional journey through a healthy pregnancy gone tragically wrong.
Stillbirth—A Journey in Birth—Tammi L. McKinley
Being prepared for a stillbirth can make all the difference in the care a midwife provides to a family during this emotional birth process. Part of a special series, this article offers midwives practical tools and resources for support when midwifing a stillbirth.
Midwives and Story: Passing on the Wisdom—Candace Whitridge Palmo
Motorcycles, art and ecstasy inform this touching trio of birth stories.
How Storytelling Affects Labor—Tony Rakestraw
What are women thinking during labor? Contributor Toni Rakestraw shares the internal narratives that impacted her deliveries, and how her midwives helped her through them.
International Midwife
= Membership Article.