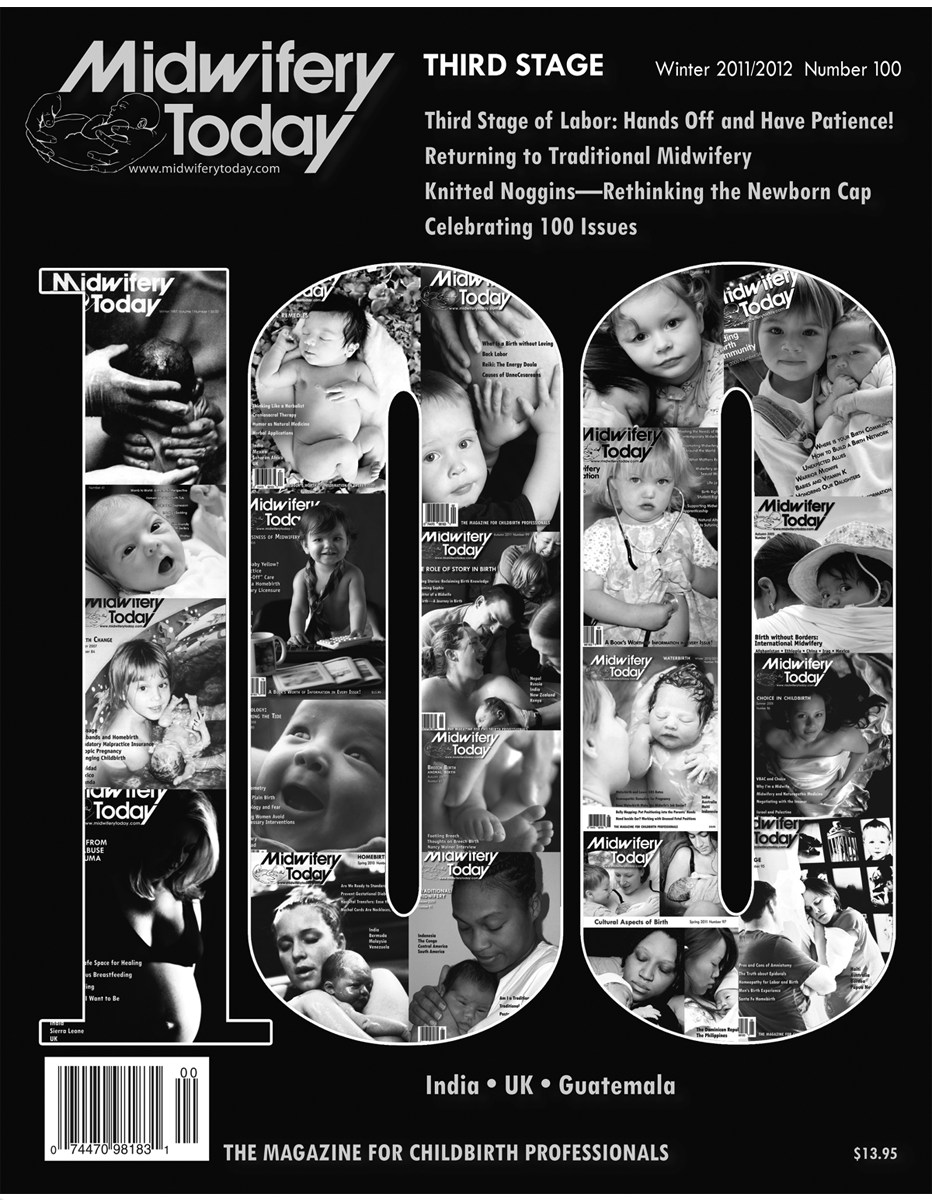 Winter 2011/2012
Theme: Third Stage
The third stage of labor is "a powerful and mysterious time; more important than we acknowledge and more complex than we know." From the initial signs of active labor to baby's first breaths, we explore the various facets of third stage, including what happens beyond the birth room door, a father's reflections on labor and controversial issues surrounding third stage "management." Multicultural considerations of midwifery and birth stories from around the world are also included. Plus, we are celebrating our 100th issue with a special spread dedicated to our favorite question and answer lists. We asked—you answered!
This playful cover design by graphic designer Cathy Guy includes the cover of Issue #1; can you find it?
This playful cover design by MT Graphic Designer Cathy Guy includes the cover of Issue #1; can you find it?
Photographers from past issues of Midwifery Today in collage: Michele Anderson—pinkletoes.com, Elizabeth Boyce—earthmamaphotography.com, Caroline Brown—carolineebrownwebfolio.com, Lora Denton—loradentonphotography.com, Ed Embler, Bonnie Gruenberg—bonniegphotography.zenfolio.com, Natasha Hance—NHancephotography.com, Harriette Hartigan—harriettehartigan.com, Amber Jordan—photographybyamber.com, M. Kim—PermeableLight.com, Laurie Ludes—laurielphotography.com, Patti Ramos—pattiramos.com, Lynsey Stone—dfwbirthphotographer.com, Lyndsay Stradtner—lifeinmotionphotography.com, Jackie Willome—jackiewillomephotography.com
---
Departments
Features
International Midwife
= Membership Article.