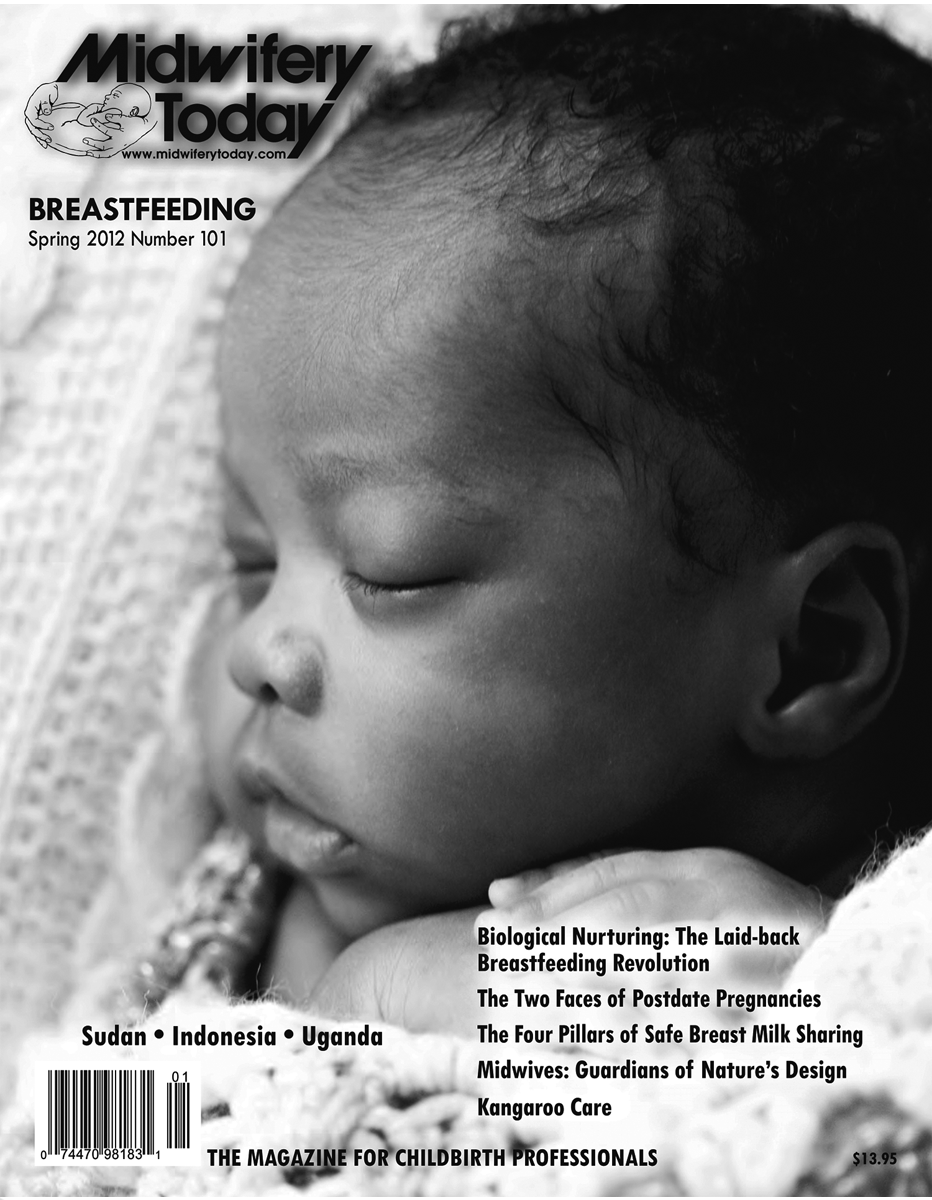 Spring 2012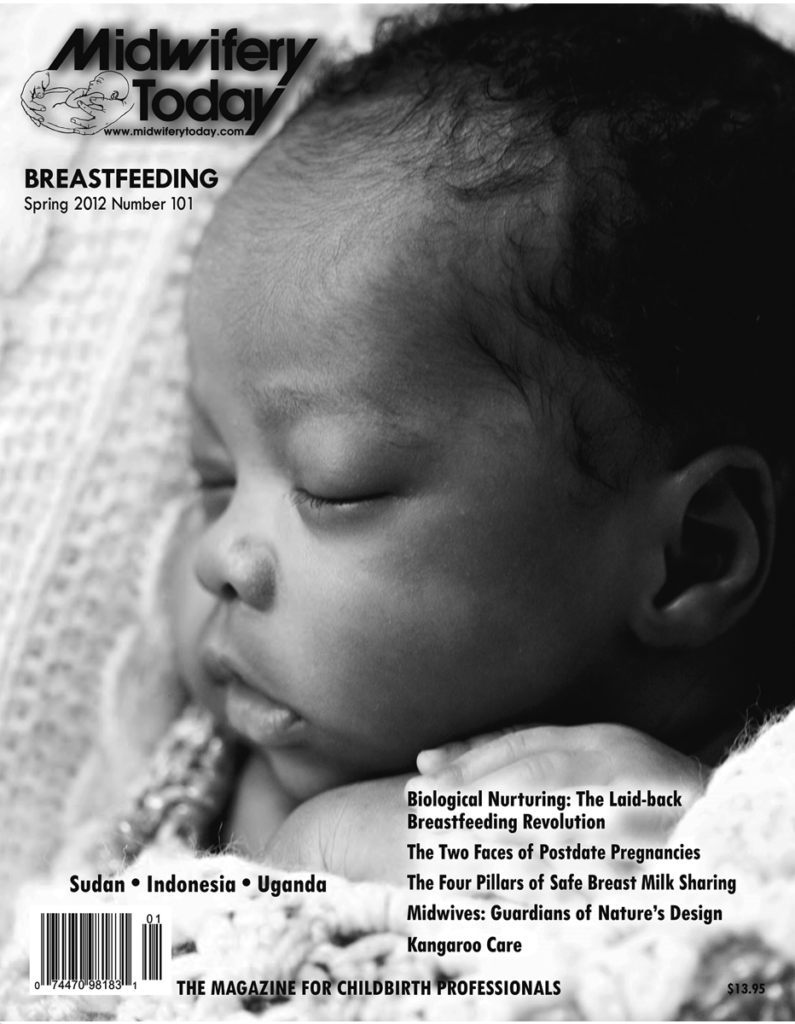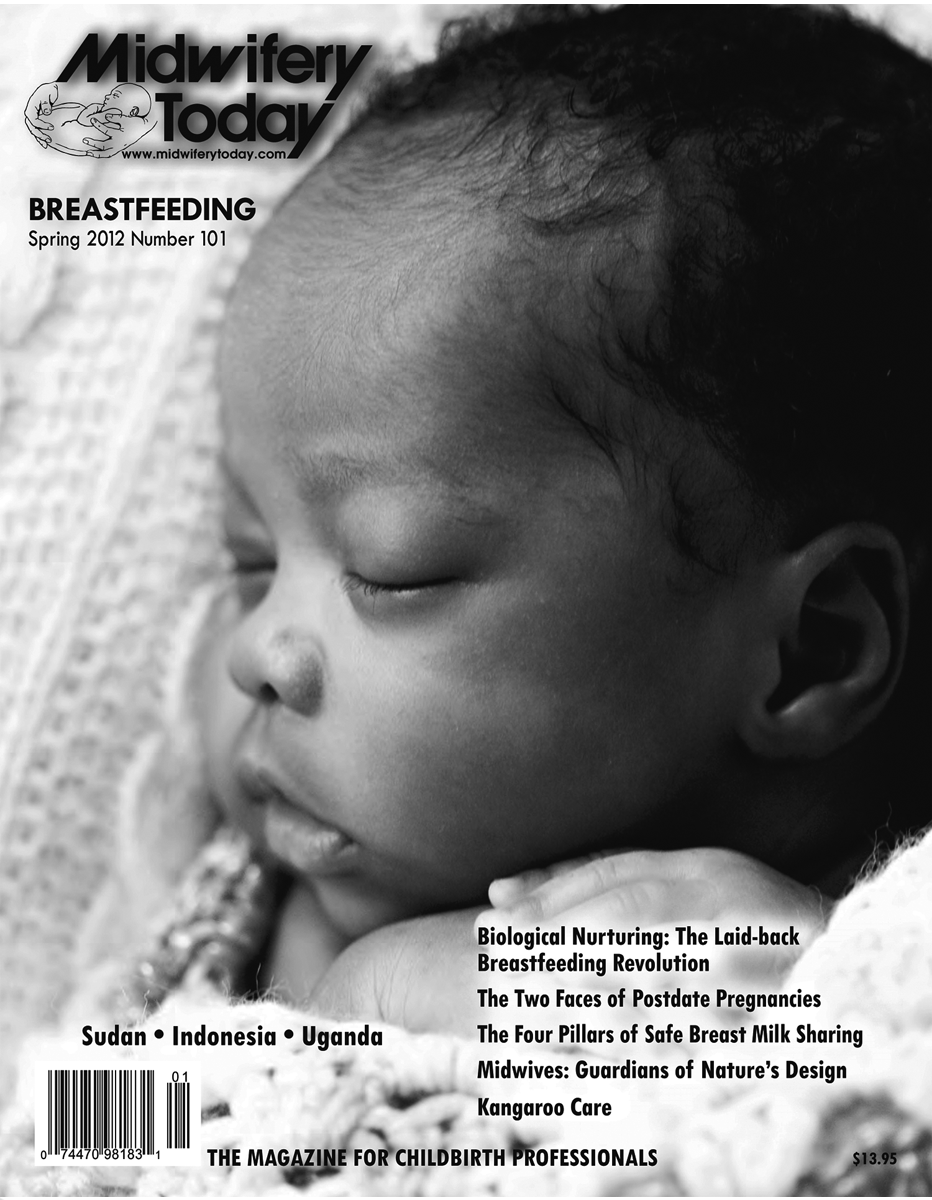 Theme: Breastfeeding
The breastfeeding relationship can be riddled with all sorts of emotions. From incorrect information regarding milk supply to the delicate balance of hormones including oxytocin, this stage in a woman's life can be emotional, challenging, beautiful, uncomfortable, blissful, rewarding, and sometimes controversial. In this issue of Midwifery Today, you will share in the emotions of some of the personal breastfeeding stories as well as gain insight into the difficult situations of incarcerated mothers, the birthing conditions in Darfur, Sudan, the process of breast milk sharing and other interesting topics written by our contributors. Enjoy!
---
Departments
Poetry
Networking
Tricks of the Trade
Marion's Message
Media Reviews
News
Classified Advertising
Calendar
Photo Album
Midwifery Today
Biological Nurturing: The Laid-back Breastfeeding Revolution—Suzanne Colson
Author and breastfeeding consultant, Suzanne Colson, details a new neurobehavioral approach to breastfeeding initiation.
Breastfeeding Milla—Angela Worthington
A mom shares her 12-year breastfeeding experience, highlighting the unexpectedly long breastfeeding relationship with her youngest daughter, Milla.
The Role of the Shy Hormone in Breastfeeding—Michel Odent
A look at how the hormone oxytocin behaves similarly to a shy person "who does not appear among strangers or observers."
Whatever Turn My Birthing May Take—Care Messer
A mother shares the story of how her newborn was given 72 hours to live. Against all odds, little Finley survived, but not without complications.
Midwives: Guardians of Nature's Design—Kimberly Durdin
The author emphasizes how the midwifery model of care places importance on breastfeeding and the benefits it gives to both mom and baby.
Adapting Birth Services for Incarcerated Mothers— Vicki Elson with Marianne Bullock
The Prison Birth Project shares the unfortunate situations of incarcerated mothers and their "inherently traumatic" birth experiences. Fortunately, the doula care PBP provides has had such an effect on these women that the cycle of violence is stopping in some of their lives.
Kangaroo Care—Kim Wildner
An exploration of the components, rationale and outcomes of kangaroo care.
The Two Faces of Postdate Pregnancies—Mimi Pothaar
Author and midwife, Mimi Pothaar shares her data on postdate pregnancies, concluding that the attitude regarding pregnancy duration beyond forty weeks does not appear to be based on medical evidence.
Growth As an Industry: How Can We Become Our Best Selves?—Jodilyn Owen
"Midwifery is on the rise." A look at the industry of midwifery care, and a discussion on how to move forward in this season of growth and demand.
Meeting the Need: Building Communities of Lactation Support—Angelique Chelton
The issue of poor breastfeeding duration rates is presented with ways health care providers can support and encourage mothers to create a positive breastfeeding relationship.
Compassion and Empathy—A Doula's Best Friends—Kicki Hansard
Many doulas can become "attached to the outcome," forgetting that two of their strongest attributes in a birth are compassion and empathy.
Engaging the Senses as Midwifery Tools—Sharon Craig Economides
A homebirth midwife shares how all of the senses (touch, taste sight, sound and smell) are valuable to the midwife for gathering important information during a woman's pregnancy and labor.
The Four Pillars of Safe Breast Milk Sharing—Shell Walker and Maria Armstrong
An informative article detailing the necessary process of ensuring that breast milk sharing is done safely.
Milk Supply: You Have Enough—Lina Duncan
A midwife shares her passionate feelings on the incorrect assumptions some women have and the faulty information they sometimes receive regarding their milk supply.
Rights and Relationships—Cynthia M. Bean
A thoughtful look at the special relationship a midwife has with her apprentices, and how the introduction of certain rules might result in affecting these relationships negatively.
My Nursing Journey—Janelle Rice
As the breastfeeding chapter in her life is finally closed, a mother of four recounts her days as a breastfeeding mom.
A Futuristic Allegory of Over-Medicalization—Laura Donnelly
A futuristic look at how the "natural" experience of conceiving a child becomes medicalized — a clever parallel to today's plight with the over-medicalization of childbirth.
Breastfeeding Duration and Mother-to-Mother Support—Nancy Mohrbacher and Sharon Knorr
Research has found that the support a mother receives during labor has a measurable effect on the time between delivery and the first breastfeed.
A Mom's Breastfeeding Adventure—Alicia Kaye
Breastfeeding my children has been five years of love, tears, smiles, teeth, hickeys, laughs, blood and lots and lots and lots of milk!"
International Midwife
Breastfeeding and Newborn Survival—Amanda Penwell
This article highlights the importance early initiation of breastfeeding has on infant mortality.
Midwifery in Toraja, Indonesia—Toke Hoppenbrouwers
Author Hoppenbrouwers shares her research regarding the relationship between dukuns and bidans (different types of midwives) and how policies have affected how they do midwifery in Indonesia.
Not in Kansas Anymore: An Unexpected Birth in Sudan—Ramona Denk
American midwife Ramona Denk retells her experience of attending a birth in a mud and grass hut in Darfur, Sudan.
A Buddy Near the Crib: Perinatal Coaching for Underprivileged Families—Annemarie Hoogewys
"The Buddy Near the Crib" model consists of three newly developed systems: a network of buddies who coach families, a supporting system to coach the buddies and a registration system for analysis.
Cards & Letters
= Membership Article.