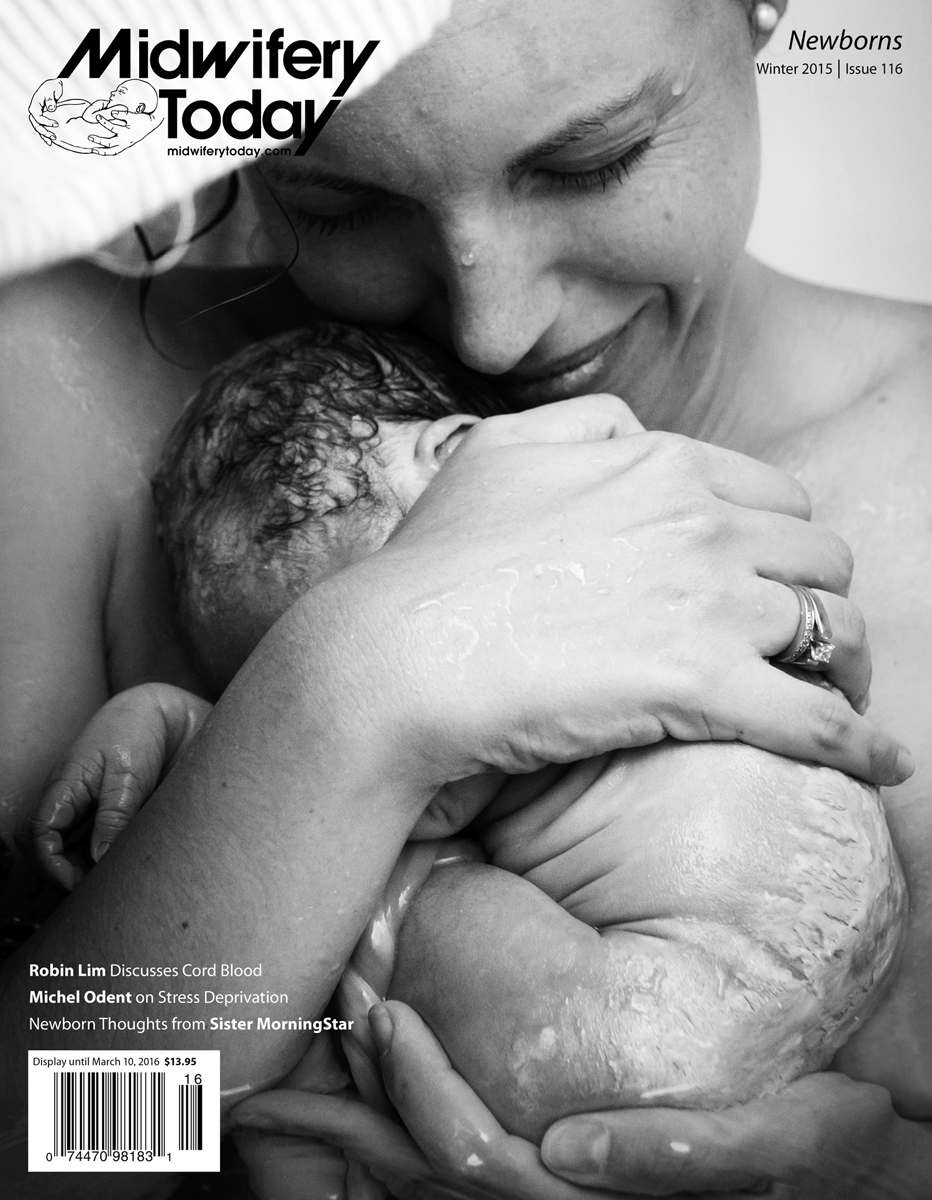 Winter 2015
Theme: Newborns
The theme of Newborns seems like the perfect way to end 2015 and begin 2016. As midwives, doulas, nurses and birthworkers, our goal is to support birth in the best way possible, with the end result being a healthy mother and a healthy baby. This issue of Midwifery Today magazine is dedicated to all newborns, and it is filled with great wisdom from experienced doctors, midwives and doulas, including Michel Odent, Gail Hart, Fernando Molina, Robin Lim and Mary Esther Malloy. May every human on Earth have the chance to be born with safety, gentleness and, when necessary, the best technology available.
---
Cover photo by Monet Moutrie
(
monetnicole.com
). Monet is a birth photographer in Denver, Colorado. She believes that birth is one of the most profound experiences in life, and she's honored to help families preserve and remember their unique stories. Monet Nicole holds a master's degree in creative writing, and her studies have greatly impacted the photography work she does today. When not capturing a birth, you might find Monet at her favorite coffee shop or on a long walk with her 2-year-old daughter, Lucy. Monet credits much of her success to her husband and partner, Ryan, who has supported her creative endeavors from day one.Pictured: Jeanette labored with immense beauty and strength to bring Sophia into the world. Jeanette's husband and son provided constant encouragement throughout the process. Sophia was also the 100th baby born at the Birth Center of Boulder.
Columns
Poetry
From the Editor
Midwifery Today's mother, Jan Tritten, reminds us all of the midwife's deepest responsibility: to honor baby and mother by first doing no harm.
Tricks of the Trade
Marion's Message
Midwife Marion discusses the special role a mother plays in the life of a growing baby.
Media Reviews
Discussions
Classified Advertising
Photo Album
Features
The Necessary Question of Infants' Human Rights at Birth: Are There Vampires in the Birth Rooms?—Robin Lim
A great discussion surrounding the use of infants' cord blood. Midwife Robin Lim primarily works in Indonesia where many women suffer from postpartum hemorrhage. As a preventive measure, she teaches people to wait an extended amount of time before severing the umbilical cord.
Twenty-plus Years of Infant Craniosacral Therapy Practice—Carol Gray
"I don't heal babies. They heal themselves. My midwifery experience compels me to carefully consider what exactly is needed in each situation. I always ask, 'What would happen if I do less?' My goal is to offer the smallest intervention necessary to stimulate the body to find balance. That is all it takes."
Rings, Lines, Folds and Other Old-time Tools to Assess Dilation—Gail Hart
This is an article that teaches classic midwifery, bringing back some sadly forgotten tricks for the midwife's tool kit.
Newborn Stories—Mary Cooper
Midwife Mary Cooper shares some of her most memorable stories of newborns from the births she has attended.
Stress Deprivation in the Perinatal Period—Michel Odent
Natural childbirth advocate and obstetrician Michel Odent discusses the importance of stress for the developing baby, particularly stress in the form of labor.
The Birth of LilyAnn's Sister—Nancy Halseide
The managing editor for Midwifery Today shares how she believes having her oldest daughter at the birth of her youngest set the foundation for their very special sister bond.
Babysafe Mode: Getting Smarter about Smart Technology and Pregnancy—Mary Esther Malloy
Evidence now shows that the use of cell phones and wireless devices by pregnant women could have profound neurological impact on the brains of developing babies.
Reclaiming Birth within Community—Sister MorningStar
Midwife Sister MorningStar focuses on birth community in this powerful article.
Safe Use of Herbs during Pregnancy and Lactation—Susun S. Weed
Herbalist Susun S. Weed teaches on the safe use of herbs for pregnant and breastfeeding mothers.
Bosom Buddies—Marlene Waechter
Midwife Marlene Waechter speaks of tandem breastfeeding in this fun article.
Louise Bourgeois Boursier (1563–1636): Royal Midwife of Renaissance France—Jane Beal
Author Jane Beal gives us another fascinating article of a historical midwife.
Essential Oils for Prenatal Nausea and Digestion—Stephanie Pearson
Helpful information is found within this article on the safe use of essential oils during pregnancy and how they can alleviate nausea and digestion problems.
Learning from CASA: A Global Model Worth Repeating—Kay Sandberg and Shane Carnahan
This is the last in a series of articles featuring global birth programs.
Homebirth and Trisomy 18—Dianna Vagianos Armentrout
A discussion about the right to choose homebirth even if the baby has a fatal illness.
Early Child Development: Setting the Basis for Effective Communication with Your Unborn Child—Fernando Molina
Family doctor Fernando Molina teaches on communicating with your baby while it is still in the womb.
From Heaven into My Hands—Marlene Waechter
This is another great birth story by a loving and experienced midwife.
Babies—Thea Van Tuyl and Mirjam de Keijzer
This article comes from a chapter in the book The Rebozo Technique Unfolded.
The Natural and Undisturbed Newborn—Diane Goslin
This article teaches about what a newborn baby needs, especially in the hours after birth.
One Small but Feisty Package—Mary Cooper
Mary Cooper shares another helpful birth story with the readers of Midwifery Today.
= Membership Article.