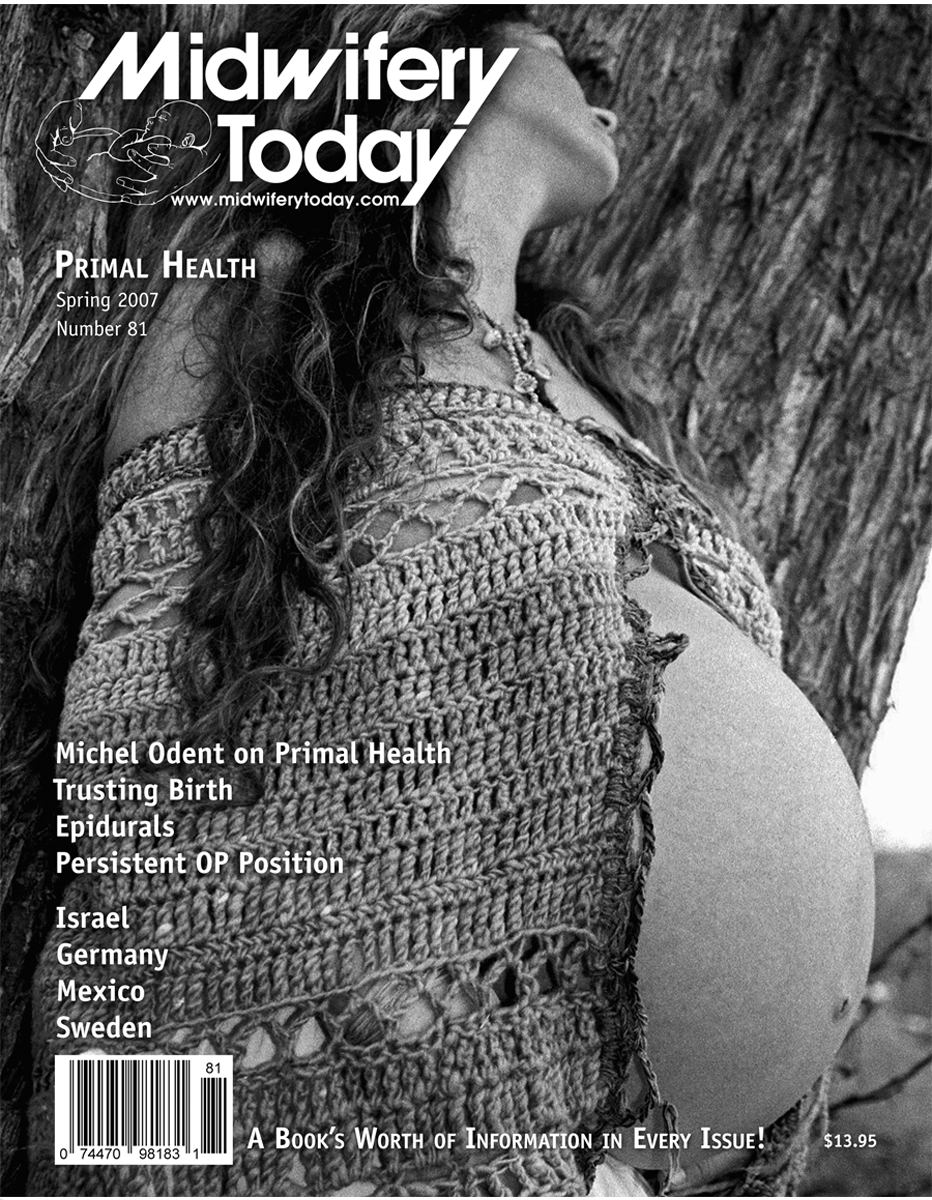 Spring 2007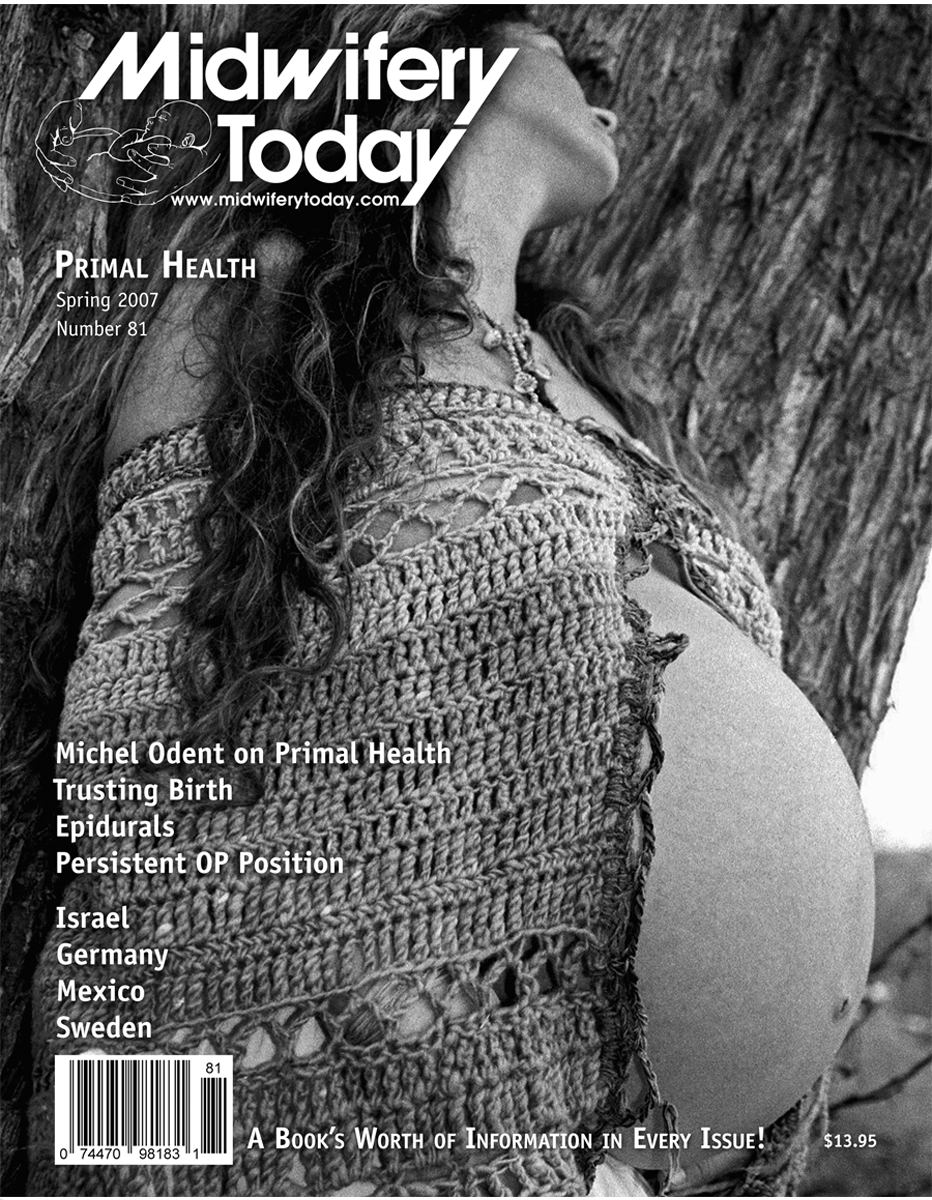 Theme: Primal Health
The focus of this issue is Primal Health. The Primal Period is the time between conception and the end of the first year after birth. An event occurring during that time—whether it be drug exposure, death of a parent, or a stressful birth—can have irreversible effects on the health of an individual for the rest of his or her life. The state of health at the end of this period is called Primal Health.
---
Cover Photo by Shawna Wentz
Pregnancy is a time to get rooted—rooted in love, rooted in patience, rooted to the Mother. This image was taken with that concept in mind. The ripened mother stands strong with the tree—bearing the fruit of precious, sacred life.
Departments
Poetry
From the Editor: We Can Improve Primal Health
Midwifery Today's Editor-in-Chief argues that much of primal health depends on non interference in birth and suggests that we need to focus on providing good midwifery care, putting motherbaby first and working to change birth for the better.
Networking
Tricks of the Trade
Midwifery Model of Care—Phase II: Networks in the Birth Community—Kathleen Furin
The author points out that midwives need to work on developing professional networks for a variety of reasons. These include the consolidation of power, the healing they provide, and development of trust.
Marion's Message: MDG 5: Something We Can Work With
With maternity mortality in childbirth so high around the world, Millenium Development Goal 5, maternal health, is something that we all can work toward.
Media Reviews
News
Classified Advertising
Calendar
Photo Album
Primal Health: History of a Concept—Michel Odent
Contributing Editor Michel Odent describes the genesis of the concept of primal health, defining the terminology and discussing resources to learn more.
Antisocial Behaviours from a Primal Health Research Perspective—Michel Odent
Reprinted from Volume 13, Number 4, of Primal Health Research, this article discusses a variety of studies that link events during the primal period to a variety of behaviors/conditions under the heading of "antisocial," including schizophrenia, autism, attention deficit hyperactivity disorder and other categories.
Trusting Birth Even More—Carla Hartley
The author shares the story of the births of two granddaughters, which reinforced her belief in women's ability to give birth.
Group B Strep Prophylaxis: What Are We Creating?—Mary Lou Singleton
A midwife and herbalist discusses the practice of (and in some cases, requirement for) the use of antibiotics in labor for women with group B strep and the potentially lifelong negative outcome for babies. She also offers some age-old alternatives to this regimen.
Epidurals: Risks and Concerns for Mother and Baby—Sarah J. Buckley
A discussion of primal health would be incomplete without the inclusion of epidurals in labor, since they are used in approximately two-thirds of US births and are common in most developed countries. Frequent contributor Sarah J. Buckley, MD, explains the effects of this intervention, providing a good argument against using it for uncomplicated births.
Nine Web Site Strategies to Generate More Clients—Sheri Menelli and Adriane Smith
This is another practical marketing article geared to helping midwives become more successful in their practices.
Who is The Bully?—Marinah Valenzuela Farrell
This second article in our series on bullying discusses what bullies do and why they do it.
Manual Rotation Maneuvers for Persistent OP Position—Katherine Bramhall
Occipital posterior position is the most common malposition at delivery, contributing to low Apgars and birth trauma. The author explains why manual rotation may be a good option for helping to prevent these complications.
Psychological and Emotional Dystocia—Heidi Nielson Sylvester
Dystocia has not only physical causes, but emotional and psychological ones. This article identifies those causes and suggests some strategies that women and their carers can use to avoid or minimize this problem.
Foreskins for Keeps: An Idea Whose Time Has Come—Gloria Lemay
Contributing Editor Gloria Lemay tells about her path to ending circumcision by January 2008.
A Lamentation of Birth—Jasmine Rae Ojala
The journey of one woman from an over-medicalized and unfulfilling birth to becoming a "radical birth activist."
Birth without borders, a Midwifery Today Conference in Costa Rica
The Midwife's Grandchild: When the New Grandmother Is an Expert on Babies and Birth—Becky Sarah
Being an "expert" grandmother—whether a midwife, lactation counselor, doula or other professional—does not guarantee that your own daughters or daughters-in-law will do things "your" way. This article, a prelude to a book on the subject, discusses some of the issues that may come up in such a situation.
The Language of Desire—Kathleen Furin
Based on her own experience, the co-director of the Maternal Wellness Center, proposes an alternative for birth education, including not just the mechanics but women's desires and feelings about their upcoming birth.
The Business of Midwifery: The Financial Plan—Linda Lieberman
Midwife Linda Lieberman discusses how to develop a financial plan for uninsured families.
International Midwife
  = Membership Article