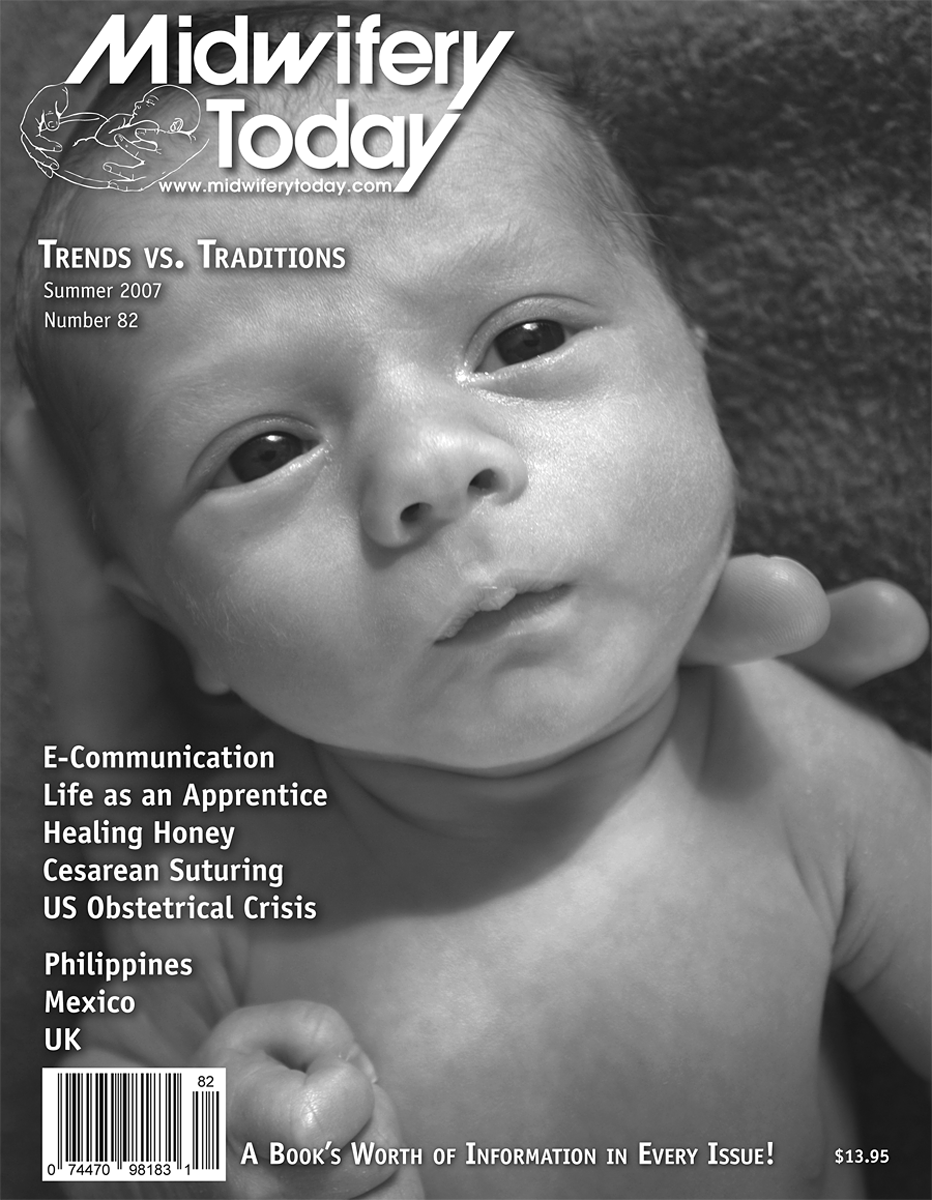 Summer 2007
Theme: Trends vs. Traditions
Both trends and traditions can be important in birth; yet they may conflict with each other. Some may even be harmful. This issue of Midwifery Today focuses on some of those trends and traditions, and sorting the good from the bad or unnecessary.
---
The cover photo, by Caroline E. Brown, is of her husband's niece's son, Roman. Roman is 10 days old in the photograph and is being held by his dad, Drew. Heather, Roman's new mom, and Drew adopted Roman at birth.
---
Departments
The Enduring Qualities in Midwifery—Elizabeth Davis
"Respect for nature, for the physiology of birth, is the cornerstone of our midwifery tradition." Educator and midwife Elizabeth Davis discusses the differences between midwives and obstetricians, current trends and ages-old traditions, remarking on how much midwives have to contribute to the future of birth.
Timeless Tradition—Michele Klein
A reflection on the nature of time, our culture and midwives.
The Target of the Bully and the Effects of PTSD—Marinah Valenzuela Farrell
Part III of a four part series, this article focuses on the target of the bully and the effects on her, including PTSD.
Twenty-one Years Ago a Seed Was Planted…—Christy Santoro
Each of us has experiences that inexorably lead to where we are, what we are doing today. The author shares with us her experience of her sister's birth, which put her on the path to becoming a midwife.
Management or Care: Different Outcomes—Judy Slome Cohain
Midwives, with their focus on the caring rather than management, can help to prevent an overly-medicalized birth outcome. Frequent contributor Judy Slome Cohain contrasts the story of birth that was published in a popular magazine with how it might have been had the mother been cared for by a midwife.
Save Time and Effort and Make More Money—with Electronic Communication—Sheri Menelli
In this continuing series, Sheri Menelli tells readers how to use electronic newsletters to build a clientele and inform current customers.
Birth of Hope—Jennifer Williams
A beautiful birth story that weaves together the past and present in New Mexico.
Trends vs. Traditions—Jill Cohen
Associate Editor Jill Cohen talks about the need to balance trends and traditions.
The Challenges and Rewards of Life as an Apprentice—Christa Bartley
What can a midwifery apprentice expect from this experience? Christa Bartley captures the range of experiences and emotions that occur during this time.
Birthing with Reverence—Caroline Wise
Birth is a sacred experience and should be treated as such, argues Caroline Wise. Let's ensure that women the space and respect they deserve.
Healing Honey—Cheryl K. Smith
Did you know that honey was used for healing wounds before penicillin was discovered? Read about how and why this traditional medicine has become a trend in certain parts of the world.
Trends versus Tradition in Cesarean Surgery: Effects on Midwifery Practice and Cesarean Mothers' Future Pregnancies—Ina May Gaskin
This well-known midwife revisits the data on single-layer suturing after c-section.
Story of a VBAC Rupture—Carey Collins
The author describes her attempt at a VBAC after single-layer suturing.
A Work-toward Solution to the American Obstetrical Crisis—Alan J. Huber
This article proposes a sure-to-be controversial starting point in a proposal for solving the current US crisis in childbirth services.
Chlorhexidine as an Alternative Treatment for Prevention of Group B Streptococcal Disease—Shelie Ross
We know that giving neonates antibiotics can lead to later health problems, but on balance we may have to do so anyway. This article proposes an alternative to antibiotics for preventing GBS in these babies.
Go Tell It: Using Media to Educate about Birth—Sharon Craig
Proponents of medicalized birth have made their case, in part, through use of the mainstream media. Freelance writer and midwife Sharon Craig discusses various ways that midwifery proponents can do the same, using a variety of examples.
Reflections on the End of a Career—Louana George
Louana George reflects on her years of midwifery as she ends her career.
The Business of Midwifery: The Financial Plan for Commercial Insurance—Linda Lieberman
Professionalizing a midwifery business requires a toolbox of skills and systems. In this article in our ongoing business series, Linda Lieberman discusses developing a financial plan for commercial insurance as well as providing a sample letter.
International Midwife
= Membership Article