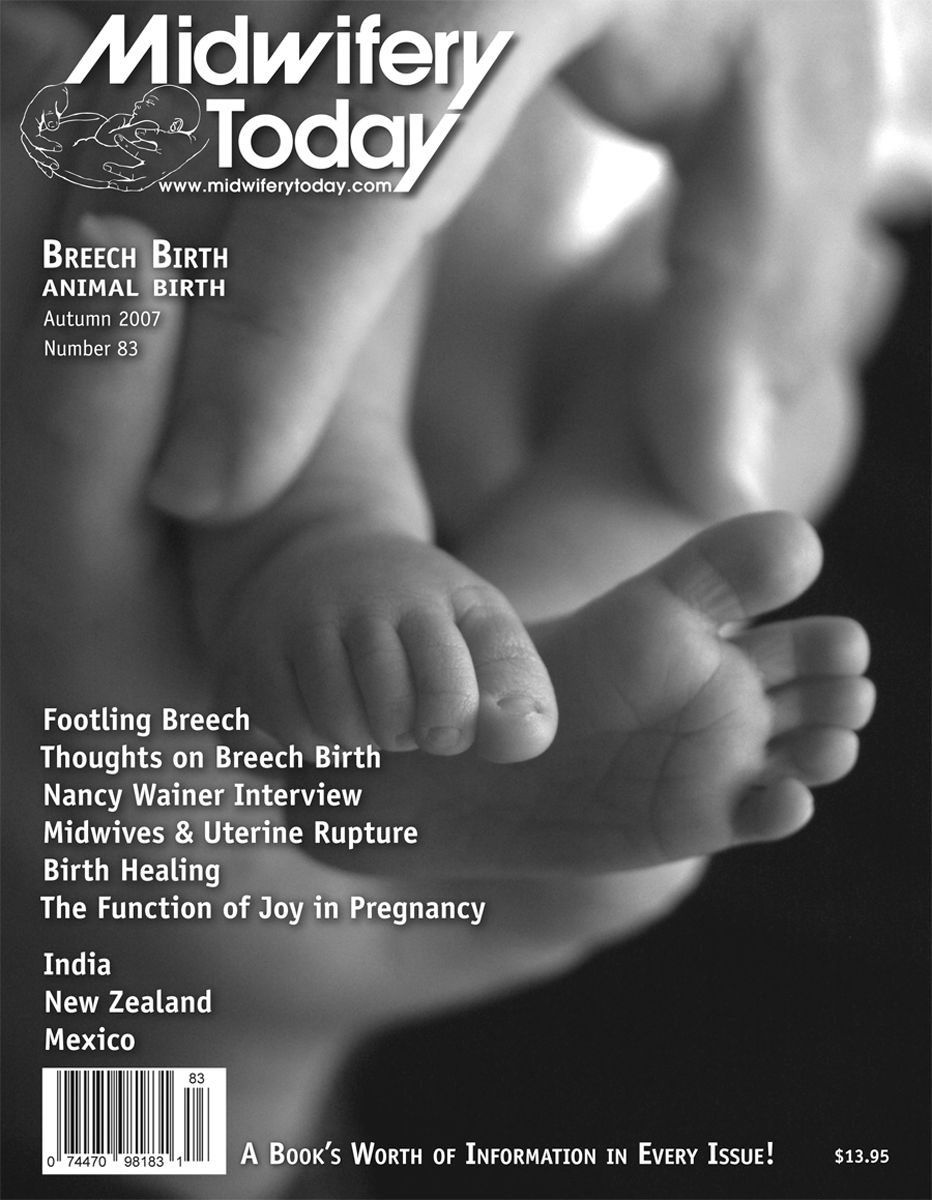 Autumn 2007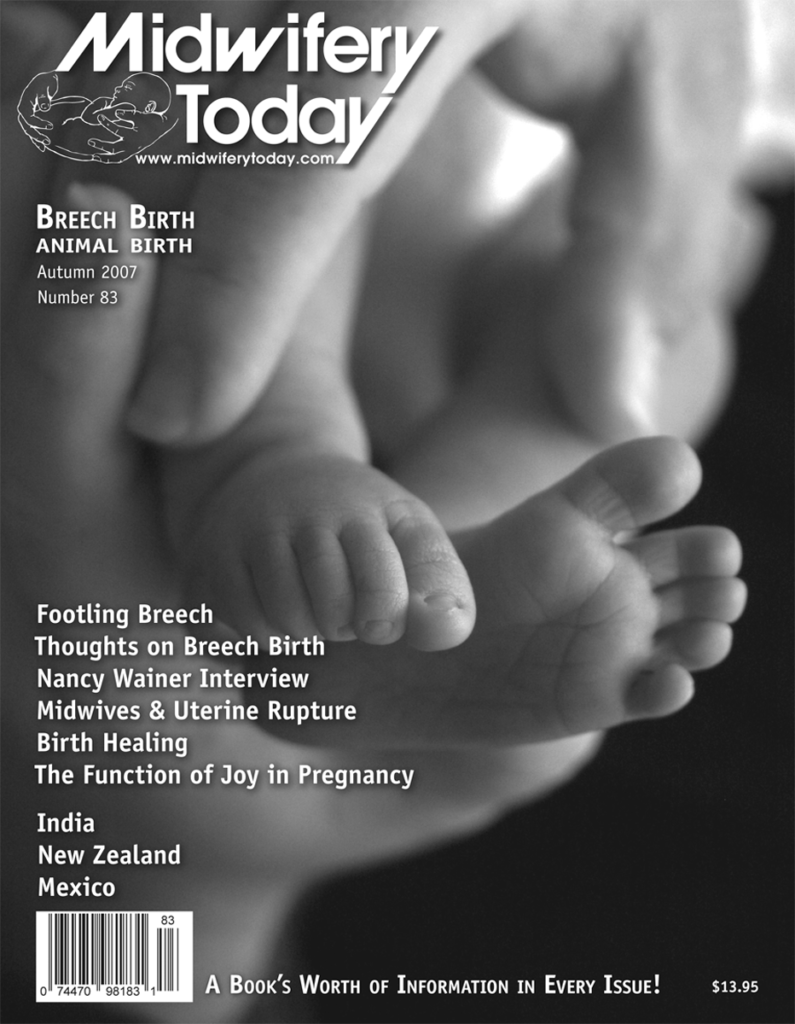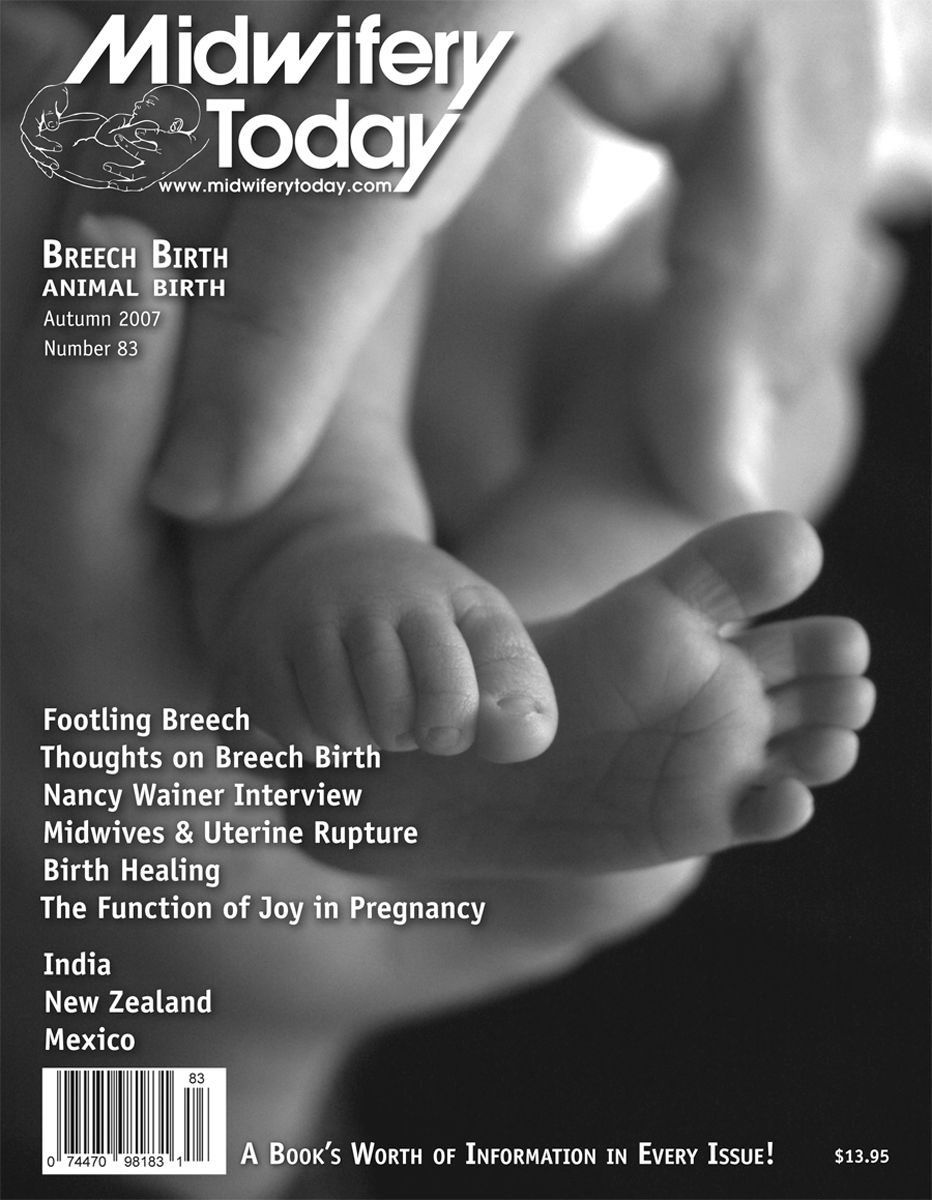 Theme: Breech Birth/Animal Birth
This issue contains articles describing successful breech births, as well as giving pointers on incorporating breech birth into a midwifery practice. You will also learn about some of the commonalities between human and animal birth, and how animal birth still gets the reverence and quiet that midwives strive for in a normal birth. Once you start reading this issue, you won't be able to put it down!
The cover photo, by Amber Jordan, is of baby Chase, less than a week old. His parents are holding his precious little feet, treasuring every moment as this is their third, and last, little one.
---
Departments
Features
Footling Breech: A Midwife's Own Birth Story—Veronica Wagner
In this memoir a midwife reflects on the story of her birth as a footling breech in Germany during WWII, and the homebirths that she has attended in her life. She touches on both themes, remembering not only breech births, but the role that animals have played in many births she has been involved with.
Thoughts on Breech Birth—Gloria Lemay
With a reminder to the practice the three Ps (patience, patience, patience), regular contributor Gloria Lemay gives us some tips on successful breech birthing.
Making a Difference: You Can Be an Agent of Change—Christa Bartley
BirthNetworkd National is helping to build a national grassroots movements to empower women to make informed choices regarding maternity care. Learn more about this movement and what you can do in Christa Bartley's article.
Nancy Wainer: Supporting Birthing Women—Julie Brill
Nancy Wainer, a birth activist for many years, shares what she is doing to continue to influence birth.
Turning Breech Babies after 34 Weeks: the if, how, and when of turning breech babies—Judy Slome Cohain
Learn about why some babies are breech, techniques for turning them before birth and what the evidence shows.
Caleb's Birth—Nikki Dauphin
A breech baby successfully turns and his mother avoids a second c-section, thanks to her strength and persistence and a supportive birthing teach.
Breech Birth from a Primal Health Research Perspective—Michel Odent
"Being breech-born by the vaginal route is associated with the highest possible mean intelligence scores." This is one conclusion of the Primal Health Research of the author. Read his simple rules for vaginal birth.
The Power of Georgina—Sister MorningStar
We include an excerpt from Sister MorningStar's upcoming book, The Power of Wimyn, about another inspiring birth.
Midwives and Uterine Rupture: What We Have to Offer—Kristin Eggleston
Learn about uterine rupture and how it can be prevented.
Finding Solutions to End Bullying—What a Midwife Can Do—Marinah Valenzuela Farrell
This 4th article in our series on bullying offers solutions for midwives who find themselves the target of a bully.
A Surprise Breech—Ireena Keeslar
Learn how a midwife and mom handle a surprise breech
Beautiful Breech Homebirth—Anonymous in Albuquerque
This story is a recognition of dedicated midwives who are willing to help women despite archaic laws against homebirth.
Birth Healing—Rosetta Thuresson
Rosetta lost her mother when she was born, as a result of an epidural. She shares here how birthing her own daughter helped her on the road to healing.
Safer Birth in a Barn—Beth Barbeau
Veterinarians and ranchers know that horses need peace and quiet when they are birthing. Why have we forgotten that women do best when treated reverently as well?
Horse Birth—Casey Makela
This exciting story—a midwife and horse breeder, is a lesson in trusting in the process of birth.
The Story of the Weeping Camel—Dale Bernucca
A review of a beautifully filmed movie shows that a difficult birth can affect the relationship between a camel and her baby. The resolution will surprise you.
Midwifing a Difficult Kidding—Cheryl K. Smith
The author, a goat farmer, explains how she handles a case of malpresentation of goat triplets.
Too Good to Be True—Amanda Bird
Former Midwifery Today Managing Editor Amanda Bird tells the story of the birth of her first child.
The Issues Associated with Postpartum Major Depression—Chantel Haynes
"Postpartum Major Depression (PMD) occurs in as many as 20% of new mothers." Learn about its causes, its effects on children and how it can be treated.
The Function of Joy in Pregnancy—Michel Odent
Frequent contributer Michel Odent discusses how joy in pregnancy protects the baby against harmful stress hormones.
The Business of Midwifery: Practice Design I—Linda Lieberman
How have you designed your midwifery practice? What works and does not work? Linda Lieberman tells about the design of her homebirth practice and asks for feedback.
International Midwife
= Membership Article